Best cleansers: our favorite face washes of all time, for all skin types
Our list of best cleansers delivers everything from a satisfyingly thorough wash to undeniably supple, glowy skin post-rinse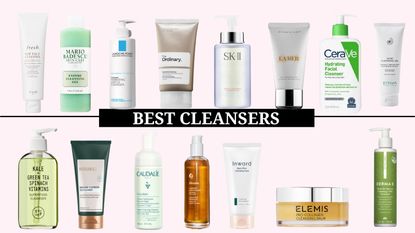 (Image credit: Future)
Is there anything more fundamental than having the best cleanser for your skin type on hand? Cleansing is the cornerstone of any hygiene regimen, and although not necessarily the most exciting step—particularly on those late, late nights, when removing makeup before bed just seems like such a chore—it's arguably one of the most necessary.
Not only does a clean slate ensure your skin is free of pore-clogging, blemish-causing impurities, but it also primes skin to efficiently absorb the benefits of the rest of your skincare routine. Whether you're a fan of tried-and-tested drugstore faves, are open to the latest indie or boutique offerings, or are all about top-tier luxury classics, a facial cleanser is a basic essential that makes up the first step in most of our regimens. That said, it can also be highly bespoke—from your skin type to texture and even fragrance preference, a lot of factors can actually come into play when deciding on the best cleanser for you.
How to choose the best cleansers for your skin type
Why you can trust Woman & Home Our expert reviewers spend hours testing and comparing products and services so you can choose the best for you. Find out more about how we test.
We've all been cautioned against going to bed with makeup. How important is a fresh canvas before bed, exactly? Board certified dermatologists and KitavaMD creators Dr. Paru Chaudhari and Dr. Justin Gordon offer a few tips on shopping for the best cleansers for your skin, plus giving some insight into how to wash your face for your skin type:
Normal/Balanced: As a general standard, balanced skin types can enjoy using a formula of their choosing, provided they adhere to the dermatologist-recommended twice-daily cleansing regimen: once in the morning and once in the evening, before bedtime. The gentler the better, and leave more robust face exfoliants or scrubs to once a week, at most.
Dry: "Cleansing dry skin types requires patience and moderation," cautions Dr. Chaudhari. "As tempting as it is to scrub away dry, flaky skin, most of the time, over-cleansing and exfoliating will simply make skin worse. For those with dry skin, use a small, pea-sized amount of one of the best cleansing balms or creamy hydrating cleanser. It's best to dispense in your hand and lather prior to using on your face and try to limit the duration of contact time on the face to less than 1 minute. Additionally, make sure to use lukewarm water to rinse, as hot water can strip away natural oils and worsen dryness. Applying a facial moisturizer after gently patting your face dry can also be helpful."
Oily: "If your skin runs oily, look for a cleanser that helps remove oil, but doesn't completely dry out your face," Dr. Chauhari advises. "Gel cleansers and foaming cleansers tend to be best cleansers for acne. Not all people with oily skin struggle with acne; however many products that are designed for acne-prone skin are also appropriate for oily skin types. Look for oil-absorbing ingredients such as fuller's earth, mild exfoliating acids such as the beta-hydroxy acid (BHA), salicylic acid, or alpha hydroxy acids (AHAs) such as lactic acid or glycolic acid. Regardless of oil production, it is still best to avoid hot water as this can be irritating and drying. For those with oily skin, use approximately a dime or nickel-sized amount of gel cleanser or 1-2 pumps of foam cleanser. In either case, it's best to dispense to your hand and lather prior to using on the face. Lastly, if your skin runs very oily, consider adding in a gentle exfoliating product a few times a week. One example is an AHA/BHA exfoliating wipe. Keeping some around to use on-the-go, such as after a hard workout at the gym, can be beneficial."
Acne-Prone: Dr. Gordon says, "Most people with acne-prone skin have excess oil production, but not all. Look for a gel or foaming cleanser that contains active acne-fighting ingredients. There are two active ingredients that are most readily available over-the-counter: The beta-hydroxy acid (BHA) salicylic acid opens up pores and exfoliates, and is a great choice for those with mild to moderate acne or occasional breakouts. Benzoyl peroxide is another common active ingredient, which is slightly stronger. Be careful when using benzoyl peroxide, as it can bleach towels and clothing if not completely rinsed off. For those that also use leave-on acne treatments, such as creams or lotions, it may be best to use more of a mild acne cleanser, since acne treatment creams tend to be stronger than wash-off cleansers."
Combination: "Combination skin can lead to a lot of frustration," Dr. Gordon says, but reassures that the quest for balance is within reach. "It is challenging to find the perfect cleanser that manages both dry and oily skin at the same time. It is best to use a mild gel or foam cleanser and vary the amount of time the cleanser remains on your face. Leave the cleanser on the oily parts of the face, such as the T-zone, a.k.a. the forehead, nose, and chin areas, for a longer duration of time compared to the dryer areas. For those that struggle with excess oil production in the T-zone, consider the additional use of an AHA or BHA cleanser directly to these areas, or alternatively, the targeted use of a gentle exfoliating wipe or scrub a few times a week."
Sensitive: "Dry skin and sensitive skin share similarities," says Dr. Chaudhari. "Over-cleansing and exfoliating can cause irritation and worsen redness in both sensitive and dry skin types. Look for a gentle cleanser that is free of harsh chemicals and irritants. It is best to avoid products with a million ingredients, including those with synthetic fragrances or those that can contain parabens, propylene glycol, or sodium lauryl sulfate (SLS), to name a few. For those that run sensitive, consider cleansing a small test area first with a tiny amount for a few days in a row, prior to jumping in full-steam ahead. One approach is to apply 2-3 times a week for a few weeks, and then increase to daily or twice daily as your skin allows."
The best cleansers to buy right now, as chosen by our beauty experts
1. Fresh Soy Face Cleanser
Best all-around cleanser for most skin types
Specifications
RRP: $15/£11
Type: Gel foaming cleanser
Texture: Lightweight gel
Target issues: Dryness, dull skin, uneven texture
Ingredient callouts: Soy proteins, rosewater, cucumber extract
Fragranced: Yes
Reasons to buy
+
Formula is close to skin's natural pH
+
Great for all skin types, except super sensitive skin
+
Gentle formulation but with a satisfying lather
+
Vegan; paraben-, gluten, and cruelty-free
Reasons to avoid
-
Not formulated for very sensitive skin
-
Scented
One of our beauty editors had brought along a sample of this cult fave cleanser on a beach trip and came home with a better-looking complexion than when she left—yes, even after six days of exposure to the summer elements. And although we were determined to come to our verdict as objectively as possible, it seems like we can't help but side with the masses: With over 236,000 likes and upwards of 8,000 ratings on Sephora alone, we wholeheartedly have to agree with the well-deserved hype. Fresh Soy Face Cleanser deftly straddles that line between "thoroughly clarifying" and "perfectly soothing," which is actually a pretty difficult sweet spot to come by.
It's a straightforward, unassuming face wash that's actually quite reasonably priced for a boutique offering. More than nailing this Goldilocks achievement, however, is how our skin felt after continued use: softer, more supple, and best yet, no inflammation or over-stripped "itchies."
It's formulated with a pH that's close to skin's natural levels, which means it's as gentle as you can get without being specifically formulated for sensitive skin (versus the sensitive skin pick we have further down our list). That said, we were blown away by how non-reactive our (sun-damaged, beach-exposed) skin was with daily use of this cleanser; we attribute it to the cucumber water in the formulation, which is known to have soothing properties—and is, we assume, also the source of the cleanser's super light and refreshing scent, which was faint enough not to be a deal breaker by any means. The gel formulation also gave a satisfyingly clean rinse.
Other notables are, of course, the hero ingredient of the cleanser: soy proteins are chock-full of beneficial amino acids that help with hydration and balance, plus rosewater also helps calm and tone skin, even while you're still at the face washing step. All in all a wonderful option for those looking for a simple yet super effective facial cleanser that pretty much does it all, while also boasting of a more elevated look and feel.
2. The Ordinary Squalane Cleanser
Best budget cleanser
Specifications
RRP: $7.90/£6
Type: Balm-to-oil
Texture: Lightweight balm
Target issues: Dryness, enlarged pores
Ingredient callouts: Squalane, lipophilic esters
Fragranced: No
Reasons to buy
+
Ethical plant-derived squalane
+
Great for most skin types
+
Budget-friendly
+
Vegan; paraben-, formaldehyde-, phthalate-, sulfate-, gluten-, and cruelty-free
+
Unscented
If you're still not on #TeamSqualane, we beg you to reconsider. This efficiently-formulated cleanser has hardworking anti-ager squalane from plant-derived sources (versus shark liver) as its star ingredient, which, in and of itself, does its part to moisturize, soften, and smoothen skin, while helping control excess oil. It's no surprise that most skin types, except probably the most reactive of skin types, fare well with this economic buy, which boasts of a not-too-shabby 85,000 likes on Sephora.
The formula itself is quite innovative for a "drugstore" option, and it first comes out as a balmy gel that turns into oil once applied (no eco-questionable microbeads in sight either!). The rinse is silky and satisfying, and predictably leaves no stripped feeling given it's also formulated to clarify pores of impurities. Those who like a particularly streamlined face washing routine will also appreciate that oil-based makeup goes off really well with this cleanser, as it did with our reviewer's own proclivity with CC creams and compact cushions. Not only can this get rid of the need for an outside makeup remover, but also renders the tube super handy for travel or gym locker situations, where multitaskers are a must.
The sleek, gender-neutral packaging and unscented formula also give The Ordinary Squalane Cleanser a much-appreciated universal appeal for the shared bathroom. At less than $8 a pop, this is one we're seeing gain household-name status.
3. La Mer The Cleansing Foam
Best luxury cleanser
Specifications
RRP: $80/£75
Type: Foaming cream
Texture: Lightweight mousse
Target issues: Dryness, enlarged pores, fine lines and wrinkles
Ingredient callouts: Trademarked Miracle Broth, Deconstructed Waters, tourmaline
Fragranced: Yes
Reasons to buy
+
Lightly foaming
+
Fermented ingredients
+
Premium skincare blend
+
Brightening effect
+
Paraben-, sulfate-, formaldehyde-, phthalate-, and gluten-free
Let's start with the obvious: This is a splurge… a big one. Either you have upwards of $80 to spend on a face wash, or you don't. If you do, here's why this is an interesting product to invest in. La Mer's Miracle Broth—a proprietary blend of sea algae (kelp, to be exact), vitamins, wheat germ, alfalfa, citrus oil, eucalyptus, and other vitamins and minerals—is the fermented, anti-inflammatory, anti-aging blend in all La Mer skincare, and this cleanser is no exception (NB: If you need a refresher on the wonders of fermented ingredients, it's also the secret behind Korean skincare).
That said, why the fuss? Well, a little of this celebrity-fave facial cleanser goes a long way. Fans of this premium pick (16,000 on Sephora alone, to be exact) are big on the cleanser's gentle yet luxurious foaming lather that activates with a small amount of water despite being free of sulfates like SLS and SLES, known foaming agents. If you're all about that fun, satisfyingly tactile frothy rinse alone, this one delivers. It's also a wonderfully light wash, once applied.
Apart from the Miracle Broth, La Mer The Cleansing Foam also has trademarked Deconstructed Waters that are said to remineralize delicate and aging skin and help keep the skin barrier intact. Those with combination skin and oily skin types, in particular, love the deep-clean it gives pores yet with the refreshed yet supple afterfeel, and it does leave a noticeable brightness post-rinse across the board.
Some say it can skew a bit drying on drier skin types, and overall it can be just one of those purchases that makes sense if you're already a fan of their other products. But as far as elite skincare goes, there's certainly a lot of science behind what makes their fermented blend worth it, namely being up there in terms of cell renewal particularly for more mature skin types or those concerned with premature aging. Another thing we love? The brand supports ocean conservation efforts, which can be a good way to stave off any guilt over spending a sizable sum on a wash-off product. Balance!
4. La Roche-Posay Toleriane Hydrating Gentle Cleanser
Best cleanser for sensitive skin
Specifications
RRP: $14.99/£11
Type: Low-foaming milk
Texture: Lightweight milky cream
Target issues: Dryness, sensitive skin, skin barrier improvement
Ingredient callouts: La Roche-Posay Prebiotic Thermal Water, niacinamide, ceramide-3, glycerin
Fragranced: No
Reasons to buy
+
Suitable for both dry and/or sensitive skin
+
Accepted by National Eczema Foundation
+
Dermatologist-tested
+
Paraben-, fragrance-, and oil-free
+
Reasonably priced
Reasons to avoid
-
Doesn't froth
-
Not the best at makeup removal
The great thing about the popular La Roche-Posay Toleriane Cleanser is also what some would say is the worst about it: It's a fragrance-free, low-lathering, safe and gentle cleanser formulated for both dry skin and sensitive skin types, full stop. For super reactive skin, this soap-free face wash is a godsend: No redness, tightness, or itchiness was reported with use, and the milky consistency definitely offered a smoother, more moisturized feel especially upon application.
The brand's renowned Prebiotic Thermal Water delivers hydration and skin barrier protection, and gives Toleriane an edge over your regular ceramide-laden dermatologist pick. That said, it might be a bit too basic of a face wash for those in the market for something with more bells and whistles; otherwise, this is arguably as chic (and reliable!) as a sensitive skin cleanser can get.
Our main gripe is that it doesn't remove makeup that effectively (filed under: better than nothing); we'd probably still outsource with a micellar water for more stubborn clumps of waterproof mascara or matte lipstick. All in all though, this customer favorite—and National Eczema Foundation-approved—facial cleanser deserves all of the buzz.
5. CeraVe Hydrating Facial Cleanser
Best cleanser for dry skin
Specifications
RRP: $14.99/£11
Type: Low-foaming cream
Texture: Milky cream
Target issues: Dryness, skin barrier improvement
Ingredient callouts: Hyaluronic acid, ceramides
Fragranced: No
Reasons to buy
+
Reliable ceramide-infused cleanser for skin barrier issues
+
Formulated for both dry and sensitive skin types
+
Hyaluronic acid moisturizes and smoothens
+
Non-comedogenic, fragrance-free
+
Accepted by National Eczema Foundation
+
Reasonably priced
Reasons to avoid
-
Doesn't froth
-
Not the best at makeup removal
Speaking of gentle, it can't get any more buzzworthy—or downright trustworthy—than CeraVe Hydrating Facial Cleanser. Top of mind for most, if not all, dermatologists when it comes to non-irritating face washes, this ceramide-infused formula does its due diligence in making sure dry skin is properly clarified of impurities yet hydrated at the same time, while also ensuring that delicate facial skin barrier is preserved and even strengthened. Needless to say, our editor didn't experience any tightness or over-stripped feeling (but no exciting froth either, sniff).
CeraVe's non-lathering formula comes as no surprise to most, and we're all willing to forgive the albeit not-as-glamorous look and feel upon application for the reliably gentle and consistent results we get from this winner. We love how it's the recommended formula to reach for when on acne medication or a similarly potent skincare regimen, as its skin-similar pH (5.5) ensures nearly zero reaction when applied. It also doesn't sleep on the pore-clogging front either: The non-comedogenic formula means it's also ideal for those worried about flare-ups. Similar to Toleriane, though, we wouldn't place it first in terms of makeup removal, but it's certainly a no-brainer when it comes to this dry skin category.
KitavaMD Acne Cleansing Gel
Best cleanser for acne-prone skin
Specifications
RRP: $24/£17
Type: Foaming gel
Texture: Transparent gel
Target issues: Acne, oiliness
Ingredient callouts: Willow bark extract (salicylic acid), tea tree oil, vitamin C
Fragranced: None added
Reasons to buy
+
Lathers well, yet no dry or stripped feel
+
1% salicylic acid is gentle enough for most skin types to tolerate
+
Dermatologist-developed
+
Vegan; cruelty-free
+
Paraben-, sulfate-, phthalate-, petrochemical-, triclosan-, and synthetic fragrance-free
+
Natural tea tree scent
Reasons to avoid
-
Tea tree scent might not be appealing to some
Come for the salicylic acid, stay for the tea tree oil! This doctor-created, plant-based formula uses a mild (1%) level of salicylic acid to treat and prevent breakouts—rather genius, as it does away with the risk of the formula being too harsh and ultimately, counterproductive for blemished, inflamed skin. This SA is naturally derived from willow bark extract, which does everything from mildly chemically exfoliate and unclog pores to fight existing acne to even reducing blackheads and whiteheads.
Our beauty editor used it on the usual breakout days of her cycle, and it helped stave off any potential flare-ups with the invaluable help of tea tree oil, a known antifungal and antibacterial agent. The addition of vitamin C is a great bonus for an acne product as well, as it helps lighten existing dark spots and offers up some radiance and brightness, something not usually on the forefront of priorities in an acne wash. We also used the gel semi-off label on our back and shoulder area to prevent and treat mild "backne," and were pleasantly surprised with the non-stripped and less bumpy texture we felt over the course of a few days' use. (Full disclosure: It can take around 6 to 8 weeks for full effects and results.)
Our only complaint is that the gel was a bit hard to squeeze out due to being of a thicker formulation than others, but once on hand it applied lightly and smoothly onto skin.
We're also completely appreciative of the fact that KitavaMD Acne Cleansing Gel uses a BHA, or beta hydroxy acid, rather than a physical scrub to exfoliate, thereby reducing the risk of irritation (or worse, bacteria spread) on already-vulnerable skin. Other reviewers report no tightness or sting either despite daily use, which is certainly a plus with any treatment-forward facial wash.
7. Mario Badescu Enzyme Cleansing Gel
Best cleanser for oily skin
Specifications
RRP: $14/£10
Type: Non-foaming gel
Texture: Lightweight gel
Target issues: Excess oil, dullness, uneven texture
Ingredient callouts: Papaya extract, grapefruit extract
Fragranced: Yes
Reasons to buy
+
Light and refreshed feeling on both application and rinse
+
Great for all skin types, except very sensitive skin
+
Vegan; oil- and cruelty-free
+
Reasonably priced
Reasons to avoid
-
Doesn't lather
-
Not formulated for very sensitive skin
-
Scented
Skincare giant Mario Badescu's best-selling Enzyme Cleansing Gel consists of fruit extracts to brighten, lightly exfoliate, and clarify skin of imperfections. This lightweight cleanser surprises with its integrity: The refreshing gel formula doesn't compromise when it comes to results or effectiveness. Skin is left clean and feeling toned and balanced, and the delicately bright herbal scent is also something we looked forward to upon application.
That said, this is a non-lathering cleanser, so you won't enjoy any satisfying froth or rinse off any dramatic bubbles with this mint-colored gel. It's also formulated as being good for all skin types, but we surmise that oily skin types that are relatively unproblematic acne-wise will enjoy its light-wearing, oil-free formulation the most. We'll also tread a bit carefully if your skin is more on the sensitive side, as it is a cleanser with mild AHAs and fruit enzymes whose job is to lightly exfoliate, and thus might cause a reaction. Overall, this is a classic worth its stripes by a classic in the industry (the brand's been around since the Sixties!). Bonus: They also have a sweet sample program, so we suggest loading up on travel-friendly little ones upon purchase too.
8. SK-II Facial Treatment Cleansing Oil
Best cleansing oil
Specifications
RRP: $70/£50
Type: Cleansing oil
Texture: Lightweight oil
Target issues: Dullness, dryness, uneven texture
Ingredient callouts: Pitera (yeast extract), wild rose extract, apple seed extract
Fragranced: None added
Reasons to buy
+
Not greasy
+
Excellent at makeup removal, even on waterproof mascara
+
Pleasant emulsified feel, skin feels hydrated
+
Has famous anti-aging Pitera essence
+
Sulfate-, fragrance-, and colorant-free
+
Not tested on animals
Reasons to avoid
-
Contains mineral oil
-
Pricey
Fans of the double cleanse routine might be familiar with the use of a cleansing oil prior to a foaming wash, but for those not in the know, a quick primer: Popularized in Asia, specifically with Japanese skincare, this facial cleanser format was used to remove oil-based makeup and sunscreen before going in with an actual foaming face wash. Premium Japanese brand SK-II is no stranger to the cleansing oil formulation, offering up this clear, silky, yet non-greasy formula that boasts of the same award-winning anti-aging Pitera essence that put SK-II on the map.
SK-II Facial Treatment Cleansing Oil starts off as a lightweight oil that is used directly on the face to remove makeup, sunscreen, and pollution grime. The formula quickly transforms into a light, small lather upon being emulsified with water to help wash it all off. Unlike other cleansing oils we've tried, this actually gives a convincing rinse in just a few splashes, and doesn't leave a slippery afterfeel—on the contrary, skin is left clean, smooth, impressively makeup-free (granted, we put in a few more seconds on lashes and brows), and with a noticeable brightness and surprisingly hydrated (yet non-greasy) feeling. And although touted as being fragrance-free, we did notice a light soapy scent upon application most probably brought on by the rose extract.
Pitera ferment believers will love this natural extension to the SK-II portfolio, and may even favor its less-reactive effects than the pure essence. It also claims to be good for all skin types—yes, even for sensitive, but as always, proceed with caution with fermented products—and those on the oilier side will still enjoy how thoroughly it clarifies pores. If you've got $70 to spend (don't worry, the pump bottle is a hefty 8.4oz), this is a game changer.
9. Biossance Squalane & Elderberry Jelly Cleanser
Best anti-aging cleanser
Specifications
RRP: $28/£20
Type: Gel-to-milk
Texture: Lightweight, transparent gel
Target issues: Dullness, dryness, rough texture, clogged pores
Ingredient callouts: Squalane, elderberry extract, prebiotic complex
Fragranced: No