Best facial exfoliator: our favorite products for your smoothest, softest skin yet
The best facial exfoliator options to brighten complexions and tackle fine lines and wrinkles—from effective budget finds to splurge-worthy luxury picks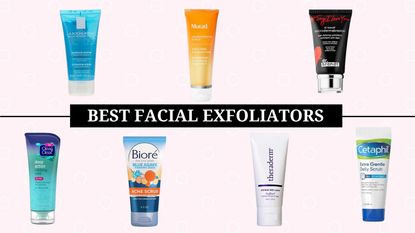 (Image credit: Future)
When it comes to basic skincare, having the best facial exfoliator on hand is just as important as having a quality cleanser and moisturizer. Why is exfoliation so important? Well, according to the American Academy of Dermatology, as well as removing dead skin cells from the outer layer of your skin, regular exfoliation can also help target a multitude of skin concerns, such as rosacea, photodamage, and dullness.
If exfoliators aren't already part of your regular skincare routine, don't worry; this doesn't have to be a time-consuming activity. In fact, the best facial exfoliator options can be incorporated into your existing regime fairly easily as most of us only need to exfoliate twice a week—any more can be too intensive for most skin types.
When it comes to the question of how to exfoliate your face that's pretty simple too; there are two types of exfoliation, mechanical and chemical, and while they vary in their process each can reward you with similar benefits.
Mechanical or physical exfoliation removes dead skin cells with a little help from a tool (think brush or sponge) or a scrub. The name chemical—or enzymatic—exfoliation gives the game away: it gently dissolves dead skin cells with the help of PHA skincare, AHAs or BHAs, such as lactic or glycolic acid.
Home exfoliation products are generally not overly harsh on the skin, but some more aggressive, clinical-grade facial exfoliators can (and do) lead to a peel effect. On the whole, the products we've highlighted as our best facial exfoliators are far more gentle, while still producing the desired results, i.e. brighter, smoother skin.
How to choose the best facial exfoliator for your skin
Why you can trust Woman & Home Our expert reviewers spend hours testing and comparing products and services so you can choose the best for you. Find out more about how we test.
Considering there are so many products to choose from, to the uninitiated, selecting the best facial exfoliator may seem a bit daunting. However, if you follow the AAD's advice and tailor your product choices to your skin type, you can't really go wrong.
Those with sensitive skin and acne-prone skin types can sidestep irritation by being gentle: a washcloth and a mild chemical exfoliator, as needed, should do the job.
Stronger chemical treatments (or mechanical exfoliation) can often be tolerated by those with thick or oily skin to achieve great results.
Those with darker skin tones, or anyone who notices dark spots on their skin post-burns, bug bites, or acne breakouts, are recommended to avoid strong chemical exfoliation, as it can result in the formation of dark spots.
The best facial exfoliator products, as chosen by our beauty experts
1. TheraDerm NuPeel Natural Enzyme Peel
Best facial exfoliator for most skin types
Specifications
RRP: $32/ £23
Type: Chemical/ enzymatic
Texture: Peel-exfoliant
Target issues: Dead skin, dryness, signs of aging
Ingredient callouts: Acetyl hexapeptide-8 (Argireline), natural papaya enzymes, plant botanicals, aloe barbadensis leaf extract, hyaluronic acid, retinol
Fragranced: Yes
Reasons to buy
+
Non-abrasive and gentle enough for daily use on all skin types
+
Contains plant botanicals such as aloe, pineapple, grape seed, green tea extract, and cucumber
+
Paraben- and gluten-free; not tested on animals
Reasons to avoid
-
Can be hard to remove if applied incorrectly
-
Fragranced
Feed your skin with aloe, papaya extracts, green tea, cucumber, hyaluronic acid, glucosaminoglycans (polysaccharides that support collagen and elastin), retinol, vitamin C—in fact, what isn't in this superfood-like non-abrasive exfoliator?
This peel-exfoliant is all about fuss-free application—it's not messy, nor does it require a time-consuming, heavy rinse afterwards. It takes less than 10 minutes to rub and rinse away dead skin cells with the help of this exfoliator's fast-acting, gentle exfoliating beads. And it's as simple to use as your daily cleanser: thoroughly rub a dime-sized amount of product (a little goes a long way) onto the face in circular motions for a minute or so before rinsing it away with water. Don't leave it on the skin too long though, as it starts to stick to the skin, meaning you'll need a washcloth to remove it properly.
Because its formula is non-irritating and is chock-full of hydrating and soothing ingredients, it's sour top choice for an uncomplicated exfoliator that all skin types can use. Just one caveat: anyone sensitive to fragranced skincare products, or allergic to any of this product's ingredients, should obviously avoid using it.
2. Dr. Brandt Skincare Microdermabrasion Age Defying Exfoliator
Best luxury facial exfoliator
Specifications
RRP: $79/ £56
Type: Both mechanical and chemical
Texture: Polish exfoliant
Target issues: Dullness, dryness, dead skin cells
Ingredient callouts: Aluminum oxide crystals, lactic acid, jojoba oil
Fragranced: Yes
Reasons to buy
+
Combines mechanical and chemical exfoliation for a thorough sloughing experience
+
Best for normal-to-dry and combination skin types
+
Aluminum oxide crystals are tough on hard-to-remove dry patches and spots
+
Paraben- and sulfate-free
Reasons to avoid
-
Might be too abrasive for sensitive skin
-
Fragranced
As pampering as in-clinic microdermabrasion treatments may be, they are also expensive. Which makes this the best facial exfoliator pick if you're trying to cut down the number of trips you make to your favorite medispa.
Don't let its pretty packaging fool you into thinking it's all style and no substance: this exfoliant is a force to be reckoned with. Its oxide crystals easily eliminate those stubborn dry patches and spots that you never seem to be able to get rid of (we see you, nose and forehead). Since it also rids the skin of flakiness, it's a great product choice for those with normal, oily, and thick skin.
Be advised: this formula is strong—you'll only want to use it once or twice a week—and it does have quite the potent lemon aroma. This can cause irritation for sensitive skin, particularly if you use too much product; a pea-sized amount is all you need to enjoy the full benefits.
However, if your skin can tolerate strong exfoliating treatments, weekly use of this exfoliant will ensure the end of dry, dull skin; you'll be left with a natural glow that no foundation would ever be able to replicate.
3. Clean & Clear Oil-Free Deep Action Exfoliating Facial Scrub
Best budget facial exfoliator
Specifications
RRP: $5.98/ £4
Type: Physical
Texture: Scrub exfoliant
Target issues: Clogged pores, dryness, deep-seated dirt, oil, and makeup
Ingredient callouts: Exfoliating beads, menthol
Fragranced: Yes
Reasons to buy
+
Menthol provides a tingly, cooling sensation for a deep-clean feeling
+
Oil-free; rinses clean
+
Cleans pores deep down
+
Suitable for daily use
Reasons to avoid
-
Cooling sensation can irritate sensitive skin and be too drying
-
Sulfates are part of the ingredients
-
Fragranced
Aside from the unbeatable price, this exfoliator's consistency makes it the perfect addition to any "lazy" beauty routine: it works much like a normal face wash, with the added benefit of exfoliating and removing any deep-seated dirt, oil, and makeup. In fact, it's a joy for those who want to streamline the cleansing process, as it eliminates any extra steps
In addition to its multitasking appeal, this exfoliator's use of menthol is equally impressive—it's cooling and refreshing, without being too tingly. This sweet sensation offers relief to those with acne-prone skin, especially when summer heat and humidity invites an increase in oil production, ergo more blemishes and breakouts.
At the same time, those with dry and sensitive skin might want to exert caution before trying this exfoliant; while its formula is definitely clarifying, it can leave skin a little on the drier side if used on its own. We found using a moisturizer post-exfoliation easily remedied this issue, however if your dry skin is also very reactive, you may want to stick with one of the other exfoliators on our list. At a drugstore level though, this is the closest we've found to a does-it-all facial scrub. We think it deserves a place in our gym totes or lockers.
4. Cetaphil Extra Gentle Daily Scrub
Best facial exfoliator for dry skin
Specifications
RRP: $17.99/ £13
Type: Physical
Texture: Scrub exfoliant
Target issues: Dryness, dullness, clogged pores
Ingredient callouts: Microfine granules, skin conditioners, vitamins E and B5, glycerin
Fragranced: Yes
Reasons to buy
+
Non-irritating; non-comedogenic
+
Safe for daily use
+
Dermatologist-tested
+
Gentle on sensitive skin
Tackle two steps of your skincare routine with just one product (always a plus) with this facial exfoliant-meets-cleanser, by sensitive skin go-to Cetaphil. Unlike tougher-textured scrub exfoliators, this one is a lot like your favorite gel cleanser—it's smooth and easy to apply to all areas of the face and neck. Despite it being a physical exfoliant, its granules are microfine, so you won't have to worry about it being too rough on your skin when you use it.
Because this scrub also contains skin conditioners—vitamins E, B5, and glycerin—it's an exfoliator that's safe for daily use. While it does leave your skin silky soft after use, those with very sensitive skins would do well to have another cleanser in rotation as, while it's tempting to use this product every day, it is possible to exfoliate too much.
5. Biore Baking Soda Acne Face Scrub
Best facial exfoliator for oily skin
Specifications
RRP: $7.99/ £6
Type: Physical
Texture: Scrub exfoliant
Target issues: Acne, clogged pores, blemishes
Ingredient callouts: Salicylic acid, blue agave, baking soda
Fragranced: Yes
Reasons to buy
+
Oil-free formula makes it ideal for oily and combination skin types
+
Gently exfoliates and deep-cleans pores to prevent blemishes from forming
+
Baking soda and 2% SA treats existing breakouts
Reasons to avoid
-
Can be too tough on sensitive skin
-
Fragranced
If the dog days of summer—or just hot weather in general—are a real buzzkill for your oily or acne-prone skin, this scrub is sure to be a refreshing treat. It unclogs pores, targets acne, and prevents new breakouts from wreaking havoc on your face, so you can breathe a sigh of relief.
Salicylic acid is, without a doubt, the main attraction of this scrub, and for good reason: it eases inflammation and unclogs pores. According to a 2012 study published in The Journal of Clinical and Aesthetic Dermatology, the ingredient also boasts the ability to promote exfoliation naturally, with little to no irritation.
In short, if you want a product that utilizes SA to nip breakouts and blemishes in the bud, then this cleanser is likely to get you through the worst of any heatwave. If you're wondering how often should you exfoliate your face with this product, due to its relatively gentle formula you can use it three or four times a week. However, keep in mind that this scrub may not be the remedy for all your acne woes, especially if yours doesn't respond well to over-the-counter products. If you have a more severe case of acne, it's better to follow a treatment plan from a reputable dermatologist. We're still keen to recommend this as a first line of defense against blackheads and preventing minor breakouts, though, as well as one for keeping sebum levels in check.
6. La Roche-Posay Ultrafine Scrub for Sensitive Skin
Best facial exfoliator for sensitive skin
Specifications
RRP: $17.98/ £13
Type: Physical
Texture: Water-gel exfoliant
Target issues: Clogged pores, stubborn unremoved makeup, dryness
Ingredient callouts: Ultra-fine pumice particles, La-Roche-Posay Thermal Spring Water
Fragranced: Yes
Reasons to buy
+
Soap-, alcohol-, and paraben-free
+
Small particles gently exfoliate and remove excess dead skin cells
+
Formulated with antioxidant-rich La Roche-Posay Thermal Spring Water
Those of you with sensitive skin won't have to tread lightly around this exfoliator; its water-gel texture, plus ultra-fine pumice particles, ensure that you exfoliate properly, without causing dryness, redness, or irritation. Also worth highlighting is the product's use of the brand's famous thermal water, which ensures your skin is really clean, supple, and saturated in moisture.
Yes, this product does contain fragrance, and the tube happens to be on the smaller side but, if you've spent years pursuing the perfect sensitive skin-friendly scrub that won't set your skin off in a tizzy, it's definitely worth the investment. Just keep usage to a conservative once or twice a week to prevent any over-exfoliation, and you're on your way to softer, smoother skin without any flare-ups.
7. Murad Environmental Shield Vita-C Triple Exfoliating Facial
Best facial exfoliant for dull skin
Specifications
RRP: $79/ £67
Type: Physical, chemical, enzymatic
Texture: Ultra-fine mousse scrub
Target issues: Dull-looking, rough, textured skin
Ingredient callouts: Gold-stabilized pure L-ascorbic acid (Vitamin C), tetrahexyldecyl ascorbate, glutathione, glycolic acid, lactic acid, salicylic acid
Fragranced: Yes
Reasons to buy
+
Triple-action approach (physical, enzymatic, chemical) that mimics the effects of a professional microdermabrasion facial
+
Vita-C complex provides uniquely potent brightening and smoothing benefits
+
Color-changing formula (orange-to-white) indicates "doneness" and prevents overexfoliation
+
Gentle for use on balanced, dry, combination, and oily skin types
+
Paraben-, sulfate-, and phthalate-free
Reasons to avoid
-
Triple-action formula might irritate sensitive skin
-
Some might consider 10-minute-max wait time before rinsing too long
-
Fragranced
Aside from the longer-than-usual time that it takes to complete this facial scrub, we were hard-pressed to find anything we didn't like about Murad's latest offering. Positioning itself as a "facial in a tube," this remarkably fine-milled exfoliant spotlights the antioxidant benefits of vitamin C by utilizing (what we presume is) a proprietary gold-stabilized delivery system; with the core ingredient flanked by brightening glutathione and vitamin-C derivative tetrahexyldecyl ascorbate (THD), its antioxidant benefits are increased by 55%.
For those with dry, combination, oily, or otherwise rough and textured skin, this product's three-pronged approach to exfoliation can indeed feel like a satisfyingly effective experience—something that the clever color-changing formula also enhances. The gel comes out of the tube a pastel peachy-orange, and slowly turns lighter as it's being applied, before turning white once it's "ready" to be rinsed off. Now, this state of readiness can obviously vary person to person, but for the average face-scrubber who wants to get the most out of this ingredient-forward product, this color-change characteristic, is a helpful, fail-safe bonus.
The main downside, quite obviously, is the relatively long wait until you can rinse off this scrub; regardless of whether it claims to replicate the effects of a pro-grade facial, that timeframe might be a deterrent for those wanting a hit-and-run exfoliator that can deliver results quickly. If you're seeking a product that can be integrated into your skincare routine on the busiest of days, and not feel like an extra step, this might not be the one. However, with a powerhouse ingredients roster that includes a premium-grade vitamin-C complex, pore-cleansing granules, and a clinical-grade AHA/BHA blend that Murad's become known for, who wouldn't want to take the time to soak it all up?
Courtney Leiva is a seasoned lifestyle writer with nine years of experience under her belt. She graduated from The Ramapo College of New Jersey in 2012, and since graduation, she has been actively contributing to major news outlets such as Refinery29, Women's Health, Yahoo! Lifestyle, HelloGiggles, NewBeauty, and more.
Courtney initially started off covering beauty news, but as she has grown her career over the years, her health, home, and shopping pieces can now be seen on BuzzFeed, The Daily Beast, and Huffington Post.