How to exfoliate your face for smooth, glowing skin without sensitivity
Dermatologists reveal exactly how to exfoliate your face for healthier-looking skin in an instant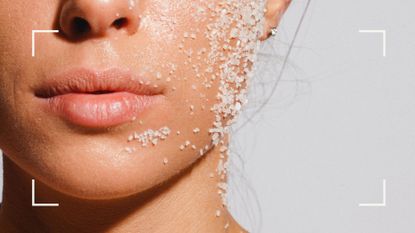 (Image credit: Getty Images)
Knowing how to exfoliate your face correctly is important – it's an essential process in skincare, but doing it incorrectly or using too-harsh products can lead to soreness, sensitivity, and a compromised skin barrier.
Exfoliation is one of the most effective steps in any skincare routine – it helps clear away dead skin cells for a brighter, smoother complexion and often makes an instant difference. "Gently exfoliating once or twice a week to remove a build-up of dead skin cells, makeup, and oils will reveal glowing fresh skin underneath," says Consultant Dermatologist Dr. Shaaria Nasir. "Regular exfoliation also helps minimize the appearance of large pores, and helps other active ingredients in skincare be absorbed better."
Picking the best facial exfoliator for your skin type is key to success – are traditional gritty scrubs superior, or are acids more efficient? We've asked skin doctors to find out how to exfoliate your face in the best way, and how to pick the best method for you.
How to exfoliate your face, according to dermatologists
"Exfoliation is the process of removing dead skin cells from the surface layer of your skin using a chemical, granular substance, or exfoliation tool," explains Consultant Dermatologist Dr. Derrick Philips. "Follow your chosen product's specific instructions carefully and do not overuse them. Never exfoliate if you have open skin, active acne, or if your skin is sunburnt." Increased sun sensitivity is also a factor, so Dr. Philips advises exfoliating in the evenings, and following on with your best facial sunscreen the next morning.
And why is learning how to exfoliate your face properly so important? "Exfoliation is key for optimizing skin health because it encourages cell renewal and can also help prevent skin issues such as pore clogging, acne, blackheads, and whiteheads," explains Dr Phillips. But when not done properly, "Exfoliation can sometimes cause irritation, dryness, and occasionally hyperpigmentation," he warns.
How to exfoliate your face with scrubs
How to exfoliate your face with a scrub is quite straightforward. They're usually a cream or gel formula with tiny gritty particles, often fruit seeds or natural extracts like rice or oats. The process is simple – work the scrub into the skin with warm water, working in circular motions, paying particular attention to any dry areas.
Use these exfoliators on their own, or as a second step when you're double cleansing. Because scrubs can be more abrasive than acids, you should use them less often – once a week is plenty.
Our beauty editor recommends...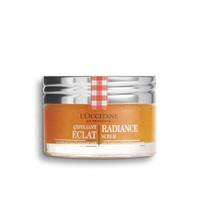 L'Occitane Radiance Face Scrub | RRP: $36/£32
This is described as having a jammy texture and I'd say that's the perfect descriptor – not to mention the Paddington-esque packing. There aren't too many bits in this, so it's not too scratchy or irritating – it just feels refreshing. The zingy orange scent is quite lovely too.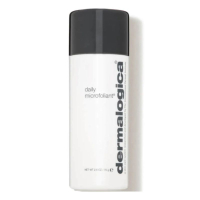 Dermalogica Daily Microfoliant | RRP: $65/£65
A different but brilliant take on physical exfoliation, it's easy to see why this is a global bestseller. It's a powder formula made of rice enzymes, designed to be worked into the skin with wet hands. The result is super-smooth, softened skin. Tip – a little goes a long way.
How to exfoliate your face with acids
Skincare acids are usually in liquid formulations – often in a bottle. You can also buy them in the form of pre-soaked pads or spray toners. If not, apply to a cotton pad and sweep over your skin after cleansing. You can follow on with a moisturizer, but avoid combining with any harsh actives – especially retinol, as this will irritate your skin. As Dr. Philips advises, it's usually best to do this in the evenings.
The forms of acid you pick also matter, whether that's AHA vs BHA as well as the concentration. Glycolic acid is one of the best options out there, melting away skin cells in seconds. Pick low concentrations to begin with, as it can irritate some skin types. If you have acne-prone skin, pick salicylic acid – the BHA is a brilliant blemish-buster. Dr. Phil advises applying a little patch test, to begin with, before going for your whole face. You can use exfoliating acids 2-3 times a week, depending on how your skin reacts to them.
Our beauty editor recommends...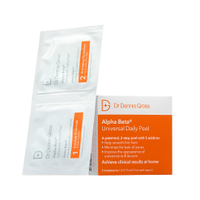 Dr. Dennis Gross Alpha Beta Universal Daily Peel | RRP: $20/£21
I've recommended these countless times and I'm back at it again. For me, they're the gold standard chemical exfoliant – plus, they're foolproof. Apply the first step, which is a concentrated blend of AHA and BHAs, wait two minutes then follow on with the neutralizer, which stops irritation.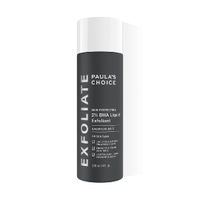 Paula's Choice 2% BHA Liquid Exfoliant | RRP: $34/£34
Another repeat recommendation. Whenever I get asked how to get rid of acne, this is the first product I advise. The salicylic acid makes a noticeable difference to even severe blemishes within days of use. I couldn't be without it.
How to exfoliate your face for beginners
Because exfoliating with scrubs is quite risky and easy to overdo, we'd recommend using an acid. Specifically PHA skincare, as it's the gentlest form of acid. They have bigger molecules than AHAs and BHAs so they don't sink as deeply into skin cells. This means they're less likely to cause irritation, making them a great place to start.
Our beauty editor recommends...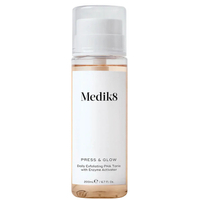 Medik8 Press and Glow Tonic | RRP: $36.50/£28
Combining PHAs with hydrating aloe vera, this is a brilliant pick if you're just learning how to exfoliate your face. It brightens and clears skin gently but effectively, leaving it looking glowing. You'll notice a bigger difference after weeks of use, then you'll be hooked.
What is the best thing to exfoliate your face with?
Both experts agree that chemical exfoliators are the superior option for exfoliation. "Scrubs and acids use completely different methods of exfoliation," says Dr. Philips. "Scrubs mechanically rub away dead skin and impurities and chemicals gently dissolve them. Exfoliating acids can be more easily controlled by choosing the right concentration of the exfoliant."
Dr. Nasar isn't a fan of physical exfoliants. "Scrubs should be avoided as these can cause microtears in the skin," she warns. "This causes irritation and damage to the skin barrier." However, Dr. Philips still believes there's a space for scrubs in your routine – it's all about how you use them, and which you pick. "Yes, you can still use scrubs, but make sure you use them sparingly" he advises. "Look for particles with refined edges, so beads or rice particles as opposed to shards that scratch and ravage the skin's surface. Abrasive scrubs should be avoided completely because they erode the barrier and leave the skin open to extreme dryness and even infection."
Physical VS chemical exfoliation
I'm with the experts – I've found exfoliating acids to be the most effective option. They're gentler while being more efficient and you can see the results almost immediately.
The downside is that they can seem intimidating at first glance, especially with those confusing acronyms. Knowing how to exfoliate your face with acids isn't as instinctual to most people – it's not as easy as picking up a scrub and using it like a facial wash. However, when you understand the basics and decide which works for you between glycolic vs salicylic acid, your skin will thank you.
That's not to say that scrubs have been banished from my bathroom – I have a couple that I like to rotate when my skin's feeling especially dry or dull. I particularly like it when products combine both physical and chemical exfoliation, for a double whammy of benefits.
Our beauty editor recommends...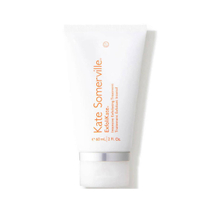 Kate Somerville ExfoliKate Intensive Exfoliating Treatment | RRP: $98/£78
When my skin is feeling dramatically dull or desperate, this is what I turn to. It's marketed as a two-minute facial, and while I wouldn't go that far, it's pretty close. Combining AHAs, BHAs as well as fruit extracts, this gives a noticeably clearer complexion in minutes, no matter how dire you looked (or felt) before.
Do you exfoliate with a wet or dry face?
For physical exfoliants like scrubs, apply to a wet face, much as you would with your daily cleanser. For chemical exfoliants, you can use them on a dry face, or a damp one if you've just cleansed. According to Dr. Philips, "Exfoliating on damp skin after cleansing is advisable for a gentler approach, but it's important to read the instructions carefully and follow them to the letter."
Rhiannon Derbyshire is the Senior Beauty Editor for Woman & Home and other publications.
She started interning for glossy magazines while working alongside her Fashion Journalism degree. There, she was lured to the beauty desk, seduced by matte lipsticks, posh shampoos, and every skincare product imaginable. 10+ years into her career, she can confidently tell you why the best mascaras are always high street, and why SPF is a non-negotiable all year round. Ask her about her curly hair routine, skincare minimalism, and how to find the exact right red lipstick