The 10 best facial sunscreens that you'll actually want to wear daily
Comfy and flattering with skincare benefits – our beauty ed's best facial sunscreen edit covers every skin type and budget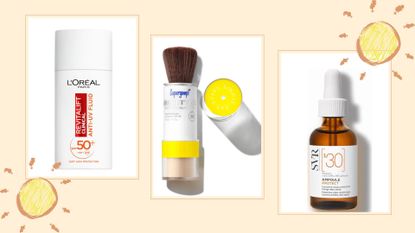 (Image credit: Future/Brands)
No skincare quest is as important as the one for the best facial sunscreen. Ask any expert to name their top three skin essentials, and you can bet a quality SPF will be right at the top.
There's a good reason for this – sun exposure is considered to be responsible for up to 90% of preventable skin aging, including pigmentation, collagen degradation, lines, and rough skin texture. While many of us whip out the SPF on hot days and holidays only, it should really be as much a part of your daily routine as your best face moisturizer or cleanser. UV rays can do their damage at any time, be they sunburn-causing UVB or age-accelerating UVA, which can penetrate clouds on the greyest of days.
"You should be wearing sunscreen every day – no matter what the weather, or the season," agrees Dr Malvina Cunningham, Skin + Me Consultant Dermatologist. "If you were wearing SPF30 or lower during the winter months, now is the time to consider jumping up to SPF50 or more. And always make sure it is broad-spectrum to protect you from both UVA and UVB rays." Thankfully, we are spoilt for choice when it comes to comfortable facial SPF designed to be worn every day. Whether you want cream or gel, mineral or chemical, budget or luxe – these are the best facial sunscreens for everyone, at every price.
How we tested the best facial sunscreen
Why you can trust Woman & Home Our expert reviewers spend hours testing and comparing products and services so you can choose the best for you. Find out more about how we test.
The most important thing any sunscreen can do is protect you properly. So, it goes without saying that of the dozens of products we tested for this guide, we ensured every single one was from a reputable brand offering well-formulated, trustworthy products to defend the skin from UV damage.
Further to that, we were looking for a solid ingredients list, skincare benefits, user-friendly packaging, and a texture and appearance that was genuinely comfortable to wear every day. Every product here was tested for several days during various weather conditions and daily activities. And many of them (as you can probably tell from the photo above) are trusted and well-worn classics we always have in our kit.
The best facial sunscreens, by our beauty team
1. L'Oreal Paris Revitalift Clinical SPF50 + Vitamin C Daily Invisible Fluid
Best facial sunscreen overall
Specifications
RRP:
Type: $25.99 / £19.99
Texture: Light fluid
Key ingredients: Hyaluronic acid, vitamins C and E
Fragranced: Yes
Reasons to buy
+
High SPF
+
Super lightweight
+
Antioxidants protect against pollution
+
Doesn't pill under makeup
+
Great value
Reasons to avoid
-
Contains light fragrance, which won't suit everyone
This brilliant launch easily matches up to buys at three times its price, and has jumped right to the top of our list of the best facial sunscreen. It emerges from its bottle as a milky fluid and then disappears into the skin with zero residue, greasiness or chalky finish. Texture-wise, this is closer to a face moisturizer with SPF than most sunscreens, and sits beautifully under makeup, but offers seriously robust protection. It's not oily, so a great choice for combination skins but also contains hydrating hyaluronic acid to gently plump the skin, so dry types will get on well with it too.
Aside from looking and feeling great, this packs in plenty of antioxidants, including vitamins C and E, which bolster your skin's natural defenses against pollution, smoke, and UV, to really double down on skincare benefits. The ultra-light bottle is exceptionally handbag-friendly, and while the fluid itself is fragranced, said scent is so subtle and unobtrusive it really shouldn't be a problem for anyone.
2. La Roche-Posay Anthelios UVMune400 Invisible Fluid spf50+
Best facial sunscreen for sensitive skin
Specifications
RRP: $25.86 / £18
Type: Chemical
Texture: Fluid
Key ingredients: Mexoryl 400 filter, glycerin
Fragranced: No
Reasons to buy
+
Unique filter to protect against long UVA
+
Great for sensitive skin
+
Non-comedogenic, unscented
+
Sheer finish
+
Handy bottle
There is a reason dermatologists consistently recommend La Roche Posay sunscreen. This French pharmacy brand is known for its excellent formulations. They don't chase trends or launch products just for the sake of it. Instead, they work hard to create trustworthy, non-irritating, enjoyable-to-use suncare.
This product is an update of the much-loved Anthelios Invisible Fluid, one of the best La Roche Posay products of all time. It has retained the light, and non-greasy texture and sheer finish of the original but added in a unique and powerful UV filter, called Mexoryl 400. This 10-years-in-the-making ingredient targets long UVA rays, which have been shown to cause the most skin damage due to their ability to reach the deep dermis layer. This, in turn, protects your collagen-producing fibroblast cells like no other formula, which translates to plumper, more even-toned, firmer skin.
Packing so much technology into a nice comfortable, well-priced sunscreen is no mean feat, so we applaud La Roche for pulling it off. We also love the slimline, pocket-friendly bottle, and unfragranced formula, which makes this one of the best sunscreens for sensitive skin. Top marks all around.
3. Teoxane Adavanced Perfecting Shield SPF30
Best facial sunscreen for dry skin
Specifications
RRP: $52 / £45
Type: Chemical
Texture: Light cream
Key ingredients: Hyaluronic acid, amino acids, antioxidants
Fragranced: Yes
Reasons to buy
+
Excellent skincare ingredients
+
Hydrating and protective
+
Slight peachy tint suits all skin tones
+
Glowy finish
Reasons to avoid
-
Pricier than others on the list
This sits at the priciest end of this list, but when you see how much skincare prowess is crammed into the formula that is somewhat justified. As well as solid UVA/UVB protection, this product includes plumping hyaluronic acid and several antioxidants to offer further UV protection and create a lightweight shield against pollution.
Ingredients aside, one of our favorite things about this particular sunscreen is the look and feel of the formula. It squeezes out of that classy white tube with a light peachy tint that is so much more flattering on the skin than chalky white (particularly on deeper skin tones) It smoothes on very nicely and gives skin a lightly dewy glow that's not oily or greasy, simply a little bit blurred and ultra-flattering. We wore it under a very sheer foundation and it did much the same job as a radiant primer.
This Swiss skincare brand is mostly found in dermatology clinics, and many of its products have been designed with post-procedure skin in mind, but we certainly wouldn't limit using it to after you've had skin booster injections. As long as it's within budget, this is an excellent, hardworking sunscreen that can replace several other steps in your routine.
4. Drunk Elephant Umbra Sheer Physical Daily Defense SPF 30
Best mineral facial sunscreen
Specifications
RRP: $34/£29
Type: Mineral
Texture: Cream
Key ingredients: Sunflower shoot extract, algae extract, raspberry seed oil
Fragranced: No
Reasons to buy
+
Broad-spectrum UVA/ UVB protection
+
Safe for sensitive skin
+
Fragrance- and essential oil-free
+
cruelty-free
Reasons to avoid
-
Mineral SPF can leave residue
Drunk Elephant is one of those brands that's universally loved by skincare fans of all ages and all skin types. Whether their clean beauty ethos matches yours or not, those snappily named, cleverly formulated products in fun eye-catching packaging are hard to resist. This facial SPF ticks all those boxes. As the name suggests, it's made with physical blockers, yet as mineral formulas go is fairly sheer. The rich, creamy texture goes on smoothly and sinks in nicely, although we did find it needed a little more blending than your average sunscreen to look truly invisible.
Formulated with sunflower shoot extract, algae extract, and raspberry seed oil, the creamy texture quenches skin to plump fine lines and wrinkles while defending against damage and external environmental aggressors. As this SPF is also fragrance-free, it's one of the best facial sunscreen options for sensitive skin types and anyone who prefers to avoid chemical filters. It may not be the cheapest product on our list, but the generous 90ml tube actually makes it decent value too.
5. SVR Ampoule urban protect SPF30
Best facial sunscreen oil
Specifications
RRP: $44 / £37
Type: Chemical
Texture: Light oil
Key ingredients: Vitamin E, schisandra berry extract
Fragranced:
Reasons to buy
+
Silky texture
+
Antioxidants plus sun protection
+
Sinks in quickly
+
Leaves skin looking dewy
Reasons to avoid
-
Might not suit oily skin
-
Fragranced
Most sunscreens are a variation on a theme, so it's a rare treat to find something unique, texture-wise, like this. A transparent, lightweight, dry facial oil that you drop out of a pipette onto clean skin, Ampoule Urban Protect really feels a lot more like skincare than it does sun protection. We found it spread beautifully over the skin and sank in fast. It leaves a light sheen behind, which all but the oiliest of skin types will probably love, and looks as good under makeup as it does alone.
In terms of ingredients, this packs in antioxidants to up your skin's protection against free radicals and ward off sun spots in particular. It layers nicely with other skincare such as Vitamin C and hyaluronic acid serums, although this is so juicy you'll probably find you can skip a few steps in your routine when wearing it. Like most French skincare this is fragranced – a light floral scent that is perfectly pleasant, but if you don't like any scent at all in skincare that might put you off.
6. Kiehl's Super Fluid Daily UV Defense Sunscreen SPF 50
Best facial sunscreen for oily skin
Specifications
RRP: $62/ £29
Type: Chemical
Texture: Fluid
Key ingredients: Vitamin E, sunscreen actives
Fragranced: No
Reasons to buy
+
High SPF
+
Mattifying but not flat
+
Non-comedogenic, unscented
+
Sulfate-, paraben-, and phthalate-free
Reasons to avoid
-
Might not suit very dry skins
When it comes to finding the best facial sunscreen for oily skin, you can trust the experts at Kiehl's for a formula that delivers on multiple fronts. This particular product is lightweight, fast-absorbing, and boasts SPF 50+ for true protection. Most importantly delivers a pore-blurring soft-focus effect rather than an ultra-powdery matte one. This will be hugely beneficial under makeup, acting as one of the best primers for oilier or combination skin types, as well as sun protection.
Ingredients-wise it is formulated with gentle antioxidants, soothing vitamin E, as well as your classic chemical sunscreen actives that help protect your skin from UV damage. If you have very dry skin that needs plenty of extra hydration there's probably a better formula out there for you. Otherwise, this non-comedogenic sunscreen is super comfortable for daily wear.
7. Supergoop! (Re) Setting 100% Mineral powder
Best powdered facial sunscreen
Specifications
RRP: $32 / £28
Type: Mineral
Texture: Translucent powder
Key ingredients: Mineral blockers, ceramides
Fragranced: No
Reasons to buy
+
Handy portable applicator
+
Sensitive skin friendly
+
Great for oily skins
+
Soft-focus finish
Wondering how to reapply sunscreen without ruining your makeup? This ultra-clever buy from cult sunscreen brand Supergoop! is the answer. It combines a loose, translucent SPF with a little pop-out brush that the powder filters through so you can apply it whenever you like. This makes it an excellent option for on-the-go top-ups, as well as being one of the best sunscreens for acne-prone skin on our list, and suiting oily or combination skin types.
We love an effective mineral-based formula – zinc oxide generally doesn't irritate skin – and this would be very unlikely to trigger flare-ups for those prone to redness and rosacea. This also means if you are a fan of professional tweakments or at-home chemical peels it's gentle enough to shield vulnerable, post-procedure skin from UV exposure. This product's weightless consistency delivers a barely-there finish that's virtually undetectable, gently mattifying without looking chalky. There's very little to nitpick about this, although if we had to we would say that although the universal shade is sheer and forgiving, it might be nice to see another one with warmer undertones.
8. Ultrasun Face SPF30
Best facial sunscreen for all-day protection
Specifications
RRP: $28.50 / £22
Type: Chemical
Texture: Cream
Key ingredients: Grape seed extract, squalane,
Fragranced: No
Reasons to buy
+
UVA, UVB and HEV (blue) light protection
+
Hydrating and soothing ingredients
+
Long-lasting lamellar technology
+
Pleasant texture
We beauty editors bang on about the importance of sun protection, the evils of UV, and how crucial it is to reapply your sunscreen after a few hours. But, realistically, how many of us actually slather on an extra full layer of SPF when we're already wearing makeup, out and about, or busy at work? Not many, we'd guess.
That's why Ultrasun is such a brilliant brand, as all of its formulas are designed with unique lamellar technology, which allows the ingredients to be absorbed and bind with the skin for true all-day protection that won't wash off. The only times the brand recommends you reapply is after "extensive sweating" or swimming, otherwise, you really are good to go for the day. The texture, a mid-weight cream, feels comfortable and hydrating without being greasy, and the clever pump bottle ensures you get every last drop out. It also contains nourishing squalane, and anti-inflammatory grape seed extract and is non-comedogenic and vegan-friendly.
9. Skinceuticals Sheer Physical UV Defense SPF 50
Best luxury mineral facial sunscreen
Specifications
RRP: $48.88 / £45
Type: Mineral
Texture: Sheer fluid
Key Ingredients: Artemia salina
Fragranced: Yes
Reasons to buy
+
100% mineral sunscreen with zinc oxide and titanium dioxide
+
Transparent finish
+
Great under makeup
+
Paraben-free; non-comedogenic
+
Good for all skin types
This offering from elite skincare brand Skinceuticals has been quietly yet confidently making its way onto dermatologists' best facial sunscreen lists for years. Not only does it offer impressive SPF50 plus broad-spectrum UVA protection, but it is also unusually transparent on the skin. Even liberal application doesn't leave a white cast, which is all the more impressive when you know this sunscreen is completely mineral-based.
The addition of artemia salina – a plankton extract that boosts skin's natural protection against UV, heat, and environmental stress – amps up the protection offered by the silky liquid. We did find that the texture feels a little heavier than your average chemical blocker, but the benefits of never having a flare-up or stinging eyes make it more than worth it for those with sensitive skin.
10. Garnier Ambre Solaire Over Makeup Super UV Protection Mist SPF50
The best facial sunscreen mist
Specifications
RRP: £6.50 (UK only)
Type: Chemical
Texture: Transparent mist
Key ingredients: Glycerin, antioxidants, hyaluronic acid
Fragranced: Yes
Reasons to buy
+
Easy to apply
+
Broad spectrum protection
+
Weightless feel
+
Great for top-ups
Reasons to avoid
-
Mist can waste some product
Even the best facial sunscreen usually needs topping up to be able to do its job properly. And once you've applied a full face of makeup, it's pretty unappealing to rub another cream on top of that midday and mess up your hard work. That's why we love this mist from Garnier, which offers SPF50 sun protection in a completely invisible and non-greasy spray that lands on top of makeup but doesn't disturb it or make it melt away. This makes being a diligent re-applier so much easier that you'll actually get the full benefit of your sun protection.
The cruelty-free formula contains hyaluronic acid and glycerin, so it hydrates while it protects, plus it has antioxidants from scutellaria baicalensi root extract to double up on protection. Naturally, with this being a mist, you will lose a little bit of product into the air with each application, so you may want to use a lotion for your morning application, then this for top-ups. Either way, a tiny bit of wastage is a small price to pay for such convenient protection.
---
How to choose the best facial sunscreen for you
Picking the best facial sunscreen for you starts with pinpointing your skin type, so run a quick check with says Kimberley Medd, Head of Clinic at Face The Future's tips. "Normal skin has a good balance of oil and moisture, whereas combination skin will usually have an oily T-zone with dry areas. Dry skin feels tight and flaky, which is often paired with a dull complexion. Oily skin looks shiny, and will be prone to blackheads and breakouts."
Once you have that down, you can then select the sunscreen type and texture that is best suited to your skin type. As Medd explains:
Oily: "If you have oily skin, I would highly recommend an SPF that is oil-free to prevent further skin congestion, and to reduce shine."
Combination: "Combination skin types need an SPF that adds moisture to dry areas of the skin, but that is also oil-free and non-comedogenic to prevent skin congestion in the T-zone."
Dry skin: "For dry skin types, I would recommend a formula that includes moisturizing ingredients, such as Vitamin E, glycerin or ceramides." These also have the benefit of helping any natural glow stick around for longer, if you're someone who wants to know how to make a tan last longer.
Balanced skin: "Normal skin types require an SPF that isn't oil-rich, but that also isn't too drying, boasting a comfortable, non-greasy formula.
What is the most effective sunscreens for face?
Understanding sunscreen from an effectiveness point of view means first decoding the (often fairly jargon-heavy) labeling. The Australian Academy of Science explains clearly what SPF numbers actually signify. This is calculated by measuring the time (in seconds) it takes for skin to slightly redden when covered in sunscreen, divided by the time it takes for it to redden without protection. So, if it took 300 seconds for the skin to burn with sunscreen, and 10 seconds to burn without it—300÷10—a sunscreen would carry an SPF 30.
As for all the rest of the numbers and letters on your sunscreen label, here is your quick cheat sheet:
UVA: The ultraviolet rays responsible for skin aging and skin cancer/melanoma (think A for aging)
UVB: The ultraviolet rays responsible for skin reddening and burning (think B for burning)
SPF: Refers to the Sun Protection Factor, and only determines protection from UVB rays. Dermatologists widely recommend using SPF 30 as a minimum.
PA: The Protection Grade of UVA is measured via plus signs (+)—the more pluses, the better the protection.
Broad-spectrum: Absorbs or blocks both UVA and UVB rays. So if you are wondering does sunscreen prevent tanning, if it's broad spectrum then yes, it will. And that's no bad thing.
Chemical sunscreen: These widely-used formulas contain chemical compounds that absorb and neutralize UV rays within the skin.
Mineral sunscreen: Contain natural reflectors, such as zinc oxide and titanium dioxide, that physically block the sun and reflect UV rays away from the body.
Reef-safe: Some chemical sunscreens can be damaging to fragile aquatic life when they rinse off your skin into the water supply or ocean. According to Save the Reef, this is any sunscreen product with ingredients that "aren't on the HEL List"
What sunscreen is the most environmentally friendly?
There's more to sunscreens than acronyms and packaging symbols, it's important to make sure you respect your environment too. Even the best facial sunscreen won't be able to accompany you on coastal holidays if it isn't reef safe. In order to protect their coastlines and underwater habitats, some parts of the world have committed to sunscreen bans on chemical sunscreens - and some mineral ones - that contain ingredients that aren't considered reef-safe.
At the moment, Hawaii, Key West (Florida), Palau, Rivera Maya (Mexico), Los Cabos (Mexico), Bonaire, Aruba, and the US Virgin Islands have sunscreen bans that don't allow the delivery or sale of particular products to their region. Before you travel, it's good to be aware of this.
---
Beauty Editor, womanandhome.com
As woman&home's Beauty Channel Editor, Fiona Mckim has tried more products than she's had hot dinners and nothing makes her happier than raving about brilliant finds on womanandhome.com or her instagram grid (@fionamckim if you like hair experiments and cute shih-tzus). Fiona joined woman&home as Assistant Beauty Editor in 2013 under industry legend Jo GB, who taught her everything she needed to know (learn about ingredients and employ extreme cynicism). She has since covered every corner of the industry, from interviewing dermatologists and celebrities to reporting backstage at Fashion Week and judging the w&h Beauty Awards.