How to reapply sunscreen over makeup for all-day protection
Skin doctors and makeup pros share their expert advice on how to reapply sunscreen throughout the day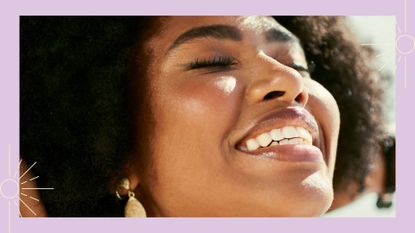 (Image credit: Future)
Wondering how to reapply sunscreen over makeup and throughout the day? It's such an important, but often neglected aspect of suncare.
We all know how crucial it is to use your best facial sunscreen daily, come rain or shine. Most of us would admit, though, that we're not always reapplying, which is every bit as important. According to Dermatologist Dr Justine Hextall this is because, "UV rays cause ingredients in some chemical sunscreens to degrade, so as the day progresses they will be less effective at protecting the skin."
How often you reapply is dependent on where you are in the world and how hot it is outside, says Dermatologist Dr Emma Craythone. "If you apply liberally to your face, hands, and arms (and any other areas that are exposed) and are staying mostly inside, you should be set for the day," she says. "However, if you are out in the sun all day, you must reapply every two hours."
How to reapply sunscreen over makeup
1. Use powder formulas
If you're wondering how to reapply sunscreen over makeup without disrupting your foundation, a powder is the best way to go. Makeup artist Brooke Simons favors this method when she needs to top up her protection. "I love using a powder SPF over makeup on my clients - they usually come with a brush and the product disperses through it and can be swiped across all areas of the face," she says. "These are genius as you can apply them in the same way that you would usually use your powder, with the added benefits of SPF protection."
Powders also work best if you prefer a more matte look. The included brush applicator also means they're extra handy for adding to your handbag, so there's no excuse not to top up.
Our beauty editor recommends...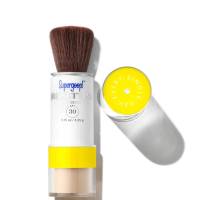 Supergoop! (Re)setting Mineral Powder SPF30 | RRP: $33/£29
Simons recommended this and it's one of our favorites too. It's made with mineral powder, which will add a nice matte finish without looking flat. It's easy to use, pleasingly packaged, and one of the best sunscreens for acne-prone skin too. What could be better?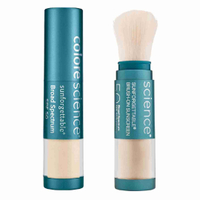 Colorescience Sunforgettable Total Protection Brush-On Shield SPF50 | RRP: $69/£40.99
Dr. Hextall recommends this slightly more expensive option, which is designed to be suitable for very sensitive skin. It's available in four shades, as well as in matte and glow finishes. For an extra long-wearing effect, it's also water-resistant, which makes it useful for sweltering summer days.
2. Use mists or sprays
If powders aren't your thing, you may prefer a mist or spray formulation - especially an SPF-infused setting spray, which is one of the best sunscreen innovations in recent years. These products are another great tip for how to reapply sunscreen without impacting your makeup whatsoever - with a fine mist and a touch-free application. Dr.Craythorne uses this method. "You can reapply over make-up and your SPF will still work fine - you just have to be careful over some foundations if it pills - that's why sprays work really well."
Simons says sprays are better if you're not a fan of a matte look. "The sunscreen powders can be quite mattifying, so if you're into a more dewy, glowy look I would suggest using an SPF setting spray," she says. "Although they do tend to be on the oilier side so something to bear in mind based on your skin type."
Our beauty editor recommends...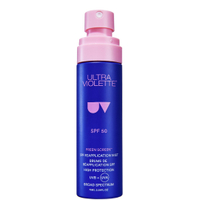 Ultra Violette Preen Screen SPF Reapplication Mist SPF50 | RRP: £32 (UK only)
A new launch from the Australian brand, this has been specifically designed to top-up protection without disturbing makeup. The secret is an ultra-fine mist, leading to an almost invisible layer. We also love that it's infused with skin-boosting niacinamide, Vitamin C, and Vitamin E.
3. Use matte sticks
A couple of the skin experts recommended sticks for an easy way of reapplying sunscreen. They're handy for their solid, spill-free formulations - plus, they're also usually pretty pocket-sized. This makes them extra convenient for carrying around in the daytime and saving on the liquid allowance on airplanes when you're traveling.
The slight downside is that you have to physically apply solid sticks across your skin, so there's potential to smudge your base. If you have a full face of makeup, we'd advise sticking to the powders or sprays. If you wear a relatively light base, like a CC cream or tinted moisturizer, a quick sweep of a stick shouldn't impact it too much.
Our beauty editor recommends...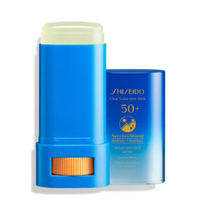 Shiseido Clear Suncare Stick SPF50+ | RRP: $30/£30
A beauty team favorite and a global bestseller, this looks invisible on skin and applies like a dream. It's not shiny, so it won't impact your foundation finish. It's also water-resistant and made to shield skin from harm caused by pollution, so it's a brilliant all-rounder for all seasons and situations.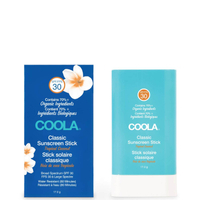 Coola Classic Sunscreen Stick SPF30 | RRP: $24/£23
This has a slightly sheenier texture, giving a glowy finish. This works well when you have a sheer base, but if you're more of a matte fan, stick to Shiseido. This glides on easily and has a slight coconut scent, which is lovely and refreshing on scorching summer days.
How to reapply sunscreen on bare skin and body
How to reapply sunscreen when you have bare skin is an altogether simpler affair. For your face, you can use the methods for reapplying sunscreen over makeup - mists and sprays are quick to apply, mess-free, sink in speedily and you won't have to buy multiple products to do the same job. Or use your everyday SPF again throughout the day, topping up your cream or serum in a light, even layer.
If you're on vacation, or sitting in the sun for a couple of hours, it's key to know how to reapply sunscreen to your body, as well as your face. Consultant Dermatologist Dr Hiva Fasshi recommends that we, "reapply sunscreen 20-30 minutes before going out." She continues, "If you plan to spend the whole day out during the spring and summer months, reapplication is recommended every 2-3 hours. Physical activity or swimming will result in rubbing off of the sunscreen from the skin, so apply again after those activities."
Our beauty editor recommends for the face...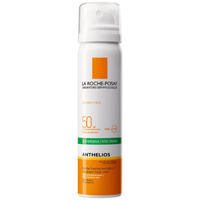 La Roche Posay Anthelios Invisible Anti-Shine Face Mist SPF50+ | RRP: $36.99/£17
Dr Craythorne is a fan of this mist, and it's also a beauty team staple. The reason? It feels incredibly light, providing a fine mist that won't disrupt makeup, or leave a ghostly white cast. I have a stockpile stashed away at all times - it's one of the first products I mention when I'm asked how to reapply sunscreen.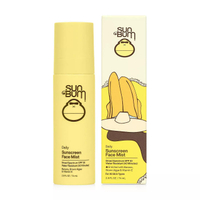 SunBum Daily Sunscreen Face Mist SPF30 | RRP: $17.99/£21
This refreshing spray is ideal when you're hitting the beach or the pool. It smells great and leaves skin feeling really moisturized, thanks to the inclusion of Vitamin E. If it's an especially scorching day, keep it in the fridge for an extra cooling hit on application.
Our beauty editor recommends for the body...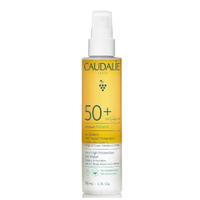 Caudalie Vinosun Very High Protection Water SPF50 | RRP: $35/£28
Sunscreen waters are a smart new innovation, with a clear formula that leaves no sticky residue or white cast. This is my current favorite - it smells totally luxurious, like a vacation in a bottle. It sinks in quickly and actually feels like a delight to reapply - not a chore.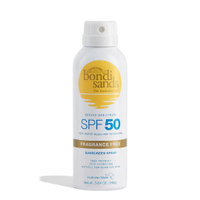 Bondi Sands Fragrance Free Sunscreen Aerosol Mist SPF50 | RRP: $13.99/£9.99
Knowing how to reapply sunscreen to your body doesn't mean you have to spend a fortune. I rate all of the Bondi Sands suncare, which is never sticky or oily and is all under $15. This body mist is fuss-free and easy to use and is fragrance-free, so won't irritate sensitive skin types.
Rhiannon Derbyshire is the Senior Beauty Editor for Woman & Home and other publications.
She started interning for glossy magazines while working alongside her Fashion Journalism degree. There, she was lured to the beauty desk, seduced by matte lipsticks, posh shampoos, and every skincare product imaginable. 10+ years into her career, she can confidently tell you why the best mascaras are always high street, and why SPF is a non-negotiable all year round. Ask her about her curly hair routine, skincare minimalism, and how to find the exact right red lipstick