The 10 best sunscreens for acne-prone skin: get light, grease-free protection
Our beauty ed's hero sunscreens for acne-prone skin that'll protect your skin without congestion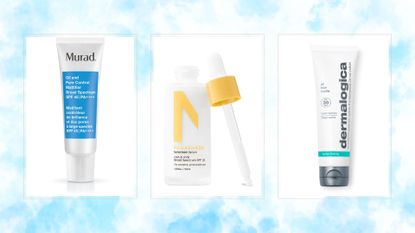 (Image credit: Murad, Zitsticka, Dermalogica)
Picking the best sunscreens for acne-prone skin will keep your skin protected without clogging pores.
The best facial sunscreens are a non-negotiable step in anyone's skincare routine. Not only to protect from dangerous UV rays, but it's also worth remembering that 80% of signs of aging come from sun damage. There are no downsides to using sunscreen every day, it's just about picking the right one for your skin's needs.
If you've found in the past that your SPF has broken you out, this is no excuse to avoid it - it's just time to find the best sunscreens for acne-prone skin. "A major barrier to wearing daily SPF is a perception that sunscreen worsens breakouts and oiliness, which isn't true," says Dermatologist Dr Emma Wedgeworth.
It's a common myth that sunscreens cause breaking out - but an understandable one, considering the old-fashioned, oily formulas of the past. The great news is that suncare has come a long way, with many ultra-light, oil-free formulas available for every budget. Look no further than this list, compiled by our blemish-prone beauty editor.
The best sunscreens for acne-prone skin, chosen by our beauty editor
Why you can trust Woman & Home Our expert reviewers spend hours testing and comparing products and services so you can choose the best for you. Find out more about how we test.
1. La Roche-Posay Anthelios UVMune 400 SPF50+ Oil Control Fluid
Best overall sunscreen for acne-prone skin
Specifications
RRP: $31.99/£19.90
Type: Chemical
Texture: Liquid
Is it oil-free?: Yes
Reasons to buy
+
Specially designed for acne-prone skin
+
Dermatologist approved
+
Sinks in quickly without grease or shine
+
Size is handy for travel
Reasons to avoid
-
None, we absolutely love this
I've made no secret of my love of La Roche Posay. The French brand's ethos for gentle but effective skincare consistently impresses me. I'm a huge fan of the original Anthelios - it's truly one of the best La Roche-Posay products of all time so I was practically bouncing from the ceiling when I heard they were creating a version for acne-prone skin. While I've never felt that the original broke me out, it's always good to have a specific oil-free formulation on hand when my skin's acting up.
This feels really similar to the original, but a little bit lighter. Matte formulas can sometimes look a little dry or chalky, but that was absolutely not the case with this. It also sat incredibly well under makeup, which is an absolute must - there's nothing worse than pilling foundation. I had to award this as the overall best sunscreen for acne prone skin - I just can't fault it. If you've found that past LRP formulas have broken you out, this could be a real game-changer for your suncare routine.
2. Biore UV Weightless Moisturiser High Protection SPF30
Best weightless sunscreen for acne-prone skin
Specifications
RRP: $8.29/£15.99
Type: Chemical
Texture: Gel
Is it oil-free: Yes
Reasons to buy
+
Global bestseller
+
Great price
+
Available in both SPF30 and 50
+
Doesn't leave a white cast
+
Absorbs instantly
Biore's gel sunscreen has been a bestseller for years. In fact, one sells every 15 seconds globally. With over 7,000 5-star amazon reviews, it's fair to say that this had an enormous reputation to live up to, so I had high hopes when I began testing. At first impression, I was surprised it was a white color - from the packaging I thought it'd be a blue gel. As you work it into the skin though, it sheers out to a clear consistency, so I heroically decided to forgive it.
The texture is lovely and cooling, which I think would work especially well on congested skin and sweltering summer days. The affordable price point is also a huge bonus. Every sunscreen I tested, I tried for a couple of days in a row and when it came to this, I didn't want to give it up to try the next option - that's when you know you're onto a winner. Whenever I try any product with a lot of hype around it, I always try to keep a slight air of cynicism, to make sure I'm not being unduly wooed. With this, it's absolutely worth its reputation. I highly, highly recommend it.
3. ZitSticka Megashade SPF50
Best serum sunscreen for acne-prone skin
Specifications
RRP: $40/£35
Type: Mineral & chemical hybrid
Texture: Serum
Is it oil-free?: No
Reasons to buy
+
Created for acne-prone skin
+
Lightweight texture
+
Hydrating formula
Reasons to avoid
-
Serum formula can be little slippery
Every year sunscreen formulas are getting lighter and lighter. Case in point: the trend for serum SPFs, which feel silky to the touch and apply just as seamlessly as your best Vitamin C serum. This particular serum sunscreen is a true skincare hero of mine - in fact, the one I tested for the purpose of this list is the third bottle I've used and I'm always scraping the last few droplets at the dregs of every bottle.
The serum texture is ideal if you hate the thought of gloopy heavy creams and feels incredibly light and comfortable on skin. You do have to wait about 10 minutes for it to fully sink in before going in with make-up (it can be a bit slidey), so that's worth factoring into your morning routine.
Zitsticka is a brand for acne-prone skin, so it makes sense that their sunscreen is made to suit that demographic. While not strictly oil-free (that accounts for the slidey-ness), I've never found it to break me out or feel greasy. It's an absolutely brilliant option - I've recommended it endlessly.
4. Byoma Moisturizing Gel-Cream SPF30
Best budget sunscreen for acne-prone skin
Specifications
RRP: $18.99/£14.99
Type: Chemical
Texture: Gel
Is it oil-free?: Yes
Reasons to buy
+
Truly invisible - a clear formula
+
Affordable price
+
Stylish packaging
+
Hydrating formula
This went viral on the same the week I was testing sunscreens for this list, and after using it a couple of times I can really see why. This was the least sunscreen-like of all the options I tried - it doesn't have a color, instead, it's a clear gel that leaves no residue or white cast. It's the most invisible SPF I've tried, and it's a huge bonus that it's so affordable.
Byoma is a brand that focuses on the skin barrier, with most of their products designed to hydrate skin and heal damage. This is a factor to consider when it comes to picking the best sunscreen for acne prone skin - it's so easy to overdo harsh ingredients when you're trying to zap those zits. The blend of soothing ceramides in this formula will help heal and hydrate skin, without feeling heavy or greasy. Quite simply, It's brilliant.
5. Ultra Violette Lean Screen SPF50
Best matte formula sunscreen for acne-prone skin
Specifications
RRP: $38/£34
Type: Physical
Texture: Matte cream
Is it oil-free?: Yes
Reasons to buy
+
Matte formula to absorb excess oil
+
Contains anti-inflammatory benefits
+
Fragrance free
+
Suitable for sensitive skin
Reasons to avoid
-
The formula can sometimes pill
Australian brands do sunscreen very well - which makes sense, thanks to the country's sunny weather and (rightly) cautious approach to sun damage. I'm a massive fan of this entire range, and they offer a couple of options as potential candidates for the best sunscreen for acne prone skin. I picked Lean Screen for its mattifying benefits, which is ideal if you have an oilier complexion.
This has a soft, almost velvety texture that smoothed onto my skin like a dream. I'd argue you even could skip primer after using this, as it left my complexion looking quite blurred and felt silky-soft. The downside with matte textures is the potential for pilling, so I'd advise waiting 10-15 minutes before following on with your makeup routine. If you don't want a matte finish, try Lean Screen, which is one of the best sunscreens for sensitive skin, and won't irritate, thanks to its minimal ingredient list.
6. Avene Cleanance Tinted SPF50
Best tinted sunscreen for acne-prone skin
Specifications
RRP: $22.99/£21
Type: Chemical
Texture: Cream
Is it oil-free?: Yes
Reasons to buy
+
Helps clear blemishes as you wear it
+
Tinted, so you could skip wearing base
+
Flattering radiant finish, that isn't shiny
Reasons to avoid
-
The color may not work on very light or very dark skin tones
Tinted sunscreens are ideal for those days when you want a little bit of coverage, but don't want to do the whole shebang of a heavy foundation. This gives a subtle 'your skin, but better' finish that you'd normally get from wearing your best tinted moisturizer, while adding a good level of protection with SPF50.
The downside to some tinted sunscreens is that they can look a little orange, or pan-faced, but that's absolutely not the case with this flattering formula. It's billed as being a matte but I'd say it's more of a softly radiant finish - nice and glowy, but without looking shiny. It didn't feel like sunscreen at all, which is brilliant if you're feeling unenthusiastic about wearing a heavy cream formula. The non-tinted Cleanance is also brilliant if a tinted formula isn't your thing.
7. Murad Oil and Pore Control Mattifier SPF45+
Best sunscreen for concealing large pores
Specifications
RRP: $49/£44
Type: Chemical
Texture: Cream
Is it oil free?: Yes
Reasons to buy
+
Formulated to hide pores
+
Oil free and designed for acne-prone skin
+
Recommended by dermatologists
This is a super smart multitasker. It's essentially a shape-shifter. Its main job is protecting skin from the sun, sure - but it also is formulated to absorb excess oil, and lessen the look of large pores. It does this with its inclusion of oil-trapping microspheres (tiny absorbents, basically), to soak up any oiliness on the surface of your face, and blur large pores.
Although it's a cream formula it doesn't feel heavy, and I really did feel my skin looked better after application, in the way it does after using a really good primer or the best pore minimizers. If large pores are your main gripe, this is the best sunscreen for your complexion. Dermatologist Dr Justine Hextall, who I consulted when creating this guide, is also a fan, which is worth noting.
8. Supergoop! (Re)setting Mineral Powder SPF30
Best sunscreen for acne-prone skin to reapply
Specifications
RRP: $35/£29
Type: Physical
Texture: Powder
Is it oil-free?: Yes
Reasons to buy
+
A brilliant way of topping up sunscreen in the day without impacting makeup
+
Mattifies skin
+
Quick and easy to apply
Reasons to avoid
-
Quite wasteful packaging
When I asked Dr. Hextall how to reapply sunscreen, she recommended picking a spray or powder formula that glides over makeup. She specifically recommended this buy, which is the best sunscreen for acne-prone skin for the job.
That's because it's a mineral powder, which will blur any imperfections while keeping your skin protected. The powder formula will also work like a charm to mattify oily and blemish-prone complexions, which will come in extra handy while you're out and about.
I loved how easy this made the chore of reapplying - I kept it in my bag on days when I was in the sun all day, and it was hugely reassuring. On application, it was ultra-fine and didn't feel pore-clogging whatsoever. My skin looked clearer and mattified, like I'd just topped up on setting powder.
9. Dermalogica Oil-Free Matte SPF30
Best sunscreen for very oily skin
Specifications
RRP: $59/£55
Type: Chemical
Texture: Cream
Is it oil-free?: Yes
Reasons to buy
+
Clears skin as you wear it
+
Oil free formula
+
Helps balance excess oiliness by mattifying skin
If you need specific skincare for oily skin, this is the best sunscreen for the job. Mattifying and light, Dermalogica's formula will really come into its own to balance out the oil-overproduction that leads to breakouts. If you've found sunscreens to feel greasy or sticky in the past, try this - it's expensive but adequately protecting your skin will always be worth the investment.
I'm blemish-prone but don't have dramatically oily skin. Still I enjoyed using this - I passed it onto an oily-skinned tester who loved it, and has enthusiastically texted me a handful of times since. This also has the benefit of containing niacinamide, which helps balance oil production and improve redness and inflammation, which is why this is the best sunscreen for acne-prone skin to actually treat skin as it's being worn.
10. Origins Plantscription™ Oil-Free SPF 25 Power Anti-Aging Cream
Best moisturiser with spf for acne-prone skin
Specifications
RRP: $73/£56
Type: Chemical
Texture: Cream
Is it oil-free?: Yes
Reasons to buy
+
Will help improve signs of ageing
+
Feels comfortable on skin
+
Oil-free and hardworking
+
Ideal for sunscreen haters
Reasons to avoid
-
Not a dedicated sunscreen
-
Expensive
-
SPF25 a little low
A face moisturizer with SPF is a handy little loophole if you really hate the feeling of sunscreen on your skin. This particular member of the genre is the best sunscreen-adjacent thing for acne prone skin. The downside I will note is that it's only SPF25, which isn't quite enough for adequate protection - we'd normally advise a minimum of SPF30. You could get away with this in the winter months, but for a bright sunny day, we'd advise another, higher factor.
The main selling point for this is that it's technically a moisturizing cream, so you're cramming a lot of skin benefits into this little tub. It's an ideal day cream for grey days. I loved how it left my skin feeling plump and bouncy, but I won't be using it all year long. I'm too much of a sunscreen super-fan.
---
How we tested these sunscreens
As someone who sticks to a skincare routine for acne and is also religious about wearing a high-factor SPF every day (yes, that means wearing sunscreen in winter too), I found researching and writing this guide pretty dreamy. Two of my Mastermind topics mushed together, what could be better?
I have experience with acne and breakouts, so always make sure my daily sunscreen is light, non-comedogenic and ideally oil-free. I have a handful of tried-and-tested favorites, that have never broken me out, and feel comfortable on my skin - all of these have ended up on this list.
I've also tried newer options from a mix of brands, formulations, and price points and wore each for several days. Again the main factors were whether they were comfortable and if they caused any clogging or reactions. I tested them under makeup and on bare skin to check how they felt, looked and behaved in both scenarios to really narrow down all of the best sunscreens for acne-prone skin.
How to choose the best sunscreen for oily skin
I asked Dermatologist Dr Justine Hextall for her advice for picking a formula. "Look for sun creams specifically created for blemish-prone skin," she advised. "I would also broadly say to avoid possible comedogenic ingredients such as any oils - the main culprits are mineral, jojoba or coconut oils or butters and silicones."
Rhiannon Derbyshire is the Senior Beauty Editor for Woman & Home and other publications.
She started interning for glossy magazines while working alongside her Fashion Journalism degree. There, she was lured to the beauty desk, seduced by matte lipsticks, posh shampoos, and every skincare product imaginable. 10+ years into her career, she can confidently tell you why the best mascaras are always high street, and why SPF is a non-negotiable all year round. Ask her about her curly hair routine, skincare minimalism, and how to find the exact right red lipstick