How to perfect a skincare routine for acne, in just 4 steps
Mastering your skincare routine for acne doesn't have to be complicated, says our breakout-prone beauty editor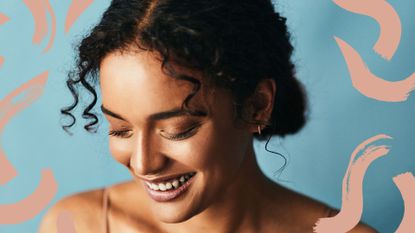 (Image credit: Future/Getty images)
Creating a skincare routine for acne doesn't have to be elaborate or expensive. If anything, overcomplicating things can make skin problems worse. Really, it all comes down to four key steps, or even three if you want to be really simplistic. Allow me to explain.
If you've struggled with blemishes at any point in your life it's likely you've spent a long time wondering how to get rid of acne and especially how to get rid of pimples fast when you're mid-breakout. Having suffered from this skin condition in the past, I can tell you from experience that the best thing you can do is build a solid skincare routine. There's no use going all in for drying ingredients and intensive at home facials when you're not laying a good, basic foundation for your complexion.
Dermatologist Dr Natalia Spierings agrees that simplicity is key in a skincare routine for acne. "Avoid too many products and too many steps. Your skincare should be as basic as possible." She continues, "Try very hard not to overdo products that will lead to irritation and inflammation in skin that is already irritated and inflamed. Avoid even the best toners if they are aggressive and don't overdo spot treatments that just dry out the skin. Toothpaste is not helpful for acne spots either."
Does anyone else find that toothpaste comment particularly triggering? Erm, me neither. Suffice to say that there are now countless options available when it comes to building a brilliant skincare routine for acne, and here's my streamlined guide.
The simplest skincare routine for acne
Step 1. Cleanse
Cleansing is the first and most important step in any good routine - there's no point loading expensive serums and creams onto skin that's not fully clean. This first step is especially key in a skincare routine for acne to clear away bacteria, makeup, and grime, says Aesthetician and GP Dr Ahmed El Muntasar, "If the skin is not clean you are getting more oil on the surface which blocks pores and causes more acne to form." He continues, "So, it's very important to not only use the right cleanser but to also use it in the right way for the right length of time."
I'd agree - most of us aren't cleansing our skin for long enough for it to be truly worthwhile - you should be massaging the product into the skin for at least 60 seconds, to ensure it really lifts everything off.
When it comes to picking the best cleansers for acne, look for light gel or cream-based products that won't sit heavily on the surface of your skin. Dr. Spierings agrees, "It is usually best to use the mildest and gentlest non-foaming cleanser possible", she says. "I would suggest avoiding cleansers with extra ingredients like acids to minimize irritation. Less is more when treating acne."
Our beauty editor recommends...
Step 2. Serums
Serums aren't wholly necessary in any skincare routine - this is the one step you could skip to seriously simplify things to just three steps. But, hold fire before you discount them all together - creating clever skincare combinations including serums can be the key to improving skincare problems, like acne. The light, liquid formulations sink deeper into the skin than your moisturizer (and sit on your skin for longer than your cleanser), so a potent serum with a blend of zit-zapping ingredients can make a huge difference in keeping blemishes at bay.
For me personally, using the best night serum had one of the biggest effects on my complexion - especially the best vitamin C serums, which give my face an instant zing in the gloomier months when it can start to look grey.
What's key when picking the best serum for your skin type is looking for those acne-beating ingredients. Think salicylic acid, niacinamide and retinol. If you're wondering how to apply serum, it's always after cleansing and before moisturizer. You can use them in the morning or the evening - or both, if you like.
Our beauty editor recommends...
Step 3. Moisturize
It's a common misconception that acne-prone skin needs to be 'dried out' by skipping moisturizer. It's just not true - and this is a topic that Dr Spierings is especially passionate about. "Hydration and oiliness are not the same thing," she explains. "Hydration has to do with water content in the skin and oiliness is surface oil. Many of the treatments used for acne can be drying so protecting the water content of the skin with a moisturizer is so important."
Dr Muntasar says that skipping hydration can actually bring about the exact opposite of the desired effect, "If you don't moisturize, your skin will be dehydrated, so your skin will think its needs to hydrate itself by making more oil. So you could create this vicious cycle of not moisturizing and making more oil."
I'll admit that before my beauty editor years that skipping moisturizer was one of the things I did when an acne flare-up kicked in. Now hydration is one of my biggest priorities, no matter what state my skin is in - I use my best face moisturizer religiously, and load up on the best hyaluronic acid products for light, ungreasy hydration.
Our beauty editor recommends...
Step 4. SPF
Come on, did you really think I'd conclude any skincare routine roundup without mentioning SPF? While not wholly specific to perfecting a skincare routine for acne, sun protection is one of the best things you can do for your skin, no matter what condition it's in. Dr Muntasar says that using it can even help prevent acne, "SPF is so important for acne-prone skin - if the skin is exposed to the sun it copes by producing more oil."
Sun protection has come a long way, what used to be sticky, gloopy formulations that would sit heavily on your skin and cause blemishes are now ultra-light, non-comedogenic, and can even help improve your skin as you wear them. The best sunscreens for acne-prone skin are the ones you'll really want to wear. Your skin in 10 years will thank you.
If your skin is prone to grease or excessive oiliness, consider skipping moisturizer and swapping instead for a face moisturizer with SPF, to do two jobs in one (and save time by skipping another step in the process - result).
Our beauty editor recommends...
Step 5. The optional extras
Now that you have your solid routine of cleansing, moisturizing, and SPF, with the (optional) serum perfected - what's next? That's the solid framework you need, but what about those little extras? We're talking targeted treatments, masks, and potentially even the best skincare devices to blast bacteria and blemishes.
It's handy to have a couple of tricks up your sleeve for those skincare emergencies. A whopper of a spot the day before your best friends' wedding? Been there! As Dr Spierings said, it's important not to overdo these, as they can really dry out your skin, but dipping in and out when you really need a pimple to vanish ASAP is totally fine. Personally, while writing a Dr Dennis Gross DRx SpectraLite FaceWare Pro review I found that light therapy for acne to be a game-changer for my skin, but it's not a wholly necessary purchase. The best light therapy devices are expensive and not for everyone. Targeted treatments and detoxifying masks can work real magic when you're in an SOS skin situation.
Our beauty editor recommends...
When to see your dermatologist
At the end of the day, serious acne can be classed as a medical condition, which could need more professional intervention than just streamlining your skincare routine. But when do you know when it's time to take that step?
Dr Spierings advises, "You should consider seeing a dermatologist at the point where your acne is affecting your quality of life, or when you notice that you're getting scars." She continues, "Even one appointment with a dermatologist can set you on the right path to dealing with your acne. If your spots are constant, painful, leaving scars and affecting your mental health, these are all reasons to see your Doctor and get referred to dermatology or see a dermatologist yourself. Acne is a very treatable skin condition and can be controlled with the right treatment so no one should need to suffer with it."
Rhiannon Derbyshire is the Senior Beauty Editor for Woman & Home and other publications.
She started interning for glossy magazines while working alongside her Fashion Journalism degree. There, she was lured to the beauty desk, seduced by matte lipsticks, posh shampoos, and every skincare product imaginable. 10+ years into her career, she can confidently tell you why the best mascaras are always high street, and why SPF is a non-negotiable all year round. Ask her about her curly hair routine, skincare minimalism, and how to find the exact right red lipstick