How to get rid of back acne—pro tips on getting a bump-free body from dermatologists
Learn how to get rid of back acne for good with these expert-approved tips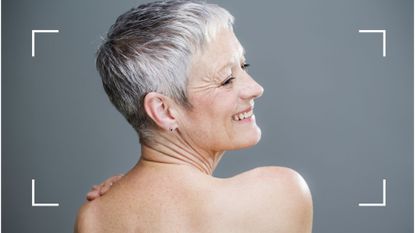 (Image credit: Getty Images)
woman&home newsletter
Sign up to our free daily email for the latest royal and entertainment news, interesting opinion, expert advice on styling and beauty trends, and no-nonsense guides to the health and wellness questions you want answered.
Thank you for signing up to . You will receive a verification email shortly.
There was a problem. Please refresh the page and try again.
Want to learn how to get rid of back acne? Contrary to all the flawlessly filtered photos you might see online or on social media, if you're having an issue with imperfections on the skin of your back, you're not alone. Back acne, otherwise known as "bacne," is a common skincare concern that affects over 50% of people with acne. Be it cystic spots or pesky pimples, body blemishes can be stubborn and difficult to deal with.
A lot of our time and effort perfecting our skincare routine has to do with dealing with visible issues on our faces—and, if we're being extra careful, our neck and décolleté—but bacne is a pressing concern that doesn't face as much airtime for many people. Especially as we get older, when we're more concerned about issues like aging, sun protection, or wrinkles, fighting body blemishes seems to be put, well, on the back burner (pun intended).
But our experts are here to shed some much-needed light on the proper back care procedures that will supplement a good skincare routine for acne. "Blemishes can appear all over the body, but the face, chest, and back have higher sebum levels, so these areas are more likely to break out," says Dr. Ifeoma Ejikeme, general medicine consultant and expert aesthetic physician.
Here our skincare specialists share their expert advice—from the main causes to the best treatments, so you can learn how to get rid of back acne once and for all.
What causes back acne?
Like with facial acne, there are various common reasons why blemishes can appear on the back. "Hormonal changes, lifestyle, stress, poor gut health, genetics, or even some medications can cause back acne," says Abigail James, A-list facialist and aesthetician.
If you've ever wondered why you're breaking out in the first place, here are the key culprits explained:
Excess oil and dead skin cells: "Typically, back acne is caused by the overproduction of sebum and a build-up of dead skin cells," says Dr. Ejikeme. This build-up can eventually clog the pores, leading to redness, inflammation and breakouts. "Because the skin on your back is slightly thicker, pores are slightly larger, and naturally there can be higher levels of bacteria and dead skin cells that go unnoticed," adds Abigail.
Hormones: There's a reason why bacne often onsets during puberty. "Hormones can affect the amount of sebum produced by the skin," explains Dr. Ejikeme. "We see these fluctuations during the menstrual cycle, where breakouts are more common right before menstruation due to changes in estrogen, progesterone, and testosterone levels."
Sweat: Contrary to popular belief, it's not just a sweaty session that can cause breakouts—remaining in your sweaty gym gear after exercising can also lead to pimples and spots.
Genetics: Abigail confirms that genetics can also play a role in whether you're prone to acne. A twin study published in 2018 (opens in new tab) found strong evidence that genetics are a leading cause of acne, with environmental factors impacting the severity of acne symptoms.
Stress: While stress doesn't directly cause acne, research has found it can make acne worse.
Medications: Certain medications, including androgens and antidepressants, have been found to contribute to acne flare-ups. If you're concerned, talk to your doctor about the different treatments and medicine available.
Diet: Dietary causes include over consumption of sugar, yeast overgrowth, liver toxicity and digestive imbalances.
How to get rid of back acne
(opens in new tab)
While it's an area that's prone to sebum blockages and breakouts, there are several simple steps and changes you can make to your daily routine to help banish back acne for good.
Tip #1: Switch up your shower gel
The first port of call is to lock down a good cleansing routine using one of the best cleansers for acne. "Treat your back as you would your face," says Georgie Cleeve, founder of luxe skincare brand Oskia. This means casting aside those fragrant fruity shower gels in favor of something that's targeted yet kind to skin. "Oh, and never use a traditional soap," adds Georgie, "although it will remove bacteria, it will also dry your skin and damage your skin barrier function due to its high pH, which will only exasperate the problem."
Instead, seek out a gentle, fragrance-free and antibacterial body wash. "Something with salicylic acid in is great as it's antibacterial and anti-inflammatory," recommends Abigail. Her top pick? Murad Acne Body Wash is brimming with BHAs to clear breakouts and smooth skin. For a good everyday option, try Cetaphil Gentle Skin Cleanser—it's fragrance-free and non-comedogenic.
Our beauty editors recommend...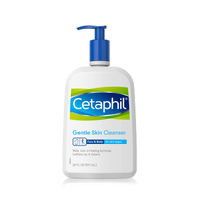 (opens in new tab)
Cetaphil Gentle Skin Cleanser
Calm down any irritation and inflammation with a neutral pH cleanser such as this dermatologist favorite. We like to use it on days when our skin is particularly reactive (after sun exposure, during an active breakout) for its, surprise, super gentle cleansing properties.
---
Tip #2: Exfoliate to decongest pores
To tackle pimples and blackheads head-on, try incorporating one of the best body exfoliators into your weekly regimen. "It will help prevent dead skin cell build-up," says Abigail, and as we know, a build-up of dead skin cells, sweat, and sebum can block pores and cause bacteria to multiply—creating the perfect breeding ground for back acne.
Her recommendations? Ameliorate Smoothing Body Exfoliant, blended with bamboo particles and AHAs exfoliates skin without stripping moisture. "Paula's Choice also does a great Weightless Body Treatment, containing 2% salicylic acid."
Our beauty editors recommend...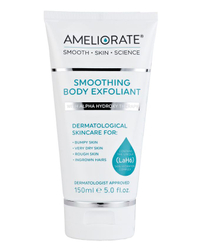 (opens in new tab)
Ameliorate Smoothing Body Exfoliant
Its unique skin hydration complex relieves the appearance of keratosis pilaris (KP) and ingrown hair, both of which can contribute to bumpy back skin.
---
Tip #3: Shower after exercise
It might sound a little obvious, but if you're experiencing a bout of back acne, make sure you shower straight after exercise. "Bacteria will multiply on sweaty skin," warns Georgie, so whether it's a brisk walk or spin session, remove your clothes and cleanse your skin immediately after sweating. "It's also worth wearing breathable fabrics and avoid carrying your gym kit (or any kit) in a backpack, as this will dial up the heat," adds Abigail.
Tip #4: Pick your body moisturizer wisely
As with your shower gel, it could be time to swap out your body moisturizer for something that has oily skin in mind. "There's no need to apply thick butters or oils to moisturize the skin," says Dr. Ejikeme. "Instead, opt for lightweight products labeled non-comedogenic, which means they won't clog pores." Try Oskia Renaissance Body Treatment Milk featuring a barely-there consistency that sinks straight into skin to deliver a hefty hit of hydration with nutrients and bio-actives.
"The same rule applies for SPF: seek out fragrance-free, oil-free, and matte formulations," Dr. Ejikeme adds.
Our beauty editors recommend...
---
Tip #5: Consider your diet
"Diet and gut health are closely connected to acne," explains Abigail. "If you're working out, avoid whey protein drinks, ensure you have enough greens in your diet, and cut down on sugary and caffeinated drinks."
Georgie has noticed that the addition of a good daily multivitamin supplement can also work wonders. "I have seen this work on so many clients, especially those who find it difficult to eat a healthy balanced diet."
Tip #6: Change your sheets
It's a good idea to regularly change your sheets and, according to the experts, once a week is good practice. The reason why? Dead skin cells, bacteria and dust mites can all accumulate on there, disrupting your skin's ecosystem and potentially leading to acne. If you do end up leaving it over a week (sometimes life just gets in the way), try to shower and wash your face properly before bed to remove daily dirt.
Tip #7: Try a topical treatment
As well as swapping out your shower gel and investing in a lightweight moisturizer, it's also worth testing out a topical treatment. Both Abigail and Georgie recommend products containing beta hydroxy acids (BHAs). Unlike AHAs, BHAs are oil-soluble which means they can travel deeper into the skin's layers to remove dead skin cells and sebum. Our top picks? Paula's Choice CLEAR Acne Body Spray is loaded with salicylic acid (a BHA) to eliminate bumps without drying skin out. Simply mist your back (you can even do this holding the bottle upside down) and let the formula dry before dressing.
Another body mist that gets rave reviews is Murad Clarifying Body Spray. AHAs, as well as BHAs and calming allantoin, help treat and prevent future breakouts.
Asides from acids, another ingredient to look out for is tea tree oil. Recognized for its anti-inflammatory and antimicrobial properties, tea tree oil (which can be found in various products) is said to calm redness and inflammation.
Our beauty editors recommend...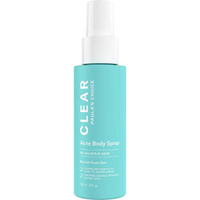 (opens in new tab)
Paula's Choice CLEAR Acne Body Spray
Say goodbye to hard-to-reach areas with a soft misting, non-rinse acne treatment that targets blackheads and blemishes all over the body. Salicylic acid blended with barberry and licorice extracts help fight against body acne, redness, enlarged/clogged pores, and bumpy texture. Use daily for best results.
Tip #8: See a dermatologist
If you've tried all the above and your back acne just isn't budging, book in to see a dermatologist who can provide personalized advice and a treatment plan including effective solutions such as light therapy for acne. "If spots on the back are leaving scars of any kind that are pigmented or red, I would recommend getting professional help," advises Dr. Ejikeme.
woman&home thanks Dr. Ifeoma Ejikeme (opens in new tab), Abigail James (opens in new tab), and Georgie Cleeve of Oskia (opens in new tab) for their time and expertise.
Emma Stoddart is a freelance beauty journalist and self-confessed skincare aficionado with over five years' industry experience. Emma has worked for some of the UK's top women's titles including Net-A-Porter, Stylist and Grazia. Her experience spans online and print as well as producing editorial shoots with some of the industry's biggest artists, including Val Garland. Asides from working with them behind the scenes, she's also had the chance to interview the likes of Patrick Ta, Pat McGrath, and Sam McKnight for all their insider tips and tricks.