You don't have to put up with keratosis pilaris any more, here's how to banish 'chicken skin' for good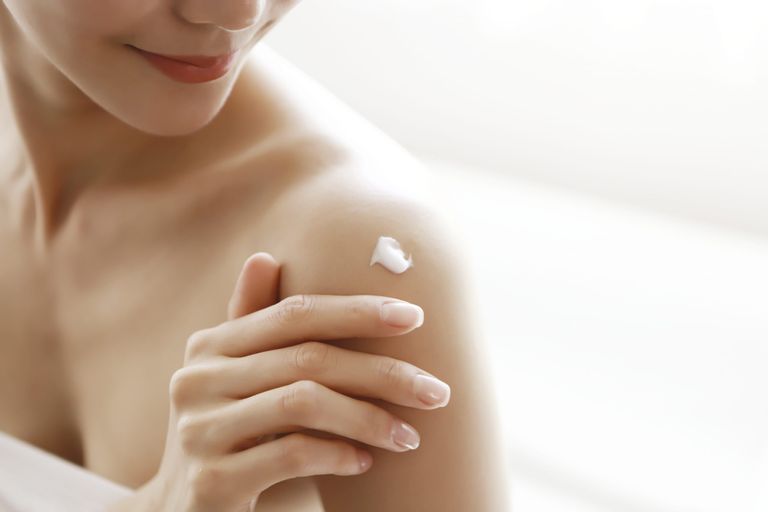 If you've been putting up with keratosis pilaris, bumpy skin on the backs of your arms, thinking there's nothing you can do to magic it away - we've got the answers.
Keratosis Pilaris is a skin condition which, like Rosacea or Psoriasis is more common than you might think.
'That looks sore' and 'what have you done to your arm?' become repetitive (and frustrating) refrains when you suffer fromkeratosis pilaris or 'chicken skin'. But what really causes those painless but pesky little bumps?
What is keratosis pilaris or 'chicken skin'?
According to Dr Mervyn Patterson, cosmetic dermatologist at Woodford Medical, chicken skin or Keratosis Pilaris, to use its medical name, is 'a rough coarseness of the skin with many small bumps, either white, red or slightly darker than skintone in colour. The raised bumps represent small blockages in the entrance to the hair follicles'.
What triggers 'chicken skin'?
Whilst there's no clear scientific reason as to why one person might develop Keratosis Pilaris and not another, Dr Patterson has observed that it often runs in families – with several members of one family affected.
Most commonly found on the back of the upper arms, thighs and cheeks, Keratosis Pilaris might feel rough and put you off wearing a sleeveless top, but it's thankfully not itchy, harmful or contagious.
How do you get rid of keratosis pilaris and how can you treat it?
There might not be a 'cure' for keratosis pilaris, but there are plenty of ways to keep it under control. First up, steer clear of anything that might aggravate or dry out your skin like overly fragranced body lotions or near-scalding baths and showers.
Secondly, stock up on products that contain chemical exfoliants. Working similarly to a conventional body scrub (just with less manual effort and a little more clout) alpha-hydroxy acids (AHAs for short) like glycolic and lactic acid work to dissolve the bonds between dead skin cells. By effectively unplugging the gunk and build-up from your skin, bumps are reduced – leaving silky smooth skin in it's place.
If you really want to up your game, a beta hydroxy acid like Salicylic acid will not only exfoliate away dead skin on the surface level but deliver a thorough oil-busting cleanse deep into your pores.
Both types of acids are great for fading scarring, so will work wonders to fade away any marks left over fromkeratosis pilaris too.
What's the best lotion for keratosis pilaris?
Here are some products you can buy that may help:
Bioderma Anti-Irritation Shower Oil, £8.80
One of the most soothing body washes on the market, this oil-to-cream formula restores hydration to sore skin.
Ameliorate Softening Bath Milk Oil, £19
Specialising in products to treat Keratosis Pilaris, Ameliorate products are fantastic. Best used in conjunction with chemical exfoliants, this bath milk oil uses oats, starflower and sweet almond oil to strengthen the skin's moisture barrier so it stays hydrated for longer.
CeraVe SA Smoothing Cream, £12
Combining AHAs and BHAs in one punchy formula, this works quickly to whisk away dead skin cells without compromising on care and hydration. Rich and creamy in texture, it's a real treat to use.
Exuviance Retexturing Treatment, £33
Formulated to 'resurface' your skin, use in place of your normal nightly body moisturiser on the affected areas. Using a potent combination of AHAs, cell turnover is increased and those pesky 'chicken skin' bumps are reduced.
Jess Beech is an experienced fashion and beauty editor, with more than eight years experience in the publishing industry. She has written for woman&home, GoodtoKnow, Now, Woman, Woman's Weekly, Woman's Own and Chat, and is currently Deputy Fashion & Beauty Editor at Future PLC.
She caught the magazine bug during a stint as Fashion Editor of her university newspaper alongside her English degree, and hasn't looked back since. As for the fashion bug, that came as part and parcel of growing up in the 90s, but the less said about that the better!
Jess' average day in the office is spent researching the latest fashion trends, chatting to industry tastemakers and scouring the internet to bring you this season's must-buy pieces - as well as advice on how to wear them. Weekends are equally fashion-focused, and Jess has been known to visit no less than five Zara stores in a single day in search of the perfect occasion dress.
The only thing that comes close to a buzz of finally tracking down that much-coveted dress is the joy of discovering a new beauty wonder product or hero ingredient. A beauty obsessive, Jess has tried everything from cryotherapy to chemical peels (minus the Samantha in Sex and The City-worthy redness) and interviewed experts including Jo Malone and Trinny Woodall.