How to fix chicken skin—treat and prevent keratosis pilaris for good
Experts explain how to treat chicken skin and say goodbye to those pesky bumps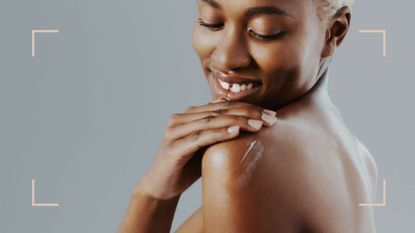 (Image credit: Future/Getty images)
woman&home newsletter
Sign up to our free daily email for the latest royal and entertainment news, interesting opinion, expert advice on styling and beauty trends, and no-nonsense guides to the health and wellness questions you want answered.
Thank you for signing up to Woman & Home. You will receive a verification email shortly.
There was a problem. Please refresh the page and try again.
If you've been putting up with chicken skin, those pesky little bumps on the backs of your arms, it can sometimes feel like there's nothing you can do to magic it away.
Keratosis pilaris (aka chicken skin) is a skin condition that, although harmless, can leave you feeling self-conscious. There are all sorts of ways of disguising it, like using self tan to create an even tone, but if you want to actually treat this condition via your skincare routine then, as with other skin concerns such as rosacea and psoriasis, patience and some expert know-how is essential.
"That looks sore," and "what have you done to your arm?" can become repetitive refrain from well-meaning types when you have keratosis pilaris. But do you really know what causes these bumps to form? We asked the experts to shed some light on the root causes and all the best treatments to tackle chicken skin.
Chicken skin, aka keratosis pilaris, explained
What is chicken skin?
Keratosis pilaris (KP) is often called chicken skin because of its plucked chicken, goose bump-like appearance. Hair follicles cover our entire bodies and when these become blocked, bumps form. It can be anywhere on the body but it's often found on the upper arms, thighs, and buttocks.
"Keratosis pilaris is a very common form of dry skin characterized by hair follicles plugged by scale," explains Dr Simon Zokaie, Cosmetic Dermatologist and founder of Linia Skin Clinic. "The condition is due to abnormal keratinization of the lining of the upper portion of the hair follicle, known as the follicular infundibulum. Scale fills the follicle instead of naturally exfoliating away."
Not sure whether you have KP or just dry skin? Dr Mervyn Patterson, a Cosmetic Dermatologist at Woodford Medical, describes how it's characterized by a "rough coarseness of the skin with many small bumps, either white, red or slightly darker than skin tone in color. These raised bumps represent small blockages in the entrance to the hair follicles."
What causes keratosis pilaris?
Almost like tiny pimples on the skin, these bumps are noticeable and can almost look like a rash on the skin. Keratosis Pilaris might feel rough and put you off wearing a sleeveless top, but it's thankfully not itchy, harmful, or contagious.
It's thought that chicken skin or KP is an inherited condition, "The tendency to develop keratosis pilaris has genetic origins. Up to half of the children of an affected individual may display signs of keratosis pilaris to a variable degree," explains Dr Zokaie. Unfortunately, it's not known why our bodies can sometimes produce too much keratin but a genetic link means if your parents experienced the condition, it's likely you could too.
How to prevent and treat chicken skin
There isn't one definitive cure for KP, but there are plenty of ways you can help clear it up:

Wash with care: First up, steer clear of anything that might aggravate or dry out your skin like overly-fragranced body lotions or near-scalding baths and showers. Using body cleansers that hydrate the skin is a good move, which means avoiding certain product types according to Dr Zokaie, who says "soap may exacerbate skin dryness."
Exfoliate: "Rubbing with a pumice stone or exfoliating sponge in the shower or bath can help," suggests Dr Zokaie, or try skincare acids like alpha-hydroxy-acids glycolic acid and lactic acid. These work to dissolve the bonds between dead skin cells, unplugging the gunk and build-up from your skin so keratosis pilaris bumps can be reduced. A bonus of salicylic acid, a beta-hydroxy acid, is that it exfoliates away dead skin on the surface but also delivers a thorough oil-busting cleanse deep into your pores. Both types of acids are great for fading scarring, so will work wonders to fade away any marks leftover from keratosis pilaris too.
Try retinol: Retinol exfoliates like acids but sloughs off the dead skin cells by increasing cell turnover to reveal new cells underneath. The result? Smoother, more even-looking skin. It's important to wear SPF when using retinol as it can make the skin more sun-sensitive.
Hydrate: Dry skin can worsen KP, and if you wish to exfoliate and hydrate all in one go, Dr Zokaie advises that "moisturizing creams containing urea, salicylic acid or alpha hydroxy acids," can be very effective.
Light therapies: Another useful option is laser hair removal or skin laser treatment. Dr Zokaie suggests, "Pulse dye laser treatment or intense pulsed light (IPL) may help reduce the redness (at least temporarily), but not the roughness."
The best products for keratosis pilaris
Using the right skincare ingredients can really help the look and feel of KP, the trick is being consistent and patient—it'll take a few weeks to start seeing results.
Our beauty editor recommends...
---
---
---
---
---
---
---
woman&home thanks Dr Simon Zokaie of Linia Skin Clinic and Dr Mervyn Patterson at Woodford Medical for their time and expertise
Sign up to our free daily email for the latest royal and entertainment news, interesting opinion, expert advice on styling and beauty trends, and no-nonsense guides to the health and wellness questions you want answered.
Jess Beech is an experienced fashion and beauty editor, with more than eight years experience in the publishing industry. She has written for woman&home, GoodtoKnow, Now, Woman, Woman's Weekly, Woman's Own and Chat, and is a former Deputy Fashion & Beauty Editor at Future PLC. A beauty obsessive, Jess has tried everything from cryotherapy to chemical peels (minus the Samantha in Sex and The City-worthy redness) and interviewed experts including Jo Malone and Trinny Woodall.
With contributions from