Psoriasis: what does it look like and what are the best treatments?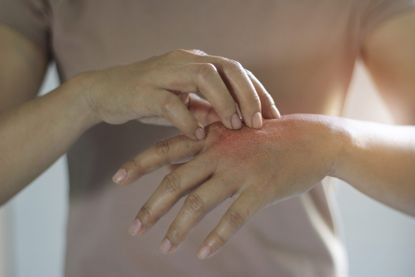 Psoriasis is a very common skin condition, but how can you spot and treat it?
To answer all your questions about psoriasis, we spoke to the experts to find out how you can spot the condition and how to best treat it.
What is psoriasis?
"Psoriasis is a common, not infectious, but long-term skin condition affecting 1 in 50 people, occurring evenly in men and women and most often developing under the age of 35 years," says Eucerin medical manager, Dylan Griffiths.
It is also one of the most common skin conditions seen by GPs. Cells in healthy skin are usually replaced every 3-4 weeks, however, those with psoriasis have a far faster turnaround.
"The process occurs in 3-7 days and the resulting build-up of skin cells creates the patches/scales associated with the condition," he explains.
What does psoriasis look like?
"It causes well-defined, thick, red, scaly patches, commonly in areas like the elbows and knees," says Dylan.
He adds that it is common to also see the skin condition on the face, scalp and on the buttocks of children.
"Whereas eczema tends to appear in crooks of the knees and elbows, and is associated with intense itching, with psoriasis the itching is mild," he says.
Types of psoriasis
There are five different types, says GP Dr Roger Henderson. "These include plaque, guttate (typically triggered by bacterial infections), inverse (smooth, red patches primarily in the armpits, genital area, or under the breasts), pustular (pus-filled blisters), and erythrodermic, a red, peeling rash on the entire body," he says.
What causes psoriasis?
"It is thought that it involves an immune response, possibly caused by both genetic and environmental triggers,' says Dr Roger.
According to the British Skin Foundation, psoriasis is hereditary, so you are more likely to be affected if a family member has psoriasis. "While the underlying cause of psoriasis stems from your body's immune system, certain triggers may worsen the symptoms," says Dylan, including:
Cold and dry weather
Stress
Some medications, which may interfere with the immune system
Infections
Skin trauma such as cuts, bruises and bites
Alcohol and smoking
Hormonal changes
"It's not fully proven but it is thought that certain foods such as, milk, gluten and citrus fruits should be avoided," he adds.
How can psoriasis be treated?
While there's no known cure, various treatments can improve the appearance and support the symptoms. "The first treatment would be a topical treatment such as Vitamin D or corticosteroids, with the addition of emollients," says Dylan.
Keeping the area hydrated and moisturised is key, however, you may find symptoms improve during the summer months, says Dr Roger. "This is because of the beneficial effect of the UVB rays found in sunshine, which are effective at treating symptoms because they slow the rapid rate of skin growth and shedding."
However, if these don't work, other treatment options are available. "If no effect is seen with first line treatment, or the psoriasis is severe, targeted phototherapy using ultraviolet rays can be used. The final treatment option is known as Systemic, which involves oral and injected medications that work throughout the entire body," says Dylan.
If you suspect you may have psoriasis or are currently suffering from the condition, then see you GP for advice. Read on below for some of the best treatments.
Best psoriasis treatments
SHOP NOW: Eucerin 10% Urea Lotion, £13.50, Boots. (opens in new tab)
Eucerin's 10% Urea Lotion helps to restore lost moisture and "is clinically proven to support patients with psoriasis," says Dylan.
SHOP NOW: Diomed Dry Skin Emollient 100g, £6.49, Superdrug. (opens in new tab)
Designed to treat psoriasis, this cream provides a protective barrier and provides long-lasting hydration for problematic skin.
SHOP NOW: Cetraben Natural Oatmeal Cream, £6.99, Boots. (opens in new tab)
Formulated with soothing oatmeal, this cream helps to protect dry and sensitive skin and has been approved by the British Skin Foundation.
Do you have any other tips and tricks to best treat psoriasis? Head over to our Facebook page and let us know!
Eleanor Vousden is a beauty journalist with over six years of experience in creating beauty, health, and wellbeing content for titles such as Powder, woman&home, and Hairdressers Journal.
After landing her first job as junior beauty editor at Powder, she's since interviewed Rihanna's make-up artist, reported backstage at London Fashion Week, and ventured behind the scenes at skincare labs to see how the world's biggest beauty brands create their products (and she's tested a fair few too).