Skincare routine for sensitive skin: an easy guide to the right care and products
We spoke to an expert for tips on the best skincare routine for sensitive skin, plus what ingredients to look for and which to avoid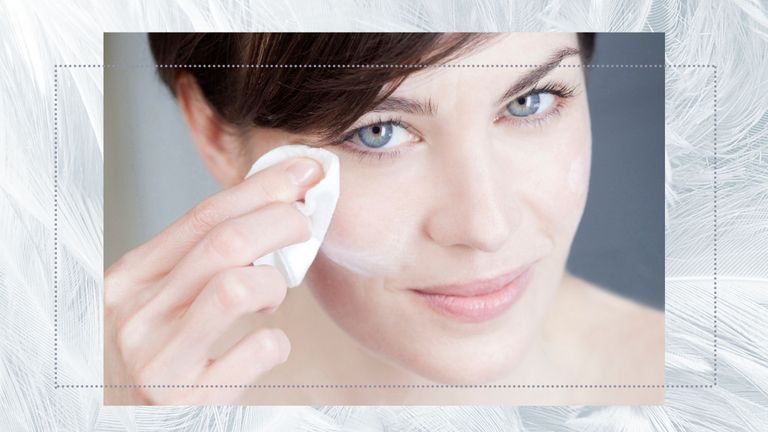 (Image credit: Future/Getty Images)
Trying to find the right skincare routine for sensitive skin is overwhelming, to say the least. But according to Joanna Vargas, celebrity facialist, founder of Joanna Vargas Salons and Skin Care, and author of Glow From Within, it's best to keep things simple. Granted, this can be especially hard to do in colder or drier weather, when dry skin flareups make you want to reach for the thickest cream around to slather all over your face. But if you pare down your routine and only stick with products you know and trust, you can easily introduce new products to see if it works with and for your skin type.
For this reactive skin type, it's important to know how to go about the proper step-by-step routine, alongside which ingredients to look for and conversely, which ones to avoid.
The best skincare routine for sensitive skin, according to an expert
Generally speaking, to properly start off the proper skincare routine for sensitive skin (and pave the way for the best foundation for your skin type), Joanna says simplifying your skincare regimen is important because "using too many products can be a trigger" in and of itself.
Another tip she's big on stressing? Stop touching your face. Hopefully we've all broken this habit due to recent events, but if you still haven't learned your lesson, Joanna says to stop now for the sake of your skin. "Touching the face is something we sometimes do unconsciously, but it results in skin irritation and breakouts on sensitive skin," she says. Make sure to keep your skincare routine simple, look for the above ingredients, and avoid touching your face and you should be on the right track to caring for your sensitive skin. If you're experiencing a breakout, inflammatory skin, or extremely dry skin, it's always a good idea to see a dermatologist who can get your extreme symptoms under control before you start out a new skincare routine.
Ingredients for sensitive skin
Galactoarabinan: "One of my favorite ingredients is galactoarabinan, derived from the larch tree, which causes more cell turnover than a glycolic acid but it's also anti-inflammatory, so it doesn't cause irritation even in sensitive skin," says Joanna. "I also encourage people with sensitive skin to wash their face with chamomile tea water to keep the skin calm," she adds.
Arnica: Arnica is another recommended ingredient "because it calms the skin and reduces redness." As a general rule, avoid "scrubbing the skin or using intense acids on the skin as they will both increase redness and sensitivity," says Joanna.
---
Joanna Vargas Cloud Bar
For gentle cleansing, Joanna crafted Cloud Bar, a bar cleanser for dry and sensitive skin that contains chamomile and shea butter to help soothe and prevent inflammation.
---
First Aid Beauty FAB Pharma Arnica Relief & Rescue Mask
Arnica flower is a botanical extract that speeds up the natural healing process of skin and prevent irritation and bruising. That, together with centella asiatica, a medicinal herb used in Chinese medicine, comprise this crowd fave mask that soothes stressed-out and sensitized skin.
---
Morning skincare routine for sensitive skin
Joanna advises to focus on serums, moisturizers, and SPF in the day time. "Cleanse or simply rinse your face with tepid (lukewarm) water," suggests Joanna. Then add a serum, moisturizer, and sunscreen. No cleanser for day? That's right: Joanna suggests sticking with a gentle cleanser, and only at night, to remove makeup and impurities built up throughout the day.
---
Dermalogica Ultracalming Serum Concentrate
A blend of collagen-stimulating peptides like glycerin, oat, and evening primrose oil work in tandem to calm rashes, inflammation, and redness in sensitive skin in this super-hardworking serum. Hyaluronic acid helps give a hydration boost as well.
---
Joanna Vargas Daily Hydrating Cream
A classic in the making, this rich, emollient moisturizer is pleasantly lightweight, making daily hydration an enjoyable experience (not to mention its delicate lemongrass and coconut scent).
---
CeraVe 100% Mineral Sunscreen Broad Spectrum SPF 30
Zinc oxide sunscreen is widely considered beneficial for sensitive skin and even on babies, so it's no surprise why we love the ceramide-packed formulation in this one too. It's also oxybenzone-free, meaning it's safe for coral reefs.
---
Night skin care routine for sensitive skin
For evening, Joanna suggests a routine of just "a gentle cleanser and serum."
You should still exfoliate if you have sensitive skin (this goes for all other skin types as well), but it should only be done once a week. "Exfoliate very gently with an exfoliating mask," she suggests, similar to the one in her eponymous Exfoliating Mask since it contains "lactic acidosis and pineapple enzymes, which are great for sensitive skin." She'd also recommend "exfoliants with fruit enzymes as opposed to a scrub, so you don't inflame the skin but get some nice cell turnover."
---
Cetaphil Gentle Skin Cleanser
This stuff has a nearly neutral pH, meaning aside from washing off impurities, it won't react with skin at all—making it ideal for those with supremely sensitive or reactive skin or those undergoing treatments, such as laser sessions or topical acne medication.
---
Joanna Vargas Exfoliating Mask
Why choose between a chemical or physical exfoliant, when you can have both? This genius scrub (gently) removes dead skin cells and degunks pores with lactic acid, kaolin clay, and galactoarabinan, ensuring a brighter, cleaner complexion post-wash.
---
Paula's Choice CALM Redness Relief Repairing Serum
Soothe any angry red splotches at bedtime and wake up to a smoother, even-toned complexion with the help of a rich anti-oxidant treatment. This contains potent plant extracts to nourish and hydrate as part of a skincare routine for sensitive skin.
---
woman&home thanks Joanna Vargas for her time and expertise.
A lifelong creative writer and beautyphile, Eunice Lucero-Lee graduated from De La Salle University in 2002 and was hired a year later to front all beauty coverage for Pink Magazine. A beauty, astrology, and pop culture obsessive and insider for over 18 years, Eunice is an internationally published editor (and now certified astrologer) whose work has been featured in publications such as Cosmopolitan, Esquire, and The Numinous, among many others.