The 13 best body scrubs for smooth and soft skin
Our beauty team's tried and tested pick of the best body scrubs, from hard-working exfoliators to warming and pampering products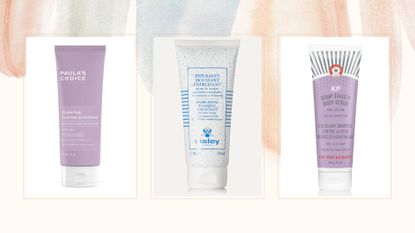 (Image credit: Space NK, Net a Porter, FeelUnique/Future)
woman&home newsletter
Sign up to our free daily email for the latest royal and entertainment news, interesting opinion, expert advice on styling and beauty trends, and no-nonsense guides to the health and wellness questions you want answered.
Thank you for signing up to Woman & Home. You will receive a verification email shortly.
There was a problem. Please refresh the page and try again.
The best body scrubs are essential for achieving soft and smooth skin that you'll want to show off. Not only can they help with improving overall skin health and appearance, but they can also aid in shaving, waxing, and getting the best possible fake tan results - a true skincare hero product.
The best body scrubs are a tricky field to navigate; one person's spa-like scrub can be another's scratchy nightmare. So before incorporating a new one into your skincare routine, you'll want to be sure you're selecting just the right product for your skin type and needs. Happily, for all but the most sensitive among us, the body - unlike the face - can handle fairly robust exfoliating products.
Whilst many physical exfoliators work in a similar way (by using abrasive ingredients to shift dead skin), each will have differing ingredients that will impact the results you see. Look out for salt or sugar-based products if you're after a heavy-duty scrub, or seek out soothing ingredients like oat, shea, or coco butter for a softer and more pampering experience. Whether you're trying to banish dry skin on legs or shift ashy elbows, these are the best body scrubs for every skin type and need - pick your weapon and buff your way to greatness.
13 best body scrubs, tried and tested by our beauty team
Why you can trust Woman & Home Our expert reviewers spend hours testing and comparing products and services so you can choose the best for you. Find out more about how we test.
1. Dove Crushed Macadamia & Rice Milk Body Scrub
Best body scrub overall
Specifications
RRP: £7 / $7.39
Key ingredients: Moisturising cream, macadmia and rice milk
Reasons to buy
+
Very moisturising
+
Removes dead skin without irritating
+
Affordable
This body scrub was easily one of the best we've ever tried, and considering the brilliant price point, it effortlessly takes the top spot. Dove is well known for delivering high quality and fuss-free products that do what they say on the tin, but this product also provides a true pampering experience, which is something that isn't easy to find without splashing out. The first thing we fell in love with was the smell - a perfect milky cream that is overwhelmingly clean and fresh. The best part is that it subtly stuck to us throughout the day, keeping that polished feeling for hours after showering.
The texture made it feel like a scrub-cream hybrid, as it is thick and moisturising with just the right amount of grittiness to remove dead skin. We didn't need to scrub hard or apply a lot of product to get the results we were after, so it's one to try if typical scrubs are too abrasive for you. Our skin felt gorgeously smooth after using it, but not at all stripped or dry, meaning it could definitely be used daily without irritation on normal skin types. A powerful exfoliator that also provides a hit of hydration, it's a cheap and cheerful winner.
2. Sol de Janeiro Bom Dia Bright Cream
Best chemical body scrub
Specifications
RRP: £48 / $66
Key ingredients: Cupaçu butter, fruit acids
Reasons to buy
+
Delicious scent
+
Elegant texture
+
Exfoliates without scrubbing
Reasons to avoid
-
Scent might be too sweet for some
One of the best body exfoliators for people who, like us, often can't be bothered to exfoliate; this silky, hydrating cream is infused with fruit acids and has the most delicious Brazil-inspired, dessert-like fragrance. All you have to do is apply this like a body cream and let it do all the work for you. Sol de Janeiro scents have become cult buys in recent years, so it's only natural that their body products have the same appeal.
This Sol de Janeiro exfoliator focuses on hydrating your skin and brightening with vitamin C and smoothing with fruit acids, which we found helped to even out skin tone and texture. The cupaçu butter acts like one of the best body creams for dry skin and left our skin feeling super soft. It also has properties that promote skin elasticity to keep your skin looking firm and youthful with regular use. It's gentle enough to use as often as you like and, trust us, once you smell it you'll never want to skip a day.
3. Paula's Choice 2% BHA Body Smoothing Spot Exfoliant
Best body scrub exfoliant for keratosis pilaris
Specifications
RRP: £33 / $43
Key ingredients: 2% salicylic acid blend
Reasons to buy
+
Helps with common skin concerns
+
A leave-on treatment
+
Very highly rated by customers
This BHA exfoliant is a lotion instead of a scrub so it works differently from physical scrubs, but in a similar way to Sol de Janeiro. There are no beads and you don't wash it off which does admittedly feel like it's not quite doing its job. But you'd be wrong for thinking that. Our deputy digital editor Anna Paul tried this specially to target her keratosis pilaris (KP), and "after one week I can see a noticeable difference. I've suffered with KP my whole life and have come across (and tried) so many products that say they can target it but so few do.
"In contrast, this exfoliant from Paula's Choice humbly claims to 'reduce red bumps' and remove 'built up dead skin cells' after 4-6 weeks of use. And after one week of use, I can confidently say it does more than that - my skin already looks clearer and feels miraculously soft. No, it's not a wonder solution, but there simply isn't one - so this is the next best thing. This is now on my rotation of must-have products."
If you're using it during the day, ensure you follow up with a sunscreen of SPF 30 or more.
4. Soap & Glory The Scrub of Your life
Best budget body scrub
Specifications
RRP: £6.99 / $10
Key ingredients : Orange peel, soap bark extract
Reasons to buy
+
Gentle exfoliation beads
+
Classic fragrance
+
Great value
Reasons to avoid
-
Perfume won't suit everyone
How could you live through the early Noughties and not have a soft spot for this classic Boots buy? The clear-gel, vegan formulation contains softening ingredients and eco-friendly beads that gently buff skin to perfection. It contains mandarin orange peel extract, which promotes the growth of collagen and elastin to keep your skin feeling firm and youthful.
What we love about the fantastic price point is that we can use copious amounts to ensure our skin gets thoroughly scrubbed without stressing about the cost of repurchasing. It comes in a tube now, which is preferable to a tub in our book, and the nostalgic S&G 'pink perfume', a concoction of rose and bergamot, lingers on your skin. A classic body scrub that does exactly what it says on the tin, this will always be a favourite of ours.
5. StriVectin Crepe Control Exfoliating Body Scrub
Best body scrub for visible results
Specifications
RRP: £25 / $35
Key ingredients: Papaya & guava enzyme, quartz crystals, NIA-114™
Reasons to buy
+
Seriously impressive results
+
Clinically tested
+
Gentle on the skin
Reasons to avoid
-
Slightly more pricey than most body scrubs
StriVectin is one of our go-to brands for skincare products like the best face moisturiser and best night cream that really pack a punch. This body scrub is no exception, as it works to improve the look of skin texture and crepiness, visibly tighten, firm and restore elasticity, brighten, boost skin luminosity and even skin tone, as well as moisturise and leave the skin soft and supple.
We'll admit we didn't see every one of these results instantly after our first use, but our skin definitely felt significantly smoother with no dehydration, and we noticed that it also looked brighter immediately after showering. But our favourite thing about this body scrub is that it is not at all harsh on the skin, and it manages to remove all the dead skin without scratching or irritating. Definitely one of the best body scrubs if you have more sensitive skin with several concerns that you want to address, it is worth every penny.
6. Sisley Energising Foaming Exfoliant For The Body
Best luxury body scrub
Specifications
RRP: £102 / $152
Key ingredients: Rosemary essential oil, bamboo marrow powder
Reasons to buy
+
Luxurious texture
+
Pure botanical ingredients
+
Exfoliates and nourishes
One for the wishlist. This ultra-luxurious product sits somewhere between a creamy, hydrating wash and an exfoliator, making it one of the best body scrubs for dry skin. It smells expensive, thanks to pure essential oils, which also help to reduce redness due to their anti-inflammatory properties.
The buffing action of this product comes via ultra-fine bamboo marrow powder, which we found helped to reduce the appearance of our dark spots, thus enhancing the effects of pigmentation-prevention products like sunscreen. That, plus the beautiful botanical aroma, make this a must-have exfoliator for the summer months if you have a little more cash to splash. This being Sisley, the texture is also gorgeous and the tube will impress any visitors to your bathroom. They will feel like they have just walked into a five-star spa.
7. Sanctuary Spa Golden Sandalwood Natural Oils Sand & Salt Scrub
Best natural body scrub
Specifications
RRP: £12.50 (UK only)
Key ingredients: Sand, salt, natural oils
Reasons to buy
+
Gorgeous scent
+
Luxury feel
+
Evens skin texture
Reasons to avoid
-
May be too abrasive for sensitive skin
Made from 92% ingredients of natural origin, this scrub is one for those who want to be transported to a tropical beach. Using salt and sand to buff and polish the skin, it instantly removes dry patches without needing to use any elbow grease - ideal for those who prefer a low-maintenance body care routine. Sceneted like black pepper, freesia and sandalwood, it is also one of the best smelling scrubs on this list.
When testing, we loved the texture of this exfoliator. Just the right thickness to lather up and work into the skin, a little goes a long way - and the generous product size means you won't need to repurchase this very regularly. After using in the shower, our skin felt renewed and moisturised, with no irritation. However, the thicker gritty texture does mean that extra sensitive skin types may need to do a small patch test before using it all over. But if you want to go for a scrub that is a little more premium than regular drugstore buys but still want to keep things affordable, this Sanctuary Spa scrub offers just that.
8. The Body Shop Luscious Lychee Body Scrub
Best scented body exfoliator
Specifications
RRP: £19 / $24
Key ingredients: Aloe vera
Reasons to buy
+
Very effective exfoliation
+
Gorgeous scent
+
Cruelty-free and vegan
Reasons to avoid
-
May be too sweet for some
The Body Shop is one of the first places that comes to mind when we think of the best body scrubs, so it's only natural that the brand had to crop up in this list. This new launch is suitable for normal to dry skin and does an excellent job at exfoliating even the flakiest of skin. We used this body scrub to prepare our legs before shaving, and it did an excellent job at removing dead skin.
If you're weighing up waxing vs shaving, both will work so much better if you exfoliate properly beforehand, and we can thoroughly recommend this scrub to do the job. It is more heavy duty than the StriVectin scrub, for example, but it still didn't feel harsh or stripping thanks to the creamy base. We also love the juicy lychee scent that has a real summery feel, but it may be slightly too sweet for those who prefer to avoid fragrance.
9. Feather & Down Warming Body Scrub
Best body scrub for a pampering experience
Specifications
RRP: £7.99 (UK only)
Key ingredients: Chamomile, lavender
Reasons to buy
+
A true pampering product
+
Warms as you apply
+
Calming nighttime ingredients
This Feather & Down scrub is one of our clever skincare award winners, so it really is a beloved product here at woman&home. Formulated with lavender and chamomile, it is one of our go-to shower products when we need to truly relax and unwind. Working to warm tired muscles as well as scrub away dead skin, it is a brilliant multi-tasker product that we guarantee everyone will love.
When testing, we couldn't believe the sensation this gave our skin. Instantly heating up to soothe, it felt like we were having a proper spa treatment. With an irresistible lavender scent that isn't too weak or too strong, it will work for all tastes. This is another scrub that is more about pampering and buffing than proper exfoliation, but if you want a pick-me-up product that won't at all break the bank, this is one of our top recommendations.
10. Aveeno Skin Renewal Wash Off Gentle Body Scrub
Best body scrub for acne-prone skin
Specifications
RRP: £9.99 (UK only)
Key ingredients: Nourishing oat, naturally derived PHA, niacinamide
Reasons to buy
+
Gentle exfoliation
+
Suitable for acne-prone skin
+
Affordable
Reasons to avoid
-
Won't work for extremely bumpy skin
Aveeno is one of the top brands we recommend for acne-prone skin, as the oat included in the ingredients works wonders for soothing redness whilst also hydrating. This particular scrub contains a PHA which can be risky to use on very sensitive skin, so it may be worth doing a patch test before using it across your body.
When testing, we loved the gentle exfoliation this scrub gave. A perfect affordable scrub to use every day, it didn't at all damage or dehydrate our skin, which is what you want with the best body scrubs. However, for extremely dry or bumpy patches, this may not be the most effective product - instead opt for something a little more gritty, like the Body Shop scrub. But for a cheap and reliable product you can use to keep your skin in check day-to-day, this is an ideal in-shower scrub. Just follow up with the best smelling body lotions for irresistible summer skin.
11. Björk & Berries Scrub Soap
The best body scrub bar
Specifications
RRP: £23 (UK only)
Key ingredients : Rosehip, white willow bark extract
Reasons to buy
+
Gentle on the skin
+
Vegan
+
Made with natural and organic ingredients
+
Nourishing
Reasons to avoid
-
Can go soft
-
Not suitable for use on face
Described as eco-luxury skincare, this scrub soap is a great option for exfoliating your skin in a gentle way. It is a dream to use, feeling comfortable against the skin with no tugging. This is a great one for those who generally find exfoliators to be too harsh, as this scrub soap doesn't contain scratchy kernels.
Use it in the shower or bath, massaging the bar into your skin in circular motions. We found that the rosehip helps to keep skin nourished and the skin barrier in good condition, preventing irritation. The willow bark extract will also leave your skin feeling smooth, plus it has fantastic anti-inflammatory properties which will reduce and prevent redness. Like any bar - even some of the best shampoo bars out there - this can get a little mushy if you leave it on the side of the shower, so keep it in a soap dish to preserve its integrity.
12. First Aid Beauty KP Bump Eraser Body Scrub with 10% AHA
Best body exfoliator for flaky skin
Specifications
RRP: £26 / $28
Key ingredients: Glycolic acid, lactic acid, pumice buffing beads
Reasons to buy
+
Effective immediate exfoliation
+
Chemical and physical exfoliating results
+
Targets specific concerns
Reasons to avoid
-
Can be slightly scratchy on sensitive skin
While originally formulated to reduce keratosis pilaris, this pumice-based scrub actually works wonders on dry and flaky skin, with immediate results being seen after just one round of exfoliating. However, it's strong scrubbing powers mean that it could irritate very sensitive skin, so proceed with caution to avoid any redness or scratching.
We found that the fine pumice beads buff away flaky skin while the addition of glycolic and lactic acids helps to shift any dead cells on the top layer of the skin so that you can get the effect of both a chemical peel and micro-dermabrasion in one product. Not only this, but the scrub also contains mango and kiwi fruit oils, which help to reduce pigmentation and even out skin tone. On testing, we also found this gave the scrub a pleasant, sweet scent that helped us stick to weekly exfoliation sessions.
13. Keys Soulcare Body Polish
Best body scrub for gentle exfoliation
Specifications
RRP: £25 / $25
Key ingredients: Lactic acid, bamboo charcoal, sunflower seed oil, coconut oil
Reasons to buy
+
Soothes skin
+
Relaxing smell
+
Hydrating
Reasons to avoid
-
Need to use generous amounts each time so could run out quickly
If you don't like scrubs that are too scratchy or are looking for something that will nourish and moisturise the skin at the same time as exfoliation, then this Keys Body Polish is a great pick. Whilst it does contain beads, we found that they are gentle against the skin and wash off easily under warm water. It also contains lactic and glycolic acids, which exfoliate your skin to remove dead skin cells, with bamboo charcoal helping to make your skin super soft and radiant. The coconut and sunflower seed oils also deeply moisturise, and have protective and restorative antioxidant properties.
We'd recommend using this between two to three times a week as a full-body ritual. The bottle says to take nice deep breaths whilst using so you can get the full relaxing experience, which was a real treat when we could fit it in. Plus, the aroma is warm and soothing, without being too strong or overwhelming. You really will feel like you are caring for your soul by using this.
---
How we tested the best body scrubs
When testing, we were looking at several key factors to determine which body scrubs are actually worth adding into your shower routine. The things we paid attention to include:
How well they removed dry and dead skin
How our skin reacted to each scrub, i.e. whether it irritated our skin or caused any redness
How our skin felt after use
The price point
Which concerns each scrub targeted and how effective its performance was
How to choose the best body scrub for you
Body scrubs may lack the glamour and fashion factor of, say, a Korean skincare routine, but these workhorses will more than make up for that in bang for your buck. That said, some body scrubs are better at certain jobs than others. So considering the different types of exfoliators out there and thinking about the reason you want to exfoliate the skin can provide a clue as to which product will suit your needs.
Traditional scrubs: If you are looking to exfoliate once a week or so as a basic skin maintenance thing, a nice sensorial scrub made with chunky grains and fragrant oils should be sufficiently effective and feel like a treat too.
Chemical exfoliants: For specific skin concerns such as keratosis pilaris (KP), non-physical exfoliants such acid body peels can help. Look for salicylic acid for KP or spots, while gentle fruit enzymes and alpha hydroxy acids including lactic and glycolic acid work well on ashy skin or areas where cell turnover needs revved up.