The best body creams for dry skin that soften, soothe and de-scale
These are our beauty editors' all-time best body creams for dry skin (and they've tried *everything*)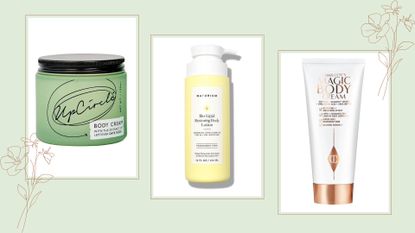 (Image credit: Future/brands)
The best body creams for dry skin should soften scaly patches, curb itching, and leave skin tantalizingly soft. Basically, they need to work damn hard.
The truth is that most of our bodies aren't treated to the same daily diligence with the best skincare products as our faces. The result? Dry, itchy, rough-looking skin that doesn't feel comfortable. This is something even beauty editors are familiar with. Despite being surrounded by balms, oils, and lotions that lavish the skin with goodness, we still struggle with dry, rough patches so have a vested interest in pinning down the best body creams for dry skin.
When it comes to body bugbears like dry skin, the general consensus is that prevention is better than cure. So before you reach alligator-skin territory, get into the habit of daily moisturizing from top-to-toe, all year round. These are the body creams we have personally used to restore our skin back to optimum softness, smoothness and health, including formulas targeted toward eczema and Keratosis Pilaris.
The best body creams for dry skin, as chosen by our Beauty Editors
Why you can trust Woman & Home Our expert reviewers spend hours testing and comparing products and services so you can choose the best for you. Find out more about how we test.
1. La Roche-Posay Lipikar AP+M
Best body cream for most people
Specifications
RRP: $27.60/£20
Key ingredients: Shea Butter, Niacinamide, Glycerin, Prebiotics
Texture: Balm
Reasons to buy
+
Anti-scratch
+
Suitable for babies from 3 months
+
Soothes eczema symptoms
+
Fragrance-free
+
Zero stickiness
One of the lesser-mentioned causes of dry skin is bacteria. Human skin has 1 million microbiomes per square centimeter and is a crucial component of our skin barrier. When these levels are out of whack, it exacerbates dryness. That's why this balm includes prebiotics, to balance and nourish these living microbes and bolster barrier function, restoring healthy, happy skin. That's on top of a trifecta of skin-drenching ingredients - shea butter, niacinamide, and glycerin.
Beauty Editor Stephanie Maylor says, "From the very first application of this, my skin felt soothed, and I didn't feel the gnawing desperation to scratch. In fact, La Roche-Posay products are usually the first ones I recommend to fellow dry-skin-afflicted types. I have used them on my babies, too. This balm is directed at desert-like dry skin and provides 48 hours of hydration. It certainly left my skin feeling comfortable and quenched, less red and raw. It is a true miracle worker."
2. CeraVe Moisturising Cream
Best barrier-boosting body cream
Specifications
RRP: $17.29/£16
Key ingredients: Ceramides, Hyaluronic Acid
Texture: Cream
Reasons to buy
+
Fragrance-free
+
Supports the moisture barrier
+
Good value
+
Can be used on the face and body
Reasons to avoid
-
Not the most glamorous tub
For snake-like levels of dryness, this is your gal. It's aimed at very dry skin and works to target the core of moisture loss – the lipid barrier. Cerave is the OG of barrier-boosting skincare, and load their creams with ceramides. These fatty acids make up the building blocks of our skin and help it to hold on to moisture. By supporting the lipid barrier, this cream is going to make dry skin more resilient in the long term.
Beauty Editor Stephanie Maylor says, "This is a powerhouse of a cream that soaked in surprisingly well and didn't leave any marks on my clothes (stain my best top and that's a deal breaker for me) It made an immediate difference to the texture and feel of my skin too. My legs felt a lot more comfortable, and I appreciate the fact that you can use it as one of the best face moisturizers too."
3. Charlotte Tilbury Charlotte's Magic Body Cream
Best body cream for a glowing finish
Specifications
RRP: $65/£49
Key ingredients: Caffeine, Soybean, Glycerin, Rose Water and Oil
Texture: Cream
Reasons to buy
+
Boosts hydration
+
Luxurious texture
+
Leaves a glowy finish
Fans of Charlotte Tilbury will likely say that Magic Cream is one of the best face moisturizers around. And now, there's a version for your body too. Laced with the same hydrating, firming, and smoothing benefits, this luxurious formula is jam-packed with limb-loving ingredients. There's brightening caffeine, softening soybean, moisturizing glycerin and the brand's iconic 'magic 8 matrix' (which includes hyaluronic acid, vitamin E, aloe vera, shea butter, and rosehip oil).
Contributing Beauty Editor Emma Stoddart says, "Impressed by the ingredients list, I couldn't wait to get my hands on this aesthetically pleasing bottle. The texture is light and sinks in speedily, leaving behind a dewy radiance that's ideal for summer when I'll be wearing dresses and linen shorts on rotation. It also has a lovely, floral scent thanks to rose extract and frangipani flower extract. As for its moisturizing claims, I found that it smoothed and nourished the dry skin on my legs without causing irritation. And while it is expensive, a little goes a long way."
4. EPIMAX Original Cream
Best body cream for eczema
Specifications
RRP: $4.79/£3.99
Key ingredients: White soft paraffin 15%, Liquid paraffin 6%
Texture: Cream
Reasons to buy
+
Can be used as a body wash
+
Soothes eczema and psoriasis
+
Very reasonably priced
When your skin is prone to eczema, psoriasis, or dermatitis, it is often more illuminating to check what has been left out of a product, rather than put in. This one is suitable for vegans and formulated without fragrance, sodium lauryl sulfate, and parabens to minimize any potential irritation.
Beauty Editor Stephanie Maylor says, "On testing, I found doubling this up as a body wash in the shower really helped alleviate my scratchy dry skin. As an emollient, it helps trap moisture in the skin. The texture was pleasant and light, and it did a top-notch job at soothing a particularly pesky patch of scratchy skin below my knee. This may not be the most glamorous-looking pick of the bunch, but it is a real 'does what it says on the tin' skin staple."
5. Nursem Caring Body Cream
Best body cream for sensitive skin
Specifications
RRP: $16.50/£17.50
Key ingredients: Alpha-Bisabolol, Squalane, Hyaluronic Acid, Natural Moisturising Factor (Sodium PCA)
Texture: Cream
Reasons to buy
+
Quick to absorb
+
Fresh citrus scent
+
Eases tight-feeling skin
Nursem launched one of the best hand creams we've tried in years, developed by a nurse and borne out of the need to combat the drying effect of relentless hand washing. The body cream has also been developed with nurses, this time to cure the discomfort of dry, sensitive skin. Touchy skin types will be soothed by a combination of calming ingredients, moisturizing hyaluronic acid, and barrier-boosting natural oils (a healthy skin barrier will help prevent moisture loss in the long term).
Beauty Editor Stephanie Maylor says, "This has a satisfyingly thick texture, which, much to my surprise, melted into my skin with very little effort, leaving no hint of tackiness, only a soft zingy citrus scent. Even better is the fact that it really does offer immediate comfort to skin that feels tight and scratchy. My elbows have never felt better."
6. Eucerin Aquaphor Body Ointment Spray
Best body cream for convenience
Specifications
RRP: $19.18/£16
Key ingredients: Glycerin, Panthenol
Texture: Ointment mist
Reasons to buy
+
Quick and easy spray application
+
360° reach
+
Cooling effect
Reasons to avoid
-
A little greasy
-
Can make the bathroom floor slippery
A spray-on lotion has endless appeal as one of the best body creams for dry skin - it's quick, it's easy, and fairly mess-free, although you might need to rub it in some areas to ensure an even coating. Still, with its 360° reach this makes moisturizing even tricky areas a doddle. Skin is cloaked in an intensive combo of glycerin and panthenol, which help encourage skin regeneration and maintain ongoing hydration.
Beauty Editor Stephanie Maylor says, "Although it's emitted as a fine mist, this is a rich, water-free ointment that really feels like it's doing something. This definitely has a certain amount of oily 'slip' to it so it wouldn't make one of the best foot creams on this list (and watch your flooring after spraying it on) There's also a slight cooling sensation, which really helped to relieve that desperate-to-scratch feeling that often accompanies my dry, dehydrated skin."
7. Palmer's Cocoa Butter Formula Retexture Renew Exfoliating Body Lotion
Best body cream for self tan prep
Specifications
RRP: $8.38/£6.99
Key ingredients: AHA, BHA, Lactic Acid, Cocoa Butter, Coconut Oil, Shea Butter
Texture: Lotion
Reasons to buy
+
Brightens
+
Smooths scaly skin
+
Helps Keratosis Pilaris
Reasons to avoid
-
Results can take a few weeks
This combination of three skincare acids - AHA, BHA and Lactic Acid - unglues the dead skin cells that cause rough, bumpy, painfully dry skin and speeds up cell renewal to reveal fresh, peachy limbs.
Beauty Editor Stephanie Maylor says, "I love the healthy-looking glow of a good fake tan. But the dry skin on my knees clings to that honey color like a desperate ex, which completely undermines any illusion. I started using this lotion on my legs when regular exfoliation and moisturizing were having little effect on my poor knees (or on how to get fake tan off hands for that matter) and it succeeded where others failed, and really improved the bumpy texture of my legs. The rough, itchy patch below my knee was smoother and less noticeable, even with self-tan. Just make sure you don't apply this lotion after you've bronzed, as the color will fade a little quicker."
8. Omorovicza Body Cream
Best luxury body cream
Specifications
RRP: $99/£68
Key ingredients: Jojoba Oil, Apricot Kernel Oil, Polypeptides
Texture: Cream
Reasons to buy
+
Intensive and immediate hydration
+
Beautiful scent and texture
+
Enhances radiance
Reasons to avoid
-
Skin feels a tad tacky
-
Pricey
This is packed with more than just token moisturizers. There are polypeptides that support elastin and collagen, ceramides, which are known to bolster the lipid barrier and Omorovicza's signature hydro mineral transference complex, which delivers minerals deep down into the skin. The end result is firmer, younger-looking skin that feels – and looks – quenched.
Beauty Editor Stephanie Maylor says, "Gorgeous floral fragrance, dreamy texture, quality ingredients - sweet creams are made of these! Omorovicza's elevated, hyper-luxurious version has it all. If you like a moisturizer to completely evanesce within a few seconds of application, this isn't the cream for you. My skin remained a little slippery for a while but for me, that works in its favor, especially on legs-out days, as it left them with a flattering gleam."
9. Naturium Bio-Lipid Body Lotion
Best lightweight body cream
Specifications
RRP: $15/£16.50
Key ingredients: Omega Fatty Acids, Shea Butter and B Vitamins
Texture : Lotion
Reasons to buy
+
Featherweight formula
+
Absorbs quickly
+
Intensely hydrating
If you're not into thick, heavy, rich creams, turn your attention to this featherweight formula from US-born beauty brand Naturium. Naturium combines natural botanicals with potent actives to deliver impressive results. Recently expanding its range from face care to body care, the brand has added this lightweight, scent-free body lotion to the range. Focused on boosting the skin barrier, this lotion is powered by hydrating, strengthening, and soothing ingredients including omega fatty acids, shea butter, and B vitamins.
Contributing Beauty Editor Emma Stoddart says, "This was ideal for my dry skin (as dryness can often be the result of a damaged skin barrier), and absorbed instantly for smooth, soft limbs that felt comfortable all day long. I love how this lotion feels on the skin – there's zero greasiness or tackiness. It also gets extra points for being vegan-friendly and free from parabens, gluten, and fragrance."
10. Ameliorate Transforming Body Lotion
Best body cream for Keratosis Pilaris
Specifications
RRP: $33/£24
Key ingredients: Sweet Almond Oil, Lactic Acid
Texture: Light lotion
Reasons to buy
+
Suitable from aged 3
+
Pregnancy safe
+
Smoothes 'chicken skin'
+
24-hour hydration
Reasons to avoid
-
Smells a little like fake tan
-
Twice a day application advised
Did you know that Keratosis Pilaris affects 40% of the population? This dry skin condition appears as rough, bumpy, red dots, and is most commonly found on the upper arms, legs, and thighs. It happens when there's a build-up of keratin and dead skin cells inside the hair follicles. It can be treated with creams that not only soften the skin but loosen the blockade of cells with skin smoothing exfoliating ingredients, such as this industry-favorite exfoliator-come-skin conditioner, that's moisturizing without being sticky or greasy.
Beauty Editor Stephanie Maylor says, "Even though I don't suffer from chronic Keratosis Pilaris, this still managed to deliver a softer, smoother texture to my upper arms. I've even used it on my four-year-old daughter, who was showing signs of KP, which have since evaporated. Goodbye goosebump skin."
11. InLight Beauty Body Butter
Best organic body cream
Specifications
RRP: $57.07/£47
Key ingredients: Coconut, Rosehip Oil, Nettle, Bilberry
Texture: Balm
Reasons to buy
+
Beautiful floral fragrance
+
Softens stretch marks
+
Pregnancy-safe
+
100% organic
Reasons to avoid
-
Pricier than others on our list
This is the sort of product that demands the invention of virtual smell-o-vision. Until then, let us assure you the combination of palmarosa and lavender will transport your mind to a heavenly spa. If your idea of 100% organic is some sort of kitchen cupboard concoction, you're about to have your mind blown.
Beauty Editor Stephanie Maylor says, "This body butter is pure luxury, from the packaging and scent to the feel of it on your skin. It soaked in really well, and considering how chock-full of oils it is, it didn't feel remotely greasy. These oils aren't here for a jolly either. From rosehip oil-derived transretinoic acid to vitamin E-loaded evening primrose oil, they have been carefully chosen to restore and replenish the skin. It's suitable for use during pregnancy and helps to prevent stretch marks. Having used it for a few weeks now, I can imagine how lovely this would feel on a bump, especially in those last few months."
12. UpCircle Natural Body Cream with Date Seeds
Best eco-conscious body cream
Specifications
RRP: $28/£19.99
Key ingredients: Shea Butter, Olive Oil, Extract from Date Seeds
Texture: Cream
Reasons to buy
+
Reduces redness
+
Improves tone
+
Fully recyclable packaging
Reasons to avoid
-
A little thicker than others
This body cream has racked up hundreds of 5-star reviews online, and after testing it, we're not surprised. It's vegan-friendly, made from fully recyclable packaging, and leads the way in byproduct beauty. In this instance, it makes use of date seeds, a by-product of date farming. One man's trash is another man's treasure, as they say, and these date seeds just happen to reduce inflammation and redness in easily-irritated or sensitive skin.
Beauty Editor Stephanie Maylor says, "Not only is the cream miraculous (my scaly patches have vanished) but it's got angelic eco credentials too. It definitely had a calming effect on those areas that were a little more scratchy and scaly. And the difference in the feel of my skin, which was softer and smoother, was tangible from the first application."
---
How we tested these body creams
Our beauty editors have put dozens of body creams and lotions to the test over the years. Here, we include a selection of our go-to staples that have never disappointed as well as newfound must-haves that actually live up to the hype (Charlotte Tilbury, we're looking at you).
To make the edit, not only do the body creams have to work – moisturizing skin and removing all signs of dryness – but they also have to feel comfortable on the skin, absorbing quickly to avoid any transfer onto clothes. In addition to comfort, we also marked the moisturizers on ingredients (including what is left out) and whether the results are long-lasting.
How to choose the best body creams for dry skin
"A good body care routine is just as important as your facial skincare. I always recommend you moisturize your body daily to keep it feeling soft and supple, but in the colder months it's worth upping the ante with a dedicated hydrating cleanser too," says Dr Alexis Granite, CeraVe consultant dermatologist. Below, we list the key factors to consider when selecting a body moisturizer:
Moisturizing properties: Seek out barrier-supporting formulas that are laced with ingredients like hyaluronic acid, shea butter, glycerin, essential fatty acids, and ceramides. "Emollients – including ceramides and fatty acids enhance your skin's natural lipid barrier, meaning they lock in moisture and keep it there," says Granite.
Texture: From lightweight lotions to heavier rich creams – consider what texture you prefer. If you like cocooning creams that leave behind a glowing sheen, seek out thick creams and balms. But if you prefer a barely-there feel and formula that absorbs quickly, go for light lotions.
Ingredients: Check what's been left out of a product, as well as what's been put in. Fragrance, parabens, and sodium lauryl sulfate are all known irritants that can exacerbate dry skin conditions. Sometimes the simplest formulas are the most effective.
What causes dry skin?
"Dry skin, also called xersis, is when the outermost layer or layers of the skin lack moisture," explains Dr. Pippa Bowes, Dermatology GP. "This causes it to feel rough, crack and flake away, which in turn causes breaks in the skin barrier and can be a risk factor for the introduction of infective organisms."
Dry skin doesn't discriminate - some people are born with it - but almost everyone will experience it, particularly with the tricky UK climate. As humidity levels drop in the colder months, coupled with moisture-sapping central heating, skin often becomes dry, cracked, and flaky. In summer, there's chlorine, salt water, and sweat to contend with. Age plays a role too, as the skin thins and produces less oil, as well as overly-abrasive scrubs and harsh soaps, which strip moisture from the skin.
Daily moisturizing is essential for rehydrating and maintaining a healthy moisture barrier. "Pop an emollient or cream on after washing," says Dr. Pippa. "This locks in and seals new hydration, allowing the skin to rehydrate and recuperate. Body creams actually work better if applied to damp skin, as they tend to absorb more thoroughly."
Dr. Pippa also advises washing only with water, no skin-stripping soaps or scented washes that may irritate, and ensuring you're always protected from the sun. "This is because the dry skin cracks weaken the skin barrier and allow more damaging UV rays through, making you more sun sensitive than usual," she explains.
The dos and don'ts of dry skin
Paula Oliver, Dermatology Nurse Consultant, shares her expert guidance on the daily habits to avoid in order to maintain healthy skin.
Stop over-exfoliating: Washing too often with exfoliants in the cleansing process can be harmful because it scrubs away skin cells and natural oils. But how often should you exfoliate your face? The skin should only be exfoliated once or twice a week. Signs of over-exfoliation include irritation, redness, and otherwise inflamed skin.
Turn down the temperature: Hot water can dry out and irritate your skin. This also makes conditions like eczema worse. Research has indicated washing with cold water can have a number of benefits, including calming itchy skin, waking you up, and increasing circulation. If you can't face cold water, stick to a lukewarm shower.
Slash your products: Using too many products can disrupt the skin's natural barrier and result in spots, eczema, and exacerbated rosacea symptoms.
Switch up with the season: In eczematous skin, the top layer of skin is often damaged and the alterations in skin barrier function can increase the potential for skin infection. During the winter months when your skin has to adapt to the harsh colder weather, it might be worth switching to a heavier emollient such as an ointment to help add some extra moisture.
Stephanie Maylor is a Beauty Editor working across five national magazine titles, with almost 15 years' experience in the industry. She has written for many brands, including woman&home, Grazia, Now, More!, Fabulous, NW, Woman, Woman's Own, Woman's Weekly, Essentials, Best, Chat, and OK! online.
In 2010 she launched her own beauty blog, which was shortlisted for Best Beauty Blog in the 2011 and 2012 Johnson & Johnson Beauty Journalism Awards. She has interviewed many high profile industry experts and celebrities including Alesha Dixon, Twiggy and Christina Hendricks.
With contributions from