The 12 best foot creams to soften soles, tested by our beauty editor
Get sandal-ready with the best foot creams to smooth dry skin, soften cracked heels and refresh tired soles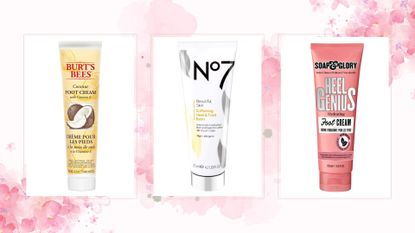 (Image credit: Future)
The best foot creams will turn forsaken hooves into peep-toe pretty feet in just a few applications. We spend hours on our feet every day – in fact, the average person walks 115,000 miles in a lifetime – so if your soles are feeling neglected and worn out, treat them to a little self-care.
Before you get to the fun stuff like choosing nail colors and pinning pretty pedicure ideas, look at the health of your feet. The skin here is much thicker than the rest of the body and susceptible to dry skin, cracked heels, and calluses caused by, "dry weather, dehydration and skin conditions such as eczema," explains Dina Gohil, Podiatrist and brand ambassador for CCS Foot Care. This dryness, according to podiatrist Margaret Dabbs, "can be affected by perimenopause and menopause. Plus wearing high heels and ill-fitting shoes can cause inflammation. The feet throb and become red, and sore, and this too leads to dehydration."
Besides visiting a podiatrist or checking in for a salon pedicure, the single best thing you can do for your feet is to moisturize them every single day. Not sure where to start? We've done the slathering for you so you can hit the ground running with the very best foot creams to tackle the driest of soles. Ready, pedi, go!
How we tested the best foot creams
Why you can trust Woman & Home Our expert reviewers spend hours testing and comparing products and services so you can choose the best for you. Find out more about how we test.
After neglecting my feet all winter, I had the perfectly craggy canvas for the best foot creams to work their magic on. I tested dozens of different formulas over the course of several weeks, wearing each cream for at least a few days, some longer to see how well they soothed my soles and melted away the hard skin on my heels.
One of my biggest pet peeves with foot cream is a formula that refuses to soak in and feels slippery, greasy, and tacky - these creams are a death trap on wooden floors. So a quick-to-absorb formula was high up on my testing criteria. I've included traditional foot creams with humectant ingredients, like urea and glycerin, which attract moisture into the skin, and next-gen exfoliating formulas that slough the dead skin as they hydrate for soles with particularly tough, thick skin.
The best foot creams, tested by our beauty editor
1. No7 Beautiful Skin Softening Heel & Foot Balm
Best overall foot cream
Specifications
RRP: $12.26/£9.95
Key ingredients: Petrolatum, glycerin, urea, shea butter
Texture: Creamy balm
Reasons to buy
+
Beautiful, expensive-smelling scent
+
Softer skin in 3 days
+
48-hour hydration
+
Good-sized tube
Reasons to avoid
-
Takes slightly longer to absorb
I obviously want a foot cream that works - I want it to slay hard heels, soften rough patches and make me feel as if I'm walking on air. But, call me shallow, I also want it to smell amazing and feel silky. I don't want it to be all function, no fun. Happily, this No7 balm combines substance and sweet-scented style. Of course, fragrance is completely subjective but it's probably the best-smelling foot cream on this list. In fact, it smells more like a scent for summer by a designer perfume brand than a foot cream.
As a somewhat jaded, cynical beauty editor, I find it's quite rare for a product to live up to the claims on its bottle. In this case, No7 proudly promises softer skin in just 3 days - I am happy to confirm that that is exactly how long it took for my heels to start noticeably softening. This is big, guys. After a winter of thick tights and boots, I usually have to take a serious foot file to my hardened hooves before I even think about applying foot cream otherwise, the poor formulas don't stand a chance. I'm so impressed with how well this softened up the tough skin on my heels.
2. Cerave SA Renewing Foot Cream
Best drugstore foot cream
Specifications
RRP: $9.36/£9
Key ingredients: Glycerin, salicylic acid, niacinamide, hyaluronic acid, ceramides
Texture: Cream
Reasons to buy
+
Exfoliates and smoothes
+
Fragrance-free
+
Non-greasy
One of the major causes of dry, rough skin - on the feet or anywhere else on the body - is a damaged skin barrier, the layer responsible for keeping moisture locked in for healthy, resilient skin. Ceramides are magic medicine for an impaired barrier. These fatty acids help to seal up weak spots - think of them as the mortar holding the 'brick wall' of skin cells together. All CeraVe products contain essential ceramides needed to strengthen the skin barrier and soften dry, tight-feeling skin.
This cream is fragrance-free, which will please those with sensitive skin. However, if you're looking for a salon-style experience, you may feel this is lacking the sensorial perks of other creams on our list. It does a sterling job of making feet feel less craggy though. Like Cowshed, this takes a dual-pronged approach, with salicylic acid that sloughs dry spots, and a controlled release system that ekes out the built-in moisturizers. It was quick to absorb, and after a couple of days, the balls of my feet felt much smoother. It took about a week to make a dent in the neglected dry patches on my heels but what's nice about this functional foot cream is I know it's working on improving skin health in the long term to prevent future dry skin.
3. Cowshed Heal Foot Cream
Best foot cream for a salon-style pedi at home
Specifications
RRP: $30/£19
Key ingredients: Alpha hydroxy acids, clary sage, shea butter, avocado and coconut oils
Texture: Silky cream
Reasons to buy
+
Exfoliates dry skin
+
100% vegetarian
+
Non-sticky and quick to absorb
Reasons to avoid
-
Herbal scent may not appeal to everyone
If you haven't been lucky enough to experience a Cowshed pedicure, this may be the next best thing. The jar somehow elevates the experience over squeezy tubes. It feels like more of a ritual to open the pot and be greeted by the herbal scent, as you scoop out the cloud-like cream. Speaking of fragrance, the citrus and clove combo might not be for everyone, and it's certainly quite different from the other foot creams on this list, most of which go down the coconut/minty route, but it really recreates a salon experience.
There is a subtle cooling sensation as you slather it over the soles - a great refresher for overworked feet. Miraculously, within a few seconds, it had been sucked into my skin. With no trace of tackiness, the only clue left behind was impressively softer skin and that signature peppery scent. This cream goes one better than your average foot cream loaded with moisturizers. The formula is infused with alpha hydroxy acids, which gently exfoliate dead skin so you benefit from a two-pronged skin smoothing attack on dry, crusty feet. It's a winning formula.
4. CCS Warming Foot Cream
Best foot cream for cold feet
Specifications
RRP: $14.97/£11.99
Key ingredients: Cosphaderm VBE, petrolatum, paraffinum liquidum
Texture: Cream
Reasons to buy
+
Generous tube will last a while
+
100% vegan
+
Pleasant warming sensation
Reasons to avoid
-
Takes a bit longer to soak in
I am one of those people with perpetually cold feet. My husband shrieks if I dare to tuck my feet under him on the sofa. I've had friends recoil at my purple-tinged toes. Needless to say, this is my kind of foot cream. It gently heats up after about 30 seconds, a sensation that lasts about 30 minutes. When I first applied it in the middle of the day, I found the warming effect to be very subtle - it's not going to feel like you've stuck your feet in front of a roaring fire, put it that way. But applied straight after a shower, wow, does it amp up the heat! Weirdly, I didn't feel any extra warmth on my soles, just on the tops of my feet.
It has a soft but very pleasant citrus aroma. It reminds me of sherbet lemons. The formula is rich with glycerin - a well-known humectant - and an ingredient called paraffinum liquidum (AKA Vaseline) which work together to strengthen the skin barrier and seal in moisture. Its richness means it does take longer to soak in so I would recommend applying it post-shower, before bed as an overnight treatment. The slippery texture made it one of the better options to indulge in a relaxing foot massage, and I can honestly say by morning my feet looked so much healthier.
5. Burt's Bees Coconut Foot Cream
Best glow-giving foot cream
Specifications
RRP: $12.05/£11.99
Key ingredients: Coconut oil, lanolin, glycerin
Texture: Balm
Reasons to buy
+
99.4% natural origin ingredients
+
Good-sized tube
+
Smells amazing
Reasons to avoid
-
A little greasier than others on the list
I'm a sucker for a coconut-scented beauty product. No other perfumed product is as likely to lift my mood as this holiday-in-a-bottle note. This coconut foot cream has a slightly minty energy to it - as if you crossed a Bounty with an After Eight - and I'm here for it. It gives me vacay vibes without coming across as sickly. Although labeled as a cream, the formula emerges as a balm-like ointment. Because of the lanolin and cascade of natural oils, it feels like it's coating feet and locking in moisture. It also means it's a little more slippery, and dare I say, greasier, than others on our list, so I would recommend saving this for bedtime. Having said that, the silky sheen was very flattering and made my feet look like I'd just stepped out of a salon, post-pedicure.
You can't go wrong with these ingredients - glycerin, lanolin, and coconut oil. There's a reason they're found in so many of the best foot creams. And the combination here really does a sterling job of making tired, craggy feet feel softer very quickly. If you can get past the fact it takes longer to soak in, your feet will thank you for it.
6. Soap & Glory Heel Genius Hydrating Foot Cream
Best foot cream for tired feet
Specifications
RRP: $8.94/£6.95
Key ingredients: Glycerin, alpha hydroxy acids, urea
Texture: Gel-cream
Reasons to buy
+
Cooling effect
+
Great price
+
Hydrating and exfoliating
This is a great all-rounder. Everything about it is refreshing, from the gel-like consistency to the scent - a clean, delicate fragrance, a bit like sun cream. Then there's the added menthol, which makes feet feel like they're being fanned. This airy, cooling effect kicks in after about 30 seconds and lasts for quite a few minutes. As previously noted, my feet lean towards baltic so I do not need help in this particular area. But I'd imagine if your dogs are barking, so to speak, and your feet feel heavy, worn out, and on fire, this would feel very pleasant indeed.
It is recommended for evening use, and the slippery formula definitely needs longer to soak in, making it an ideal overnight candidate. On top of moisturizing heavyweights, glycerin, and urea, Heel Genius is infused with powerful skincare acid, alpha hydroxy acids to help slough and soften rough patches. The caveat is that AHA's make skin more sensitive to the sun so if you're going open-shoed, you'll need to make sure those soles are slathered in SPF during the day. So far, my feet feel silkier, but I'm yet to see much of an improvement to the real dry doozies on my heels.
7. Boots Coconut Oil & Shea Butter Nourishing Foot Cream
Best budget foot cream
Specifications
RRP: $4.98/£3.99
Key ingredients: Glycerin, Coconut oil, shea butter, cocoa butter, vitamin E
Texture: Cream
Reasons to buy
+
Smells like a holiday in a bottle
+
Great price
+
Good-sized tube
+
Sinks in quickly
Reasons to avoid
-
Slower results on very hard skin
If you're looking for lighter feet, not a lighter wallet, this is your dream cream. With change from $5 and a generous 150ml-sized tube, it feels like you're getting a double whammy of value here. The coconut fragrance is intense - great for me, but not so great if you're not a fan of tropical-scented beauty buys. Made with 98.4% naturally-derived ingredients, there's a roll-call of skin softeners here including coconut oil, shea, and coconut butter, plus vitamin E.
This was also one of the least tacky, quickest-to-absorb formulas on my best foot cream hitlist. My heels had sucked it up within about 30 seconds. With that, it did take a little more perseverance to really make a dent in particularly hardened patches. For me, I would need a good go-over with my electric foot file first. But I would definitely recommend this as a solid daily foot cream to keep skin soft and hard heels at bay once the hardest work has been tackled with pumice or a scrub.
8. Margaret Dabbs London Fabulous Feet Foot Lotion
Best daily foot cream
Specifications
RRP: $21/£26
Key ingredients: Glycerin, Lemon Myrtle, Emu Oil
Texture: Silky lotion
Reasons to buy
+
Handy pump dispenser
+
Great size bottle
+
Instantly refreshing
+
Fresh citrus scent
Reasons to avoid
-
Pricier than others on our list
According to Dabbs herself, a good foot cream should offer, "anti-bacterial, anti-fungal, and anti-inflammatory benefits – all of which are essential to care for feet that are generally kept in enclosed footwear most of the time, which is a breeding ground for bacteria." No surprise then that her own eponymous, award-winning lotion combines all of these pedi perks.
It's a silky lotion that melts into feet effortlessly without greasiness - big tick - but for all its lightness, it packs a moisture punch. From the get-go, my feet felt softer and looked healthier. This is one of my favorite foot creams and one that I continue to use every day. It has a fresh and zesty scent that feels immediately refreshing as you slather it on, making your feet feel light and energized. Hours later I could still smell the lemony aroma wafting from my sandal-clad feet.
The anti-inflammatory benefits were particularly interesting for me - I have had a painful big toe joint for years, it's often red and you can feel the heat emanating from it. I'm yet to see an improvement on that front, but I'm keen to see if this lotion can help bone inflammation as well as treat surface-level issues like hard skin build-up.
9. Mavala Hydro-Repairing Foot Care
Best foot cream for extremely dry skin
Specifications
RRP: $26.99/£18.20
Key ingredients: Urea 25%, apricot pulp extract, pro-Vitamin A
Texture: Cream
Reasons to buy
+
Neutral scent
+
Can be used on dry spots like elbows
+
Effective on hard, cracked heels
Turn cracked, creased, and calloused into smooth, soft, and silky with this intensive treatment. Urea is the star ingredient, and at a 25% concentration, it certainly packs a punch. The beauty of this ingredient is it has the unique ability to both moisturize and descale dry patches.
This has a light, refreshing, aquatic scent that would definitely appeal to both men and women. You can apply it in one of two ways: either massage a small amount in until fully absorbed (which, by the way, takes about 30 seconds) or apply a generous layer before bed, pop on some cotton socks, and leave on as you sleep. For really stubborn patches of hard skin, I found the overnight method to be the most effective but even a light layer during the day made my feet feel noticeably softer and more supple.
10. Green People Deodorising Prebiotic Foot Cream
Best foot cream for keeping feet fresh
Specifications
RRP: $19/£15
Key ingredients: Alpha-glucan oligosaccharide prebiotics, zinc ricinoleate, peppermint, eucalyptus
Texture: Light cream
Reasons to buy
+
Cooling and refreshing
+
Prevents odor
+
Quick to absorb
+
Encourages healthy, balanced microbiome
Often, it's not just dry skin and cracked heels you've got to worry about as the weather heats up. It's sweaty, and potentially, smelly feet, too. This organic foot cream takes a three-pronged approach against fusty feet. First of all, prebiotics help support healthy, protective bacteria whilst vanquishing bad bacteria. Zinc ricinoleate absorbs bad odor molecules, whilst potassium alum, a naturally-occurring mineral salt prevents odor-causing bacteria from multiplying. Together, they keep things under control.
The cream certainly smells fresh and herbal and lingered on my feet for hours. The invigorating combination of peppermint and eucalyptus calmed and cooled my soles instantly, a refreshing feeling that lasted a good 10 minutes. It sinks in quickly and although the consistency is quite thin and almost runny, it really softened up my skin thanks to moisture-binding ingredients like shea butter and Vitamin E-rich sunflower. This is a great multi-tasking foot cream.
11. Flexitol Rescue Heel Balm
Best foot cream for cracked heels
Specifications
RRP: $8.72/£6.99
Key ingredients: 25% Urea, Lanolin
Texture: Rich cream
Reasons to buy
+
Great price
+
Intensively treats cracked skin
+
Visible results in a few days
Reasons to avoid
-
You'll need to rinse your hands thoroughly
This is Flexitol's best-seller and is also a favorite of woman&home Beauty Director, Sarah Cooper-White. "Having tested many, many foot creams over the years, I don't think you can beat Flexitol for a fantastic, good value range of products to care for your feet," she says. "The Rescue Heel Balm softens and smooths problem areas and will transform unsightly feet in just a few days."
I agree. The tube promises visible results in one day, but for me, it took closer to three days. No biggie. It's still rapid and definitely made the most impact on my craggy heels than any other formula on this list of best foot creams. At 25%, this has a good whack of urea to help break down thickened skin, combined with other nourishing ingredients, like lanolin to lock moisture in.
The formula does take a bit of getting used to. It is very thick, takes a while to absorb, and feels a little irritating on your hands if you don't wash it off. But if you need to tackle extremely dry skin, tough build-up, and cracked heels, it ticks every box.
12. The Body Shop Peppermint Intensive Cooling Foot Rescue
Best foot cream for hot feet
Specifications
RRP: $18/£11
Key ingredients: Cocoa Butter, Soybean Oil, Peppermint Essential Oil
Texture: Solid cream
Reasons to buy
+
Instant cooling effect
+
Fresh menthol scent
+
Soaks in quickly
Reasons to avoid
-
Results take a little longer on very hard skin
This is a real does-what-it-says-on-the-tin beauty buy. Within a few seconds, the menthol-y effect kicks in so feet just hum with airy refreshment. A tonic for worn-out, on-fire feet. If you're pregnant, it will be a godsend when your lower half feels heavy and swollen.
The Body Shop recommends this is applied every night but its non-greasy formula absorbs so quickly, I'd whack it on whenever active feet need an energy boost. As for its effect on skin, it took about a week for this to kick into gear but once it did, wow. My soles were so silky and soft. I'm looking forward to slathering this on before bed during the summer months.
---
How to choose the best foot cream for you
The best foot creams should contain a few key ingredients. A formula that combines both hydrating ingredients, as well as exfoliating properties, is highly effective:
Skin-smoothing ingredients: Like salicylic, glycolic, or lactic acids will help to slough tough dead skin and allow the moisturizers to penetrate more effectively.
Hydrating ingredients: Occlusives like petrolatum, shea butter, and ceramides will help to seal in moisture
Humectants: Such as glycerin and hyaluronic acid, which draw water into the skin, are also key components of the best foot creams.
One of the most effective humectants is urea. "Urea helps maintain moisture levels and keeps the skin hydrated," says Gohil. "As a keratolytic agent, which means it helps break down hard skin, it also reduces the build-up of callus." Depending on how thick and hard the skin is on your feet, you may need a foot cream with a higher dose of urea. "Most foot creams' urea percentage is around 10% and can go up to 40%," explains Gohil. "The higher the percentage, the stronger the keratolytic agent and the more effective it is at breaking down hard skin." Gohil does stress that a high percentage urea cream isn't advisable for long-term use so speak to your podiatrist if you're unsure about what will work best for you
Does foot cream really work?
Yes, says Gohil. "Foot creams tend to be thicker than other types of body creams, as the skin on the feet is rougher and thicker than on other parts of the body. A specially-formulated foot cream will help maintain smooth, soft feet."
"The skin on your feet is often the most neglected, yet most at risk of developing skin issues such as hard, dry skin, cuts and sores, and infections," explains Gohil. "To avoid any problems with your feet, you need a foot lotion that hydrates, exfoliates, and protects the skin on your feet," Gohil says. For best results, foot cream should be applied twice a day. Depending on the foot cream you choose, you can expect to notice an improvement in the texture of your feet within a week.
Is it good to put Vaseline on your feet?
Vaseline is cheap, easy to pick up on the high street and thankfully, is also good for your feet. "Vaseline helps lock in the moisture by creating a sealant around the skin barrier preventing moisture loss, which can then soften the skin on the feet and keep them supple," explains Gohil. If you don't want to end up with petroleum jelly all over your sheets, apply a layer of Vaseline over your feet then pop on a pair of socks overnight.
Stephanie Maylor is a Beauty Editor working across five national magazine titles, with almost 15 years' experience in the industry. She has written for many brands, including woman&home, Grazia, Now, More!, Fabulous, NW, Woman, Woman's Own, Woman's Weekly, Essentials, Best, Chat, and OK! online.
In 2010 she launched her own beauty blog, which was shortlisted for Best Beauty Blog in the 2011 and 2012 Johnson & Johnson Beauty Journalism Awards. She has interviewed many high profile industry experts and celebrities including Alesha Dixon, Twiggy and Christina Hendricks.