How often should you exfoliate your face? The experts break it down
Wondering how often you should exfoliate your face? You're not alone. Keep your skin clear and content with this essential guide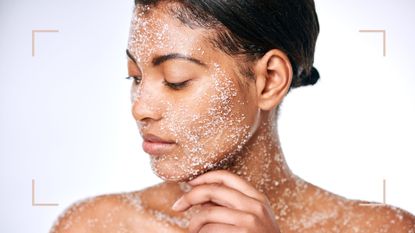 (Image credit: Getty Images / Canva)
How often should you exfoliate your face? It's one of skincare's biggest questions. It's so easy to get confused by cleansing and exfoliating, especially when some products claim to be for daily use but experts suggest that's far too often.
The biggest lesson I've learned from a decade in the industry is that simplicity really is key when it comes to your skincare routine. My skin usually looks its best when all I've been using is my best cleanser followed by a frill-free best face moisturizer. Exfoliation is a bonus step, to be used sparingly when the skin needs it. It can help remove dead skin cells, buff away uneven skin, and give skin a deeper clean. But, not knowing how to exfoliate your face properly comes at a cost. I've definitely been guilty of overdoing it and compromising my skin barrier – even the best facial exfoliator can cause harm to your skin if overused.
So, let's get into it – how often should you exfoliate your face really? I spoke to celebrity facialist and skincare extraordinaire Shane Cooper, and Faye Purcell, product development chemist and skincare expert at Q+A Skincare, who cleared things up once and for all.
How often should you exfoliate your face, experts reveal all
Why you should exfoliate
It's easy to question whether exfoliation is a wholly necessary skincare step, but in my experience, it's something that really makes a difference to the clarity and brightness of the complexion.
Purcell explains why – "Exfoliation is the process of removing dead skin cells on the skin's surface." She continues, "It helps unclog pores, prevent cell and product build up, maintain a dewy glow." Exfoliation will also help skincare products like your best vitamin C serum work harder, as the dead skin will be cleared from the surface and help products sink in deeper and quicker.
However, Purcell warns, "over-exfoliation can also be a common mistake people make and probably the single most significant cause of breakouts." But how often should you exfoliate your face to avoid this?
How often should you exfoliate your face?
Cooper has a clear-cut answer when it comes to how often should you exfoliate your face. "It's important to have a good exfoliation once or twice a week to give the skin a radiant glow and clear away any dry or dead skin."
I'd agree with this as a general rule to follow – I usually exfoliate with a gritty scrub once a week, or every other week. This usually happens on a Sunday, when I take pampering very seriously. I give myself a facial at home, then all-over buff with the best body exfoliators, followed by at least an hour long treatment with my best hair masks. Essentially, if you know me in real life, do not expect to see me on Sundays). Mid-week, I'll additionally use an exfoliating acid for one or two nights, depending on how my skin feels.
However, Purcell explains, how often you should exfoliate your face also depends on skin type and if you follow a skincare routine for sensitive skin. "Exfoliation is not something anyone should repeat daily. Two to three times a week is recommended to avoid stripping your skin of its essential natural oils." She continues, "If your skin type is dry, then you may need to exfoliate just once per week. But if you're oilier you could benefit from exfoliating up to three times per week."
Essentially it's all about getting to know your skin and finding out what works best for you, but between once and three times a week is the generally recommended amount.
Physical VS chemical exfoliation
There's another factor to consider when it comes to how often should you exfoliate your face – the type of exfoliation method you use. Physical exfoliators are your gritty scrubs, that usually contain naturally textured elements, like fruit seeds or extracts, to manually buff skin. They're a great first or second step in double cleansing.
Chemical exfoliators or exfoliating acids may sound a bit Dr Evil, but they're just another word for acids like glycolic acid, AHAs, BHAs, and PHA skincare. These are liquid formulas that contain acids that exfoliate the skin, sometimes giving a bit of a tingly sensation.
Cooper explains the benefits of each option:
Physical exfoliation: "Enables you to work a scrub into your skin manually, helping to remove any dirt or congestion from the surface of the skin and buff away any dry or dead skin cells."
Chemical exfoliation: "Uses acids to break down the build-up of dead skin cells, leaving you with new, healthy, and radiant skin. This really helps to reduce signs of aging, acne scars, and dull skin It's a great way of combating dark spots and pigmentation."
Cooper also warns, "It's paramount that chemical and physical exfoliants aren't used on the same day to avoid stripping your skin and damaging your skin barrier. I would recommend alternating between chemical and physical exfoliants from week to week."
What to do if you've over-exfoliated your skin
Even if you know logically that the answer to how often should you exfoliate your face is twice a week, it's easy to slip up and overdo it.
Purcell says, "Using both a physical and chemical exfoliator before you've built up your skin tolerance may result in signs of over-exfoliation – keep a close eye on any changes to your skin." She continues, "Your skin will make it apparent if you've been overdoing it. Some of the tell-tale signs of over-exfoliation include redness, irritation, and dryness."
Don't panic if you have over-exfoliated – the damage isn't permanent, and you can still save your skin. Purcell has a fail-safe plan of action to bring it back from the brink:
Simplify: "Pare down your entire skincare routine. Put your exfoliator to one side and give your skin a chance to repair."
Soothe: "If you instantly feel irritation and burning after using any products, then try using a cold compress to start to ease the sensation."
Recover: "If you have caused some damage, you now need to focus on rebuilding and protecting your skin barrier. For this, look for products that include skin-restoring ingredients like ceramides, oats, and snow algae. These retain the skin barrier and its moisture levels."
Our beauty editor's favourite facial exfoliators
If your burning question's now swapped from how often should you exfoliate your face to what you should exfoliate your face with, worry not. Exfoliation is a topic I'm particularly obsessed with (if you hadn't already noticed)
I've tried them all, and these are my ultimate top five big hitters - good skin days guaranteed. As long as you stick to using them twice a week!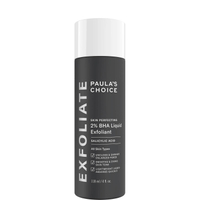 Paula's Choice Skin Perfecting 2% BHA Liquid Exfoliant | RRP: $32/£31
If you're trying to perfect your skincare routine for acne, this would be the first product I recommend adding in. Salicylic acid, the nemesis of zits helps clear away blemishes, but crucially without leaving your skin dry and sore. A true skincare hero.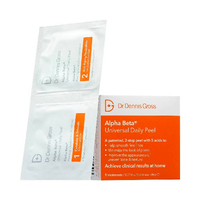 Dr Dennis Gross Alpha Beta Extra Strength Daily Peel Pads | RRP: $17/£19
If I had to choose one facial exfoliator, it would be this. This two-step process is fool-proof and leaves my skin looking bright, clear, and glowing. Sweep the first step, a mix of AHA and BHA acids over your face, wait two minutes (I usually brush my teeth), then use the second step, a neutralizer to leave the skin feeling soothed.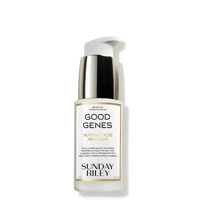 Sunday Riley Good Genes Glycolic Acid Treatment | RRP: $85/£85
A cult classic, this satisfyingly tingly treatment works overnight when your skin's best suited to absorb the ingredients. It's available in two formulations, glycolic or lactic, but glycolic is my go-to. I always wake up the next morning looking - and I don't say this lightly - radiant when I've applied it. Even after a few rosés.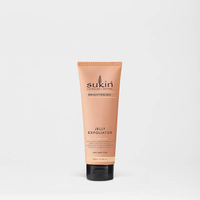 Sukin Brightening Jelly Exfoliator | RRP: $12.99/£9.95
I've really been impressed by the Australian brand, and this scrub was the gateway. The jelly formula feels lovely and cooling on the skin, and it uses natural fruit seeds as the 'grit' element, so you're not using any environmental-clogging microbeads. It's just the right texture - not too soft, not too scratchy.
---
Rhiannon Derbyshire is the Senior Beauty Editor for Woman & Home and other publications.
She started interning for glossy magazines while working alongside her Fashion Journalism degree. There, she was lured to the beauty desk, seduced by matte lipsticks, posh shampoos, and every skincare product imaginable. 10+ years into her career, she can confidently tell you why the best mascaras are always high street, and why SPF is a non-negotiable all year round. Ask her about her curly hair routine, skincare minimalism, and how to find the exact right red lipstick