Double cleansing 101: We dish the details on this "transformative" skincare step
Just how much of a difference does double cleansing make? We take a deep dive into this fundamental Korean skincare step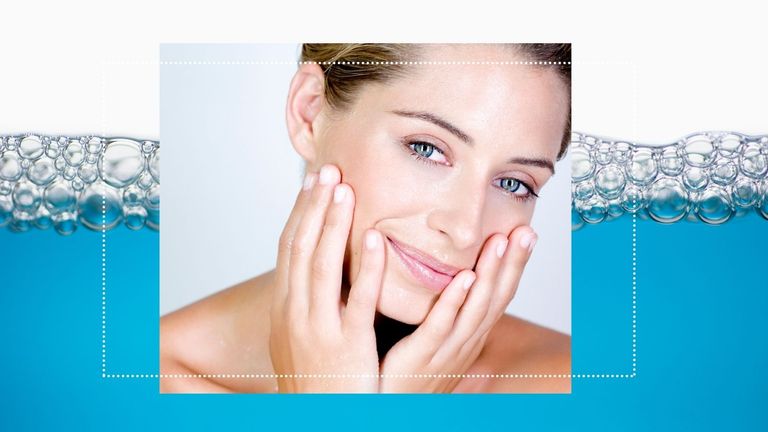 (Image credit: Future)
Is twice really nice? That seems to be the case for double cleansing, a method of washing the face twice and is one of the fundamental steps in any proper Korean skincare routine. Now seeing more and more mainstream buzz, the double cleanse method, as the name implies, employs a two-step approach to facial cleansing: first with an oil-based cleanser (like a cleansing balm or oil, or even micellar water with wipes) to remove makeup, excess sebum, or grime, then followed up with a foaming cleanser or lathering facial wash.
We spoke to Charlotte Cho, skincare book author, co-founder of K-skincare online one-stop-shop Sokoglam, and founder of award-winning brand Then I Met You, on the principle behind this conscientious approach to facial washing. "Double cleansing is the absolute foundation to any transformative skincare routine. The double cleanse is a two-pronged approach to washing: The first step in the double cleanse is using an oil-based cleanser to wash away oil-based impurities such as makeup, sunscreen, and pollution. The second step is using a water-based cleanser to ensure that the remaining impurities—everything that isn't makeup or oil-based—are removed from the skin."
Ensuring skin is thoroughly and properly cleansed not only primes it for your best foundation and makeup finish down the line, but more importantly, it sets the stage for better absorption of skincare products, thus further improving skin's texture and health.
Double cleansing benefits
"Cleansing just once can leave behind impurities that contribute to acne and premature aging," Charlotte says. "You'll be surprised what you leave behind with just one cleanse that isn't necessarily seen with the naked eye. Gently double cleansing with rich ingredients removes these impurities, such as pollution, excess sebum, and even free radicals!"
And in case you were worried about the double cleanse being only for those with specific skin concerns, like dry skin, oily skin, or acne, you can rest easy. "The double cleanse works for all skin types making sure all impurities are removed, resulting in a soft, nourished glow," Charlotte reassures.
Double cleansing popularity
"Although the double cleanse has increased in popularity throughout the last few years, I believe we still have a bit to go before most skin care lovers become true believers," Charlotte says. "It can be hard to wrap one's head around washing your face twice during your skincare routine, but it's worth it."
How to double cleanse
"When double cleansing, take a few minutes during the oil-cleansing step to massage your skin. Massaging your skin helps promote circulation, which contributes to brighter, bouncier skin," Charlotte advises. We outline the steps below:
Step 1: Use an oil-based cleanser
Remembering the golden rule that oil and water don't mix, the most effective way to remove oil-based impurities, i.e., makeup, sunscreen, or sebum, is to swipe them off with a similar ingredient. Enter: oil-based cleansers. These bind onto makeup and your skin's excess oils for easy removal. And a good oil-based cleanser should even be able to remove both your best mascara and best eyeliner without too much hard work.
Ed's note: Micellar water on a cotton pad does a similar job if you're in a pinch, or if you find a wipe method easier for your first step (because we've all had those late/tired/drunk/can't-be-bothered nights!).
Then I Met You Living Cleansing Balm
"I really love oil-based cleansing balms, like Then I Met You Living Cleansing Balm, for this," recommends Charlotte. In this award-winning balm, hero antioxidant sea buckthorn oil blends luxuriously well with persimmon extract, olive oil, and vitamin E to melt the day's makeup, sunscreen, and sebum away without leaving an oily, filmy cast.
---
Bioderma Sensibio H2O Make-Up Removing Micelle Solution
This beauty industry fave (who doesn't trust a French pharmacy pick?) is dermatologist-tested and gently removes buildup, pollution, and stubborn makeup. We personally like using it on a Q-tip to spot-remove eyeliner and mascara smudges, as it doesn't sting around the eye area.
---
Step 2: Finish with a water-based cleanser
How to know if your cleanser is water-based? It lists water as its first ingredient. Oh, and it usually also lathers up quite well.
Washing your face with a foaming or lathering cleanser is the final (and, indeed, super satisfying) step in a double cleanse. Squeeze a dime-sized amount of product onto your palm, and then apply onto a wet forehead, both cheeks, nose, and chin area and emulsify, a.k.a. rub, gently yet thoroughly in an upward-and-outward motion. Rinse with cool water, and tap dry with a tissue or clean face towel. Done!
Malin+Goetz Grapefruit Face Cleanser
This vegan and cruelty-free bestseller utilizes invigorating grapefruit extract, coconut-based surfactants, and amino acids to cleanse, lather, and tone the skin—they claim you can forego toning altogether after use. Come for the multi-layered benefits, stay for the Scandi skincare efficacy (it's also great on sensitive skin).
---
woman&home thanks Charlotte Cho of Sokoglam for her time and expertise.
Eunice Lucero-Lee is the Beauty Channel Editor for woman&home. A lifelong creative writer and beautyphile, she graduated from De La Salle University in 2002 and was hired a year later to front all beauty coverage for Pink Magazine, a teen lifestyle publication, after submitting a page-long thesis on why Stila was the best brand to come out of the Aughts. She was hired an hour later.
Her writing—which has since then expanded to cover pop culture and astrology, both equal passions—led her to spearheading columns in Chalk Magazine, K-Mag, Metro Working Mom, and SugarSugar Magazine. Upon receiving her stripes at New York University's Summer Publishing Institute in 2008 she was immediately headhunted to work as the Beauty Editor, thereafter Managing Editor of Stylebible.ph, the digital home of Preview, the Philippines' best-selling fashion magazine, where she also did double-duty as Associate Editor of the print edition.
It was during this stint that the hallyu wave started taking hold and when she was tapped to co-found Sparkling, Asia's first-ever English K-Pop print magazine. Originally planned as a one-off, the project became a runaway hit and saw her taking Korean classes on the weekends for three years, as she found herself frustrated by the lack of breadth translators provided for celebrity profile coverage. She was Editor-in-Chief until her move to New York in 2013. The now-iconic magazine has remained in publication since 2009 due to massive fan support.
A beauty, astrology, and pop culture obsessive and insider for over 18 years, Eunice is an internationally published editor (and now certified astrologer) whose work has been featured in publications such as Cosmopolitan, Esquire, and The Numinous, among many others. The former Editor-in-Chief of All Things Hair and a (very) proud cat mom, she spends her time in Manhattan figuring out the correct Pilates-to-sushi ratio, obsessing over celebrity natal charts, luxury skincare, and Scandi-noir crime procedurals, as well as finding the perfect K-Pop vid to save the day. She can still order drinks perfectly in Korean. Find her on Instagram @eunichiban.