What is double cleansing and how do you do it? Experts break it down
What is double cleansing? A step-by-step guide to the transformative skincare step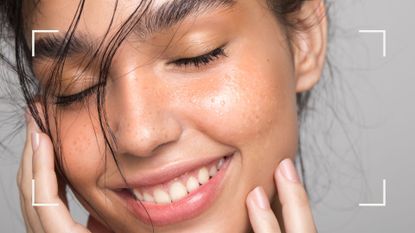 (Image credit: Future/Getty Images)
Google 'what is double cleansing?' and you'll find that it's exactly as it sounds... cleansing twice. It employs a two-step approach: use an oil-based cleanser like a cleansing balm or oil then follow it up with a water-based foaming or cream facial wash.
On the one hand following this East-Asian-inspired skincare step sounds pretty easy. But then again it's also twice as much work as simply cleansing once, so what is double cleansing a necessity for? Because a good skincare routine always includes thorough cleansing, and the best cleansers should leave skin clean, fresh and prepped for skincare. Doubling up at this stage ensures your complexion is deeply clarified, allowing for better absorption of other products and ultimately, better skin.
So that's a little extra effort for a fairly large reward, which is a good deal in our book. Get into the habit and double cleansing will become as much a part of your routine as twice-daily teeth brushing. Heres how.
What is double cleansing? Experts break it down
We've answered the basic question of what is double cleansing, but why exactly will one wash not suffice as it does in other areas? Because we tend to load a lot more onto our faces, explains skincare author and co-founder of Korean Skincare e-tailer Sokoglam (opens in new tab), Charlotte Cho.
"You'll be surprised what you leave behind with just one cleanse that isn't necessarily seen with the naked eye," explains Cho. "The first step with an oil-based cleanser will wash away oil-based impurities such as makeup, sebum and sunscreen. The second step with a water-based cleanser ensures that the remaining impurities – everything that isn't makeup or oil-based – are removed from the skin." This can include free radicals from pollution, smoke, and UV, plus grime build-up.
Claire Williams, skincare expert and founder of Wow Facial (opens in new tab) agrees but also points out that double cleansing may not be for everyone. "Keeping skin clean is essential in keeping the skin barrier healthy and removing the build-up of residue, oils, and toxins." But, if you're asking what is double cleansing going to do for your skin, the answer depends on your skin type and lifestyle habits continues Williams. "If you wear makeup daily or have oily skin, you'll find that double cleansing works well. However, it isn't necessary if you have dry or sensitive skin and don't wear makeup." So how often should you wash your face if this is the case? Experts agree that twice a day is beneficial, but you may not need the first wash to be a double cleanse.
How to double cleanse step-by-step
Step 1: Use an oil-based cleanser
Remembering the golden rule that oil and water don't mix, the most effective way to remove oil-based impurities, i.e., makeup, sunscreen, or sebum, is to swipe them off with a similar ingredient. Enter: oil-based cleansers. These bind onto makeup and your skin's excess oils for easy removal.
A good oil-based cleanser, which can be a simple oil or one of the best cleansing balms, should be able to remove even your most budge-proof best mascara without too much hard work. "Apply it to dry skin to help break down impurities," says Williams. "Next, massage into the face before rinsing off." One of the best micellar waters on a cotton pad does a similar job if you're in a pinch, or if you find a wipe method easier for your first step (we've all had those late/tired/drunk/can't-be-bothered nights!)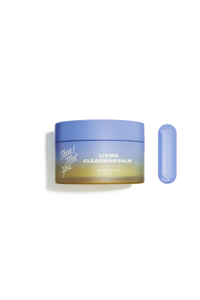 (opens in new tab)
Then I Met You Living Cleansing Balm | RRP: $38/£37
This is one of the best Korean skincare products to gently cleanse and nourish the skin. "I really love oil-based cleansing balms, like Then I Met You Living Cleansing Balm, for this," recommends Cho. Hero antioxidant sea buckthorn oil blends luxuriously with persimmon extract, olive oil, and vitamin E to meet the day's makeup, sunscreen, and sebum away without leaving an oily, filmy residue.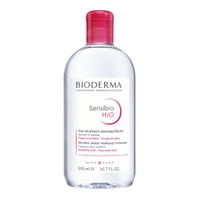 (opens in new tab)
Bioderma Sensibio H2O Make-Up Removing Micelle Solution | RRP: $6.60/£5.30
This beauty industry favorite is dermatologist-tested and gently removes buildup, pollution, and stubborn makeup. We like using it on a Q-tip to spot-remove eyeliner and mascara smudges, as it doesn't sting around the eye area.
Step 2: Finish with a water-based cleanser
How to know if your cleanser is water-based? It lists water/aqua as its first ingredient. Oh, and it usually also lathers up quite well.
Washing your face with a foaming or lathering cleanser is the final (and, indeed, super satisfying) step in a double cleanse. Squeeze a coin-sized amount of product onto your palm, and then apply it onto a wet forehead, both cheeks, nose, and chin area and emulsify, a.k.a. rub, gently yet thoroughly in an upward-and-outward motion. "A water-based wash will remove any remaining debris," says Williams. "Then, use a clean flannel or face towel to pat dry gently."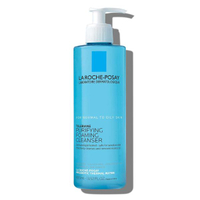 (opens in new tab)
La Roche-Posay Toleriane Purifying Foaming Cleanser | RRP: $14.99/£13
This gentle on the skin but effective gel cleanser rids skin of excess oil and grime without stripping the skin barrier. It's great for a refreshing second cleanse in the evening or a one-step cleanse in the morning.
A lifelong creative writer and beautyphile, Eunice Lucero-Lee graduated from De La Salle University in 2002 and was hired a year later to front all beauty coverage for Pink Magazine. A beauty, astrology, and pop culture obsessive and insider for over 18 years, Eunice is an internationally published editor (and now certified astrologer) whose work has been featured in publications such as Cosmopolitan, Esquire, and The Numinous, among many others.