The 20 best Korean skincare products you need to try now
We reveal the best Korean skincare products for every step of a K-beauty routine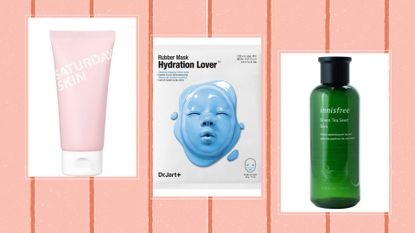 (Image credit: Future/Brands)
The epicenter of skincare innovation, South Korea, is home to the best Korean skincare products around – many of which have made their way from east to west. Now available to shop at US and UK beauty e-tailers, K-beauty continues to be in demand. According to market research firm Mintel, South Korea's facial skincare market is set to reach $4.3 billion in 2022, an uptick of 1.6% from 2021.
If your skincare routine is yet to feature a K-beauty product, rectify that pronto. Korean skincare focuses on hydration, innovation, and protection. The main goal for Korean women is to achieve skin that looks glassy and translucent without the help of makeup – a goal that has inspired several viral beauty moments including slugging and glass skin. As well as spearheading the latest buzzy trends, K-beauty brands often shine a light on unlikely hero ingredients (snail slime anyone?) and new skincare steps.
Here, we break down the 10 popular K-beauty skincare steps that are often adopted in South Korea to achieve that sought-after dewy radiance. For each step, we share our pick of the best Korean skincare products that really stand out from the crowd. From hydrating rubber sheet masks to exfoliating peeling gels – expect to be won over by this lot.
How we tested these Korean skincare products
To test the best Korean skincare products, we tried a wide selection of top-rated formulas that covered every category including eye creams, cleansers, toners, essences, moisturizers, and more. We assessed each product on ingredients, innovation, texture, and results. The products that came up trumps (and are featured below) really delivered on their claims – and we saw a noticeable difference in the look and feel of our skin.
The best Korean skincare products, chosen by our beauty team
Why you can trust Woman & Home Our expert reviewers spend hours testing and comparing products and services so you can choose the best for you. Find out more about how we test.
Step 1: Cleanse
1. Banila Co. Clean It Zero Cleansing Balm
Best Korean cleansing balm
Specifications
RRP: $19/£19.80
Product type: cleanser
Key ingredients: Centella, vitamin E, hot springs water, vitamin C
Reasons to buy
+
Removes stubborn makeup
+
Award-winning formula
+
Comes with spatula
This is by far one of the best cleansers around for removing stubborn makeup. Searching 'how to remove waterproof mascara' on Google? Consider this the answer. Laced with several skincare actives, including brightening vitamin C, nourishing vitamin E, and hydrating hot springs water, the formula melts off the day without stripping skin of essential moisture. Instead, it replenishes moisture and leaves skin suitably soft and visibly brighter.
Housed in a tub, this cleansing balm comes with a hygienic spatula so you can scoop out the right amount without repeatedly dipping your fingers into the pot. Once you've got a generous scoop, massage the cleanser onto dry skin using circular motions. You'll notice that the sherbet-like texture transforms into a silky oil on contact with the skin – making it perfect for a little facial massage. The only downside of this product is the fact that it's scented (albeit, very lightly) so it might not be the best choice for sensitive skin.
2. iUNIK Calendula Complete Cleansing Oil
Best Korean cleansing oil
Specifications
RRP: $15.99/£19
Product type: cleansing oil
Key ingredients : sunflower seed oil, canola oil, calendula flower extract, jojoba seed oil, macadamia seed oil, ylang ylang oil
Reasons to buy
+
Removes stubborn makeup
+
Gentle formula
+
Suitable for all skin types
Searching for the best cleansing oils to remove makeup without disrupting the skin's barrier? Turn your head to this top-rated Korean formula from iUNIK. Suitable for all skin types, the gentle oil effectively removes makeup, sunscreen, and daily grime without starving skin of moisture. Once rinsed off, skin feels smooth, clean, and refreshed – which is thanks to the 94% plant oil complex. Calendula and ylang-ylang oils help regulate sebum and reduce inflammation while sunflower, jojoba and macadamia nut oils hydrate and soften skin.
After just two uses, we noticed our skin felt softer and looked clearer. If you're wondering how to incorporate this product into your daily skincare regime, we recommend using it as a first step to remove makeup before double cleansing with a water-based or foaming formula that will help clear skin. When taking this traveling, note that the bottle can leak so it's a good idea to pack this in a separate bag that can be sealed.
Step 2: Double cleanse
3. Saturday Skin Rise + Shine Gentle Cleanser
Best Korean gentle cleanser
Specifications
RRP: $26/£20
Product type: cleanser
Key ingredients: Coco-Glucoside, peach extract, apple extract, peptide complex
Reasons to buy
+
Mild foaming cleanser
+
Moisturises skin
+
Controls excess sebum
Reasons to avoid
-
Doesn't remove stubborn makeup
Double cleansing is a two-step cleansing method that's extremely popular in Korea. It typically involves using an oil-based cleanser first (to remove makeup, sebum, and SPF) and a water-based cleanser second (to remove sweat and dirt). A great second-step cleanser, this water-based formula from Saturday Skin gently lathers up into a frothy foam that cleans skin and removes impurities.
While certain foaming formulas can strip skin of moisture, leaving it feeling tight and irritated, this foaming formula doesn't. Powered by coco-glucoside, a mild cleansing agent, the unique gel-cream texture transforms into a light lather that doesn't disrupt the skin's moisture barrier. Skin feels fresh, clean, and moisturized after use. We're a big fan of this gentle formula and would highly recommend it to anyone who loves to double cleanse. Just note that on its own, this cleanser doesn't remove stubborn makeup as well as cleansing balms and oils.
4. LANEIGE Deep-Clean Cleanser
Best Korean exfoliating cleanser
Specifications
RRP: $19/£21
Product type: exfoliating cleanser
Key ingredients: cellulose beads, blueberry extract, papain enzyme, palm oil
Reasons to buy
+
Removes dead skin cells
+
Decongests pores
+
Smooths skin
'How to get rid of acne?' is a commonly asked question, no matter what skincare routine you follow. While it's important to understand the cause before deciding on a treatment, there are several skincare products that can help. Enter Laneige's Deep-Clean Cleanser. A two-in-one product, this cleanser combines physical exfoliants (cellulose beads) with chemical exfoliants (blueberry extract and papain enzyme) to slough away dulling dead skin cells and help decongest pores.
A key step in any Korean skincare regime, regular exfoliation can help refine skin - promoting a clearer, more supple complexion. While this cleanser can remove makeup, sunscreen, and surface debris, too – we'd recommend only using this product once or twice a week when you need a deep clean. Otherwise, over exfoliating may lead to dryness. Overall, this is a great multi-tasker for anyone whose main skin concern is congestion – just be sure to use this cleanser as and when needed.
Step 3: Exfoliator
5. COSRX Low pH Goodnight Soft Peeling Gel
Best Korean peeling gel
Specifications
RRP: $16/£19.99
Product type: exfoliator
Key ingredients: hyaluronic acid, PHAs, flower extracts
Reasons to buy
+
Removes debris and dead skin cells
+
Suitable for sensitive skin
+
Fragrance-free
Gel peels have taken the Korean skincare sphere by storm. These innovative exfoliators contain ingredients that interact with the oil on your skin, creating friction and balling up as you rub in the product. These little balls will then lift oil and remove dead skin cells to reveal a smoother, more radiant complexion. Essentially a gentle physical exfoliator, these gel peels are usually suitable for all skin types – including sensitive. This one from K-beauty brand CORSX contains mild chemical exfoliants (PHAs) too, to aid exfoliation.
Although we assumed this product would be a leave-on overnight peel, it's actually a rinse-off gel that's supposed to be used before bed. You simply apply the product onto damp skin, massaging it in so the product pills, before rinsing it off with lukewarm water. Skin instantly feels softer and come morning, expect to see a more radiant complexion. A great addition to any facial at home, we found the physical exfoliation super satisfying and non-irritating. If, however, your skin is especially sensitive, we'd recommend using this once or twice a week only.
6. Neogen Bio-Peel Gauze Peeling in Wine
Best Korean peeling pads
Specifications
RRP: $27.10/£26.95
Product type: exfoliating pads
Key ingredients: AHA-based red wine extract
Reasons to buy
+
Physical and chemical exfoliation
+
Improves the appearance of blackheads
+
Travel-friendly
The biggest selling point of these Neogen Peeling Pads is how convenient they are. You simply slot your fingertips into the sleeve and use the rough side for manual exfoliation before turning it around and using the soft side to pick up the remaining debris. No rinsing is required. Soaked in AHA-based red wine extract, these pads dissolve dead skin cells while moisturizing the skin to reveal a more radiant complexion.
Perfect for travel, these pads are a great solution for exfoliating on the move. Pack them for weekends away, long-haul holidays, and camping or glamping. As well as being super convenient, they also really do work. After a few uses, we noticed an overall improvement in the appearance of blackheads – especially around the nose area. Our skin also looked healthier with a spa-like glow that encouraged us to go for a barely-there, natural makeup look. It's safe to say - we're hooked!
Step 4: Toner
7. Son & Park Beauty Water
Best Korean toning and cleansing water
Specifications
RRP: $25/£22
Product type: toning and cleansing water
Key ingredients: rose flower water, witch hazel water, papaya fruit water
Reasons to buy
+
Boosts radiance
+
Cleanses and hydrates skin
+
The bottle lasts a long time
Many of today's best toners are inspired by Korean beauty trends. No longer loaded with drying alcohol, the latest K-beauty-approved toners to hit the market boast hydrating properties as well as exfoliating benefits. This one, from K-Beauty brand Son & Parker, is jampacked with kind-to-skin ingredients. There's papaya extract to sweep away dead skin cells, witch hazel to calm and soothe as well as lavender water, rose water, and orange fruit extract to hydrate skin.
A great morning pick-me-up, we applied this toner post-cleanse to prepare our skin for makeup application. It can also be used as part of your skincare night routine or throughout the day whenever your skin needs a quick refresh. Lightweight, non-irritating and hydrating – this refresher is suitable for most skin types. Our only gripe is that the scent is a little overpowering.
8. Innisfree Green Tea Seed Toner
Best Korean toner for dry skin
Specifications
RRP: $19/£25
Product type: toner
Key ingredients: Jeju green tea leaves, green tea seed oil, panthenol and hyaluron
Reasons to buy
+
Soothes dry, irritated skin
+
Suitable for sensitive skin
+
Lightweight formula
Dry skin? Add this toner to your K-beauty routine, pronto. Specifically formulated for dry, irritated skin – this water-based product has a lightweight, gel-like texture that instantly cools and soothes skin on application without leaving behind a sticky residue. Once absorbed, the skin feels fresh and has a dewy glow. As for ingredients, the formula is brimming with organic Jeju green tea leaves and green tea seeds which are rich in minerals, vitamins, and amino acids.
If it's an exfoliating toner that you're after, look elsewhere. But for a hefty dose of hydration and long-lasting moisture, this is the toner for you. Alongside green tea extracts, it also contains hyaluron to strengthen the skin's natural barrier. Overall, it's a great, simple product that can be used both morning and night, on freshly cleansed skin, to help maintain a healthy hydrated complexion. We especially love using this in winter when skin is parched from harsh weather and central heating.
Step 5: Essence
9. Beauty of Joseon Ginseng Essence Water
Best Korean essence for pigmentation
Specifications
RRP: $18/£15.95
Product type: essence
Key ingredients: Ginseng root water, Ginseng callus culture extract, Ginseng root extract, Ginseng berry extract, niacinamide, sodium hyaluronate and glycerin
Reasons to buy
+
Helps prevent pigmentation
+
Brightens skin
+
Deeply hydrates
Reasons to avoid
-
Takes a little while to fully absorb
Essence is a popular K-beauty skincare product that's typically applied after toner. Best described as a toner meets serum, this lightweight water-based product adds an additional layer of hydration to the skin. While certain essences target dry and sensitive skin, others tackle dullness and sun damage. Falling into the latter is this Ginseng Essence Water from Beauty of Joseon. Rich in antioxidants, ginseng (the star ingredient) helps ward off damage from environmental aggressors like UV rays and pollution.
The perfect product for city-dwellers, this essence also contains 2% niacinamide to brighten skin alongside sodium hyaluronate and glycerin to add hydration. As for the texture, we love how lightweight this product is – just be careful not to dispense too much (a little goes a long way). For best results, we recommend gently patting this into the skin before waiting a little while for the product to fully absorb before applying your next skincare step.
10. I'm From Mugwort Essence
Best Korean essence for sensitive skin
Specifications
RRP: $34/£37
Product type: essence
Key ingredients: Artemisia Princeps Extract
Reasons to buy
+
Soothes sensitive skin
+
Rich in antioxidants
+
Suitable for all skin types
If you're not yet familiar with the ingredient mugwort, let us introduce you. Commonplace in Korean skincare products, mugwort is a herb that's famed for its skin-soothing abilities. Rich in antioxidants, vitamins, and minerals, mugwort can calm irritation, reduce redness and take down inflammation. It's also believed to kill bacteria, making it an effective treatment for breakouts, too. Sold on the green stuff? Find it in abundance in I'm From Mugwort Essence, which is formulated with 100% mugwort extract, harvested from Ganghwa County in Korea.
A top-rated sensitive skin beauty solution, this watery essence gets to work in a few days, calming irritation and soothing skin. If, for example, you've overdone it on retinol products and your skin is crying out for some moisture, treat it to this essence that will provide instant relief. Skin prone to redness? Apply this morning and night to calm your complexion and lock in moisture. Essentially, this is a great product (albeit with a slightly medicinal scent) for whenever your skin needs a little TLC. We're calling it the Tea Tree Oil of Korea.
Step 6: Treatment serum
11. Peach & Lily Glass Skin Refining Serum
Best Korean refining serum
Specifications
RRP: $39 (US only)
Product type: serum
Key ingredients: niacinamide, peptides, hyaluronic acid, peach extract and Asian mountain yam extract
Reasons to buy
+
Hydrates and bolsters glow
+
Fragrance-free
+
Sits well under makeup
Reasons to avoid
-
Not suitable for acne-prone skin
Glass skin is the K-beauty trend that took social media by storm earlier this year. The term describes skin so dewy that it looks as though it's been modelled from glass. But of course, it hasn't. Instead, glass skin can be achieved using hydrating heroes and glow-bestowing products like this Glass Skin Serum from Peach and Lily. The water-based formula boasts a lightweight gel texture that quickly sinks into the skin with zero tackiness, leaving behind a sheer veil of radiance.
We applied it straight after cleansing, before SPF, and were blown away by the results. It lends skin a polished finish that mimics the effects of a balmy highlighter. Not too wet, the result is a subtle sheen that makes skin look that little bit healthier and happier. As for ingredients, it's loaded with plumping hyaluronic acid, brightening niacinamide, and vitamin-rich peach extract that together hydrate and illuminate. If your skin is oily, you may find this serum too shiny – in which case, opt for a mattifying serum instead.
12. Glow Recipe Avocado Ceramide Recovery Serum
Best Korean serum for stressed skin
Specifications
RRP: $42/£38
Product type: serum
Key ingredients : avocado oils, rice milk, allantoin, niacinamide, and turmeric
Reasons to buy
+
Calms redness
+
Strengthens the skin's barrier
+
Ultra-lightweight
Several Korean skincare products share one thing in common: the use of superfoods to repair and nourish the skin. In Glow Recipe's Avocado Ceramide Recovery Serum, avocado oil is the hero ingredient – famed for its high content of fatty acids that help repair the skin's barrier. Alongside avocado oil, there's rice milk, allantoin, niacinamide and turmeric that together help calm and soothe skin (thanks to their anti-inflammatory properties).
The perfect antidote to irritated or inflamed skin, this milky serum instantly cools and calms your complexion – taking down any redness. A great product to have on hand for whenever your skin flares up, this is especially suited to sensitive skin. We tried it after accidentally overdoing it on the skincare acids and can confirm it gets to work quickly and feels really refreshing and moisturizing. Our only issue is the price point which is quite high considering it's a 30ml bottle – but at least it's travel-friendly!
Step 7: Eye cream
13. Acwell Licorice pH Balancing Intensive Eye Cream
Best multi-tasking Korean eye cream
Specifications
RRP: $30/£27
Product type: eye cream
Key ingredients: niacinimide, squalane, caffeine, licorice and glutathione
Reasons to buy
+
Brightens dark circles
+
Hypoallergenic
+
Suitable for sensitive skin
Up there with the best eye creams we've tried, this hard-working formula is powered by a cocktail of skin-savvy ingredients to tackle several different under-eye concerns. First, there's licorice extract, known to brighten and help fade hyperpigmentation. Next, there's caffeine to improve blood circulation and take down puffiness. And finally, there's glutathione, an antioxidant that helps support the skin's barrier. Oh, and that's not all – hyaluronic acid and green tea extracts also play a role.
Impressed by the ingredients list, we were keen to give this eye cream a whirl. Our initial thoughts? It has a lovely, lightweight texture that's not too heavy for the delicate under-eye area. We applied it both morning and night and found that during the day, it really hydrates the skin and prevented our concealer from creasing or cracking (a big tick). While we noticed some brightening benefits, it's too early for us to say if it can help with pigmentation. But overall, we're big fans and would highly recommend this product to anyone whose main concerns are dark circles and fine lines.
14. LANEIGE Water Bank Blue Hyaluronic Eye Cream
Best hydrating Korean eye cream
Specifications
RRP: $43/£33
Product type: eye cream
Key ingredients : blue hyaluronic acid, coconut and glutathione
Reasons to buy
+
Intensely hydrating
+
Soothing and cooling
+
A little goes a long way
If it's a hydrating hero that you're after, turn your attention to LANEIGE - the K-beauty brand that's focused on delivering intensely hydrating skincare solutions. Formulated with something called blue hyaluronic acid, this eye cream's starring ingredient is fermented with seaweed and boasts a low molecular weight – meaning it can sink deeper into the skin. Sounds good, right? While hydration is the aim of the game here, this eye cream also contains coconut and glutathione to protect skin from environmental aggressors and lock in moisture.
Refreshing and lightweight, this gel-like cream is a total joy to apply – instantly soothing and cooling the delicate eye area. Immediately after application, the skin looks more radiant and glowy. So much so, it was tempting to apply this everywhere. We recommend gently patting this on after toner and before your favorite serum. On a budget? Consider one of the best drugstore eye creams that contain hyaluronic acid instead.
Step 8: Moisturizer
15. Heimish Watermelon Moisture Soothing Gel Cream
Best Korean gel moisturizer
Specifications
RRP: $23.90/£23
Product type: gel cream
Key ingredients : watermelon, aloe vera, ceramides, glycerin and tea tree
Reasons to buy
+
Suitable for all skin types
+
Lightweight gel texture
+
Fragrance free
Reasons to avoid
-
May take a while to fully absorb
Another K-beauty hydrating superstar (are you spotting a theme yet?), this lightweight gel cream is powered by a potent blend of moisturizing ingredients. Watermelon cools and restores; ceramides lock in moisture, and aloe vera instantly soothes skin. The results? A healthy glow and calmed complexion in seconds. We love how cooling this cream is – we can imagine slathering this on during the summer months. It's also great for anyone prone to redness and inflammation.
Oily and spot-prone skin types can reap the benefits, too – as this bouncy gel also contains an anti-microbial blend of tea tree, witch hazel, and ivy fruit extracts to help keep those blemishes at bay. The best part? The tub is huge and will last for ages (note that a little goes a long way). If you're a fan of Clinique's Moisture Surge, you'll love this!
16. Sulwhasoo Concentrated Ginseng Renewing Cream
Best luxury Korean moisturizer
Specifications
RRP: $260/£284.67
Product type: cream
Key ingredients: ginseng peptides, ginsenomics
Reasons to buy
+
Softens fine lines and wrinkles
+
Intensely moisturizing
+
Weightless feel
Searching for a serious skincare investment? Consider this luxurious pot of cream from the Korean beauty brand Sulwhasoo. A cult classic in Korea and the US, this moisturizer is (according to countless rave reviews) nothing short of an anti-aging miracle and one of the best face moisturizers around. The hero ingredient? The brand's patented Ginsenomics blend combines various forms of ginseng (including peptides, root, and flower) to hydrate, lift and plump up the skin.
What's so special about ginseng, I hear you ask? Well, according to the experts, it can promote elasticity and collagen production, reduce puffiness and inflammation, ward off environmental aggressors, and brighten your complexion. Tick, tick, tick! Wrapped up in this silky, lightweight cream – we can see why this product is so popular and we noticed the brightening benefits almost instantly. With that said, it is an expensive purchase and we'd recommend sourcing a sample to make sure it's right for you before investing.
Step 9: SPF
17. Isntree Watery Sun Gel
Best Korean SPF overall
Specifications
RRP: $27/£21
Product type: SPF
Key ingredients: hyaluronic acid, Centella, purslane, heart-leaf extract
Reasons to buy
+
No white cast or residue
+
Hydrating formula
+
Free from fragrance
It may come as no surprise to hear that South Korea is home to some of the best facial sunscreens around. Combining the power of a skincare serum with the protection of a broad-spectrum SPF, these hard-working formulas go above and beyond your average sunscreen to hydrate and treat the skin. Take Isntree's Hyaluronic Acid Watery Sun Gel, for instance. The silky cream is loaded with 8 (yes, seriously) types of hyaluronic acid, each with a different molecular weight, to deliver deep and long-lasting hydration.
A far cry from those heavy, thick SPFs of the past - this lightweight gel has a similar feel and texture to regular skincare products. It also sinks in speedily without leaving behind a white cast or greasy residue. As for protection, the Korean broad spectrum rating system differs from the UK. While the SPF number also indicates UVB protection level (in this case 50), Korea uses a P.A. system to indicate UVA protection. Always seek out SPFs that provide both types of protection for everyday wear.
18. Missha All Around Safe Block Soft Finish Sun Milk SPF50+/PA+++
Best Korean SPF for oily skin
Specifications
RRP: $20.30/£23.80
Product type: SPF milk
Key ingredients: Camu Camu fruit extract, butylene glycol, silica
Reasons to buy
+
Water- and sweat-resistant
+
Matte finish
+
Brightening benefits
Another top-rated K-beauty SPF, Missha's All Around Safe Block Soft Finish Sun Milk features a light liquid texture that melts into skin like butter. Not at all heavy or greasy, this milk is a must-try for oily skin types that are prone to shine. Blended with a silky porous powder, the formula dries down to a soft-matte finish that sits so well under makeup – especially under your best foundation for oily skin. It's also sweatproof and water-resistant, making it a great choice for the summer months.
While we adore the texture and feel of this innovative SPF milk, we found that the formula began to flake off by the end of the day. To avoid this, we'd recommend allowing plenty of time between skincare steps to ensure all products have been fully absorbed. It may also be beneficial to apply a hydrating moisturizer first to prevent any dryness or flaking. A mineral formula, this SPF is also suitable for sensitive skin.
Step 10: Sheet mask
19. Tony Moly I'm Real Rice Mask Sheet Clear Skin
Best Korean sheet mask for blemishes
Specifications
RRP: $3/£5 for one
Product type: sheet mask
Key ingredients: rice extract, hyaluronic acid and red wine
Reasons to buy
+
Adheres easily
+
Helps fade dark spots
+
Reasonable price point
Reasons to avoid
-
Not suitable for sensitive skin
Now for the most famous step in any K-beauty skincare regime: sheet masks. Known as some of the best face masks in the biz, Korean sheet masks are renowned for their skin-loving benefits and super speedy results. Hence why the average Korean woman uses sheet masks two-to-three times a week. Ranging in function, material, and ingredients – there's a K-beauty sheet mask out there to suit every skin concern going. This one, from Tony Moly, specifically caters to blemish-prone skin.
On first impressions, we were impressed by the material (a three-layer pulp sheet) that fits snugly onto the contours of our face without slipping or gathering. Soaked in various types of essence, you instantly feel the soothing and hydrating benefits of this sheet mask. Hydration aside, this formula is blended with rice extract to clarify and brighten as well as red wine to decongest the skin. We noticed a strong tingling sensation which may be too much for sensitive skin types. But if your skin is dull and breaking out – give this one a whirl!
20. Dr.Jart+ Cryo Rubber Face Mask with Moisturising Hyaluronic Acid
Best hydrating Korean sheet mask
Specifications
RRP: $15/£11 for one
Product type: sheet mask
Key ingredients: Hyaluronic acid
Reasons to buy
+
Rubber mask adheres easily
+
Hydrating and cooling
+
Dermatologist tested
Yes, it's expensive for a single sheet mask. But in our opinion, it's worth every single penny. This best-selling Cryo Rubber mask from Dr. Jart+ is a godsend for stressed, aggravated, and parched skin. So, how does it work? First, you apply the Hyaluronic Acid Ampoule (included with the mask) all over freshly cleansed skin. Next, you apply the sheet mask which comes in two parts (one for the upper face and one for the lower face) so that it fits your face snugly before relaxing for 30-to-40 minutes.
The Cryo Rubber's cooling patented technology from Korea is said to boost product absorption as well as moisturize the skin thanks to the addition of algae extract. From the snug and comfortable fit to the cooling and soothing sensation, we fell head over heels for this face mask and will be stocking up for winter, summer, holidays, and more. Our top tip? Pop the mask and the ampoule in the fridge for 20 minutes, ahead of application, to boost the cooling benefits. It honestly feels heavenly.
Where to buy Korean skincare products
Plenty of US and UK retailers now offer a selection of the most popular Korean skincare products, these are our favorite places to seek out the best K-Beauty buys: