How to remove waterproof mascara: a quick and painless guide
Learn how to remove waterproof mascara without the fuss (or any wrinkle-causing tugging!).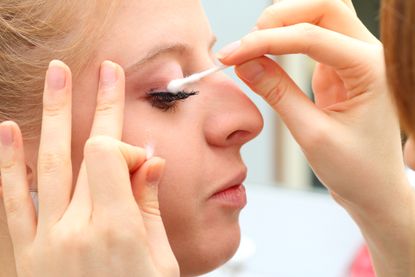 (Image credit: Getty Images)
Do you know how to remove waterproof mascara? When it comes to the pros of waterproof mascara, there are many: It's by far the best mascara (opens in new tab) for being sweat- and weather-proof, it lasts from morning until evening, and it's a quick and easy way to give eyes a swipe of high-impact, all-day definition. Yet as far as cons go, there's only really one, and it is, however, a biggie: Removing it can be quite the challenge.
With the extra-stubborn staying power typical of most waterproof formulations, a more specialized process is required. This is because firstly, you should make sure that the product can be removed thoroughly from your lashes when you need to, and secondly, that you're not inflicting any damage on your eyes or on the delicate skin around the eye area while doing so.
It's also helpful to note that since waterproof mascaras generally have heavier formulations than non-waterproof mascaras, the former can weigh lashes down, or in the worst case, could result in more fragile lashes breaking or falling off. Generally, however, it's mostly a case of being able to remove waterproof mascara efficiently and in a timely manner, as keeping product on for too long (especially around the eye area!) can become a breeding ground for bacteria, resulting in potential irritation and even infection.
In both the short and long term, it's definitely worth the extra effort it takes to remove mascara properly. From what to use to how to use it, here's your quick and easy plan of action. Read on:
1. Soak your makeup remover pad.
Unlike other types of eye makeup, when it comes to learning how to remove waterproof mascara, a few drops of remover won't cut it (unlike how it usually does with the best foundation (opens in new tab)). In order to remove mascara thoroughly from the get-go, as well as avoid any smudges the next morning, you'll want to ensure that the cotton pads you're using are saturated with your chosen remover.
And what is the best type of remover? A dual or bi-phase formula is an industry pick, as mentioned by makeup artist Kenneth Soh: Containing both oil and aqueous water phases, these removers employ a two-pronged approach in dissolving waterproof mascara faster and more efficiently (Nivea and La Roche-Posay have great offerings).
However, if you find that these formulas sometimes leave a residue, there are also oil-free versions available, from brands like NARS. These are particularly useful if you're just changing makeup looks, rather than taking it all off at the end of the day —simply shake, apply, remove, and start fresh.
Unlike tube mascara, which comes off with warm water and gentle pressure from your fingertips, waterproof mascara needs a bit more effort—specifically, from makeup remover pads.
When it comes to these essentials, why not treat them as a tool and consider a more environmentally-friendly alternative to single-use cotton? Reusable options also offer the added bonus of reducing any irritation for those sensitive to cotton, or if you simply want to avoid any pilling or leftover lint.
2. Let your remover sit for a few seconds.
A gentler, slower approach is best to keep lash breakage at bay. "Patience is key," says Kenneth. "Close your eyes and rest the pad on lashes for 10 to 15 seconds to dissolve the mascara. Help it along by gently wiggling and working the remover into them."
3. Do not rub!
Did you know that the skin around the eyes is around four times thinner than the skin on the rest of the body? For best (and safest) results, first aim to use the best mascaras for sensitive eyes (opens in new tab), then keep your technique as tug-free as possible by removing your eye makeup and mascara in separate steps. Avoid harsh rubbing at all costs to prevent your eyelids and under-eye skin becoming raw, or your lashes turning brittle.
Aim to wipe the mascara gently downwards or, as Kenneth recommends, using slow wiggling motions. "It might take a bit more time, but I always do this when I have to remove makeup on shoots and don't want to irritate the models' eyes," he says.
4. Go in with a Q-tip.
One of the most annoying aspects of removing waterproof mascara is that it can feel like you haven't quite got it all (no matter how thorough your attempts). This last step, however, makes all the difference.
Simply soak a Q-tip in makeup remover and use it to gently mop up any remnants of the mascara caught in between lashes or along the upper and lower lash lines. This essential finishing touch will ensure that you don't wake up the next morning with panda eyes or flakes of residue on your pillowcase. Good luck!
Ayesha is a freelance beauty writer and when she's not contributing to woman&home she can be found writing about all things cosmetics, hair and self-care in her role as Senior Features Writer for Get The Gloss. She also writes a monthly hair column called 'Who, What, Hair' (which combines her love of puns and buns perfectly), in addition to a column exploring the new and exciting options now available for women of darker skin tones called 'Not Fair'. She's also been shortlisted for a number of awards including Best Online Beauty Journalist at the Johnson and Johnson Journalism Awards.