The best mascaras for sensitive eyes: achieve irritation-free flutter
We've tested the best mascaras for sensitive eyes, with hypoallergenic ingredients and easy-to-remove formulas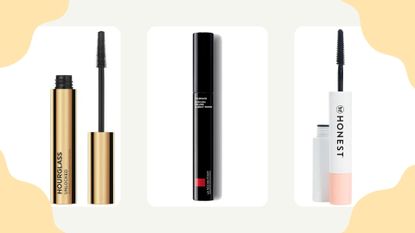 (Image credit: Future)
Finding the best mascaras for sensitive eyes takes a little more care and attention than simply tracking down a regular mascara.
This is because the best mascara for one type of eye sensitivity won't necessarily be the right for another. Allergies to anything from dust to fragrance are common reasons to need specialized mascara. But irritated, dry eyes can also happen at any time due to contact lens use (or misuse), seasonal sensitivity, and hormonal changes. "Dry eye syndrome, or xerophthalmia, is extremely common, and can present with a variety of symptoms such as being uncomfortable, itchy, gritty, red and sore, light sensitivity and increased watering," explains Consultant Ophthalmic and Oculoplastic Surgeon, Dr Elizabeth Hawkes. (opens in new tab)
Whether you're a lifelong allergy sufferer or have unexpectedly reacted to your best drugstore mascara, any sign of irritation shouldn't be ignored. "If you've noticed itchiness, puffiness, or redness around your eyes after using makeup, take a look at the ingredients," advises Lenstore's expert optometrist Roshni Patel (opens in new tab), "Get to know the types of preservatives used, and avoid brands that use them." Instead give these gentle, hypoallergenic formulas a whirl - they're the best mascaras for sensitive eyes in our book, and we think your peepers will agree.
How we tested these mascaras
When selecting the best mascaras for sensitive eyes, the most important factor by far was what has – and hasn't – been included in the formula. We scrutinized each and every one of these mascaras' ingredients lists for common allergens including fragrance and preservatives and looked out for buzzwords such as ophthalmologist tested and hypoallergenic (as explained in our cheat sheet below the products.)
We also tested several tubing mascaras for this guide, as these formulas can be gently removed using warm water alone – a great thing for reactive eyes. That aside, we of course still looked out for the elements we want in any mascara; which are length, volume, curl, a decent pigment, and lasting smudge-proof powers.
The best mascaras for sensitive eyes, chosen by our beauty team
Why you can trust Woman & Home Our expert reviewers spend hours testing and comparing products and services so you can choose the best for you. Find out more about how we test.
(opens in new tab)
1. Clinique Lash Power Mascara
Best mascara for sensitive eyes overall
Specifications
RRP: $23/£21
Cruelty-free: No
Formulation: Tubing formula
Reasons to buy
+
Smudge-, flake-, and smear-proof
+
Hypoallergenic
+
Lengthens even the tiniest of lashes
+
Lasting lift and volume
+
Gentle to remove
Clinique was one of the first mainstream hypoallergenic brands, and always ensures that their mascaras are allergy-tested, and approved by dermatologists and ophthalmologists (a reassuring trio.) This particular mascara is one of our favorite products of theirs. It's got an incredibly lightweight tube that's handy for an on-the-go makeup bag, or just not taking up too much room wherever it is. The slim yet dense wand does a great job of, well, everything: Adding just enough volume, lengthening both the lower and upper lashes, and giving a nice dose of sooty definition. We loved how our lashes looked with this on – a perfect sweet spot of nicely fanned out, a little bit dramatic, but not OTT.
As a tubing mascara, this is kind to the eyes from application to removal, and we were pleased with how easily the little tubes slipped off our lashes with a bit of warm water on a pad. We had loaded up several coats so did need to clean up a few remnants under our eyes after removal, but it's a small price to pay for such an excellent smudge-resistant formula.
2. Eyeko Limitless Mascara
Best lengthening mascara for sensitive eyes
Specifications
RRP: $24/£19
Cruelty-free: Yes
Formulation : Oat-derived fibres, acai oil
Reasons to buy
+
Ophthalmologically tested
+
Removes with warm water
+
Offers plenty of length and separation
+
Cares for lashes
First up, this ticks all of the boxes for sensitivity. It's had ophthalmological testing, it's got a gentle ingredients list that's 80% natural origin and it boasts the ability to be removed with warm water alone, no chemicals required. We're also a huge fan of Eyeko's mascara packaging generally, which comprises unique flexible tubes that you can really squeeze and dig your way around to catch the mascara inside.
In terms of the mascara itself, the wand is a flexible silicone cone that we took one look at and thought, yep, this is about maximum length and minimal volume. We weren't wrong. Our lashes were lightly coated in formula and then stretched out to infinity, but not really bulked up. They also looked glossy, which might have something to do with the acai oil in the formula. We loved this on our lower lashes too, for a cute doe eyes effect, that doesn't transfer or smudge. In fact, this was one of the most budge-proof formulas on our list, we wore it on a particularly soggy November day and it stayed resolutely put until it magically dissolved after (admittedly, a good few) swipes with a warm water-soaked pad.
(opens in new tab)
3. Honest Beauty Extreme Length Mascara + Lash Primer
Best two-in-one sensitive mascara
Specifications
RRP: $17/£12.25
Cruelty-free: Yes
Formulation: Jojoba esters, beeswax
Reasons to buy
+
'Clean' nasty-free formulation
+
Lengthens, separates, and primes lashes
+
Double-wand enables precise application
+
Holds pigment and intense color
Reasons to avoid
-
The brush is a little stiff
There's no point in denying that this two-in-one option – with its dual-ended packaging, containing both primer and mascara – will likely be a bit more complicated to apply than your other best lengthening mascaras. But we found it to be more than worthwhile because it takes lash length to the next level.
In all fairness, it really isn't too much trouble to use. Simply apply the primer, wait 30 seconds, and then flip the tube to swipe on the ultra-rich mascara. We found they layer together nicely without any clogging (which was our main concern before trying it) and the combination of the two feels surprisingly lightweight. In terms of how it looks, wowza! The lift and length we achieved were up there with the best on the list, and that upward curl really lasts all day without dropping, probably due to the primer.
It's also worth noting that this brand has an absolutely enormous 'no' list of ingredients and chemicals it won't include (2,500 and counting) so if clean non-toxic formulations are a priority this will please. And, as with all of the best sensitive mascaras, this product is ophthalmologist-tested for peace of mind in that department.
(opens in new tab)
4. La Roche-Posay Toleriane Mascara
Best ultra-sensitive mascara
Specifications
RRP: $25/£18
Cruelty-free: No
Formulation : Texturizing waxes, polymers
Reasons to buy
+
Volumizes lengthens and thickens lashes
+
Free of parabens and fragrances
+
Allergy-tested, specifically designed for sensitive eyes
+
Dermatologist- and ophthalmologist-tested
+
Waterproof version available
Reasons to avoid
-
Not the best for the bottom lashes
When it comes to sensitive skin, La Roche-Posay knows its stuff. In fact, anyone familiar with LRP will know that all of the best La Roche Posay products have one thing in common – kindness. And while this brand specializes in skincare for those prone to irritation and redness, they have (very kindly) extended their hypoallergenic formulating skills to a small but perfectly formed makeup line too.
As well as boasting all the credentials you would want in the best mascara for sensitive eyes (rigorous testing, an official seal of approval from Allergy UK (opens in new tab)) This is also just an excellent mascara. We found it particularly great for volume, as it's quite a wet formula that's easily built up in light layers without caking, and has a nice glossy texture. One downside of this was we did notice the odd little smudge around our lower lashes as the day progressed, so you may want to use it on the top lashline only.
This mascara formula is also enriched with a lash-boosting serum to encourage healthy growth in the long term. Interesting fact: It was used by makeup artist extraordinaire Val Garland on a very mascara-allergic Judi Dench for her April 2022 Vogue UK cover shoot. If it's good enough for Dame Judi...
(opens in new tab)
5. Glossier Lash Slick Mascara
Best sensitive mascara for a natural look
Specifications
RRP: $16/£12
Cruelty-free: Yes
Formulation : Water-resistant
Reasons to buy
+
Easily removable
+
Does not smudge or flake
+
Great for a natural look
+
Lengthens and curls lashes
+
Paraben- and fragrance-free; non-comedogenic
Reasons to avoid
-
Not especially good for volume
Truly a modern cult product (along with about 75% of Glossier's beauty range, truth be told) Lash Slick sticks with the brand's tried and true formula: a does what it says on the tin name, a 'clean beauty' ingredients list and a natural makeup look as the end result.
That means that if you are looking for ultra-dramatic volumized lashes, look elsewhere. This conical, flexible mascara wand aims to separate, define, and add a nice splash of pigment to the lashes, not bulk them up big-style. We found this an easy formula to apply as it's so sheeny it simply slips onto the lashes without dragging, although we did leave a few little smudges here and there (easily removed with a cotton bud) The result was feathery, fanned-out flutter, which lasted pretty well and only dropped a tiny bit throughout the day.
Ingredients-wise,this packs in clever Japanese fiber tech for length, vegan biotin for health, and shine polymers for glossy-looking lashes. Glossier is also a paraben-free, fragrance-free, and non-comedogenic brand, all of which are very helpful in keeping reactions at bay.
(opens in new tab)
6. Hourglass Unlocked Instant Extensions Mascara
Best luxe mascara for sensitive eyes
Specifications
RRP: $29/£29
Cruelty-free: Yes
Formulation : Film-forming technology, vegan
Reasons to buy
+
Tube mascara that mimics the look of lash extensions
+
Smudge-proof
+
Easily removable with warm water
+
Ophthalmologist tested
+
Gluten-, paraben-, phthalate-, sulfate-, synthetic fragrance-, talc-, and cruelty-free; vegan
Another tubing mascara on our list, but this one takes the practicality and easy removal of tube tech and injects it with a huge dose of glamour. From the opulent gold tube, by far the weightiest on this list, to the ultra-lengthening, glossy formula, this mascara demands to be taken out for the night and shown a good time (but will still treat your eyes kindly come morning.)
The wand is of the flexible, cone-shaped silicone variety, covered with tonnes of micro-spokes to coat even the tiniest lashes. This then forms polymer 'tubes' around each hair, which set down for the day until you gently slip them off with warm water. Our eyes can be particularly sensitive to eye makeup removers, so we found this was a great solution and also enjoyed having one less product to use. It also means you really have no excuse not to take off your mascara before bed (which could be a good or a bad thing)
Not only does this ophthalmologist-tested product provide brilliant length, lift, and separation but, for those suffering from sensitivities, it's also gluten-free. It's also worth noting that Hourglass, a proudly cruelty-free company, donates 5% of the profits from all Unlocked products to the Nonhuman Rights Project, a US-based organization that aims to "secure civil rights for nonhuman animals." A nice touch.
7. Max Factor 2000 Calorie Mascara
Best drugstore mascara for sensitive eyes
Specifications
RRP: $9/£6.99
Cruelty-free: No
Formulation: Soothing panthenol and conditioning glycerin
Reasons to buy
+
Iconic formula
+
Ophthalmologist tested, suitable for contact lens wearers
+
Excellent volume and drama
+
Fluffy brush requires fewer coats
Reasons to avoid
-
You will need remover to get it off
You've probably tried this mascara before, and if not you've almost certainly heard of it. Few makeup items can claim to be truly iconic but we reckon Max Factor 2000 Calorie definitely makes the grade. It's been knocking around for over three decades, during which time the formula has been incrementally tweaked and refined so we get this absolute gem. And while this may not be the first product you would think of as one of the best mascaras for sensitive eyes, here's why it absolutely is.
Firstly, the usual technical stuff; it's fragrance-free and designed to be suitable for sensitive eyes and contact lens wearers. It also contains panthenol, which is a known soothing, anti-irritation ingredient, as well as glycerin which gently conditions the lashes. Secondly, the reason this mascara is so famous – it does amazing things with volume. The thick, fluffy brush grabs plenty of formula and loads it into the lashes, so you won't need many coats for a dramatic look. We liked the dryer texture of this one, which helps keep the mascara where you put it and prevent smearing as you apply.
Despite making our lashes chunky, this did manage to keep them fairly separate, which we appreciated, and the charcoal-black pigment stays true to tone throughout the day. It does require a little more work than some of the others on this list to remove, so you will need to get your best makeup remover out to take it off. Make sure you use something kind to the eyes and fragrance-free, to keep those peepers happy.
---
How to choose the best mascaras for sensitive eyes
Hypoallergenic: Generally, a product marked as hypoallergenic has been created using ingredients that typically cause fewer allergic reactions. However, there aren't strict regulations around the usage of the term in relation to cosmetics, so a hypoallergenic product can only reduce the chances of a reaction.
Allergy-tested, ophthalmologist-tested: More useful terms to look for on packaging for added peace of mind, indicating that the product has been vetted by an eye professional and likely passed a tolerance test.
Patch-testing: Before committing to a new mascara, it could be worth carrying out a patch test. Simply swipe a little on your outer lashes and leave it there for a few hours. If it doesn't give you any discomfort, take it as a green light to apply it all over your eyelashes or, if you're still anxious, apply it from the mid-lengths upwards.
Expiration date: How often should you replace your mascara (opens in new tab) to avoid irritation? As a general rule, you should throw out mascaras that are more than six months old (discard them sooner if they dry up or give off an unpleasant smell) Mascaras can be a breeding ground for harmful bacteria, and no one wants an eye infection.
How to apply and remove mascara on sensitive eyes
What's in your mascara is only one piece of the puzzle – another is how it's applied and removed. According to makeup artist Kenneth Soh, a few small tweaks to your technique could make a world of difference in learning how to apply mascara on eyes prone to sensitivity. "I would always start with a good lash curler," he says. "You'll be amazed at how much more defined your lashes will look, which means you will only need a light coat of mascara." Kenneth also recommends applying mascara as close as you can get to the root, without actually allowing the product to come into contact with the skin of the eyelid.
When removing your mascara at the end of the day, take extra care and give it time – excessive scrubbing or several rounds of heavy-handed cleansing will only worsen sensitivity. Waterproof mascaras are a great option for those whose eyes water at the drop of a hat (a common occurrence for the sensitive), but try swapping traditional formulas for a tubing mascara instead. They work by wrapping lashes in a fine film of flake-proof polymers and are easily removed with warm water. Your eyes will thank you!
What is the safest mascara brand for sensitive eyes?
Heritage skincare brands such as Clinique and La Roche-Posay, which have reputations for understanding and caring for all types of skin, apply the same rigor to their makeup ranges – the result being some standout mascaras for sensitive eyes. Brands that bill themselves as 'clean beauty' are usually worth a look, as they often formulate without parabens, a preservative that's been associated with reactions in some forms, and also are often free of artificial fragrance, a generally accepted irritant.
As ever, the best thing you can do is shop around. Read up on ingredients, be diligent with your research and you won't need to limit yourself to a few brands only.