The best mascaras for sensitive eyes: our favorite delicate formulations
For those with delicate eyes or skin, finding the best mascaras for sensitive eyes takes a little more care and attention.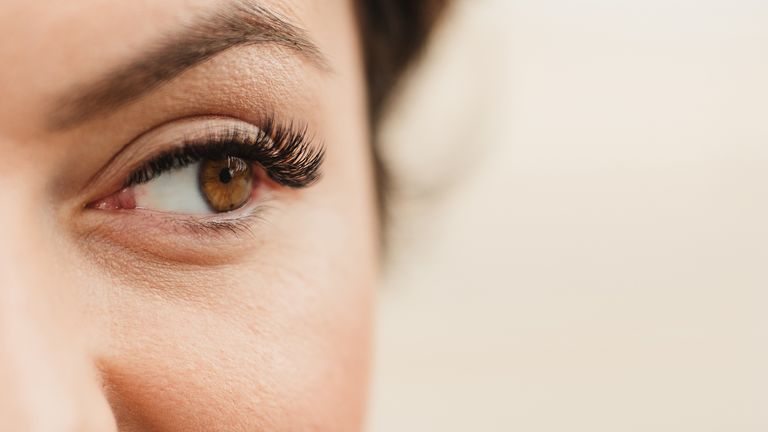 (Image credit: Getty)
It's an almost universal beauty desire to find the best mascara. But for those with reactive eyes or skin, finding mascaras for sensitive eyes takes a little more care and attention. 
Whether you're going for understated, bare-faced chic, or night-on-the-town drama, you're almost certain to finish your makeup look with a slick (or three) of mascara. That said, picking out this makeup essential isn't that simple for everyone; those with skin conditions such as eczema and rosacea or those who are sensitive to dust, allergies, and contact lenses know this firsthand. 
Want more specifics? Here are some of our favorite mascaras designed for sensitive eyes in mind. We made sure to feature cruelty-free, vegan, and naturally-based formulas that truly run the gamut too, so read on for your ultimate roundup:
The best mascaras for sensitive eyes you can buy right now
1. Tarte Lights, Camera, Lashes 4-in-1 Mascara
Best sensitive mascara for everyone
Specifications
Cruelty-free: Yes
Formulation call-out: Features natural waxes, vitamins, and emollients that condition, treat, protect, and hydrate lashes
Reasons to buy
+Features long bristles that add volume, more defined lashes+Great for lengthening and curling lashes+Vegan+24-hour smudge-free, flake-free formula
Reasons to avoid
-Some shoppers say the brush could do a
better job at separating the lashes 
Looking for high impact? Then you'll love this vegan pick. Ophthalmologist- and dermatologist-tested, it's a great all-rounder: It volumizes, curls, lengthens, and conditions, thanks to the combination of its super-black pigment and 'lash-lifting' brush (made up of both short and long bristles). Rest assured no lash will be left behind.
To prevent irritation, Tarte products are formulated without parabens, mineral oil, phthalates, triclosan, sodium lauryl sulfate, and gluten.
2. Essence Lash Princess False Lash Effect Mascara
Best sensitive mascara for value
Specifications
Cruelty-free: Yes
Formulation call-out: Paraben free, and waterproof iteration available
Reasons to buy
+Affordable+Conic shape fiber brush sculpts and thickens lashes; can be buildable
Reasons to avoid
-Some shoppers say it's difficult to remove and may clump after long-term wear
Coming in at under a fiver, this mascara provides an ample amount of lash for your cash. It's conical-shaped, tapered brush makes it adept at a multitude of skills, namely boosting volume, lift, and length in one fell swoop.
It's ophthalmologically-tested and, unlike mascaras with chunkier wands, is narrow enough to make even the smallest lashes stand out. 
3. Honest Beauty Extreme Length Mascara + Lash Primer
Best sensitive mascara for a two-in-one option
Specifications
Cruelty-free: Yes
Formulation call-out: Jojoba esters and beeswax nourish, volumize, and condition lashes
Reasons to buy
+Simple, minimalistic packaging+Versatile function: lengthens, separates, and primes lashes+Double-wand design enables precise application and coating from root to tip+Formula prevents eyes from itching+Holds pigment and intense color
Reasons to avoid
-Brush isn't super feathery and may feel rather stiff than soft and agile-Some shoppers say it feels drying and produces "panda" shadow after long-term wear
This two-in-one option—with its dual-ended packaging, containing both primer and mascara—takes lengthening to the next level.
Also ophthalmologist-tested, it's stiff competition for the other sensitive mascaras out there: Simply apply the primer, wait 30 seconds, and then flip the tube to swipe on the ultra-rich mascara. It feels surprisingly lightweight. 
Compared to other beloved household names, Honest implements customer-first practices from production to delivery, enabling those with sensitivities to shop smarter. The Honest Company has created a comprehensive NO List™, which outlines over 2,500 chemicals and materials that the brand doesn't use in their formulas. You can also check out the bespoke glossary of ingredients they use and what they do. 
The brand also imparts the importance of packaging, label transparency, and sustainable practices, all of which are driving factors in their branding and product innovation. 
4. Clinique Lash Power Mascara
Best sensitive mascara for a smudge-free finish
Specifications
Cruelty-free: No
Formulation call-out: Clinique's innovative thermal technology helps mascara stay put for 24 hours—and is easy to remove.
Reasons to buy
+Smudge, flake, and smear proof+Lengthens even the tiniest of lashes for more dimension
Reasons to avoid
-May get cakey after long-term wear-Some shoppers say it could do a better job at curling lashes
This allergy- and ophthalmologist-tested tubing mascara is kind to eyes, from application to removal. Its slim yet dense wand is great at lengthening both the lower and upper lashes, as well as providing smudge-proof and waterproof definition, ensuring that—whether you're applying or removing it—you needn't compromise on comfort to get results. 
Clinique understands that the eyes are particularly vulnerable to discomfort, from skin conditions like eczema to perennial or topical allergies, as the undereye area is thin with less natural oils and therefore more prone to irritation. The brand ensures that its mascaras are  allergy-tested and approved by dermatologists and ophthalmologists.
5. Burt's Bees 100% Natural Nourishing Mascara
Best sensitive mascara for clump-free lashes
Specifications
Cruelty-free: Yes
Formulation call-out: Formulated without parabens, phthalates, petrolatum or synthetic fragrances.
Reasons to buy
+Made of nourishing ingredients, like jojoba oil, beeswax, and naturally moisturizing Glycerin+Brush shape adds dimension, definition, and volume to lashes +Ophthalmologist-tested and safe for sensitive eyes and contact lens wearers 
Reasons to avoid
-May smear, run, or flake with long-term wear-Takes a while to dry-Not full coverage with just one coating
If you're looking for a clump-free look that's more understated daytime drama than late-night glam, this one's for you.
Ophthalmologist-tested, and with a wand that provides great separation, this mascara's nourishing formula contains a conditioning cocktail of jojoba oil and glycerin to keep lashes hydrated.
6. La Roche-Posay Toleriane Volume Mascara
Best sensitive mascara for volume
Specifications
Cruelty-free: No
Formulation call-out: Formulated with texturizing waxes and polymer to define and smooth the lashes
Reasons to buy
+Lengthens and thickens lashes+Free of parabens and fragrances+Allergy-tested, specifically designed for sensitive eyes+Dermatologist- and ophthalmologist-tested
Reasons to avoid
-Not the best to apply on bottom lashes: exposure to water may cause the mascara to run and "melt away"
When it comes to sensitive skin, La Roche-Posay knows its stuff. One of the best skincare brands around for those prone to irritation and redness, its skills extend to its makeup line too.
Particularly great for volume, this mascara's allergy-tested formula is also enriched with a lash health-boosting serum to provide eye-opening results (both short- and long-term). Interesting fact: It was used by makeup artist extraordinaire Val Garland on a very mascara-allergic Dame Judi Dench for her Vogue cover shoot.
7. Glossier Lash Slick Mascara
Best sensitive mascara for lengthening
Specifications
Cruelty-free: Yes
Formulation call-out: Water-resistant, not waterproof helps mascara stay in place
Reasons to buy
+Brush fibers coat each individual lash hair from root to tip, creating volume and definition+Easily removable+Does not smudge or flake+Lengthens and curls lashes
Reasons to avoid
-Some shoppers say it could add more volume; that said, it's ideal for creating a natural look
With clever Japanese fiber tech for length, vegan biotin for health, and shine polymers for glossy looking lashes, this mascara offers both style and substance. 
Ideal for perfecting a feathery, fanned-out flutter, its formula is also allergy-, dermatologist-, and ophthalmologist-tested to ensure it's incredibly comfortable to wear.
Glossier is paraben-free, fragrance-free, and non-comedogenic, and the brand also offers a variety of vegan products in the roster.
8. Hourglass Unlocked Instant Extensions Mascara
Best sensitive mascara for a tubing option
Specifications
Cruelty-free: Yes
Formulation call-out: Vegan, smudge-proof formula that lifts and lengthens lashes
Reasons to buy
+Brush shape coats each and every lash+Easily removable with warm lashes+Ophthalmologist tested
Reasons to avoid
-A bit costly-Could be more buildable
If your skin is particularly sensitive to eye makeup removers, this fantastic vegan tubing mascara provides the perfect solution. It can be removed with warm water alone, but provides weather- and flake-proof protection to ensure that it doesn't come off until you're ready for it to.
Not only does this ophthalmologist-tested product provide brilliant length, lift, and separation but, for those suffering from gluten-related sensitivities, it's also gluten-free.
Hourglass donates 5% of the profits from all Unlocked products to the Nonhuman Rights Project, a US-based organization that aims to "secure civil rights for nonhuman animals."
Which brands cater well to sensitive eyes?
As the eyes (and the delicate skin surrounding them) are more susceptible to redness and itching than other parts of the face, it makes sense to spend time finding the best mascara formulated for sensitivities— meaning one that's gentler, and therefore less irritating. Skincare brands such as Clinique and La Roche-Posay, which have reputations for understanding and caring for all types of skin, apply the same rigor to their makeup ranges—the result being some standout mascaras for sensitive eyes. But they aren't alone in this corner of the makeup market, as we are about to see. 
How to choose mascaras for sensitive eyes
If you're looking for the best mascaras for sensitive eyes and already know which ingredients irritate you, be sure to give the list a good scan before parting with your cash. But, if you're not actually sure what it is that causes you irritation, going fragrance-free is a good plan of action, as is choosing a mascara that's labelled hypoallergenic.
Generally, a product marked as 'hypoallergenic' has been created using ingredients that typically cause fewer allergic reactions. It's worth noting, however, that there aren't strict regulations around the usage of the term in relation to cosmetics, so while a hypoallergenic product might reduce the chances of a reaction, the absence of irritation is not guaranteed. 
For some added peace of mind, other useful terms to look out for on packaging include 'allergy-tested,' 'ophthalmologist-tested' and 'ophthalmologically tested.' 
The best way to test
Before committing to a new mascara, it could be worth carrying out a patch test. Simply swipe a little on your outer lashes and leave it there for a few hours. If it doesn't give you any discomfort, take it as a green light to apply it all over your eyelashes or, if you're still anxious, apply it from the mid-lengths upwards.
Bin products that are past it
As a general rule, you should throw out mascaras that are more than six months old (discard them sooner if they've started to dry up or give off an unpleasant smell) and always avoid sharing them. Kept too long and mishandled, mascaras can be a breeding ground for harmful bacteria, and no one wants an eye infection! 
How to apply and remove mascara gently
What's in your mascara is only one piece of the puzzle—another is how it's applied and removed. According to makeup artist Kenneth Soh, a few small tweaks to your technique could make a world of difference. "I would always start with a good lash curler," he says. "You'll be amazed at how much more defined your lashes will look, which means you will only need a light coat of mascara." Kenneth also recommends applying mascara as close as you can get to the root, without actually allowing the product to come into contact with the skin of the eyelid. 
When removing your mascara at the end of the day, take extra care and give it time —excessive scrubbing or several rounds of heavy-handed cleansing will only worsen sensitivity. Waterproof mascaras are a great option for those whose eyes water at the drop of a hat (a common occurrence for the sensitive), but try swapping traditional formulas for a tubing mascara instead. They work by wrapping lashes in a fine film of flake-proof polymers and are easily removed with warm water. Your eyes will thank you!
Shop now