The 8 best lash primers to supercharge your mascara
The best lash primer will add either volume, length (or both) to your lashes for a stand-out look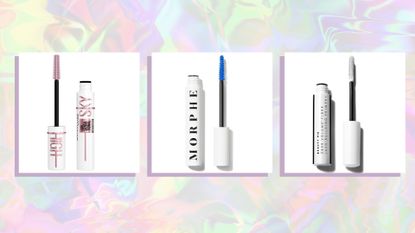 (Image credit: Maybelline/Morphe/Beauty Pie)
The supporting act to your mascara's main event, the best lash primer will take your lashes to the next level.
If your instinctive response to an eyelash primer is an eye roll at having to begrudgingly add another step to your routine, allow us to persuade you otherwise. You know how your foundation lasts better when you apply a primer first? It goes on smoother, doesn't slide around your face and your skin doesn't gobble it all up by 2pm. A lash primer is playing a very similar role for your mascara – essentially helping with the heavy lifting for a better result.
The best lash primers tend to be white (or maybe blue) in color, and they can have a couple of different roles. The first is to give your mascara something extra to grab onto, so it won't flake, smudge, or migrate down your face during the day. The second is to add an initial layer of volume and length to your natural lashes, so the finish is even more impactful when topped with your best mascara. A lash primer might not be an everyday essential for everyone, but like when you take the time to properly cleanse your skin with your best cleanser versus haphazardly pawing at it with makeup remover, it's well worth the payoff when you do use it.
How we tested the best lash primer
Why you can trust Woman & Home Our expert reviewers spend hours testing and comparing products and services so you can choose the best for you. Find out more about how we test.
If we're honest, most of our beauty team hadn't been very well acquainted with eyelash primers since the double-ended mascaras of the 2000s, so we had a bit of catching up to do. To bring you a reliable roundup of the best lash primer we tested products over a range of prices from drugstore to high-end. Almost all are designed to be topped with mascara, and to keep things fair, we made sure this was the same one every time (one of the best Lancôme mascaras). In order to make our list, these are the boxes our best lash primer had to tick:
Clump-free: Getting your mascara to go on smoothly can be difficult enough at the best of times – especially when you're nearing the end of the tube. A good lash primer won't add any bobbles or bumps into the mix.
Not visible through mascara: No one wants to see the white color of a lash primer frosting your lashes throughout the day. They're designed to be heard but not seen.
Ability to volumize or lengthen: An eyelash primer is an extra step in your routine, so to make sure it's earning its keep in your makeup bag it needs to be delivering what it promised to do. All the lash primers here made a visible difference in how full and long our lashes looked.
The best lash primers, tested by our Beauty Editor
1. Max Factor False Lash Effect Max Out Primer
Reasons to buy
+
Adds volume at the roots
+
Flattering finish
Reasons to avoid
-
Brush takes a bit of getting used to
Ok, if you're new to lash primers then this does feel a bit like jumping in the deep end. Firstly, it's blue, which if you're a child of the 90s will spark a heady combination of nostalgia and regret about your previous makeup choices (although we wholeheartedly recommend investing in one of the best blue mascaras) Secondly, the brush is huge. It's a big chunky silicone cone that's peppered with very short, spikey-looking bristles. But if you can see past both of these things, it's a really brilliant lash primer for making lashes look fuller. The brush takes a little bit of patience and getting used to as the length of the bristles isn't ideal for teasing out any clumps. It was really good at separating out my lashes though (presumably because the spikes are so tightly packed) and when I topped it with mascara my lashes looked far thicker at the root. So thick in fact that I didn't need to add my best eyeliner. I liked that you could still see a hint of blue through my mascara in certain lights, which made the finish less harsh. If you're not a fan of colored mascaras, you'll just need to ensure you apply an extra layer of mascara on top of this primer.
2. Benefit They're Real! Tinted Lash Primer
Reasons to buy
+
Really subtle
+
Can be worn without mascara
This is one of the only primers on this list that can be worn without mascara. Instead of white or blue, it's a subtle brown shade, which will not only suit everyone from blondes through to brunettes but also makes for a softer alternative to classic black. So if you're a fan of the best brown mascaras, this is the primer for you. The brush is a long, silicone one with bristles studded along the sides and on the tip for teasing out the inner corners of your lashes. It's very flexible too (so much so I initially thought the top wasn't properly attached) which allows it to move with your lashes with ease. The primer alone really elongated my lashes and fanned them out, but without adding any extra bulk. It's subtle enough that you could probably convince people that you don't have mascara on, and great for a low-key natural makeup look. My lashes did cluster together a little when topped with mascara, but they definitely had more impact than they normally do.
3. Morphe The Big Prime Lash Primer
Reasons to buy
+
Lengthens lashes
+
Creates a fanned-out effect
If I'm honest, I didn't expect to like this – let alone love it. The name implies very serious volume and, combined with the images of slightly spidery lashes on their website, I assumed it would leave my lashes so loaded with product that I'd need to do warm-ups before blinking. The color is a very intense Smurf blue that (if you were a braver person than me) actually looks really striking on the lashes. The long, cone-shaped brush boasts the kind of fluffy, Christmas-tree-like bristles that make it easy to extend your lashes, and it made mine look extra long and super separated. The narrow end of the brush meant I could get right into the corners too, which I always think makes my eyes look wide awake. Topped with mascara it was almost as if I'd been to the salon for lash extensions.
4. L'Oreal Paris Paradise Mascara Primer
Reasons to buy
+
Intense volume
+
Cares for lashes
A big selling point of the L'Oreal Paris Paradise Mascara Primer is not just that it makes your lashes look longer and fuller, but that it cares for them too. There's a slight stickiness to the formula (which is almost like a serum in texture) and it's formulated with jojoba oil to nourish. The brush is fluffy and nice to use, with bristles long enough to let you really get in between your lashes. It deposits a lot of product in every swipe, so it doesn't take very much effort at all to add a very impressive amount of volume to the lashes (the kind you'd expect with one of the best volumizing mascaras). I did find that it was slightly clumpy, which won't be to everyone's tastes, but I was impressed at how easy the white was to cover given the thickness of the formula. All-in-all I'd say a good option for a night out if you haven't got the patience for a pair of the best false eyelashes.
5. Maybelline Sky High Lash Sensational Tinted Primer
Reasons to buy
+
Don't need mascara
+
Nourishes lashes
Reasons to avoid
-
In my opinion, topping with mascara ruins the finish
Formulated to take the iconic Sky High Mascara to even dizzier heights, this primer is designed to lengthen and volumize lashes at the same time as nourishing them – which is why it contains skincare-worthy ingredients like ceramides and vitamin B5. At first look, it's quite hard to see how this differs from your average mascara. In fact, it's so similar to Maybelline's Sky High Mascara that it even has the same brush. Said brush is cone-shaped, silicone, and covered in short bristles. When I applied the primer to my lashes, I was so chuffed with the results that it almost felt like it would ruin them to layer mascara over the top. They looked longer and fuller, with much more definition. And as the formula is black (instead of white or blue), leaving it there won't leave you looking like you're trying to start a new trend. If your priorities are lengthening and caring for your lashes, this is the primer (and maybe even mascara) for you.
6. Clinique Lash Building Primer
Reasons to buy
+
Blonde and grey lashes
+
Smooth mascara application
You know how a good pair of knickers is a game-changer when it comes to an outfit? This primer is to mascaras what shapewear is to fashion. But when I applied it initially I was a bit underwhelmed. It felt more like one of the best eyelash grower serums (no bad thing, but not what I'm looking for here) than a lash primer. The shade is white, but it's sheerer and far less pigmented than some of the others on this list, so you can barely see where you've applied it. Some online e-commerce reviews I've read have said that this makes for a great natural-looking mascara for anyone with blonde or grey lashes. As mine are brown, I can't confirm this, but I can definitely see that this has the potential to work. I followed with mascara, and that was when the magic happened. My mascara glided on so smoothly that I barely had to put any effort in to achieve beautifully lengthened and thicker-looking lashes. There were no clumps and no flaking, and everything stayed perfectly in place all day.
7. Tarte Cosmetics Opening Act Lash Primer
Reasons to buy
+
Softens lashes
+
Adds length
Reasons to avoid
-
Lashes did group together slightly
Hate it when your mascara dries hard and a little bit crunchy? This primer is the antidote. It's designed to keep your mascara at its flexible, just-applied best at the same time as softening and nourishing your lashes beneath. As soon as I applied it I could see the potential it had for lengthening too. The very tips of my lashes were adorned with flecks of white – a bit like they'd been dusted with snow. When I layered my mascara over the top it clung tight to these, and my lashes instantly looked about a third longer than they actually are. I wouldn't say it made my lashes any fuller, but I liked that, as the finish looked convincingly like my real lashes – as opposed to very false. My lashes did gather together a little bit but were still separated enough to look like I had plenty of them. It definitely helped with lift too, and my eyelashes stayed upright for longer throughout the day. A good choice for anyone who normally relies heavily on their eyelash curlers and the best mascara for straight lashes.
8. Beauty Pie Uber Volume Fibre Lash-Building Primer+
Specifications
RRP: $10 / £8 for members
Reasons to buy
+
Coats every lash
+
Adds oomph to sparse lashes
Reasons to avoid
-
White shade takes time to hide
If you have Beauty Pie membership then this primer is an absolute steal. I wasn't immediately sold on the brush (it feels a bit spiky and scratchy if you swipe it against your hand) but the pattern really works to capture every single lash (even the teeny tiny baby ones). It's a combination of longer and shorter bristles arranged alternately along a diagonal line and it really works. Just be warned that the formula is so white that it gave me a (mildly terrifying) glimpse into my own future. I liked it though, as you could see that it had coated every inch of my lashes. I had to apply a bit more mascara than I normally would to make sure I'd covered all of the white flecks, but it certainly added plenty of oomph to my lashes. They looked thicker and elongated but without feeling weighed down.
How to choose the best lash primer for you
Spoilt for choice when it comes to choosing the best lash primer? These are the factors to base your decision on:
Price: Price is always important. If you're not convinced you need a lash primer, try a cheaper option and see how you get on with it. If you like the concept but feel the formula or finish could be improved, you can always upgrade to a fancier one.
Formula: A good lash primer will apply smoothly and cling to your lashes like a koala to "build the bulk in lashes to either add length or volume," according to makeup artist Ruby Hammer MBE. If it hasn't got enough grip or fibers within the formulation, it won't do either.
Extra ingredients: Some lash primers have the added benefit of conditioning ingredients that care for your natural lashes. A welcome addition if you're committed to the health of your lashes or worried about them becoming brittle.
Can it be worn without mascara? "Many primers have a white coloring to them, so then you need the mascara to coat the lashes in either black/brown depending on your choice, otherwise you look like you have lash dandruff," says Hammer. Some are brown though, which means you could wear them without mascara for a more natural look.
Jess Beech is an experienced fashion and beauty editor, with more than eight years experience in the publishing industry. She has written for woman&home, GoodtoKnow, Now, Woman, Woman's Weekly, Woman's Own and Chat, and is a former Deputy Fashion & Beauty Editor at Future PLC. A beauty obsessive, Jess has tried everything from cryotherapy to chemical peels (minus the Samantha in Sex and The City-worthy redness) and interviewed experts including Jo Malone and Trinny Woodall.