The best blue mascara buys to add a fun pop of color to your look
The best blue mascaras are surprisingly wearable and can add an impactful twist to your makeup look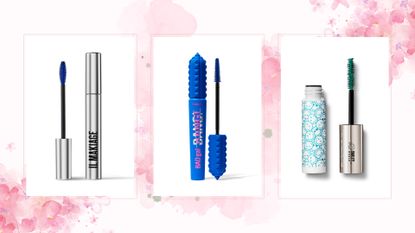 (Image credit: Il Makiage/Benefit/Ciaté London)
We'll go out on a limb here and say that the majority of mascara wearers opt for black or brown shades for day-to-day wear. But the best blue mascaras can be a really fun way to mix things up, make a statement and add a pop of eye-catching color to your look.
It's clearly a trend that hasn't stayed in the eighties, as many of the best mascara buys also come in blue today, whether you want a barely-noticeable navy or fancy a brighter, electric hue. "Blue mascara tends to be a firm favorite that experiences a revival every springtime – and with very good reason!" Rachael Divers, resident makeup artist at Face the Future, tells us. "Universally flattering, blue mascara looks great with almost every eye color, and it helps to make the whites of your eyes look even whiter and brighter. It also draws attention to your eyelashes, making them look longer.
"What's more, blue mascara is super easy to apply and create a 'look' with," she continues. "Whether you want to go all-out bright and bold for a fun night out or keep things a little more subtle and sophisticated for the office, blue is a great go-to option." Keen to try it for yourself? We've tested and reviewed some of the best blue mascara buys below to help you get in on the colorful mascara fun.
How we tested the best blue mascara
Why you can trust Woman & Home Our expert reviewers spend hours testing and comparing products and services so you can choose the best for you. Find out more about how we test.
Each mascara was worn for at least a few hours to see how it looked and felt on lashes through the day, and our expert beauty tester took all of the following factors into account when assessing each one's performance.
Packaging
Ease of application
How well it adds length and volume
Whether or not it's waterproof
How well it wears throughout the day
Price
The best blue mascara, chosen by a beauty editor
1. Benefit Badgal BANG! Blue Mascara
Best blue mascara overall
Specifications
RRP : $27 / £25.50
Key features: Tapered comb wand, lightweight volume
Reasons to buy
+
Builds dramatic volume and length
+
Tapered wand fits into eye and catches shorter lashes
+
Very lengthening
Reasons to avoid
-
May be too volumizing for some
Playing second fiddle to the pitch-black shade, until now you may have been unaware that Benefit's punchy Badgal BANG! mascara is also available in a bold, electric blue hue - but this product contains all of the things you love about the original in an even more eye-catching shade. Our tester achieved spidery length and voluminous lashes easily thanks to the tapered plastic comb wand, which fits easily into the roots of lashes and catches tiny ones on the inner and outer corners of the eyes.
It lasts very well throughout the day, but we did find that it was a bit tricky to remove, requiring several rounds with micellar water, so it's worth investing in one of the best makeup removers too when you purchase this one. It also won't be right for anybody whose preference is any kind of natural, fluttery lash look. But for its dramatic and lasting impact, we've rated it our best overall.
2. Il Makiage Icon Mascara
Best blue mascara for length
Specifications
RRP: $27 / £26
Key features: Flat oval brush, buildable formula, long-wearing
Reasons to buy
+
Lengthens and separates lashes well
+
Buildable
+
Oval comb wand fits into roots easily
+
Also available in brown and black
Reasons to avoid
-
Some may prefer more volume
Famous for its color-matching quiz and viral foundation, we found Il Makiage's Icon Mascara to be one of the best lengthening mascaras of those blue shades we tested. It creates fluttery, lifted, and long lashes and, while it's not a very dark navy, it's not too vibrant a blue shade that it feels unsuitable for everyday wear.
One thing in particular that deserves a shout-out is the brush shape – a flat oval with plastic bristles that fits into the roots of the lashes well, and that combs through lashes easily to ensure each one is separated, coated and lengthened. This mascara adds a nice touch of volume, but not tons and tons, so definitely seek out another mascara from our guide if your priority is a thicker lash look. But for lengthened, clump-free, and defined lashes in a classic shade of royal blue, this ticked our boxes and then some.
3. Ciaté London Keep An Eye On Coloured Mascara
Best bright blue mascara
Specifications
RRP : $16/ £20
Key features : Neon shades, cocoa butter to nourish lashes
Reasons to buy
+
Very bright shade
+
Not clumpy
+
Also comes in neon pink and yellow
Reasons to avoid
-
A lot has to be applied for even color
Let's get one thing straight from the off, this shade from Ciaté – a bold and very bright turquoise that's borderline neon – is not for the faint of heart. (The range of three also features one of the best pink mascaras as well as a yellow option, for those interested in building a collection of bright mascaras.)
Because the blue option is so very bright, you do have to really pack this mascara on to ensure the color is even and your natural lashes aren't visible underneath, so it's a good job that the formula proved to be buildable and didn't clump. We always recommend curling your eyelashes before applying mascara, but it's an extra good idea here as any stubborn shorter lashes are really accentuated. Those things aside, this mascara lengthens well and is by far and away the boldest blue shade in our round-up, so a great choice if you want something loud.
4. Shiseido ControlledChaos MascaraInk
Best blue mascara for volume
Specifications
RRP : $25 / £29
Key features: Volumizing, long-wearing, good pigment
Reasons to buy
+
Promises 24 hours of wear
+
Volumizing formula
+
Hourglass-shaped brush
+
Also comes in black, purple, and green
Reasons to avoid
-
Won't add enough separation/length for some
Designed predominantly to build volume, Shiseido's ControlledChaos mascara certainly delivered on that front. Our tester found the hourglass-shaped wand particularly useful for catching on to shorter lashes in the corners of the eye, while the fluffy brush helped to build volume. While we can't attest to wearing it for the full 24 hours that it claims to last, it did hold our lashes well with no detectable smudging.
The formula packs a noticeably good level of pigment, our tester found that it was easy to layer it on to lashes for an even look. It isn't clumpy, but if you like super separated lashes then it might not be the best choice for you – it's very much one of the best volumizng mascaras. Should you feel the urge to treat yourself and experiment with other fun colorful mascaras, this range also features purple and green (as well as your traditional black shade). Shiseido, you do spoil us!
5. Dior Diorshow Waterproof Mascara
Best waterproof blue mascara
Specifications
RRP : $29.50 / £29
Key features : Waterproof formula, fluffy brush, long-wearing
Reasons to buy
+
Lifts lashes
+
Waterproof formula
+
Fluttery, defined lash effect
+
Very wearable blue shade
Reasons to avoid
-
Takes a little while to build
Dior makes some of the best-loved mascaras on the market and, as a big fashion name, it's kind of a given that the range features shades other than the traditional black and brown. And if you also need your blue mascara to stay put through rain, tears, or a dip in the ocean, allow us to put the waterproof Diorshow mascara on your radar. 258 is a darker blue shade but still a noticeable pop of color, particularly when it catches the natural light.
Waterproof mascara formulas often feel drier and we did find that this one does take a little bit of building to achieve the desired length and volume, but the end result is nice, fanned-out elegance. As promised, we found that it's earned its best waterproof mascara credentials and will see you through those occasions that require one. Reliable and fun!
6. By Terry Mascara Terrybly
Best subtle blue mascara
Specifications
RRP: $47 / £36
Key features: Growth activating technology, protein, collagen, hyaluronic acid
Reasons to buy
+
Separates lashes
+
Lengthens well
+
Also available in black, brown, and purple
+
Encourages lash growth
If you don't want your new blue mascara to be too "in your face", By Terry's Terrybleu mascara is the subtle hint of color you're after – a dark navy that adds great definition. As a mascara it lengthens lashes well, separating them out and building nicely without any clumps for a fluttery, false lash effect, which we loved.
It's not just its general mascara performance that ticked our boxes. The formula is inspired by the best lash serums, featuring growth technology, collagen and protein to help support your natural lashes – something that's reflected in the premium price tag. We didn't test the mascara for long enough to be able to report back on the long term effect on lashes, but it's definitely a notable positive. It is more of a lengthener than a volumizer, but if you love fluttery and elegant lashes then go for it.
Which eye colors does blue mascara suit?
We're big advocates that there are no hard or fast rules when it comes to makeup, and that it's all about wearing what makes you look and feel your best – but the good news is that there's a shade of blue that'll compliment every eye color. If you have brown eyes, though, a blue mascara will really make your eyes pop. "Brown eyes, in my opinion, sit close to orange on the color wheel," says Charlotte Knight, CEO and founder of Ciaté London. "Orange's contrasting color is blue – and the evidence is clear when you see how incredible brown eyes look with a bright blue mascara!"
"Blue mascara is very flattering on most eye colors, but it looks particularly striking on brown eyes," Diver agrees, adding, "It can counteract the appearance of redness, making the whites of your eyes appear brighter. It also adds a gorgeous sparkle and youth to your eyes that's playful and fun." If ever you needed a sign to discover (or rediscover!) the joys of blue mascara...
How to choose the best blue mascara for you
Color: Do you want a high-impact blue mascara for a dramatic make up look, or are you after something more subtle? Some of the best blue mascaras can actually be surprisingly subtle
Wand shape: Whether you're looking for a regular mascara or colored one, the mascara wand can really make or break the product. If you're looking for full, fluttery lashes that are full of volume, an hourglass wand is best. Thick wands are best for volume while comb wands are best for separation.
Budget: For most of us, blue mascara might not be an everyday look. If you're just experimenting with blue lashes, it could be worth buying a budget option to see how you like the look. Then, you can invest in one of the better ones if you're a fan.
Lucy is a UK-based beauty journalist who has written for the likes of Marie Claire, Cosmopolitan, OK!, Women's Health and more, as well as contributing to woman&home. Her work covers everything from expert skin and haircare tips to the latest product launches and the show-stopping beauty looks spotted backstage at London Fashion Week. During her career she's interviewed some seriously famous faces, from Little Mix to Drag Race royalty The Vivienne, as well as chatting to the industry's leading hairdressers, dermatologists and make-up artists.