Best lengthening mascara: get longer, fluffier lashes in an instant
Our tried and tested guide to the best lengthening mascaras of all time, with picks for every budget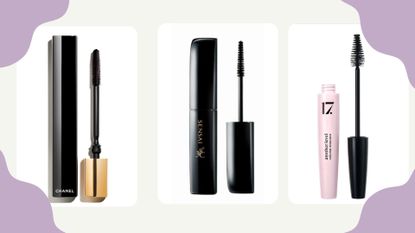 (Image credit: Chanel/Sensai/Boots)
Finding the best lengthening mascara is an ongoing endeavor for many of us. Long, fluttery lashes are not easy to come by, but they are the thing that ties most makeup looks together. That's why finding a product that works for your lashes is essential – a good mascara will become something you reach for day after day.
If your idea of the best mascara is length, length, and a little more length, consider the type of wand you are using, as well as the consistency of the formula. For natural and separated lashes, small and slim brushes are your go-to. Alternatively, for both length and volume, wide and curvy wands will have your back.
Whilst there are many excellent mascaras from designer brands, it is not just pricey products that deliver. The best drugstore mascaras are among the highest performers out there if you know the brands to look out for. Or, for a truly luxe beauty experience from start to finish, our high-end mascara picks are as practical as they are beautiful. Whatever your preference, there's a lengthening mascara in this guide to suit your needs.
How we tested the best lengthening mascara in this guide
Why you can trust Woman & Home Our expert reviewers spend hours testing and comparing products and services so you can choose the best for you. Find out more about how we test.
Mascara is a beauty essential that adds the perfect finishing touch to any makeup look. With hundreds of different brands on the market, finding the perfect mascara can feel like an impossible task. That's why we have tried and tested all of the best lengthening mascaras on the market and rounded up our favorites, noting all of the key features of each product. We looked at the formula - from fiber-infused formulations that make the best mascaras for short lashes to the best tubing mascaras - as well as brush size and shape, packaging, and finally how the mascaras wore throughout the day.
The best lengthening mascara, as reviewed by our experts
1. IT Cosmetics Superhero Mascara
Best lengthening mascara overall
Specifications
RRP: $25/£17
Waterproof version available: No
Mini version available: Yes
Colors: Black
Standouts: Lash-strengthening biotin
Reasons to buy
+
Applies and layers easily
+
Tapered brush for greater control
+
Nourishing formula
+
Inky, glossy color
+
Smudge- and flake-free
+
Easy to remove
Reasons to avoid
-
Loses hold after a long day
This is truly everything you would want from a dramatic mascara: Not only does it deliver length and definition in one fell swoop, but it also packs on the volume from the very first coat. When testing, we found that just one layer gave truly larger-than-life lashes with a subtle flutter for a flirty finish.
Packed with lash-strengthening biotin as well as plumping collagen and conditioning peptides, the inky black formula cares for lashes throughout wear, leaving them soft and strong even after you dissolve away the long-wearing coating (which doesn't smudge or flake at all, by the way) We found that it can lose a bit of its hold towards the end of the day, but a top-up with an eyelash curler will give you all the drama you need for the evening.
It's effortless to apply, thanks to its soft tapered mascara wand that collects just the right amount of the well-balanced formula for a fluttery doe eyes look. And, if you do want more than one coat, it layers smoothly without any catching or clumping for a customizable finish.
2. Sensai 38°C Lash Lengthener
The best natural-looking lengthening mascara
Specifications
RRP: $37/£31
Waterproof version available: No
Mini version available: No
Colors: Black
Standouts: Small tapered wand, Smooth Stretching Formula, rinses away with water at 38°C
Reasons to buy
+
Small brush for precise application
+
Ideal formula consistency
+
Long-lasting
+
No clumps
A brand-new launch from Japanese beauty brand Sensai, this lash-lengthening mascara has it all. By far the smallest and most precise of all the wands we have tried, it lengthened our lashes beautifully in seconds. If you want a noticeable difference in your lashes but want to avoid any clumping or unnatural volume, this is precisely what this mascara gives you. For those looking for an alternative to lash lifts or natural extensions, you have met your match.
When it comes to the best lengthening mascara, we love anything that transforms our eyes in an instant and brings any makeup look together. What we don't love is the tedious and often laborious removal process. Sensai's promise that this mascara is removable simply with 38°C water is, to our surprise, totally true. Okay, so we didn't test our water temperature precisely, but in a warm shower it completely melted off the lashes, leaving absolutely no residue or product behind. So not only does this mascara provide the enviable length everyone wants, but it also removes like a dream. It certainly has our vote!
3. L'Oreal Paris Pro XXL Lift
Best two-in-one lengthening mascara
Specifications
RRP: $13.99/£12.99
Waterproof version available: No
Mini version available: No
Colors: Black
Standouts: Two wands, infused with pro-keratin
Reasons to buy
+
2-in-1
+
No smudging or flaking
+
Gives volume and length
+
Not heavy on the eyes
Reasons to avoid
-
Packaging may be tricky for some
This two-step mascara is designed to add volume and lift, but it also happens to be a fantastic lengthening product as a result. Formulated for lashes that need a bit of extra thickness and body as well as length, the two wands in this L'Oreal Paris mascara work first to volumize and then to lift. The first wand is conical and tapered, whilst the second is thick and curved, as is often seen in volumizing mascaras.
After just using the first wand, we found that lashes looked instantly thicker and longer - we could have quite happily stopped using the product there. The second wand promises a lifting effect which we didn't find to be completely necessary but provided a lovely curved result nonetheless. For those with straight lashes that tend to droop throughout the day, this curved brush will be your best friend.
When it comes to drugstore mascaras, L'Oreal can always be trusted to provide quality products - and this is no different. However, if you have hooded lids that are prone to catching excess product, be extra careful to let this mascara dry down properly, especially between layers.
4. Chanel Noir Allure
Best conditioning lengthening mascara
Specifications
RRP: $42/£37
Waterproof version available: No
Mini version available: No
Colors: Black
Standouts: Infused with provitamin B5, conditioning formula
Reasons to buy
+
Unique, premium packaging
+
Transfer-proof
+
No bleeding or smudging
+
Ideal consistency
Reasons to avoid
-
Slightly tricky to remove
Chanel Noir Allure mascara combines practicality with aesthetics to give you long, fluttery lashes. The first thing we noticed about this product is the unique, click-up packaging that looks and feels premium. You have to press down on the signature gold top to pop the lid up, at which point the wand can simply be pulled out of the tube. Great for people who struggle with twist-off lids, this fun touch adds a little something extra to the experience of doing your makeup.
As for the mascara itself, we were most struck by how it didn't bleed or smudge after a full day out and about in warm weather. Only a couple of coats were needed to get lashes looking lengthy and full, so it doesn't feel heavy or clumpy on the eyes. We also found that the formula isn't too wet or dry - it didn't get on the eyelids when applying, but it also went on smoothly and dried down quickly.
Our only challenge with Noir Allure came with removal. It was slightly tricky to rub off after a full day, needing some elbow grease to get it all off. After cleansing our face, we did notice a few stray bits of mascara around the eyes, but nothing that couldn't be fixed with a wipe or cotton bud. However, for its performance throughout the day, we reckon it's worth the extra effort to remove.
5. 17. Another Level Volume
Best budget lengthening mascara
Specifications
RRP: £2 (UK only)
Waterproof version available: No
Mini version available: No
Colors: Black and brown
Standouts: Ophthalmologically tested, vegan friendly
Reasons to buy
+
Budget-friendly
+
Good for separating lashes
+
Large volumizing brush
+
Dark glossy color
From Boots' newly re-launched 17 range, this cheap but cheerful mascara is surprisingly good at lengthening. With just one coat we found lashes were separated and with added length - exactly what we were looking for. However, if you are also after extra volume and thickness, you may need to add a few more coats to get the desired effect.
Our only issue when applying Another Level was the wetness of the formula. With hooded eyes this was slightly tricky to navigate and some product did end up on our eyelids. But a top tip for this all too common dilemma is to wait until the product has fully dried, then use a cotton bud to wipe it off. Voila, there is no smudging and your lids are nice and clear.
After 3-4 hours there was some slight under-eye smudging, but this can be tackled by applying a loose setting powder under the eyes, if this is something you are prone to. Overall, coming in at £2 - by far the cheapest out of all our best lengthening mascara picks - there is hardly anything to complain about. It is a fantastic budget option that does the job well and won't break the bank.
6. Dior Diorshow Pump 'N' Volume
Best premium lengthening mascara
Specifications
RRP: $29.50/£21
Waterproof version available: Yes
Mini version available: No
Colors: Black, brown, blue
Reasons to buy
+
Premium packaging
+
Squeeze tube keeps formula fresh
+
Dramatic lashes
+
No flaking or smudging
Everything about this not-so-humble offering screams premium. The brush, formula, and even the chic packaging give this away as a designer mascara, with its elegant design and little Dior logos around the tube's collar. We love that Dior gives you the choice between brown vs black mascara, and from the first swipe of product, we found that our lashes were lifted, lengthened and fanned out. What's more, the unique squeezable tube, which activates the formula every time you use it, stops the liquid from drying out, giving it a velvety feel every time you apply and allowing you to layer without forming any pesky clumps.
It doesn't give the biggest curl we've ever seen, but it will hold your lash shape in place if you have pre-curled your lashes. One downside was that, while the brush was sturdy and caught lashes well, it was a little thick for us, which made it difficult when trying to catch short inner lashes. However, unlike other mascaras we've seen with this problem, it didn't create any mess on the lash line, so we were pleasantly surprised.
7. Chantecaille Faux Cils
Best smudge-proof lengthening mascara
Specifications
RRP: $73/£52
Waterproof version available: No
Mini version available: No
Colors: Black
Standouts: Contains conditioning rose oil
Reasons to buy
+
Elegant brush
+
Lengthened and feathered look in one layer
+
Very lightweight
+
Long-lasting with no smudging or flaking
Reasons to avoid
-
Not much volume
-
Doesn't lift inner lashes much
We've all had a raccoon-eye moment at least once in our lives - and some more often than others - but thankfully those all can stay in the past, now that we're onto Chantecaille Faux Cils mascara. This best lengthening mascara godsend gives strip-like lashes that stay put throughout even the hardest of days. Plus it has an elegant, sturdy brush that lengthens and separates, effortlessly fanning lashes out for a serious feathery flutter that doesn't budge.
We found that it doesn't add a lot of volume (and for this price, we were expecting a bit more on that front) Plus, our inner lashes ran the risk of looking a bit droopy and left out, but we loved the long-lasting lightweight flutter it offered up. The next time you have a full day on the go, with no room for any smudge mistakes, this will serve you well.
8. Bobbi Brown Smokey Eye mascara
Best lengthening mascara for lift
Specifications
RRP: $32/£23
Waterproof version available: No
Mini version available: No
Colors: Black
Reasons to buy
+
Generous lift
+
Length and subtle volume
+
Holds curl in place
+
Long-lasting and flake- and smudge-free
With a neat brush that skews on the thinner side of the spectrum, this little wonder gets right to the root of lashes, leaving no mess behind, and gives even the droopiest of lashes a push-up. Along with the powerful lift comes a gorgeous length and a subtle, even coat of color.
We found that this made our lashes separated and fanned out, the curl was held nicely in place, and our eyes even appeared a little bigger because of how high the lashes lifted. This is another best lengthening mascara entry that isn't mega dramatic, but it gives you a sophisticated volume that's not too obvious and can be easily layered as desired.
9. NARS Climax Extreme
Best lengthening mascara for drama
Specifications
RRP: $24/£17
Waterproof version available: No
Mini version available: Yes
Colors: Black
Reasons to buy
+
Mega length, volume, curl and hold
+
No need to layer, but does so easily
+
Long-lasting
+
Removes easily
There's only one word that can sum up this mascara - wow! Just one layer transforms lashes, giving a serious dose of length, volume, curl, and hold. It layers smoothly, but to be honest we can't imagine anyone needing a second layer of this dramatic formula.
Considering this is designed to be one of the best lengthening mascaras, it does come with a slightly fat brush, which we found can make it awkward to reach corners without making a mess. But with that said it lasts all day with only minimal flaking and, for such an intense finish, slides off surprisingly easily with makeup remover. And if you want to go mega impact you could even wear this with your best eyeliner for a striking look.
10. Lancôme Hypnôse Doll Eyes
Best lengthening mascara for curl
Specifications
RRP: $28/£20
Waterproof version available: Yes
Mini version available: No
Colors: Black, brown
Reasons to buy
+
Cone-shaped brush for tidy application
+
Seriously fluttery results
+
Volume and length
+
Clump-free
We'd call this a true classic that has remained steadfast throughout hundreds of mascara releases over the years. This old faithful comes with a fancy cone-shaped brush that not only gives you more command over short and inner lashes leaving no mess in its wake but also controls the amount of product distributed on to different areas. So, while inner lashes get a small dose that's just enough to lift them up, outer lashes are bestowed with all the length and drama you desire, giving lashes a doll-like appearance similar to a cat-eye effect too.
Also, we found that not only does it hold pre-curled lashes in place, but it also adds a little extra lift to accentuate the fluttery look. It doesn't hold all day, though, so an eyelash curler top-up can go a long way.