The best mascaras for short lashes: Tried, tested and ranked
The best mascaras for short lashes can give the illusion of long, fluttery lushes, even on the shortest of lashes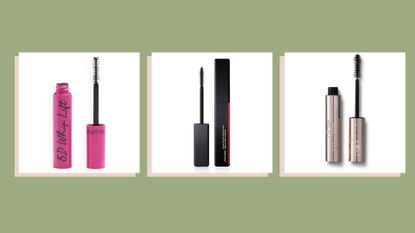 (Image credit: Revolution, Shiseido, Ciate)
Finding the best mascara for short lashes is the key to achieving that lengthened, fluttery look that will last all day long. Whether you are looking for a product to totally transform your lashes, or want something that will give you a subtle but enhanced look, we've found the best mascaras for short lashes bar none.
The hunt for the best mascara is one that can last a lifetime. With so many products on the market, from the best volumizing mascaras to the best tubing mascaras, finding a product that will work perfectly for your lashes takes some experimenting. "If you want your lashes to look their best, choose the right mascara," says Zoe Taylor (opens in new tab), Makeup Artist and Beauty Editor. Selecting a mascara at random is unlikely to end in success, so it is essential to consider your lash type when shopping.
"The most common complaint I hear is fine lashes, so choosing a lightweight but buildable mascara is important - rather than a heavy dense formula, which might clog and weigh down the hairs," Taylor says. Taking her advice on board, we tested the best mascaras on the market and here are the ones that genuinely curled, volumized and lengthened our short lashes.
How we tested the best mascara for short lashes
Why you can trust Woman & Home Our expert reviewers spend hours testing and comparing products and services so you can choose the best for you. Find out more about how we test.
To gauge how well each mascara really performs, we tested all of them on our short lashes. We paid particular attention to mascara brush types, formula and the ease of application, as well as looking at how they wore after a few hours - keeping a particular eye on any flaking or smudging (how to apply mascara on short lashes is the same as most formulas - but can lead to smudging more often, so this was crucial) Then, main factor we looked for was lengthening ability, looking at whether each product could revive our short lashes and provide that much-desired fluttery look.
The best mascara for short lashes, chosen by our beauty team
1. Shiseido ImperialLash MascaraInk
Best everyday mascara for short lashes
Specifications
RRP: $25 / £28
Waterproof version available: Yes
Mini version available: No
Extra features: Unique crown-tip brush to grab all lashes, smudge-proof
Reasons to buy
+
Fans lashes beautifully
+
Defines lashes without clumps
+
Comfortable, light wear
We're big fans of Shiseido at w&h, and this mascara is our latest obsession. Much like many of the best mascaras for short lases, ImperialLash also uses a curvy, hourglass brush, but it is much slimmer than your typical mascara wand. This is great for those working with very short lashes, as it allows slightly more precision and control. The main thing we noticed when testing this mascara is how beautifully it fanned our lashes, giving an even coat of pigment across the whole eye.
We also found the ImperialLash formula to be ideal for adding definition and volume without any product build up. It felt very comfortable on the lashes - unsurprising as it is both dermatologist and ophthalmologist-tested - and dried down well without any smudging or fallout. If you're looking for a more natural lash look and debating brown vs black mascara, this product offers pigment, length and volume without requiring layers and layers of product. Though at the slightly pricier end of the spectrum, it is worth every penny.
2. Revolution 5D Whip Lift Mascara
Best drugstore mascara for short lashes
Specifications
RRP: $11 / £9.99
Waterproof version available: No
Mini version available: No
Extra features: Ultra black pigment, nourishing castor oil, vortex brush to grab every lash
Reasons to buy
+
Affordable
+
Vegan and cruelty free
+
Lash lift effect
Reasons to avoid
-
None - at this price point, we love it!
Revolution always strikes the right balance of quality and affordability, and the brand's latest mascara launch is no exception. The first thing we noticed when using this mascara was the thick, hourglass-shaped wand that we were slightly worried would be too big for our short lashes. How wrong we were. The twisted 'vortex' shape impressively caught every lash to give a flawless lengthened look.
We are quite particular about the consistency of mascaras, and we found this one to be just right. Not too wet or too dry, it applied smoothly to our lashes without being runny. We also loved that this mascara can be built up to make lashes look even thicker, thanks to the amount of volume it provides at the roots - also giving the illusion of a thicker lash line. Definitely the best mascara for short lashes in terms of both lengthening and volume, this is a budget option that performs extremely well.
3. Clinique High Impact Zero Gravity Mascara
Best natural mascara for short lashes
Specifications
RRP: $25 / £23
Waterproof version available: No
Mini version available: No
Extra features: Tubing formula, weightless gel feel, sweat and humidity resistant
Reasons to buy
+
Wispy lash extension effect
+
Great for lengthening
+
No lash curler needed
Reasons to avoid
-
Not for those after dramatic lashes
If you're looking for the best lengthening mascara to give that lash extension effect, we've found it. Thanks to this mascara's thin, curved wand, we found that our lashes were instantly curled and extremely lengthened with just a couple of swipes. The High Impact Zero Gravity formula is one of the drier consistencies we have tested, meaning that there is no clumpiness or smudging. We found that the formula spreads out evenly on each lash, giving a fanned-out look. This provides a more natural, thinner finish that promotes length and curl above thickness or volume.
When testing, we also loved how quickly this mascara dries down, meaning messy lids are a thing of the past. However, this mascara maintains a smooth finish that does not catch or tug lashes, so comfort is maintained. The best false eyelashes, though gorgeous, can be challenging to apply and take care of, so we absolutely recommend this mascara for low-maintenance days when you still want a long and wispy effect. We love the your-lashes-but-better look that we achieved with this mascara, and it is one we will always have in our collection.
4. Charlotte Tilbury Legendary Lashes Volume 2 Mascara
Best dramatic mascara for short lashes
Specifications
RRP: $32 / £26
Waterproof version available: No
Mini version available: No
Extra features: Smudge-proof, humidity resistant, long wearing
Reasons to buy
+
Provides great volume and length
+
No flaking
+
Bold black shade
Reasons to avoid
-
Not for those who want a more natural look
If you're after a mascara that will instantly provide length and volume, this is the product for you. When testing, we found that only one swipe on each eye was needed to get that thick, full look we were hoping for, requiring hardly an effort to transform our short lashes. This is definitely a buildable formula that can become as thick and dark as you want it to be, ideal for glam eye looks. However, if you are after a mascara that will provide a natural finish, this may not be the best choice. But for our tastes, this is a perfect product for everyday wear that quickly revamped our short lashes without looking too OTT.
Despite the wet formula that required a bit of cleanup after first applying, it didn't transfer onto our hooded eyelids or smudge once dried. In fact, it made it through a full 12-hour day without budging. Although it lasted so well, we also removed it with ease at the end of the day with the best micellar water, meaning there was no need for scrubbing, which again, is a winner in our books.
5. Morphe Make It Big Mascara
Best volumizing mascara for short lashes
Specifications
RRP: $16.60 / £12
Waterproof version available: No
Mini version available: Yes
Extra features: Ophthalmologist tested, curved brush
Reasons to buy
+
Great for volume
+
Defines short lashes
+
Smooth application
Reasons to avoid
-
May be slightly dense for fine lashes
Not only is this Morphe mascara affordable, but it also delivers on its promise of creating lush, voluminous lashes. When testing, we noticed that it has a thicker formula than some others we have tried - however, this didn't cause any issues. There is no product build-up on the brush, so you won't need to worry about any clumping here, just smooth, fuss-free application. We found the formula to be an ideal consistency and it dried down well without making lashes stiff or uncomfortable.
What we loved most about Make It Big is that it gave a lash extension look, providing length and definition without looking overly makeup-y. Ideal for natural makeup looks or full glam, there's no going wrong. Plus, it is ophthalmologist tested, making it one of the best mascaras for sensitive eyes. For high-end performance with a budget price tag, Morphe has hit the nail on the head.
6. Ciate Wonderwand Mascara
Best pigmented mascara for short lashes
Specifications
RRP: $22 / £19.50
Waterproof version available: No
Mini version available: Yes
Extra features: Smudge and flake free
Reasons to buy
+
Very pigmented
+
Provides length and volume
+
No clumps
After thorough testing, we can conclude that the best mascara for short lashes is one that has a wand designed to coat every lash - no matter the length. The Wonderwand mascara is a product that does exactly that, thanks to the hourglass applicator shape. When testing, we found that this mascara provides impressive length and volume, giving lashes a thickened appearance without any clumping at all. It only took one or two coats to get a very pigmented look that made our eyes really pop, so it is a great option for those with lighter lashes who want a tinted look.
"Make sure the mascara you are using is a proper black, as lots are grey/black which can blend into your own lash color or eyeshadows, meaning the lashes don't stand out as much, and can look shorter," advises Taylor. We found that this mascara really stands out, even on our darker lashes, so it is a great pick for giving short lashes some definition. Wear with your best foundation and a natural blusher for a gorgeous everyday look.
7. L'Oreal Paris Telescopic Lift Mascara
Best instantly lengthening mascara for short lashes
Specifications
RRP: $14.99 / £10.39
Waterproof version available: No
Mini version available: No
Extra features: Adds 5mm of length, 36 hour wear, ceramide-infused formula
Reasons to buy
+
Unique product
+
Instantly lengthening
+
Gives a thickened look
Reasons to avoid
-
Wand may take some getting used to
This is by far the most unique product in our best mascara for short lashes guide, and one that we loved experimenting with. What sets the L'Oreal Telescopic Lift apart from all other mascaras is the two-sided bristle brush that sits almost completely flat on one side, with spiked ridges on the other. When testing, it took us a minute to figure out how to use this wand to our full advantage, so we tried a few different angles to achieve the long lash look.
A re-invention of the original L'Oreal Telescopic mascara, Telescopic Lift promises 5mm of visible added length. We can't say that we actually measured our lashes, but we did see impressive results from this product. The formula was extremely smooth and easy to work with - we did cause a couple of clumps when using the wand in different ways, but these were simple to eliminate with the curved side of the brush. We found that this mascara gives curl and thickness as well as length, which we are always looking for. The even, fanned-out look it gave was also one of our favorite features, as it made lashes look healthy and full. Once you nail how best to use this new wand to suit your lashes, it is a brilliant product.
8. YSL Lash Clash Mascara
Best premium mascara for short lashes
Specifications
RRP: $29 / £29
Waterproof version available: No
Mini version available: No
Extra features: Paraben free, smudge proof 24 hour wear
Reasons to buy
+
Catches every lash
+
Buildable formula
+
Volumizing
From the best matte foundations to the best perfume for women, YSL makes some of our favorite beauty products. This is the first mascara we have tried from the brand, and it's safe to say we weren't disappointed. From the gorgeous, sleek packaging to the buildable volume it provides, this mascara checks all the right boxes for short lashes. When testing, we loved using the conical shaped wand that caught every lash, giving a thick and full finish.
When it comes to makeup, we always like a product that can be built up or toned down depending on the occasion, and this provides just that. Perfect for smokey eye looks, or just everyday makeup where you want your eyes to stand out without the need for extra products, this is a mascara we will always reach for in our collection. With no bleeding or smudging, it can also be trusted to last throughout the day, so is a great one to take travelling or wear to work for a makeup look that won't budge.
9. Lottie London Superfake Mascara
Best mascara for short lashes for easy application
Specifications
RRP: $7.95 / £6.95
Waterproof version available: No
Mini version available: No
Extra features: 12 hour wear, vegan and cruelty free
Reasons to buy
+
Thin wand for precise application
+
Buildable formula
+
Budget friendly
Reasons to avoid
-
Wetter formula can get messy on hooded eyes
Another budget-friendly option, the Lottie London Superfake mascara stands out from the crowd thanks to its thin and very flexible wand. When testing, we loved the consistency of this mascara which made for quick and easy application with no tugging or mess. Thanks to the smaller wand that bends, we were able to get right down to the lash line and work through every lash to stretch and lengthen. The smaller spikes on the wand also mean that no clumping occurs, which is always a bonus.
We did find that this mascara took a little longer to dry down than some other formulas, which is great when you want to build up the product on your lashes and not have to rush the application process. However, if you have hooded eyes like us, allow a little more time for drying before continuing with the rest of your makeup. We would say that this is a mascara that promotes thickness and volume more than giving a wispy, curled look, however, we love this for creating more dramatic eye looks or when we want to make our short lashes really stand out. The makeup trends 2023 tell us that grungy eyes are firmly in, and the buildable nature of this mascara means that it can capture that look perfectly.
10. MAC MACStack Mascara
Best buildable mascara for short lashes
Specifications
RRP: $28 / £26
Waterproof version available: No
Mini version available: Yes
Extra features: Clump-resistant, non-flaking
Reasons to buy
+
Regular and small wand available
+
Natural volume
+
Very buildable
The MACStack mascara very handily comes with two brush sizes - standard and micro. The best mascara for short lashes is one that has the right wand and formula to enhance your natural lashes, so having the choice between these two depending on what you're working with is a great plus. We tried the standard size, and found this to work well for our lashes. However, if your lashes are more fine, you may want to opt for the Micro version.
When testing, we loved that we could build up the volume and thickness of our lashes or keep them more natural. The thinner, light formula not only provides comfortable wear, but also means that you can add a lot of product to your short lashes without weighing them down or getting clumps. Once dry, this mascara also didn't budge or flake, so it is suitable for day-long wear. If you're torn between the regular or micro wand, the regular is better for your top lashes, whilst the micro is more suited to the bottom lashes. For extra short lashes that need some extra TLC, we'd recommend the micro.
How can I make my short lashes look longer?
Taylor is very clear about this: "ALWAYS CURL YOUR LASHES!!!"
As with almost all makeup, how you prep before application is key to getting the best results. "It doesn't matter how long or short your lashes are, really take your time on getting them as curled and perfect as possible, as once mascara is on you mustn't use eyelash curlers on the lashes as it can damage them," she says.
How do you apply mascara to short, sparse lashes?
"Once you have curled, apply mascara starting in the root, wiggling the wand deep into the base of the lashes," Taylor advises. "Then, draw out the wand through the lashes to the tips, spreading the lashes as you would like them to sit." Don't be afraid to take your time with this, as it is a technique worth perfecting.
"The second layer should be mostly into the roots, and the third starting again in the roots and drawing through to the tips. Moving onto the other eye, repeat. Once you are happy, apply a tiny extra bit onto the tips in an upwards and downwards motion," she says. And just like that, you will see lengthened, full lashes.
Can mascara damage short lashes?
If you are wondering is mascara bad for your eyelashes, you are not alone. There is a common belief that wearing mascara can harm your lashes, especially those that are already quite fine. However, with the right products and removal processes, there is no reason why mascara should harm your lashes.
"Choose your mascara carefully," says Taylor. "Yes, some are very expensive, but the reason is that they have nourishing serums in the formulations to help encourage lash growth." It is usually true that you get what you pay for, so it is worth investing in the right product if you are in need of some nourishment.
As well as using the best mascara for short lashes, you should also pay close attention to how you are removing your eye makeup. "Eye makeup removing is so important for the health of your lashes. I love to remove my mascara with a face balm," Taylor says. Using the best cleansing balms is a great habit to get into, as it "doesn't require heavy rubbing with a cotton pad/re-usable pad," Taylor notes. This gentle removal process will make a huge difference in keeping your lashes healthy.
How to choose the best mascara for short lashes
When shopping for mascara, particularly if you have short, sparse or fine lashes, there are a few key factors to consider:
Wand type - The results you get from a mascara depend largely on the type of wand that the product has. Whilst volumizing mascaras tend to have thicker, more hourglass-shaped wands, lengthening products typically have thinner, tapered wands. Think about what look you are going for and pay attention to different brushes.
Formula - If you have hooded eyes, oily skin, or struggle with mascara smudging often, you will probably want to go for a tubing formula or a slightly drier consistency. If you suffer with dry skin or prefer all of your makeup products to be hydrating, opt for thinner, wetter consistencies that apply easily.
Ingredients - Another important factor for those with sensitive eyes is ingredients. If you are prone to irritation or want to improve your lash health, you may want to go for a mascara that contains nourishing oils. Do some research to find out the best ingredients to target your concerns.
By assessing against these criteria, you can be almost certain that you will find a mascara that will work for you and your lashes.
Amelia joined woman&home after graduating with an MA in Magazine Journalism from City University in 2022. She specialises in lifestyle journalism and throughout her undergraduate degree she wrote for a variety of student publications, where she developed a love for all things style, beauty and sustainable fashion. She has previously written for titles including OK! Magazine, New! Magazine and Notion before she started her career as a lifestyle journalist with woman&home after completing an internship with the brand.