The 12 best cleansing balms that'll remove makeup and make your skin glow
Looking for the best cleansing balms? From treating dry skin to dissolving grime, here's our pick of the best on the market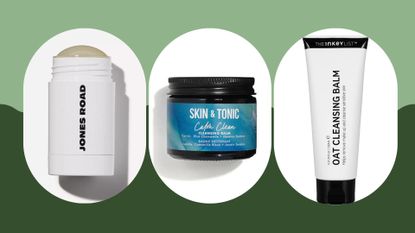 (Image credit: Future)
The best cleansing balms have grown in popularity recently, thanks to their gentle yet effective purifying powers. But when it comes to finding the right cleansing balm to suit your individual needs and skin concerns, navigating the market can be a bit of a minefield.
Whether you are after the best cleanser for every day or want a richer alternative to the best cleansing oils, a balm can do it all. Ideal for removing makeup in seconds or adding a touch of luxury to your skincare routine, a cleansing balm is a nigh-on foolproof beauty product. But to be sure you are getting an effective formula, pay attention to the texture and how it emulsifies with water – the best cleansing balms will melt down instantly for a silky smooth feel.
"My ultimate motto is that what you take off is more important than what you put on," says Dr. Colette Haydon, (opens in new tab) dermopharmacist and creator of lixirskin. "I use an oil or balm to remove make-up and dirt because oil dissolves oil." The best cleansing balms are oil-based, which is why they work so well at keeping your skin healthy and clean while hydrating and targeting the skin's needs even after rinsing.
How we tested the best cleansing balms
Why you can trust Woman & Home Our expert reviewers spend hours testing and comparing products and services so you can choose the best for you. Find out more about how we test.
Which cleansing balm you go for will totally depend on your skin type, concerns, and needs. So, when looking for best cleansing balms, we took a variety of factors into account to ensure that we found the best possible options across the board. We looked at the price point and how much product you get for your money, how effective they are at removing makeup and dirt, how easy they are to apply and remove, and how our skin felt afterward. For the ultimate test, we also used each cleansing balm to remove our mascara to truly examine its cleansing powers.
The best cleansing balms, chosen by our beauty team
1. The Body Shop Camomile Sumptuous Cleansing Butter
Best overall cleansing balm
Specifications
RRP: $15/£12
Key ingredients: Camomile extract
Removes makeup: Yes
Reasons to buy
+
Great for waterproof makeup
+
Suitable for sensitive skin
+
Budget-friendly
Whether you are new to cleansing balms or have been on the bandwagon for years, you need to try The Body Shop's Camomile Butter. Skincare expert Caroline Hirons first posted about this cleansing balm back in 2016 and still raves about it today, so we knew we had to give it a try. We can tell you now, it did not disappoint. Not at all stripping or drying, it fully removes stubborn makeup and cleanses the skin, leaving a fresh and glowy finish.
When testing this cleansing balm, we found that the soft, buttery texture quickly acts like oil when worked into the skin, except in a less watery form. It only takes a few rubs to loosen up any makeup or dirt, and then easily washes away with water without any need for a flannel or cloth. We typically like to double cleanse after wearing makeup, but we found that our skin felt extremely clean after using this camomile balm – even the best mascara is no match for its magic. It also has a subtly clean scent that made us feel pampered and relaxed, ideal for the end of the day.
We found that a little bit goes quite a long way with this product, so as well as being budget-friendly, it will also last you well. Though it isn't advertised as multi-purpose, we've also used this balm on other parts of the body to help with things like chafing and soothing the skin. For a reliable cleansing balm that is effective and suitable for all skin types, The Body Shop certainly has our vote. Follow up with moisturizer and the best drugstore eye-creams for a simple and effective skincare routine.
2. Neal's Yard Wild Rose Beauty Balm
Best multi-purpose cleansing balm
Specifications
RRP: $63/£42
Key ingredients: Geranium Essential Oil, Rosehip Oil, Shea Butter
Removes makeup: No
Reasons to buy
+
Multi-use
+
Little goes a long way
+
Luxurious feel
Neal's Yard brands this as a 'beauty balm' as opposed to a cleansing balm as its uses go far beyond just cleansing. Use it as an exfoliating cleanser, intensive hydrating treatment, a highlighter on high points of your face, to tame eyebrows, as a lip balm, or however else you like! The options really are endless.
When testing this balm as a cleanser, we found that it's not always suitable to remove makeup. You will need to opt for a different balm to get complexion products and mascara off. However, it works beautifully as a cleansing balm on makeup-free skin that will leave you with an unbelievably soft and nourished complexion. We love to use this cleanser when we want to give our skin an extra bit of TLC and make sure it has been thoroughly cleansed in a gentle and nourishing way. The delightful rose scent also makes for a delightful cleansing experience.
As it is made with geranium and rosehip oils, we found that it leaves a slightly filmy texture if only rinsed off with water – so using a muslin cloth to remove all the product is essential for proper cleansing. If you buy the larger pot, it handily comes with a cloth inside the box. It is at the higher end of the price spectrum compared to some other brands, but a little bit really does go a long way. Plus, the number of uses it has will help you save on other beauty products. Whether you're after a hydrating treat or just want a cleansing balm that you can use every day, this one-pot wonder does the trick.
3. Jones Road The Cleansing Stick
Best cleansing balm for travelling
Specifications
RRP: $34/£34
Key ingredients: Sunflower seed oil
Removes makeup: Yes
Reasons to buy
+
Compact and mess-free
+
Improves the appearance of acne-prone and dry skin
+
Suitable for all skin types
The one gripe we have with cleansing balms is that they usually involve digging your fingers into a pot to scoop out the product. For those who have long nails or may not like the mess involved with it, Jones Road has solved all of our problems. This cleansing stick has all the power of other cleansing balms, minus the mess and fuss.
This stick is designed to be rubbed directly onto dry skin and then emulsified with water before rinsing away. When testing this cleansing balm, we loved the feeling of rubbing the stick across our face. It gave us a gentle facial massage that was relaxing enough to rival a night in with DIY face masks, which really added to the experience of using the cleanser. We found that it is effective at removing makeup, even mascara, in a gentle yet powerful way that left our skin feeling clean afterward. If the stick becomes dirty after using makeup, it can be easily wiped clean and used again.
It is a lighter texture than other cleansing balms we have tried, with a smooth and weightless feel on the skin. It is also clear in color and has an extremely subtle natural scent, so it gave us the feeling of minimalist skincare that is more focused on results than appearances (although, it does look pretty good too). This is a gentle cleansing balm that is suitable for daily usage on all skin types, so there is no going wrong. The stick packaging is also ideal for taking this around with you, making it one of the best cleansing balms for traveling.
4. Farmacy Green Clean Makeup Meltaway Cleansing Balm
Best everyday cleansing balm
Specifications
RRP: $36/£32
Key ingredients: Sunflower and ginger root oils
Removes makeup: Yes
Reasons to buy
+
Suitable for all skin types
+
Promotes a glowing complexion
+
Fresh citrus scent
+
Recycled packaging
Farmacy cleansing balms are some of the most popular on the market, and we can see why. The brand's hero Green Clean balm is everything you want from the best cleansing balms - it is gentle enough to be used daily on all skin types but powerful enough to remove a full face of makeup with minimal effort.
Comparable to the best micellar waters in terms of performance, even waterproof makeup will slide off easily with Green Clean, and one of our favorite things is the small spatula it comes with. When testing, this made the process much less messy, as well as easier to scrape out just the right amount that we needed. We also noticed the fresh citrusy scent that becomes almost herbal as it gets worked into the skin. We love that this smell added to our feeling of freshness after cleansing. Either remove with water or use a cloth to wipe the product away - both work equally well.
This is a light cleansing balm that nourishes the skin without feeling heavy, meaning that we found our skin to be clean without that tight feeling that we sometimes get from traditional cleansers. It is a fairly big pot in comparison to other cleansing balms on this list, and you really don't need much to remove a full face of makeup (something we learned the hard way after taking out a huge spatula-full.) Green Clean is simple and effective without feeling too basic - we still felt like we were giving our skin a good pampering whilst using it. Essentially, this is ideal for every day but with a bit more of a luxury feel than the basic drugstore cleansing balms.
5. Oskia Micro Exfoliating Balm
Best exfoliating cleansing balm
Specifications
RRP: $84/£56
Key ingredients: Sesame seed oil, sweet almond oil
Removes makeup: No
Reasons to buy
+
Luxury feel
+
Perks up dry, dehydrated or dull complexions
+
Exfoliates without feeling harsh
This Oskia cleansing balm is definitely one of the most unique that we have tried. It uses tiny silica and MSM particles that work to gently exfoliate the face, leaving a soft and healthy complexion behind. This cleanser doesn't work as a makeup remover, however, we don't think that this is a downfall. Instead, it stands alone as a specialist cleanser that can be used post makeup removal.
The best thing about this cleansing balm is that it can be adjusted to suit your skin type by adding more water to dilute it. However, used in its regular form, it is still extremely gentle and soothing. It is on the richer side, however it's not at all heavy on the skin. When testing, we noticed how relaxing this cleansing balm feels on the skin. We found the small particles to be noticeable, but not at all abrasive. After rinsing away just with water, our skin felt extremely soft and nourished with no dryness.
If you are looking for a skincare routine for acne or want something simple that will make a noticeable difference, this cleansing balm is it. Thanks to the physical exfoliation, you can really feel it getting to work as you massage it in.
6. Elemis Pro-Collagen Cleansing Balm
Best treatment cleansing balm
Specifications
RRP: $66/£46
Key ingredients: Elderberry oil, starflower oil, padina pavonica
Removes makeup: Yes
Reasons to buy
+
Suitable for daily use
+
Deeply cleanses skin
+
A little goes a long way
The Elemis cleansing balm is undoubtedly one of the most well-known and widely used cleansing balms out there, and we really do think that it deserves its strong reputation. Working to deeply cleanse, and remove makeup and impurities, as well as promote a soft and glowing complexion, it is a perfect all-rounder that will have your every need covered.
When testing the Elemis balm, we were first struck by how big the pot is. At 100g it is certainly one of the largest cleansing balms we have tested, but surprisingly not the most expensive. We also noticed the gorgeous scent that evoked feelings of being in a spa - exactly what we want when doing our everyday skincare routine. For a more intensive treatment, it can also be used once a week as a nourishing treatment to rival the best face masks. Formulated with both elderberry and starflower oils to promote skin health, it treats the skin whilst it cleanses, so you are doing more than just removing dirt and build-up.
The whole experience of using this cleansing balm was what made it for us - from the sleek packaging to the luxurious scent and smooth feel of the balm itself, it injected some much-needed pampering into our evening routine. We also found that it only takes a pea-sized amount of product to cleanse the whole face, so it will certainly last you a while.
7. UpCircle Cleansing Face Balm
Best cleansing balm for problem skin
Specifications
RRP: $24/£18.99
Key ingredients: Helianthus Annuus Seed Oil, shea butter, apricot stones
Removes makeup: Yes
Reasons to buy
+
Vegan friendly
+
Made from 100% natural ingredients
+
Dermatologically approved
+
Well priced
Reasons to avoid
-
Needs a cloth to fully remove
We love UpCircle products because of the natural, cruelty-free ingredients that they use that are also surprisingly affordable. This cleansing balm in particular uses discarded apricot stones that are rich in Vitamin E, ideal for treating skin inflammation. Not only does it promote a healthy complexion, but also works to tackle waste.
In terms of removing makeup and cleansing the skin, we found that this balm worked extremely well. Our mascara melted away in a few swipes and our skin makeup came off effortlessly. If you're trying to double cleanse your way to dewy glass skin, this cleansing balm might just be the crucial first step. However, we noticed that this cleanser can't really be removed by water alone. We found it necessary to use a muslin cloth to get that truly clean feeling and make sure all traces of makeup were fully gone. Although this may be inconvenient for some, using a warm cloth added to the soothing experience for us.
If you are looking at how to fix dry skin or want to address redness and inflammation, this is definitely the best cleansing balm to help with that. Thanks to the apricot it is very soothing and gentle on the face, so you can be sure that any problem areas won't become disturbed by this product. it really does work to heal the skin and leave a smooth, glowing texture. You can also get a travel-sized version, ideal for on-the-go or giving as a gift to a loved one.
8. Inkey List Oat Cleansing Balm
Best drugstore cleansing balm
Specifications
RRP: $10.99/£10.99
Key ingredients: Oat kernel oil
Removes makeup: Yes
Reasons to buy
+
Affordable
+
Mess-free
+
Get a lot for your money
+
Good for redness and dryness
Reasons to avoid
-
Tricky to squeeze out at first
We were so pleased to see The Inkey List stocking a cleansing balm, as affordable drugstore options can be few and far between. From the best vitamin C serums to indulgent moisturizers, The Inkey List has become a cult brand thanks to its quality formulas and low prices. Fans of the brand love this cleansing balm because of its simple ingredients and extremely effective makeup-removal powers, and we were impressed too.
When testing this cleansing balm, we loved that it came in a bottle as opposed to a pot. This is not only great for travel, but also for portioning your cleansing balm and ensuring you get just the right amount. It saves you from getting messy hands, too. Our only problem was that it was fairly tricky to squeeze out of the tube at first - it needed a bit of time to warm up, so it is worth storing it somewhere slightly warmer to allow the product to loosen up. Despite its thicker feeling texture, we found that it melts down in an instant to a gorgeously smooth balm that loosens makeup and dirt quickly and effectively.
Its soothing oat ingredients make it an ideal cleansing balm for sensitive skin, as it soothes irritation and strengthens the skin's moisture levels. It can be easily rinsed off with water, or if you want an extra nourishing boost, let it sit on the skin for 10 minutes before removing. Finish your skincare routine with the best gua sha tools and wake up to perfectly soothed and de-puffed skin.
9. Skin & Tonic Calm Clean Cleansing Balm
Best pampering cleansing balm
Specifications
RRP: $26/£24
Key ingredients: Carrot Root Oil, Jasmine Sambac Oil, Blue Chamomile Oil
Removes makeup: Yes
Reasons to buy
+
Relaxing scent
+
Smooth, light texture
+
Comes with a cloth to remove
Reasons to avoid
-
Not suitable for use during pregnancy
Sometimes we just need a bit of pampering, and a cleansing balm is the ultimate way to give your face the TLC it deserves. This Skin & Tonic cleansing balm contains a mix of oils and natural ingredients, including lavender, that create a gorgeous scent when used. Perfect for an aromatherapy experience, this is the cleansing balm we turn to after a long day.
Made from just eight ingredients, this balm is minimalist yet effective – exactly what you want from the best cleansing balms. It has a thin, oily texture when applied to the skin and a little bit really does go a long way. However, we like to lather this on and really soak up the jasmine scent. Even if you have not been wearing makeup throughout the day, a cleansing balm like this will do your skin wonders. Not only does it help with redness and inflammation, but it will also help to remove environmental stressors from the skin.
"An evening cleanse of the skin will not just remove the dirt and make-up you can see, but also the free radicals and heavy metals that build up during the day from exposure to pollution and the air around us," Dr Haydon explains. Team with a good old soak with your best bubble bath for the ultimate night-in treat that will have you feeling fully pampered.
10. InLight Organic Face Cleanser
Best cleansing balm for all skin types
Specifications
RRP: $58.41/£49.50
Key ingredients: Olive oil, green tea and rosemary
Removes makeup: Yes
Reasons to buy
+
100% organic
+
Works for all skin types
+
Comes with a reusable wooden spatula
If you have particularly problematic skin, you will know how essential it is to find a cleanser that will not disturb your complexion or cause unnecessary breakouts. But no matter your skin type or concerns, this InLight cleanser will work for you. From the best cleansers for acne to soothing ingredients for rosacea, there's nothing this balm can't do.
When testing this cleansing balm, the first thing we noticed was the herbal scent that is perfect for evening use. Similar to the Skin & Tonic balm, we noticed that it has a soft, oily texture when melted down that gets to work quickly on removing dirt from the face. The best cleansing balms should be powerful enough to give you a thorough cleanse without causing any disruption to your skin, which this cleanser does brilliantly. It really left our skin feeling soft and rejuvenated, a particularly enjoyable experience if you suffer from dry skin that often feels tight.
It also comes with a reusable wooden spatula that has a premium feel, unlike plastic alternatives. For us, this added to the experience of using this cleansing balm and gave a more luxurious atmosphere when doing our skincare routine. It is on the more expensive end of the price spectrum, however, it is organic, cruelty-free, and vegan, and it also boasts multiple 5-star reviews from customers. For skin that needs a little something extra when it comes to cleansing, the InLight balm has you covered.
11. Skin Proud Face Melt Cleansing Balm
Best cleansing balm for removing stubborn makeup
Specifications
RRP: $10.25/£12.95
Key ingredients: Hyaluronic acid, rice bran oil, argan oil, coconut oil and rosehip oil
Removes makeup: Yes
Reasons to buy
+
Removes all kinds of makeup
+
Super hydrating
+
Well-priced
+
Sustainable
The main reason we turn to cleansing balms is to remove stubborn makeup in a flash. Gone are the days of using multiple face wipes to desperately scrape off dried mascara - the Skin Proud cleansing balm is here to make makeup removal a dream.
When testing, we found that it only takes a small amount of this cleansing balm to cover the whole face, thanks to its smooth, spreadable consistency that instantly melts down when rubbed between the hands. The best cleansing balms work to dislodge makeup and dirt build up without the need for too much elbow grease, meaning that skin isn't disrupted whilst it's being cleansed. We found that the Skin Proud balm does exactly that, which is why it has our vote as the best cleansing balm for removing all types of makeup - even the toughest mascaras.
It's not unusual for makeup-removing cleansing balms to be at the higher end of the price spectrum, which is why we love this balm so much. For an extremely affordable price, you will be left with soft, thoroughly cleansed skin after simply rinsing away with water. The best part is, it contains a blend of hyaluronic acid and nourishing oils to give your skin a hydrating boost. Follow up with the best lightweight moisturizers for a delightfully plump and healthy complexion.
12. Tea & Tonic The Meadow's Secret Cleansing Balm
Best natural cleansing balm
Specifications
RRP: $33/£28
Key ingredients: Crambe Abyssinica Seed Oil, Cera Alba (Beeswax)
Removes makeup: Yes
Reasons to buy
+
All natural ingredients
+
Premium feeling packaging
+
Works as a skincare remedy
Reasons to avoid
-
Requires a cloth to remove
When it comes to skincare, you can't really go wrong with natural ingredients. If your skin often reacts to certain ingredients or is prone to breakouts, opting for an all-natural cleanser like this could solve all of your problems. Whether you are worried about how to fix dry skin or just need something simple and gentle, Tea & Tonic is a great option.
When testing, we noticed the weighty, premium feel of the packaging and the gorgeous design that looks lovely on display in the bathroom. Like many of the best cleansing balms, it also has a fresh and herbal smell - as the name suggests, like a meadow - that fills the air whilst you cleanse. It has a slightly thicker texture than some of the other cleansing balms we have tested that also feel less oily, so this is certainly one to have on your radar if you prefer this type of product on the skin. This means that you probably will need a cloth to remove all of the cleanser, so make sure to have one on hand.
Tea & Tonic's ingredients are sustainably sourced and each cleansing balm is mixed by hand in England, so you can be sure that you are making an ethical choice as well as one that will work wonders for your skin.
Are cleansing balms good for all skin types?
Most definitely. There may be certain ingredients in specific cleansing balms that you will want to go for dependent on your complexion and needs, however cleansing balms work well for any and every skin type - even the most sensitive. "Just make sure you're not using a cleanser that's too harsh for your skin type and you can alter your cleansing routine to suit you," explains Dr Charlotte Woodward (opens in new tab), aesthetics doctor at River Aesthetics.
Do cleansing balms clog pores?
If used correctly, a cleansing balm should not clog your pores. As you rinse cleansing balms away after loosening makeup and dirt, the product should not stick around on the skin. In fact, not using an adequate cleanser will most likely result in clogged pores and breakouts. Since cleansing balms are so good at breaking down dirt and debris that has accumulated throughout the day, they do an excellent job at ensuring that pores remain clear.
Is it okay to use cleansing balm everyday?
Wondering how often should you wash your face with a cleansing balm? The answer is daily. "You should cleanse your skin every day, both morning and night!" says Dr Victoria Manning (opens in new tab), aesthetic doctor at River Aesthetics. "A lot of people don't know that you should always double cleanse - first to remove makeup, dirt, oils, and the second to cleanse the skin."
A cleansing balm is the perfect first step in your cleansing routine, as it will work to loosen up any makeup or dirt that is on your skin. You should then follow it up with your favorite cleanser to make sure the skin is fully clean. As long as your cleansing balm of choice reacts well with your skin, it is fine - in fact, encouraged - to use it every single day.