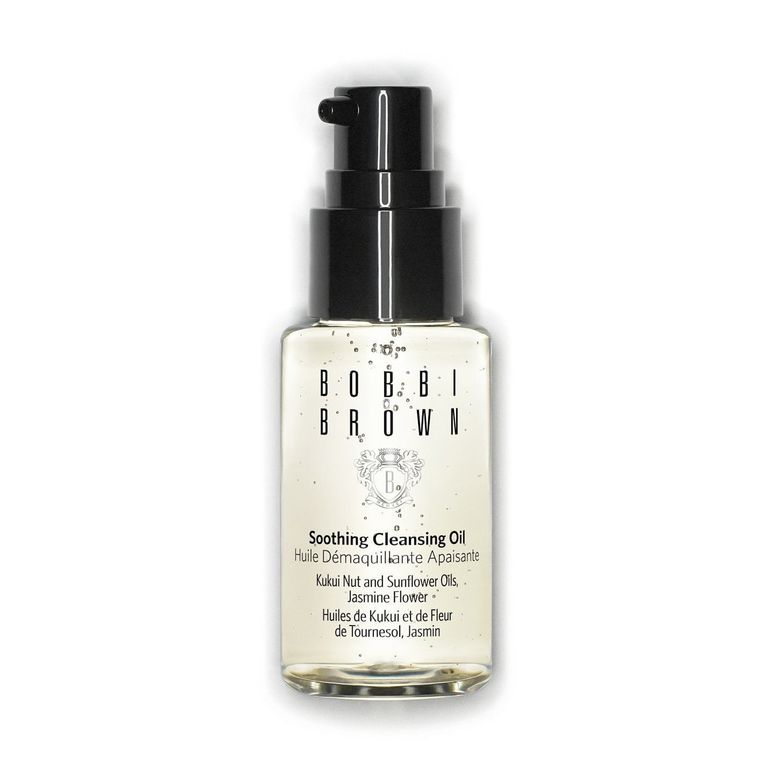 They whip off makeup in a flash AND cater to every single skin type.
If the idea of cleansing with an oil sounds counter-intuitive - we want to remove the grease, no? - just bear with us a moment, because these washes are onto something good. You see, rather than suffocate pores with a layer of sticky, clogging blends as you might think, a cleansing oil can leave every skin type comfortably cleansed.
Yes, we said every skin type. These cleansers work with the pre-existing oils in your skin to remove the bad, greasy stuff by binding to impurities. Once they've trapped all of the grime, a rub and a rinse with water will see makeup, excess oil and any other lurking nasties depleted sans irritation.
It creates the kind of balance that sees dry skin feeling more cossetted over time, sensitive skin more soothed and oily skin as calm and shine-free as one could hope.
Bobbi Brown Soothing Cleansing Oil, £10 We're yet to find a Bobbi Brown product that we don't go entirely crazy for, and this particular, gentle cleanser is a stand-out favourite. Now available in a handy, travel-sized decanter, this sumptuous, slippery treat is ultra soothing, owed to a dose of jasmine flower extract sourced from France. Use on even the most sensitive skin for quick cleansing that gets you into bed on the double.
Ole Henriksen Pure Truth Melting Cleanser, £24
Trust us - you've never experienced a cleanser quite like this oil-based jelly before. On scooping it out of the tub and rubbing it into a dry complexion, it transforms into a slippery treat of an unction that reaches every scrap of makeup. Pat a little water into the mix to see the Melting Cleanser morph from jelly to oil to a milky lather that leaves purified, hydrated pores in its wake.
Sanctuary Ultimate Cleansing Oil, £13
Don't be fooled by its rich quality - though this oil is fairly thick in texture, it works as well on oily skin as it does on the perpetually dry of face. It whips off mascara fast, keeps the balance of your pores in perfect harmony, and leaves a supple sensation that lends a great base for makeup, should you use it in the morning.
Shu Uemura Ultime8 Sublime Beauty Cleansing Oil, £75
You can't talk about the best cleansing oils without mentioning Shu Uemura, the brand that made lathering up with oil a mainstream and utterly luxurious endeavour. The latest in their arsenal of unctuous washes is Ultime8 Sublime Beauty Cleansing Oil, an advanced cleanser that targets 8 skin concerns in one hefty, pump-topped bottle. Wondering what benefits this oil ticks off? Try enhanced smoothness, moisture, radiance, clarity, vitality, tone, suppleness and nourishment. It doesn?t get much better than that.
L'Occitane Immortelle Oil Make-Up Remover, £22
Long-lasting makeup is wonderful, right? Until it comes to taking it off, that is. Which is where this velvety, pleasingly viscous oil steps in as our saviour. Massage it into skin, enjoys its subtle, pretty scent, and emulsify with water to see every morsel of the stubborn, long-wear stuff broken down. Best of all, it's enriched with organic immortelle oil and apricot oil to keep lashes, lids and cheeks supple post-cleanse.
Clinique Take The Day Off Cleansing Oil, £22
Love Clinique's Take The Day Off Cleansing Balm? Now meet the lightweight oil, which dissolves makeup and grime in record time, sans residue. Great for every skin type, those with oily skin (yes, really) should look out for this one. It offers the dose of balance your pores need by giving grease the boot without that stripped sensation.
Elizabeth Arden Ceramide Replenishing Cleansing Oil, £25
Now, this is one high-tech cleansing oil. It's infused with ceramides, which are naturally occurring lipids that found in your skin that work to reinforce the structure of cells. They see this wash become so much more than something that will simply sloosh down the drain, as one speedy lather will lace your pores in unrivalled nourishment. Once it has morphed into a milky emulsion, we like to remove it with a muslin cloth, which gives some scrubbing power to the purification.