The 11 best face oils, no matter what your skin type - with expert advice on how to use them
Our beauty experts pick the best face oils for a spectrum of skin concerns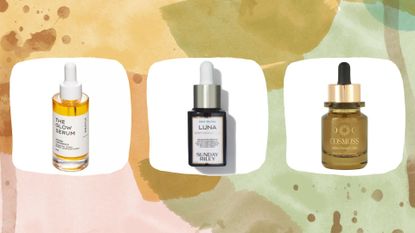 (Image credit: Future/Brands)
Choosing the best face oils is no mean feat, as the breadth of options seems to widen by the minute. Got a skin concern? There's an oil for you. And yes, that includes the oilier-skinned among us and even those who experience acne.
In years gone by, the thought of slapping oil on one's face may have sent a shudder down skincare fans' spines. As we increasingly learn, however, not all long-held beliefs in the beauty world are correct. Laden with soothing ingredients, used on their own or on top of the best face moisturizers, the best face oils can provide robust hydration and help protect the skin.
Don't believe us? Just look at the science. A 2018 study published by the National Institute of Health, credits plant oils with having, "anti-inflammatory and antioxidant effects on the skin, promotion of wound healing and repair of skin barrier." If you're not already using these complexion boosters, prepare to be impressed, as we've compiled this tried and tested list of the best face oils for every skin type, at every budget.
The best face oils, tested by our beauty experts
Why you can trust Woman & Home Our expert reviewers spend hours testing and comparing products and services so you can choose the best for you. Find out more about how we test.
1. Kora Organics Noni Oil
The best face oil overall
Specifications
RRP: $72/£62
Size: 30ml
Key Ingredients: Certified Organic Noni Extract, Rosehip Oil and Jojoba Oil.
Reasons to buy
+
Certified organic
+
Suits all skin types
+
Fast absorption
+
Light
+
Usable in morning and evening
Not to be dramatic, but this oil from Miranda Kerr's brand KORA Organics, is life-changing. It's not often that you find a face oil that satisfies all skin types and leaves you looking glowy as can be - minus any excess oils. In my experience, it's pretty rare to find a face oil that's usable in the morning and as a part of a skincare night routine.
Noni Oil is light as a feather and feels velvety soft to the touch. It's not at all greasy and soaked into my skin like a dream. I was so impressed by the product as it targeted my combination skin and left my complexion the best it can be. My pores drank this up in no time at all and within days appeared smaller and blurred.
With skin-loving organic, naturally derived ingredients like noni extract, rosehip oil, pomegranate, and sea buckthorn oil - my skin was left deeply hydrated without any blocked pores. Fans of clean skincare will be glad to hear that it's certified organic and free from parabens, silicones, sulfates, PEGS, and synthetic fragrances and dyes
2. The Ordinary 100% Organic Cold-Pressed Rose Hip Seed Oil
The best face oil on a budget
Specifications
RRP: $10.90/£9.70
Size: 30ml
Key ingredients: Rosehip canina oil
Reasons to buy
+
100% pure rosehip oil
+
Deeply hydrating
+
Affordable
Reasons to avoid
-
Doesn't have any extra key ingredients
The Ordinary 100% Organic Cold-Pressed Rose Hip Seed Oil is an absolute bargain that's not only kind to your bank account but to your skin too. This product, which I've used for years, seems quite greasy initially but the skin drinks the nourishing oil up in no time at all. It's got a lovely, natural fragrance to it and works for all skin types.
The best thing about this product is its active ingredient and quality despite it being so reasonably priced. Its only downfall is that it may be too simple compared to other products on this list - which incorporate more skin-boosting elements - that can help shorten your skincare routine.
Some of the other oils on this list, including the Anti-Acne Face Oil from Dermatology M and Anokha facial oil, contain rosehip oil. Hey, it's actually a very popular ingredient in skincare owing to the abundant benefits offered by using rosehip oil for the face. Naturally filled with essential fatty acids like linoleic acid, it also has the benefits of vitamin A and vitamin C - two vital skincare ingredients that regularly crop up in the best skincare combinations.
3. Sunday Riley Luna Sleeping Night Oil
The best face oil containing retinol
Specifications
RRP: $55/£45
Size: 15ml
Key ingredients: Trans retinol, cold-pressed avocado, chia and concord grape extracts
Reasons to buy
+
Includes retinol
+
Tightens pores
+
Reduces dark spots
+
Reduces blemishes
Reasons to avoid
-
Blue color may be off putting
-
Can't be used when pregnant
There's a reason that the Sunday Riley Luna Sleeping Night Oil often features in lists of the best face oils. This product is not only effective but is also a handy way to cut down your evening beauty routine - as it contains retinol.
Of all the brands on this list, Sunday Riley has become a master in the field, producing some of the best face oils on the market. This includes the C.E.O. Glow Vitamin C + Turmeric Oil, which supercharges your radiance; the Juno Antioxidant + Superfood Face Oil, which gives your glow a boost; and the U.F.O. (Ultra-Clarifying Face Oil) which targets congested skin.
Any of these oils can be used overnight but what makes Luna special is that it's formulated specifically for the nighttime and contains a potent, retinol-rich formula that helps to reduce the signs of aging like age spots, fine lines, and dullness. It's blue, which initially surprised me, but it turns clear when massaged into the skin.
Luna Sleeping Night Oil smells glorious and despite feeling quite 'oily' in your palms, it sinks in nice and fast and the glow was real. Within a week I noticed my skin was feeling smooth, hydrated, brighter, and more supple.
4. Mantle The Glow Serum
The best face oil with CBD
Specifications
RRP: $100/£80
Size: 30ml
Key ingredients: CBD, liquorice root extract, bisabolol, and bakuchiol
Reasons to buy
+
Contains CBD
+
Hydrating
+
Adds glow
+
Unscented
+
Suits all skin types
The Glow Serum is an oil-based serum that nourishes your complexion and Mantle claims it, "makes you glow like the gods." Did I laugh when I read that description? Obviously. But then I used it.
This has got a lovely light texture to it, which felt fantastic whether I used it after retinol or on its own. The incredible thing about this face oil is that after one use, the difference was noticeable. I woke up with my complexion feeling incredibly plump, smooth, less red, and, yes, glowing like the gods - without looking as greasy as a seal. Win-win.
Glow serum contains CBD, which is a bit of a buzzy ingredient of late. It also includes other actives and botanicals like bisabolol, bakuchiol (known as natural retinol), and licorice root extract. The results? Magical, and another oil that really shines no matter what your skin type.
Although Mantle suggests massaging it onto your face after cleansing, both morning and evening, for those of us on the shiny side (myself included) it's better to just stick to evening applications.
5. Cosmoss Golden Nectar
The best face oil for very dry skin
Specifications
RRP: $115/£105
Size: 30ml
Key ingredients: CBD, rosemary extract, chia-seed extract, Mythical Tears of Chios
Reasons to buy
+
Contains CBD
+
Hydrating
+
Adds glow
+
Unscented
Cosmoss Golden Nectar face oil contains ingredients like CBD and tears of Chios (which is actually the cute name for a plant resin produced on the Greek island of Chios) said to give your collagen production a boost. It's also got bakuchiol, which is a natural skincare ingredient that's said to have all the complexion-improving properties of the best retinol cream you can buy.
Unlike some offerings on this list, Cosmoss Golden Nectar is not scented - which is something I often look for as I have sensitive skin. Don't get me wrong, I adore fragrance, but if your skin is having a sensitive moment, scented products should get the boot.
It's hydrating and feels fairly thick, unlike the other CBD product on this list from Mantle. However, it's also surprisingly fast-absorbing and felt like a feast for my epidermis. There's no denying that this face oil left me with a glow and sits perfectly on top of a retinol or as an antidote to particularly dry skin. When I initially tested the product, my skin was super dehydrated from colder weather so it was ideal. However, as the mercury (and the shine on my T-Zone) rose, I had to save this for days when my skin needs an extra dose of hydration.
That being said, I didn't have any breakouts while using this and would 100% recommend it to anyone feeling a little dehydrated or on the hunt for skincare for dry skin.
6. Neals Yard Rejuvenating Frankincense Facial Oil
The best face oil for relaxation
Specifications
RRP: $52.50/£35
Size: 30ml
Key Ingredients: Francincense, turmeric, bergamot
Reasons to buy
+
Relaxing
+
Hydrating
+
Suits all skin types
Reasons to avoid
-
Smell may be overpowering for some
With a name like this, it's likely you're reminded of matters biblical, but did you know that frankincense is revered in skincare too? And with good reason. It's an aromatic resin collected from the Boswellia genus tree, which is said to have super soothing properties that help aid in destressing and relaxation.
Neal's Yard Rejuvenating Frankincense Facial Oil smells utterly heavenly, but not in an overpowering way, and it's lovely and lightweight - yet rich - to the touch. As it contains relaxing properties, I included this in my nighttime routine and experienced benefits to my complexion and also my sleep. Maybe the sleep part was psychosomatic but the proof of the pudding was in the eating regarding the effect this had on my skin. The oil had completely absorbed by the morning, leaving my face feeling buttery soft, and healthy also.
7. Sarah Chapman Skinesis Overnight Facial
The best for overnight rejuvination
Specifications
RRP: $99/£62
Size: 15ml
Key ingredients: Vitamin A, vitamin C, jasmine, frangipani, rose and tuberose.
Reasons to buy
+
Hydrating
+
Brightening
+
Boosts collagen
Reasons to avoid
-
Expensive
-
Only usable at night
Sarah Chapman's Skinesis line has gained quite a following as the brand's creator is regarded as one of the world's top facialists - so I was very excited to try this product. It's filled with omega oil supplements and works hard to harness the skin's rejuvenation and renewal processes, which are working their hardest while you catch 40 winks. I embarked on testing this product after a very busy weekend, so my skin looked just as tired as I felt.
Firstly, this product smells fabulous - with an almost aromatherapy-type scent to it. I noticed a plumping, hydrating, and smoothing effect on my skin after three days. The combination of facial massage, the oil itself, and a brilliant night's sleep meant that within days my face was way less puffy, hydrated (but not greasy), and with a lovely healthy dewy glow.
I used the Overnight Facial as the name suggests - before bedtime - using tried and tested facial massage methods. I even incorporated the brand's Facialift massager, one of Skinesis' most coveted items, which is almost like a lazy gua sha in the best way possible.
8. Dermatology M Anti Acne Face Oil
The best face oil for acne
Specifications
RRP: $75/£75
Size: 30ml
Key Ingredients: Bakuchiol, Prickly Pear Seed and Vitamin E plus organic rosehip and sunflower oils.
Reasons to buy
+
Kind to acne-prone skin
+
Hydrating
+
Non-pore-blocking
+
100% natural
Reasons to avoid
-
May be too heavy for extreme break outs
-
Expensive
If you've ever found yourself wondering how to get rid of acne and especially how to get rid of pimples, the thought of putting face oil on your skin may seem like insanity. Personally, it's taken a lot of time for me to get my head around it. But according to experts like those at Dermatology M, a brand founded on the principles of Chinese medicine, if the correct ingredients are combined an oil may actually be the best thing you can use on your face.
The Anti-Acne Face Oil is formulated to improve the appearance of acne-scarred skin, as well as rebalance the skin's sebum production so as to prevent further acne breakouts. It soaked into my skin like a dream, is a non-greasy, non-comedogenic, and I was amazed at how it calmed a particularly active breakout. It also aided in the healing process, soothing redness and inflammation while also helping fade dark spots. My only concern would be for someone with chronic acne and super oily skin who may find this product, or indeed any face oils, too heavy.
As someone who has combination skin and suffers from hormonal acne and is forever on the hunt for suitable PCOS skincare, the thought of using a face oil has only been a recent consideration. As the market widens - especially with products designed to combat acne - choosing the best face oils for congested skin is definitely something worth considering.
9. Ranavat Brightening Saffron Serum
The best face oil for a luxury investment
Specifications
RRP: $135/£135
Size: 30ml
Key ingredients: Saffron, lotus flower extract, turmeric, rice bran oil, licorice root.
Reasons to buy
+
Adds glow
+
Deep hydration
+
Ayurvedic ingredients
+
Suits all skin types
Ranavat Radiant Rani Saffron Brightening Serum has plenty of skin-loving ingredients and is radiance in a bottle. I used this at a time when my skin was feeling particularly parched yet also congested - the joys of combination skin - and it managed to tackle both issues wonderfully.
It's quite a thick oil, which initially concerned me but after 15 minutes or so it was totally absorbed into my skin. Built on the art and ingredients of Ayurveda, this particular potion targets inflammation, while also firming the skin and softening the look of fine lines. It contains active ingredients like licorice root, which targets hyperpigmentation and dullness while lotus flower extract works to even out the complexion.
The title ingredient, saffron, is considered a 'miracle elixir' and one of the most effective actives within Ayurvedic practice. It's also the most expensive spice in the world - which explains the hefty price tag.
10. Anokha Bakuchiol and Pomegranate facial oil
The best face oil for sensitive skin
Specifications
RRP: $142/£114.36
Size: 30ml
Key ingredients: Bakuchiol, sea buckthorn seed oil, rosehip seed oil.
Reasons to buy
+
Hydrating
+
Kind to sensitive skin
+
Brightening
Reasons to avoid
-
Very expensive
-
Not suited to oilier skin
The first thing I would say about this oil is that 'luxurious' feels like the most accurate description of it. It's rich and heavy, but in a nice way if you know what I mean. It's definitely more suited to drier complexions and was a bit too heavy on my skin when I was having a breakout. However, when my skin was particularly parched, this oil offered all the hydration I needed, leaving me with a plump, healthy-looking skin texture.
No surprise there, as it's filled with nourishing, soothing ingredients including bakuchiol, sea buckthorn seed oil, and rosehip seed oil. It packs enough punch to deeply hydrate without irritating. How often you use it would be dependent on your complexion, but for the oilier among us, this would need to be used only before bed. Regardless of whether you have oily or dry skin, you will wake up with a lovely glow.
11. StriVectin Super B Oil
The best face oil with prebiotics
Specifications
RRP: $72/£62
Size: 30ml
Key ingredients: Niacin, vitamin B3, prebiotic blend
Reasons to buy
+
Fast absorbing
+
Hydrating
+
Brightens dull skin
+
Non-comedogenic
+
Suits acne-prone skin
This ultra-nourishing, non-comedogenic face oil from StriVectin comes with an oil-based prebiotic blend that aims to balance the skin's microbiome and StriVectin's barrier-strengthening NIA-114. Just when you thought prebiotics and microbiomes were only related to your gut! Similarly to maintaining gut health, keeping your skin microbiome balanced is an important component in helping keep your skin barrier in tip-top shape.
On testing, I found StriVectin Super B Oil is very light and it soaked into my skin really quickly, without a greasy film forming. I was able to use it while having a breakout of hormonal acne, which didn't aggravate at all and only left a nice hint of sheen on the skin, without clogging it up. The only downside, for me, was the overly sweet scent of this face oil, which although natural (I assume from passionfruit and coconut oils plus shea butter) isn't something I enjoy.
---
How we tested these facial oils
As someone with combination skin and occasional bouts of hormonal acne - not all face oils are going to suit my skin type. In the interest of fairness, I ensured that I tested the products during all seasons of my skin's health. From very dry days to those when I either had acne or congested-looking skin.
After narrowing it down, here's my list of the 11 best face oils, considering the following factors:
Key ingredients
Texture
Absorption
Fragrance
Value for money
What are the benefits of facial oil?
As you may already have learned, face oils are a skincare product designed with moisture and hydration in mind, to create softer and better-nourished skin. Dr Christine Hall, a skincare expert and aesthetic doctor from the Taktouk Clinic explains to us that face oils are an occlusive product. "This means that they create a barrier on the outermost surface of the skin locking in everything that you have applied to your skin beforehand, but also protecting your skin from pollutants and toxins on the outside."
Plastic surgeon and brand founder of Anokha, Dr Nina S. Naidu adds that they're not only useful for locking in moisture - but often feature in the best cleansers too. "Face oils can be used to cleanse, soothe, and hydrate depending upon the specific composition," she says. "They're the ultimate way to customize your skincare regime."
Who should use face oils?
Facialist and cosmetic scientist Sarah Chapman, who founded award-winning skincare brand Skinesis says that anyone can add face oil to their skincare regime - no matter their skin type.
"It's a common misconception that oils and even oil-based cleansers aren't suitable for those with oily skin. Our skin produces its own natural oil – sebum – so oil is easily absorbed through the existing oil pathways and helps the skin to regulate its own production."
Dr Mazin Al-Khafaji, world leading clinician in Chinese medicine and founder of Dermatology M agrees that anyone can use a face oil and that in fact, these trusty products will complement and enhance the skin products you are using. "In combination with moisturizers, they lock in hydration, and they offer a perfect base to use before applying makeup," he explains.
How should you use facial oils?
Face oils can be used as often as twice a day as part of your everyday routine and you might want to do this if you have particularly dry skin, says Hall. "For most though, I would only suggest using it at night and perhaps even less often if you have oily skin - maybe every other night."
Naidu agrees that using face oils in the morning and evening is fine - if it suits your skin type and environment. "If you have very oily skin and live in a humid climate, evening application will be more comfortable," she suggests.
Hall adds that how, and in which part of your skincare routine, face oils are applied is important. As a rule of thumb, she suggests that they should be applied after your moisturizer as the last step in your evening routine and just before the best facial sunscreen in your morning routine.
"They are actually less hydrating than you think when used on their own," warns Hall. "So what you apply and lock in beforehand is really important."
Hall also suggests, for anybody wondering how to use a gua sha, that using the best face oils is a sure-fire way to enhance your gua sha and facial massage as they, "help to reduce pull and tugging on the skin that can lead to inflammation and redness."
Will face oils give me acne?
Putting oil onto an already congested face may seem like utter insanity, and a one-way ticket to breakout central. However, the experts say that isn't the case and that if you're on the quest to discover how to get rid of acne, maybe you actually need an oil.
"Face oils will not give you acne and in some cases can help to control it," explains Naidu. "The key is to use the appropriate facial oil for your specific concern."
Al-Khafaji adds, "it seems counterintuitive to use face oils on acne-prone skin, but some of them are eminently suitable for those experiencing can. They can dramatically improve the appearance of acne-scarred skin, as well as smooth and rebalance the skin so as to prevent further breakouts."
However, Hall believes that for some people facial oils will be too much. "I would say that the majority of people with acne-prone skin will not like using facial oils," she says. "Oils can clog pores and lead to blackheads and spots and if you are adding oils onto already oily skin you are perhaps only adding to the problem."
She explains that some oils are far worse than others and coconut oil is definitely one to be avoided. "That said there are some face oils out there that are non-comedogenic and some people find that they get on fine with [coconut oil] but I would be cautious."
Aoife is Junior News Editor at woman&home.
She's an Irish journalist and writer with a background in creative writing, comedy, and TV production.
Formerly Aoife was a contributing writer at Bustle and her words can be found in the Metro, Huffpost, Delicious, Imperica, EVOKE and her poetry features in the Queer Life, Queer Love anthology.
Outside of work you might bump into her at a garden center, charity shop, yoga studio, lifting heavy weights, or (most likely) supping/eating some sort of delicious drink/meal.