Skincare for dry skin: get smooth, supple, well-moisturized skin with the right care and products
Learn expert tips on skincare for dry skin and why you should definitely believe the hype about hyaluronic acid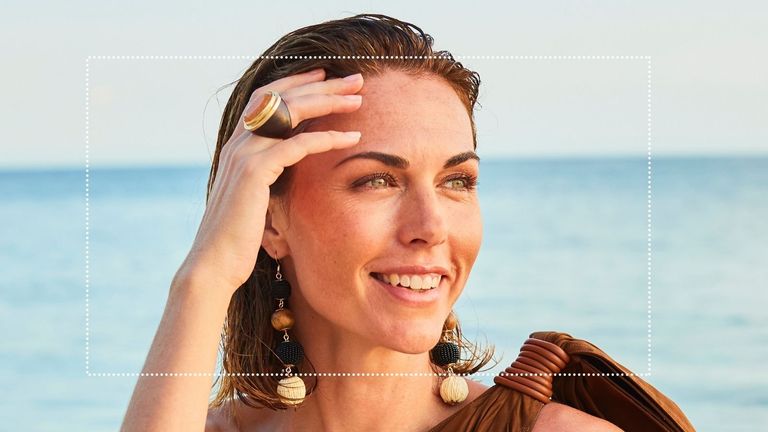 (Image credit: Future)
Do you remember that iconic 1980s skincare commercial that showed a woman spelling out the word "dry" on her hand—and have that chalky, three-letter image be your cautionary tale from there on out? You're not alone, and although certainly not the most accurate representation, that 30-second spot definitely did what it came to do: get you to want to learn more about the correct skincare for dry skin, and crucially, know how to prevent getting dry skin altogether by having a moisturizing product literally on hand.
Haunting skin doodles aside, dry skin doesn't start and end with that glaringly obvious symptom. This common skin condition is actually characterized by a lack of water or moisture in the epidermis, or skin's superficial layer (hence its interchangeability with the term "dehydrated skin"), so more everyday signs can include everything from regular dehydration and tightness to perhaps some flaking, cracking, and roughness in texture, to more visible fine lines to even itching and stinging.
Dr. Erin Kil, MD, a dermatologist at Manhattan's Tribeca Skin Center, provides further context on what exactly makes dry skin, well, dry. "The outer skin layer, also known as the stratum corneum, has lipids between the skin cells. These lipids include ceramides, cholesterol, and free fatty acids. The variation of lipid composition can determine how dry the skin is. A decrease of the lipid components can not only dry out the skin but also disrupt the skin's barrier function and consequently inflame the skin."
So before you camouflage any texture issues with the best foundation money can buy, realize that makeup, even new innovations with formulas touted as "hydrating," can only go so far (you wash them off after the day is done, after all). Rather, developing a solid dry skin regimen that focuses on a proper step-by-step layering of gentle, moisturizing products to not only rehydrate but also keep inflammation at bay is paramount to a complexion that is healthy, well-balanced, and glowing with health.
Skincare for dry skin
What causes dry skin?
Is dry skin something we are born with, or is it acquired? A little bit of both, since though there are genetic factors to consider, many of its symptoms can also occur down the line and flare-up in drier seasons, like during the winter. "Normal skin can become drier in climates with low humidity, as well as with caffeine and alcohol intake, as they are diuretics," Dr. Kil explains. "Certain medications can also dry out the skin, including statins."
And age? "A decrease in estrogen during menopause and low thyroid levels can also dry out the skin. Running a humidifier overnight, especially when an air conditioner or heater is blowing dry air at the same time, can help hydrate the skin."
The best skincare products for dry skin
And yes, there is truth to all that hyaluronic and ceramide buzz. Dr. Kil stresses the importance of these for optimum skin moisturization: "Studies have also shown hyaluronic acid and glycosaminoglycans help hydrate and restore the skin barrier. Products that work best with dry skin are those that help maintain the lipid barrier, including ceramides, hyaluronic acid, and glycosaminoglycans."
The Ordinary Hyaluronic Acid 2% + B5
---
Products to avoid, plus how to use retinols
Are you an exfoliation addict or someone who loves scented skincare? Dr. Kil advises maybe stepping back on being too scrub-happy (or at least tapering off to something less frequent) and laying off the fragrance. "Individuals with dry skin should avoid products that may disrupt the skin's barrier, such as benzoyl peroxide and exfoliators. Furthermore, fragranced products and products with alcohol can irritate the skin."
AlphaRet Overnight Cream
---
The best skincare routine for dry skin
A step-by-step skincare guide
A simple skincare routine for dry skin starts with using a gentle, non-abrasive cleanser, Dr. Kil explains. This is best followed by a serum, moisturizer, and a sunscreen, preferably with zinc oxide.
Step 1: Use a gentle cleanser
CeraVe Hydrating Facial Cleanser
---
Clarins Velvet Cleansing Milk
---
Step 2: Apply a serum
Senté Dermal Repair Cream
---
Step 3: Follow up with a moisturizer
Derma E Hydrating Day Cream
---
Derma E Vitamin C Intense Night Cream
---
Step 4: Top with a zinc oxide sunscreen
EltaMD UV Facial Broad Spectrum SPF 30+ Moisturizing Facial Sunscreen
---
woman&home thanks Dr. Erin Kil, MD of Tribeca Skin Center for her time and expertise.
Eunice Lucero-Lee is the Beauty Channel Editor for woman&home. A lifelong creative writer and beautyphile, she graduated from De La Salle University in 2002 and was hired a year later to front all beauty coverage for Pink Magazine, a teen lifestyle publication, after submitting a page-long thesis on why Stila was the best brand to come out of the Aughts. She was hired an hour later.
Her writing—which has since then expanded to cover pop culture and astrology, both equal passions—led her to spearheading columns in Chalk Magazine, K-Mag, Metro Working Mom, and SugarSugar Magazine. Upon receiving her stripes at New York University's Summer Publishing Institute in 2008 she was immediately headhunted to work as the Beauty Editor, thereafter Managing Editor of Stylebible.ph, the digital home of Preview, the Philippines' best-selling fashion magazine, where she also did double-duty as Associate Editor of the print edition.
It was during this stint that the hallyu wave started taking hold and when she was tapped to co-found Sparkling, Asia's first-ever English K-Pop print magazine. Originally planned as a one-off, the project became a runaway hit and saw her taking Korean classes on the weekends for three years, as she found herself frustrated by the lack of breadth translators provided for celebrity profile coverage. She was Editor-in-Chief until her move to New York in 2013. The now-iconic magazine has remained in publication since 2009 due to massive fan support.
A beauty, astrology, and pop culture obsessive and insider for over 18 years, Eunice is an internationally published editor (and now certified astrologer) whose work has been featured in publications such as Cosmopolitan, Esquire, and The Numinous, among many others. The former Editor-in-Chief of All Things Hair and a (very) proud cat mom, she spends her time in Manhattan figuring out the correct Pilates-to-sushi ratio, obsessing over celebrity natal charts, luxury skincare, and Scandi-noir crime procedurals, as well as finding the perfect K-Pop vid to save the day. She can still order drinks perfectly in Korean. Find her on Instagram @eunichiban.