The cleanest, greenest natural skincare products to suit every skin type
Curious about natural skincare? These are the most effective buys to try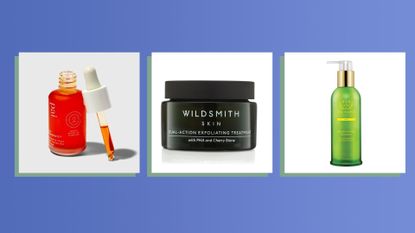 (Image credit: Future)
It can be hard to know what 'natural skincare' really means. This is because the term makes it sound like anything that doesn't come from a plant is 'unnatural' or not good for you, and that is not the case. However, there's nothing wrong with wanting to use a product that contains ingredients that you can quite literally point at and say, "that's in my moisturizer."
However, there are nuances, because a lot of products in your skincare routine probably contain naturally-derived skincare ingredients that you may not even recognize. For example, squalane is in many moisturizers and is actually made from olives and rice bran, while glycerin comes from vegetable fats. Unless you're a cosmetic scientist, terms like persea gratissima extract aren't so obvious—it's avocado oil, in case you are wondering.
But the benefits to your skin make navigating any confusion worth it. "In natural skincare, active ingredients are the functional ingredients that change the skin on a cellular level and are responsible for long-lasting results," explains Lucy Macdougald, Dermal Specialist and Co-Founder of skincare brand Biologi. "An 'active' means it's biologically active. It hasn't been manipulated in any way and works just as it would in its natural habitat. And the higher the activity, the better the results."
How to pick the best natural skincare for you
Why you can trust Woman & Home Our expert reviewers spend hours testing and comparing products and services so you can choose the best for you. Find out more about how we test.
You want to buy natural skincare, but how are you meant to know if that bottle you've picked up is indeed that? "Ignore taglines," says Lucy. "Always look at the ingredients list on the bottle or jar to find out specifically what's in your product."
Naturally derived vs natural: "These are not the same thing. Ingredients that are naturally derived can still be chemically treated and can contain 100% chemical or synthetic ingredients. Make sure you're buying products with natural, not naturally derived ingredients," says Lucy.
Organic vs natural: "I know this sounds mad, but you can grow a plant using organic methods, then negate this during its processing, adding chemicals and preservatives that reduce its integrity and meaning," explains Susie Willis, founder of 100% natural skincare brand, Romilly Wilde.
No water: "The reason some 'naturally-derived' products don't seem to be efficient is that when a natural extract is diluted to make the product stretch further (usually with water) the initially-potent activity reduces. When natural ingredients are formulated with synthetics, they can also lose their ability to actively help the skin," says Lucy.
Fragrances: "Loopholes in the law allow companies to avoid declaring dozens of chemicals that a single fragrance blend could have. Artificial fragrances frequently contain phthalates and can trigger reactions," Lucy explains.
Foam-free: According to Lucy, "foam contains surfactants that are man-made and are not produced by a plant or tree. Natural ingredients should only appear in nature so look for properties (like fragrance or foam) that make it easy to spot synthetics."
Paraben-free: "Parabens are chemicals widely used to preserve cosmetics so they last longer and stretch further. Often a product labeled 'paraben free' is enough for a consumer to make their decision without considering that 'paraben free' products can still contain ingredients or preservatives they don't want to use," says Lucy.
To be sure what ingredients your natural skincare contains, research is your best option. Here, we've done the hard work for you with this tried-and-tested list of the best natural skincare for everyone.
The best natural skincare, chosen by our experts
Natural skincare for dry skin
1. Vintner's Daughter Active Treatment Essence
Best luxury natural skincare product for dry skin
Specifications
RRP: $225/£210
Key ingredients: green tea, oats, apple cider vinegar
Reasons to buy
+
Great for over-sensitized skin
+
A true multitasker
+
Beautiful texture
+
Unique aroma
A luxurious product that's earned super-hero status from those suffering from dry, dull, and sensitive skin. As long as you like the smell (it's free from fragrance, but the potent, natural botanicals do give it a powerful aroma) then you will be very happy with what you find.
This essence does much more than just hydrate the skin. It contains fortifying ingredients to help strengthen the skin barrier, whilst also gently exfoliating and also making your skin brighter. This is thanks to vitamin C from kakadu plums. Apply after your best cleanser, pat into the skin, and say hello to radiant, glowy skin that feels soothed and hydrated.
2. Nourish Kale Anti-Ageing Eye Cream
Best budget natural skincare product for dry skin
Specifications
RRP: $53/£30
Key ingredients: kale, maqui berry, pomegranate enzymes
Reasons to buy
+
Targets fine lines and dark circles
+
Vegan formulation
+
Light texture
Reasons to avoid
-
If you don't use an eye cream
If you're searching for the best eye cream that also boasts a natural ingredient list, step this way. Firstly, this lightweight creamy eye cream drenches dry skin with moisture so will make crepey, dehydrated under eyes look alive again.
It's also a must if you have sensitive eyes or wear contacts and are on the lookout for something that's super gentle. This is thanks to kale extract, argan oil, peptides, and antioxidants that not only pack a serious skincare punch but won't aggravate. It's also Soil Association certified organic, so you can rest assured that no nasties have gone into it.
3. Tata Harper Regenerating Cleanser
Best natural cleanser for dry skin
Specifications
RRP: $86/£75
Key ingredients: pomegranate enzymes, coral clay, aloe vera
Reasons to buy
+
Cult status
+
Super hydrating
+
Tingly-fresh
+
Sustainable packaging
Expensive, yes, but worth every penny. This cleanser (which smells amazing by the way) is fantastic for all skin types but is particularly good for dry skins that can't take the harsh, stripping qualities of everyday cleansers.
Hypoallergenic with natural ingredients, this non-foaming cream does a great job of lifting away impurities, gently exfoliating for skin smoothing properties all whilst leaving skin feeling comforted and velvety smooth and soft.
4. Aurelia Cell Revitalise Night Moisturiser
Best natural night cream for dry skin
Specifications
RRP: $48/£32
Key ingredients: neroli, rose, rosehip
Reasons to buy
+
Contains probiotics
+
Smells like a spa
+
Super gentle
Suitable for all skin types, this rich and buttery night rescue cream is full of natural botanicals to hydrate and soothe dry, irritated skin. This makes it a perfect choice in skincare for dry skin, or for sensitive skin types.
Pollution and stress can make irritation worse, but this probiotic formula neutralizes the effects of these aggressors, so your skin is left healthy, calm, and moisturized. And if your complexion is really dry, your skin may enjoy drinking it up so much that you can use it as a day cream too.
5. Pai Rosehip Bioregenerate Face Oil
Best natural face oil for dry skin
Specifications
RRP: $44/£24
Key ingredients: rosehip seed extract, rosemary extract, vitamin E
Reasons to buy
+
Leaves skin feeling really soft
+
Little goes a long way
+
Dewy finish
+
Soothing effects
Pai is an industry favorite brand for organic, natural skincare that's been formulated for sensitized skin and has achieved cult status for this standout rosehip oil.
This multi-tasking product increases cell turnover to get to work on uneven skin tone, dullness, fine lines and help you nail how to get rid of pimples over time. Most importantly, it acts as a comforting and hydrating blanket for dry skin. Apply a few drops onto freshly cleansed skin and wait for it to sink in before applying make-up.
Natural skincare for oily skin
6. Romilly Wilde Light + Energy Serum Cleanser
Best luxury natural skincare product for oily skin
Specifications
RRP: $80/£58
Key ingredients: saffron, seabuckthorn, manuka extract
Reasons to buy
+
Natural skincare done very well
+
Balances oil levels
+
Luxurious feel and aroma
Not only can you use this as a daily cleanser but you can leave the unique golden cleansing serum on the skin for 20 minutes as one of the best face masks for deep hydration, as the lipids it contains really soften the skin. The balmy texture removes every trace of make-up and doesn't strip the natural oils from the skin, an absolute must for combination skin cleansers, to keep everything balanced.
7. Youth To The People Superfood Cleanser
Best natural skincare product for cleansing combo/oily skin
Specifications
RRP: $36/£12
Key ingredients: alfalfa, spinach, green tea
Reasons to buy
+
Leaping bunny approved
+
Gorgeous fresh scent
+
Good value
Newly launched in the UK, this brand propelled its way to the top of the natural skincare charts. And this nutrient-dense gel cleanser is the star of the show.
It lathers up to remove impurities making it a perfect choice of skincare for oily skin, plus it will balance the pH of the skin so your skin doesn't go into oil overload. Think of it as a green shot of goodness for your skin, it is packed with all the vitamins and natural antioxidants your skin needs to thrive.
8. Chantecaille Pure Rosewater
Best multitasking natural skincare for oily skin
Specifications
RRP: $75/£66
Key ingredients: artesian well water, rose de mai
Reasons to buy
+
Anti-inflammatory
+
Contains the iconic rose de mai
+
Ultra-luxurious
+
Versatile product

Reasons to avoid
-
If you don't like rose, you won't like this
This gorgeous rose water has recently changed its formulation so that it is now totally natural. In fact, you would be hard pushed to find a product that's 'purer', because this only contains two ingredients. There's water—but don't worry it's been seriously purified—and the extract and essence from the rose de mai.
If you haven't heard of rose de mai, this is a one-of-a-kind rose, grown in Grasse, South of France where it can only be harvested for a few days in May (hence the name and the price tag). It is known to moisturize, tone, and purify the skin plus you can use it to fix flyaway hairs, as one of the best makeup removers or setting sprays for a dewy makeup look.
9. Evolve Organic Beauty Liquid Radiance Glycolic Toner
Best natural toner for oily skin
Specifications
RRP: $28/20
Key ingredients: willow bark, fruit AHAs, Galactoarabinan (from the Western Larch tree)
Reasons to buy
+
Can buy a pump-free version
+
Exfoliates effectively
+
Gorgeous orange flower scent
Reasons to avoid
-
Natural acids could be drying

Oily skin needs to be regularly but gently exfoliated to prevent skin from getting clogged up. The natural AHA skincare acids in this lightly slough away any dead skin cells, oil, and debris.
There is also willow bark, which is a natural beta-hydroxy acid and a must for clearing out pores, plus galactoarabin keeps skin perfectly hydrated. Apply to cleansed skin either directly with your hands or on an eco-cotton pad and use a few times a week.
10. Wildsmith Dual-Action Exfoliating Treatment
Best natural skincare treatment for oily skin
Specifications
RRP: £55 (UK only)
Key ingredients: bromelain (pineapple enzymes), cherry stone powder, glycolic acid
Reasons to buy
+
Very effective
+
Sleek and cool packaging
+
Sustainable brand
Reasons to avoid
-
AHAs will tingle slightly
Yes this is theoretically an exfoliating treatment, but it's so balmy that it almost feels like a cleanser too. Like many of the best facial exfoliators, this does have a grittiness to it, thanks to cherry stones, that get to work on de-clogging pores as well as fruit acids that dissolve and slough away dead cells on the surface of the skin making it look brighter, plumper and fresher.
Natural skincare for sensitive skin
11. Biologi BF Restore Face & Body Serum
Best luxury natural skincare product for sensitive skin
Specifications
RRP: £47 (UK only)
Key ingredients: vitamin C, ferulic acid, citrus australasica (from finger lime)
Reasons to buy
+
Can be used on the face and body
+
Sinks in quickly
+
Soothes and nourishes
Packed with antioxidants this is a brilliant serum option for anyone with sensitive skin. It not only soothes irritated skin but also contains ferulic acid and Vitamin C, two powerful antioxidants that get to work on making the skin stronger to reduce sensitivity going forward.
Apply to dry skin every other day if your skin isn't too sensitive, but daily if it is. It doesn't leave a greasy residue or sheen on the skin but leaves it feeling velvety smooth.
12. Green People Scent-Free Facial Suncream SPF30
Best budget natural skincare for sensitive skin
Specifications
RRP: $38.39/£19
Key ingredients: aloe vera, green tea, edelweiss
Reasons to buy
+
Broad-spectrum SPF
+
Doesn't leave a residue
+
Fragrance-free
Sensitive skin is prone to conditions like prickly heat and rosacea in the sunshine, so good sun protection is vital. This SPF30 was formulated without fragrance (which tends to crop us in even the best facial sunscreens) plus it contains calming aloe vera and green tea to soothe redness while it protects.
13. Kiehl's Calendula Petal-Infused Calming Mask
Best natural skincare mask for sensitive skin
Specifications
RRP: $45/£35
Key ingredients: calendula, aloe vera
Reasons to buy
+
Feels wonderful on the skin
+
There are no dud Kiehl's products
+
Calming and hydrating
Reasons to avoid
-
Needs 15 minutes to work
When your skin is in crisis—by which we mean, red, flushed, irritated, or itchy—apply a layer of this soothing, calming face mask. The natural anti-inflammatory effect of calendula will quash redness and make blotchiness disappear.
The gel formula has an immediate cooling effect upon application which feels lovely on hot, tight skin, you will need to leave it on for 15 minutes for the best effects, but it is well worth the wait.
14. Willowberry Sensitive Face Oil
Best natural skincare oil for sensitive skin
Specifications
RRP: £26.99 (UK only)
Key ingredients: rosehip, chia seed, vitamin E
Reasons to buy
+
Doesn't contain essential oils
+
Sinks in easily so can be used during the day
+
lovely new scent
This boasts the same formula as Willowberry's cult-favorite Nutrient Boost Face Oil but with potentially-irritating essential oils removed! It's super lightweight and glides onto the skin beautifully without stickiness and nourishes the skin with vitamins, antioxidants, and essential fatty acids for a really radiant-looking complexion.
It has a fairly light texture that works perfectly during the day and under makeup (unlike many face oils) and creates a great base for whatever you apply next.
15. Ren Evercalm Global Protection Day Cream
Best everyday natural skincare product for sensitive skin
Specifications
RRP: $49/£38
Key ingredients: blackcurrant seed oil, camellia oil, sea buckthorn oil
Reasons to buy
+
Packaging is made from recycled plastic
+
Nourishes skin
+
Hydrates and soothes
No frills, no fuss, just soothing hydration from an essential day cream. Full of calming, naturally nourishing seed oils, this day cream reduces redness and restores balance back to irritated skin.
We found the texture of this a little thicker than some of the best face moisturizers on the market, so you may need to let it sink in a little longer before applying makeup. However, that rich, hydrating layer it creates does feel incredibly soothing, making this a great choice for those with rosacea or highly sensitized skin.
---
woman&home thanks Lucy Macdougald for her time and expertise
Emma North is a Beauty Writer who works for digital titles including woman&home, Woman, Woman's Weekly, Woman's Own, Chat and GoodtoKnow. Emma's career in beauty journalism began with internships at publications including Vogue, Elle, The Telegraph and Glamour. She was then taken under the wing of Funmi Fetto, Contributing Beauty Editor at Vogue where Emma assisted with Funmi's debut beauty book, Palette.