The most effective natural skincare that won't irritate your skin
Sensitive skin? These natural skincare products will work for you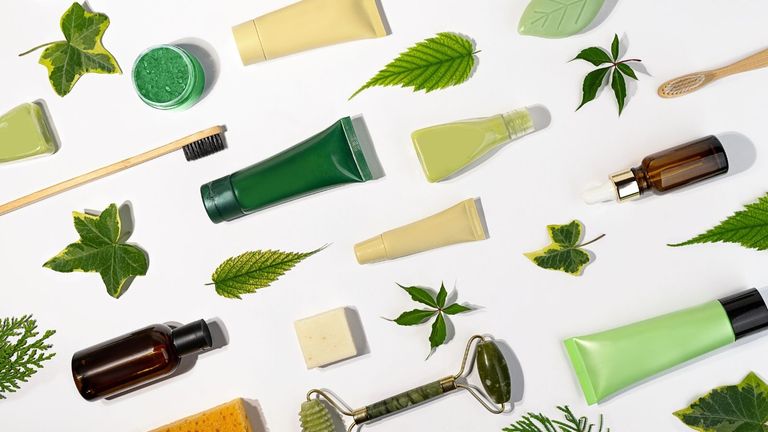 (Image credit: Getty)
By Emma North
More of us are turning to natural skincare products than ever before, but for some, natural skincare can cause irritation. We put a selection of plant-based skincare products to the test, and these are the ones that came out on top - minus the irritation.
Natural beauty is a huge trend in the beauty industry, and the market is growing, but according to Mintel's Facial Skincare Report, over 32% of women would describe their skin as sensitive. With natural skincare sometimes containing irritating ingredients like essential oils, it can be a struggle to find products that are effective and tolerable for your skin.
We've conquered the best mascaras for sensitive eyes and makeup for sensitive skin but, what about naturally-derived skincare that's suitable for sensitive skin types?
Luckily, the boom in natural beauty and 'clean beauty' has driven the demand for products free from irritants, meaning there is natural skincare out there that is soothing, non-irritating, and available for everyone to enjoy. So, if you experience redness, itching, swelling, and inflammation from your products, try our pick of the best natural skincare products that won't cause you skin troubles.
What is natural skincare?
Defining natural skincare can be tricky. It's not a legislated term, but essentially, it means products contain ingredients sourced from nature.
A lot of beauty products already contain naturally derived ingredients that you may not even recognize. For example, squalane is in many moisturizers and is actually made from olives and rice bran, while glycerin, from vegetable fats. Unless you're a cosmetic scientist, some of the more confusing terms like persea gratissima extract aren't so obvious - it's simply avocado oil, in case you are wondering!
To be sure of what ingredients your natural skincare product contains, researching them before you buy is your best option. But, if you're looking for a recommendation, we've done the hard work for you and listed our favorite natural skincare products here.
Natural skincare for sensitive skin
Kiehl's Calendula Petal-Infused Calming Mask
Best natural skincare product for sudden irritation
When your skin is in crisis, apply a layer of this. The naturally calming effect of calendula will soothe redness and make blotchiness disappear. It has an immediate cooling effect upon application which feels lovely on hot, tight skin.
Willowberry Sensitive Face Oil
Best natural skincare product for sensitive skin
The same formula as their cult-favorite Nutrient Boost Face Oil but with irritating essential oils removed! It's super lightweight and glides onto the skin beautifully, without stickiness, and nourishes the skin with vitamins, antioxidants, and essential fatty acids for a really radiant-looking complexion.
Youth To The People Superfood Cleanser
Best natural skincare product for cleansing combo/oily skin
Newly launched in the UK, this brand propelled its way to the top of the natural skincare charts. Their nutrient-dense gel cleanser lathers up to remove impurities without stripping the skin of its natural oils. A winner for all skin types, including sensitive skin.
Tata Harper Regenerating Cleanser
Best natural skincare product for cleansing dry, flaky skin
Expensive, yes, but worth every penny. This cleanser is fantastic for sensitized skin that can't take the harsh, stripping qualities or everyday cleansers. Hypoallergenic with natural ingredients, this non-foaming cream does a great job of lifting away impurities but leaves skin feeling comforted.
Green People Scent-Free Facial Suncream SPF30
Best natural skincare product for sun protection
Sensitive skin is prone to conditions like prickly heat and rosacea in the sunshine, so good sun protection is vital. This SPF30 was formulated without fragrance (which is in most sunscreens) but contains calming aloe vera and green tea to soothe redness while it protects.
Aurelia Cell Revitalise Night Moisturiser
Best natural skincare product for overnight hydration
Suitable for all skin types, including sensitive skin, this night rescue cream is full of natural botanicals to hydrate and soothe dry, irritated skin. Pollution and stress can make irritation worse, but this probiotic formula neutralizes the effects of these skin aggressors, so your skin is left healthy, calm, and moisturized.
Pai Rosehip Bioregenerate
Best natural skincare product for dull skin
Industry favorites for organic, natural skincare that's been formulated for sensitized skin, Pai have achieved cult status for their standout rosehip oil. This multi-tasking product gets to work on uneven skin tone, blemishes, dullness, and fine lines and has proven to be a favorite amongst sensitive skin owners.
Ren Evercalm Global Protection Day Cream
Best natural skincare product for all-day hydration
No frills, no fuss, just soothing hydration from an essential day cream. Full of calming, naturally nourishing seed oils, this day cream reduces redness and restores balance back to irritated skin. It's perfect for those with rosacea or highly sensitized skin.
Nourish Kale Anti-Ageing Eye Cream
Best natural skincare product for eyes
Kale extract and argan oil, bio-peptides, and antioxidants make this multi-award-winning vegan cream a gentle giant for sensitive eyes. It's Soil Certified Organic, so no, you can rest assured that no nasties have gone into it.
Vintner's Daughter Active Treatment Essence
Best natural skincare product for getting a glow
A luxurious product that's earned super-hero status from those suffering from dry, dull, and sensitive skin. If you can get past the smell (it's free from fragrance, but the potent, natural botanicals do give off a whiff of vinegar), then say hello to radiant, glowy skin that feels soothed and hydrated.
Emma North is the Beauty Writer at Future Publishing working across print and digital titles including woman&home, Woman, Woman's Weekly, Woman's Own, Chat and GoodtoKnow.
Before pursuing a career in beauty journalism, Emma worked as international cabin crew for over 4 years. Travelling around the globe and working night flights across several time zones at once, she is the perfect person to judge whether makeup and skincare claims actually hold up. If you want to know which foundations last 18+ hours or how to keep your lipstick looking flawless in 40º weather, she's your go-to girl.
Emma's flying career came to an end when she realised that beauty journalism was her true passion and she undertook internships across publications including Vogue, Elle, The Telegraph and Glamour. She was then taken under the wing of Funmi Fetto, Contributing Beauty Editor at Vogue where Emma assisted with Funmi's debut beauty book, Palette.
Her big passion is finding truly beneficial skincare but, when she's not testing out the latest products, you'll find her trying to muscle her way into London's best restaurants or relaxing at home in Devon with her dogs.