The Best Micellar Water Cleansers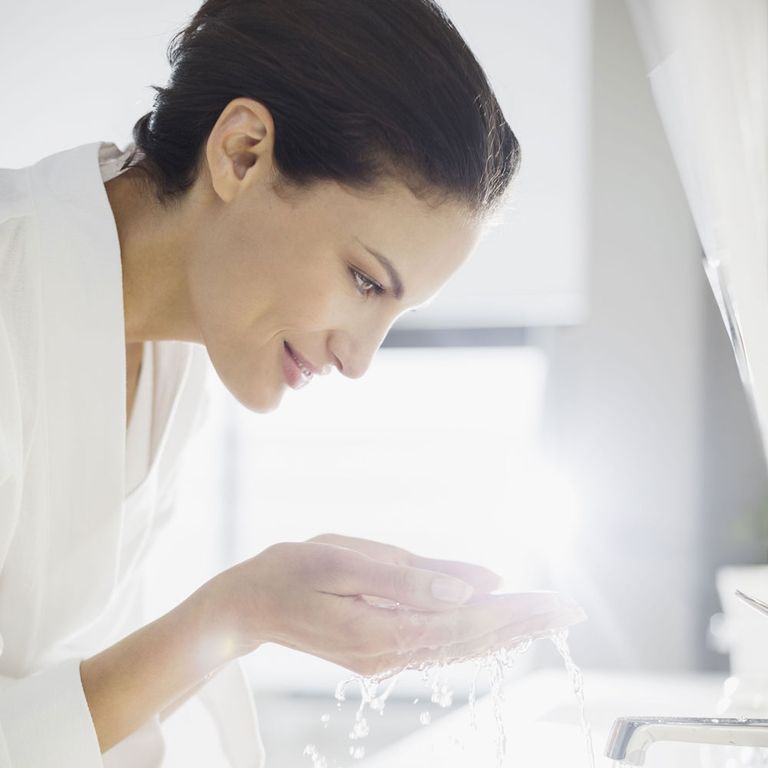 Quick, easy and chemical-free - what's not to love about the latest beauty innovation, the micellar water cleanser?
You've probably heard of micellar waters; cleansers that glide on with a cotton pad (mostly), lift away makeup and dirt with ease, and are a so-very-French step in your skincare regimen. Micellar technology sees micelles - tiny balls of cleansing molecules that float in water - trap impurities effectively and purify without the need for scrubbing. Good news for fragile skins, right? But there's more...
You see, micellar waters are a French skincare secret that rose to fame in Parisian pharmacies, where the water is notoriously hard and damaging to skin. To avoid splashing the stuff on their faces, Parisian women began cleansing with gentle micellar waters - and soon we were all reaping the purifying benefits.
Any skin type can benefit from cleansing with micelles, whether you're tackling an oily t-zone or trying to remove makeup from skin that's prone to irritation. Simply pour one onto a cotton pad (unless otherwise instructed), and glide it on as you would a toner - there's no need to rinse it off afterwards. We've rounded up a whole host of the easy and speedy to use cleansers, from traditional micellar waters to micellar gels and even micellar oils.
Keep clicking through the gallery to see our round-up of the best micellar cleansers. Harness the power of micelles and your skin will thank you for it - promise.
For further skincare recommendations, check out our sister beauty site Powder. By logging on and filling in what you look for in a product, you'll receive bespoke recommendations chosen by beauty editors from some of your favourite magazines. What could be better?
Simple Water Boost Micellar Cleansing Water, £6.99
It's easy to see why Simple's original Micellar Water is such a mega-seller; it's a bargain, cleans very well and is so gentle it's unlikely to bother even the most reactive of skins. So why change the winning formula? Because this new Water Boost variety does all that and more! It's still got all the good stuff - triple purified water to sift out potential irritants, vitamin B3 to soften and of course those oil and grime-lifting micelles - but now you also get a bit of hydration bang for your buck too thanks to Pentavitin, a plant extract that draws in and traps moisture in your skin. So not only do you get an easy-peasy cleanse, you get one that leaves your skin surprisingly soft and plump. You'll still want to moisturise afterwards, of course, but if you have dry or dehydrated skin that usually feels tight after cleansing, this will help get you on the way to feeling nice and comfy again. Buy Simple Water Boost Micellar Cleansing Water, £6.99, at Superdrug.com
ESPA Purifying Micellar Cleanser, £25
Definitely the most luxurious option on our list, and you get so much back for that investment. The formula is infused with all kinds of skincare goodies like hyaluronic acid, soothing rosewater and with hazel to clarify. It feels beautiful, silkier than most micellar waters, with a gorgeous spa-like fragrance thanks to natural floral extracts. Even the packaging is a cut above; a lovely matte bottle you'd be proud to display in your bathroom, with lockable pump-action that makes for easy cotton pad dispensing and zero risk of leaks when you travel. Buy ESPA Purifying Micellar Cleanser, £25, at Espaskincare.com
Eucerin Dermatoclean, £9
Eucerin is Europe's best-kept skincare secret. A sister of Nivea this dermatological skincare brand is absolutely huge on the continent and it's easy to see why: Products that meet real womens' needs, never ever irritate, don't include silly 'buzzy' ingredients (only ones that do an actual job) at no-nonsense prices. It may not look glamorous, but your skin prefers sensible to sexy anyway. This 3-in-1 Micellar is a great example of the sort of skincare Eucerin excels at. Swiped on with a cotton pad it removes every inch of makeup, even stubborn waterproof mascara, but feels cooling and softening, not drying, on skin thanks to the handy inclusion of Hyaluronic Acid. This giant 200ml bottle is only £9 and will last you the entire summer. BUY IT NOW for £9 at Boots.com
B. Pure Micellar Water, £4.99
B. Pure Micellar Water packs three functions into one bottle. The gentle micellar water cleanses by removing impurities and makeup, tones by restoring your skin's pH balance and leaves you feeling refreshed with cucumber extract. Use it every morning and evening for beautiful results. BUY IT NOW for £4.99 at Superdrug.com
Elemis Micellar Water, £24
Elemis Micellar Water will clear your complexion, giving you the radiance you've always wanted. It has been infused with organic English Rose water and anti-oxidant rich Chamomile so that your skin is cleansed as gently as possible. During a survey in 2015, 85% of users agreed that using the micellar water resulted in visibly clearer skin. BUY IT NOW, for £24 at Elemis.com
Clinique Take The Day Off Micellar Cleansing Wipes, £16
Oversized, super saturated and most importantly kind, Clinique Take The Day Off Micellar Wipes, £16, swipe away make-up, dirt and excess grease after a long day. Unlike other face wipes which can be drying, these handy towelettes are drenched in Micelles - sophisticated molecules that purify, hydrate and soothe sensitive skin. Immensely popular in Paris, micellar water is the go to cleanser for French women. Instead of lugging around a bottle and cotton wool pads, pop this pack into your suitcase before your next holiday. BUY IT NOW for £16 at clinique.co.uk
Embryolisse Micellar Lotion, £12.70
Where better to pick up a French skincare sensation than from a famed French pharmacy brand? Embryolisse has pumped this lotion with the most soothing of pores purifiers. Clarifying witch-hazel water combines with calming camomile, glycerin and those grime-busting micelles to tackle stagnant makeup and even pollution. As a pleasing bonus, its deep cleansing abilities are kind to fragile faces, too? BUY IT NOW for £12.70 at Feelunique.com
Sanctuary Foaming Micellar Water, £8
Enjoy revitalized skin with Sanctuary's Foaming Micellar Water which combines refreshing rose water and nourishing oil with micelles to gently lift away the day's toxins. Simply pump one or two puffs of the micellar foam onto a clean cotton pad for a fuss free way to wipe away impurities. BUY IT NOW for £8 at Boots.com
Dr. Andrew Weil for Origins Mega-Mushroom Skin-Relief Micellar Cleanser, £27.50
As is, micellar waters are the perfect pick for delicate skins. Origins Mega-Mushroom cleanser simply boosts those pore-loving benefits. It's a remarkably nourishing, sweep-on number that harnesses rice bran extracts to render pollution harmless as micelle molecules trap morsels of dirt and oil. Meanwhile, that famous Mega-Mushroom blend steps in to soothe aggravated skin - and, if you've tried the serum of the same range, you'll know what a wonderful thing that is. BUY IT NOW for £28 at Origins.co.uk
La Roche-Posay Makeup Remover Micellar Water Gel, £12
If you like something a little more viscous than a water, La Roche-Posay has suspended micelles into a cleansing gel that's an utter joy to sweep over your face. Use it to tackle stubborn eye makeup, foundation and excess oil, and you won't feel a trace of product left behind - just pure, supple and comforted skin. BUY IT NOW for £12.49 at Superdrug.com
Vichy Purete Thermal Beautifying Cleansing Micellar Oil, £13.75
Prefer a little lather with your cleanse? Vichy's Micellar Oil can lift makeup with the best of them, and transforms into a soothing milk on contact with water. Smooth it over dry skin, gently splash your face at the sink, then massage the cleanser in to dissolve mascara, foundation and any other dregs of grime. Suitable for dry to oily skin types - cleansing oils work wonders on shiny t-zones - a dose of camellia oil leaves cheeks feeling soft and supple after rinsing. BUY IT NOW for £11.90 at Escentual.com