The best micellar water cleansers for fast, gentle makeup removal
Find the best micellar water and you'll have easy, speedy cleansing at your fingertips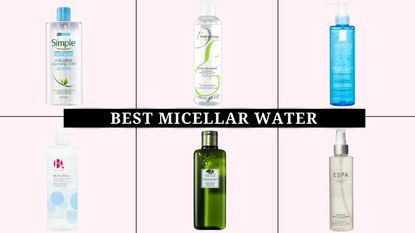 (Image credit: Future)
The best micellar water is a hotly contested topic because just about everyone with a skincare routine has used micellar at some point. These facial cleansers exploded onto the international beauty scene during the French skincare boom of the early '00s and have been a skincare shelf staple ever since.
It's easy to see why micellars have such enduring popularity in the modern skincare routine. They are inexpensive (mostly), glide on in seconds and lift away makeup and dirt with ease. This winning combination of convenience and effectiveness comes down to micellar technology—tiny surfactant molecules called micelles that can draw makeup and grime out of the skin, usually held in a watery base liquid. This makes them a cut above their swipe-on cleanse predecessor, the face wipe, both for effectiveness and (providing you apply micellar on a reusable pad, which you absolutely should) for the environment too.
That said, most beauty experts would not recommend you throw away all your best cleansers and replace them with micellar water. If you wear makeup or SPF, live in a polluted environment, or even if none of the above applies, knowing how to wash your face properly using a cleanser and water is still crucial. Micellar is an excellent product for the first stage of washing your face, meaning the removal of makeup and surface-level grime. It's also useful for those evenings when a deep double cleanse with the best cleansing balms just isn't going to happen. Think flights, late nights, a pre-dinner makeup refresh or falling down with exhaustion after a long day of childcare. Consider micellar your first strike in the battle for great skin and it will work hard on your behalf.
How to pick the best micellar water for you
Why you can trust Woman & Home Our expert reviewers spend hours testing and comparing products and services so you can choose the best for you. Find out more about how we test.
Although they all work on the same principle, the best micellar waters can vary in terms of who they best suit. As with any beauty product budget is a key consideration, and honestly, we've found price doesn't directly correlate to quality here in the same way it usually does with things like the best foundation. Some of the best micellar waters are also the most reasonably priced ones—happy days!
As micellar waters look and act a lot like toners, plenty of them also pack in treatment toner-type ingredients.
If you have oily skin, micellars with beta hydroxy acids such as salicylic acid or Vitamin B3 aka niacinamide tend to make the best cleansers for acne as they can help regulate oil production and keep pores free of debris.
If you have dry skin, the best micellar water for dry types may include oil-based surfactants, to soften as it cleans, or for dehydration (which can happen to any skin type, dry or oily) look for micellar containing hyaluronic acid.
If you have sensitive skin you should watch out for alcohol or fragrance-heavy products, particularly from traditional French pharmacy brands which tend to be keen on perfuming their products.
Finally, think about your lifestyle and habits. If you wear eye makeup daily then an eye-sensitive formula that's designed for this area is a must. If you're skincare savvy and planning to cleanse properly after every micellar swoop something gentle that simply gets the process going will suit. If this is a "break in case of emergency" bottle for the occasional late night, then something hardcore that gets the job done quickly will suit. Double vs single cleansing aside, how often should you wash your face for happy skin? The experts agree that twice a day is best.
The best micellar water, as chosen by our experts
1. Bioderma Sensibio H2O
The best micellar water overall
Specifications
RRP: £11
Skin type: All
Key ingredients: Cucumber extract, rhamnose
Reasons to buy
+
Gentle on skin and eyes
+
Very effective cleaning
+
Unfragranced
This bills itself as the "OG" micellar water, and while we can't corroborate whether this was indeed the original skincare formulation to use micelles, it's certainly the first micellar we remember beauty editors stuffing into their suitcases after a trip to Paris.
As well as deserving respect for bringing micellar to our shores, Bioderma's classic product also deserves props because it is truly excellent. It cleans efficiently and effectively but is so gentle it does so without irritating or making your eyes water (ideal if you've never managed to nail how to remove mascara with micellar, sting-free) It feels refreshing without being drying or overly astringent and leaves skin feeling soft and slightly plumped. It's also great value and can be bought in tiny little bottles for travel, giant ones for stocking up purposes and several sizes in between. In short, everyone should have a bottle of this in their house.
2. ESPA Purifying Micellar Cleanser
The best luxury micellar water
Specifications
RRP: £27
Skin type: Normal to dry
Key ingredients: Rosewater, hyaluronic acid
Reasons to buy
+
Luxurious
+
Soothing and hydrating formula
+
Great packaging
Definitely one of the most luxuriously priced options on our list, but you get so much back for that investment. The formula is infused with all kinds of skincare goodies like hyaluronic acid, soothing rosewater and witch hazel to clarify. It feels beautiful, silkier than most micellar waters, with a gorgeous spa-like fragrance thanks to natural floral extracts.
Even the packaging is a cut above, a chic matte bottle you'd be proud to display in your bathroom, with slick pump-action that makes for easy cotton pad dispensing and zero risk of leaks when you travel. This is micellar not as a staple, but as sensory, aspirational skincare—if that doesn't appeal to you, you'd be the first.
3. Simple Water Boost Micellar Cleansing Water
The best budget micellar water
Specifications
RRP: £4.99
Skin type: Dry or dehydrated
Key ingredients: Vitamin B3, purified water
Reasons to buy
+
Softness-boosting
+
Great value
+
Fragrance free
It's easy to see why Simple's Micellar Water is such a mega-seller—it's a bargain, cleans very well and is so gentle it's unlikely to bother even the most reactive of skins. This Water Boost variety does all that and more. It's still got all the good stuff, triple purified water to sift out irritants, Vitamin B3 to soften and of course those oil and grime-lifting micelles. You also get a bit of hydration bang for your buck thanks to pentavitin, a plant extract that draws in and traps moisture in your skin.
So not only do you get an easy-peasy cleanse, you get one that leaves your skin surprisingly soft and plump. You'll still want to moisturise afterwards, of course, but if you have dry or dehydrated skin that usually feels tight after cleansing, this will help get you on the way to feeling nice and comfy again.
4. Eucerin Dermatoclean Micellar Cleansing Fluid
The best micellar water for dry skin
Specifications
RRP: £9
Skin type: Normal to dry
Key ingredients: Hyaluronic acid, glycerin
Reasons to buy
+
Hydrates and nourishes
+
Sensible formula
+
Good value
Eucerin is Europe's best-kept skincare secret. A sister of Nivea, this dermatological skincare brand is absolutely huge on the continent and it's easy to see why. These products meet real women's needs, never ever irritate and don't include silly 'buzzy' ingredients, only ones that do an actual job. It may not look glamorous, but your skin prefers sensible to sexy anyway.
This 3-in-1 Micellar is a great example of the sort of skincare Eucerin excels at. Swiped on with a cotton pad it removes every inch of makeup, even stubborn waterproof mascara, but feels cooling and softening on the skin thanks to the handy inclusion of hyaluronic acid. This giant 200ml bottle is a bargain and will last you for a good few months.
5. B.Pure Micellar Water
Best drugstore micellar water
Specifications
RRP: £3.99
Skin type: Normal to sensitive
Key ingredients: Cucumber extract, aloe vera leaf juice
Reasons to buy
+
Very gentle
+
Excellent value
This smart buy from Superdrug's very well-regarded in-house skincare range is a great basic for anyone whose skin tends to be a bit reactive. The gentle micellar water cleanses by removing impurities and makeup and leaves the skin feeling refreshed with cucumber extract.
It's fragrance free and contains soothing chamomile and hydrating aloe vera leaf juice. The super mild formula may not have the sort of active formula that makes changes to your skin, nor does it claim to, but using it every morning and evening would certainly guarantee soft, clarified skin that's ready for your proper cleanser.
6. Clinique Take The Day Off Micellar Cleansing Towlettes
Best micellar water wipes
Specifications
RRP: £18
Skin type: All
Key ingredients: Micellar, antioxidants
Reasons to buy
+
Gentle effective formula
+
Quality, saturated wipe
+
Air-proof packaging
Reasons to avoid
-
Wipes not for everyday use
Huge, highly-saturated and most importantly kind, Clinique Take The Day Off Micellar Wipes swipe away make-up, dirt and excess grease after a long day. Obviously, face wipes shouldn't be anyone's go-to for everyday use, but in some occasions such as camping trips where you won't have access to water, there is no denying how handy a saturated towelette can be.
Unlike other face wipes which can be full of alcohol and quite drying, these are drenched in sophisticated micellar molecules to gently ease away makeup and grime, plus antioxidant arginine to help protect skin from environmental damage. Pop this pack into your case before your next hand luggage only trip where liquids are precious, or for a weekend festival and you'll probably be very glad you did.
7. Embryolisse Micellar Lotion
Best micellar water for oily skin
Specifications
RRP: £16.99
Skin type: Oily to combination
Key ingredients: Glycerin, witch hazel
Reasons to buy
+
Clarifying formula
+
Very effective cleansing
+
Sensitive skin friendly
Where better to pick up a French skincare sensation like micellar water than from a famous French pharmacy brand? Embryolisse has pumped this lotion with the most soothing of purifying agents, plus clarifying witch hazel water and lactic acid, a gently exfoliating skincare acid making this a great option for oily or blemish-prone skin.
The formula also includes calming camomile, glycerin and those grime-busting micelles to tackle stagnant makeup and even pollution. As a pleasing bonus, thanks to an alcohol and fragrance free formula, this is a kind choice for sensitive skin too.
8. Sanctuary Foaming Micellar Cleansing Water
Best foaming micellar water
Specifications
RRP: £4
Skin type: All
Key ingredients: Argan oil, rose water
Reasons to buy
+
Unique texture
+
Refreshing feel
+
Nourishing ingredients
Call it a Pavlovian response to childhood bubble baths, but there is something about products that work into a good old-fashioned lather that just makes our skin feel cleaner. If you like the convenience of micellar water but miss a bit of foaming action this product is the best of both worlds.
The refreshing formula combines rose water and nourishing oil with micelles to gently lift away grime and leave skin feeling ultra-fresh. Simply pump one or two puffs of the micellar foam onto a clean pad and swipe over skin as usual for a fuss-free yet bubbly makeup removal session.
9. Dr. Andrew Weil for Origins Mega-Mushroom Skin-Relief Micellar Cleanser
Best micellar water for sensitive skin
Specifications
RRP: £30
Skin type: Sensitive, reactive
Key ingredients : Mushroom extracts, berry ferment
Reasons to buy
+
Ultra soothing
+
Protects and calms
+
Luxurious experience
We know the best micellar waters can be a good choice for sensitive skin compared with astringent makeup removers, and Origins Mega-Mushroom offering packs in a cornucopia of soothing ingredients to supercharge those benefits.
This nourishing, sweep-on number includes rice bran extract to combat pollution-induced dullness as micelle molecules trap morsels of dirt and oil. Meanwhile the brand's famously anti-inflammatory mega mushroom complex soothes and calms an aggravated complexion. If you've tried the brand's cult products within this range, you'll know what a wonderful thing that is.
10. La Roche-Posay Makeup Remover Micellar Water Gel
Best micellar water for stubborn makeup
Specifications
RRP: 13
Skin type: Normal to sensitive
Key ingredients: Hyaluronic acid
Reasons to buy
+
Very effective on makeup
+
Gentle on the eyes
+
Unique gel feel
Instead of the usual clear watery-light formula, La Roche-Posay has suspended micelles into a cleansing gel, which as well as feeling very cool and refreshing on the face (perfect for menopausal skin or rosacea) also ensures you don't waste any product in splashes or spills, if that's usually an issue.
This brand is famous for their sensitive skin friendly formulas, and this is no different. We also found this the best micellar water in our list for dissolving stubborn eye makeup and high coverage foundation without causing irritation. And despite it's more viscose texture, didn't feel a trace of product left behind, just clean, supple and comforted skin.