How to wash your face properly for healthier skin, according to the experts
Learn how to wash your face the correct way to encourage a cleaner, healthier complexion, no matter your skin type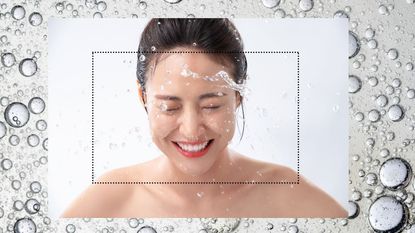 (Image credit: Future)
woman&home newsletter
Sign up to our free daily email for the latest royal and entertainment news, interesting opinion, expert advice on styling and beauty trends, and no-nonsense guides to the health and wellness questions you want answered.
Thank you for signing up to Woman & Home. You will receive a verification email shortly.
There was a problem. Please refresh the page and try again.
Let's go back to beauty basics and learn how to wash your face properly. This essential first step in any skincare routine is often overlooked, and many of us are prone to slacking off in the cleansing department, eager to get to our lovely hydrating serums and rich creams.
The truth is, without properly washing your face, the rest of your skincare routine will be hindered by residual makeup and pollution particles. "Cleansing paves the way for your facial skincare to work efficiently," says Weleda Skincare Expert, Elizabeth King. And how often should you wash your face for maximum benefits? "It should be done twice daily to ensure that the day's dirt is removed and to also refresh skin after a night's sleep. Because our skin rebalances and regenerates at night, it is important to support and refresh the skin with a morning cleanse."
So grab your best cleanser, familiarize yourself with the essentials of face washing and let's get on the road to your healthiest, happiest complexion yet.
How to wash your face the correct way, according to the experts
You can spend big bucks on the best foundation, ultra-light facial sunscreen and every other cosmetic treat you desire. But remember, it doesn't matter how luxurious the formula or how many skincare ingredients it packs in, at the end of the day, it must come off. And this is how to correctly do so.
Step 1: Wash your hands
We've all become pretty expert at washing our hands in the last couple of years, so this essential first step in washing your face should come as second nature to you. Before diving into the makeup removal and skincare portions of your evening, it's essential to cleanse your hands. Use warm water and the best gentle hand wash to get rid of any bacteria and dirt, then gently dry your hands.

Our beauty editor recommends...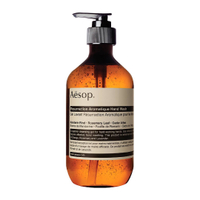 Aesop Resurrection Aromatique Hand Wash: RRP: £26
Despite a hefty price tag, this luxury buy constantly tops best-seller lists for its gentle yet effective formula and obvious sink-appeal. The lingering herbal-citrus scent elevates feel the menial task of handwashing, so you'll actually look forward to it.
---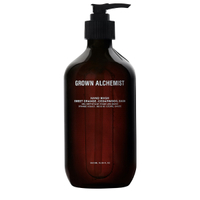 Grown Alchemist Hand Wash Sweet Orange, Sandalwood and Sage | RRP: £25

Another gorgeous bottle for your bathroom, and another beautifully scented non-drying handwash. The citrussy and lightly spiced fragrance will linger ever so slightly on your hands—take a deep breath in as you wash your face with them for seriously evocative spa vibes.
---
Step 2: Start a double cleanse and remove your makeup
Double cleansing is exactly as it sounds. Start with one cleanse to remove the first layer of residue, then go in again to really clean your skin. "For the most effective cleansing routine, you should start by using a cleanser to remove surface dirt such as make-up and suncream followed by another cleanser," explains Consultant Dermatologist Dr Juber Hafiji.
Cleansing balms tend to be a good place to begin as they can quickly and easily remove even waterproof makeup without being overly drying or irritating the eyes. Balms also contain nourishing oils that are great for dry skin, simply take a finger-swipe amount and apply it to dry skin, in gentle massaging circular motions. Want to take this opportunity for a quick, de-stressing facial massage? Now's the perfect time. If you have oily or congested skin you may prefer the fresh feel of the best micellar waters instead, which can be swiped on with a pad (reusable please, the environment will thank you)
As you massage, focus on your eye area and sides of the nose in particular, as build-up often happens in these areas. Use the warmth of your fingers paired with the cleansing balm to melt your makeup away then rinse with tepid or warm, but not hot water. "Using water which is too hot can increase the chances of your skin drying out, damage sensitive skin tissue, and strip the skin of its natural oils that help form a protective barrier," says Dr Hafiji "It is best to cleanse using a consistent lukewarm temperature which is kinder to the skin."
Our beauty editor recommends...
---
• ESPA Yuzu & Ginger Cleansing Sorbet at ESPA for UK£40
---
Step 3: Wash your face
Part two of the double cleanse. This bit is all about your skin, so a cream cleanser that nourishes and cleanses might be a good shout for dry skin types. If you're combination skin or need to use skincare for oily skin, you may prefer a gel textured foaming cleanser for this bit, but watch out for SLS, a foaming agent that can weaken the skin barrier. "Cleansers that strip the skin of its natural barrier are counterproductive to good skincare," says Elizabeth. "When the skin's primary function of protection is compromised, the skin will immediately respond as it tries to correct itself. For example, oily skin becomes oilier, while dry skin can develop sensitivity and become even drier."
Once again, massage with tepid water and remember to include your neck too, "Your neck area is often exposed to the elements as much as your face," says Dr Hafiji. "This combined with the fact that the skin area on your neck is usually very thin, makes it susceptible to damage from pollution, dirt and UV light. In order to reduce the chances of dry, discolored, and damaged skin make it part of your cleansing routine and treat your neck as an extension of your face."
Keep going for at least 60 seconds—time it the first few goes, it's always longer than you think. "Whether you are using a cotton pad or fingertips to cleanse, always avoid pulling and tugging at your skin. Use light but purposeful outward sweeping or circular movements and remember to always rinse off thoroughly," advises Elizabeth.
Our beauty editor recommends...
---
Step 4: Dry your skin
Soaking wet skin isn't best placed to absorb any serums or creams you apply next, plus a gentle drying action will help remove any last scraps of makeup or cleanser on your skin. So, how to dry your skin without drying out your skin? Grab a soft, dry towel or face cloth and gently pat your skin dry. Make sure to use something clean to ensure that you don't allow any residue from body or hair towels to transfer onto your peachy clean skin.
Our beauty editor recommends...
Step 5: Finally, it's time for your skincare routine
An often confusing aspect of any face washing routine is how necessary it is to follow up with your skincare right away, and most experts would agree it's best to hop to it. At this stage of your regimen, your skin should be clean and perfectly prepped to absorb the best ingredients your routine has to offer.
Most experts would recommend following up your cleanser with your most active skincare product in the lightest texture. So now's a great time to put the best retinol cream to work, or any skincare acids like glycolic acid or beta hydroxy acid.
If you aren't planning on using anything with powerful actives, then skip straight to hydration with a slippery serum containing hyaluronic acid or conditioning ingredients like ceramides and niacinamide. These will help cushion the skin's outer layers and protect the skin barrier function to preserve natural moisture and keep irritants out.
woman&home thanks Consultant Dermatologist Dr Juber Hafiji and Weleda Skincare Expert Elizabeth King for her time and expertise
Sign up to our free daily email for the latest royal and entertainment news, interesting opinion, expert advice on styling and beauty trends, and no-nonsense guides to the health and wellness questions you want answered.
Miriam Herst-Stein specializes in branding, content creation, and storytelling. She brings ten years of experience customizing content to large corporations such as Unilever in her role as Deputy Editor for their publication All Things Hair, as well as to small businesses just beginning to step up their content.
She graduated from Stern College with a degree in journalism and got her masters in professional creative writing at The University of Denver. A NYFW reporting veteran, she has written for Byrdie, Birchbox and the Huffington Post, and has interviewed a long roster of celebrity stylists including Ursula Stephen and Justine Marjan.