Here's how to wash your face properly for healthier skin, according to dermatologists
Learn how to wash your face the correct way to encourage cleaner, healthier, glowing skin, no matter your skin type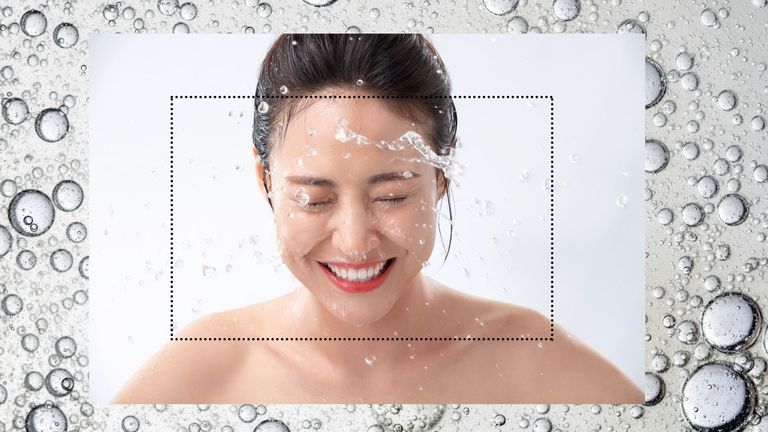 (Image credit: Future)
We're going back to basics and diving into how to wash your face properly. This essential first step in any skincare routine is often overlooked, and many of us are admittedly prone to slacking off in this department, eager to get to the hydrating serums and heavy creams. 
The truth is, without properly washing your face, the rest of your products will be blocked by leftover makeup and unavoidable toxins while en route to hydrating and repairing your skin. Familiarizing yourself with the essentials of face washing is necessary for getting on the road to your healthiest, most glowing complexion yet.
How to wash your face the correct way, according to dermatologists
You can splurge to your heart's desire on the best foundation, concealer, sunscreen, and all the other cosmetics you can afford, but remember that at the end of the day, it comes off—and come off thoroughly, it must. Here's how to correctly do so:
Step 1: Wash your hands
After the last year, you are without a doubt tired of hearing this directive—but it's an essential first step in washing your face. Before diving into the makeup removal and skincare portions of your evening, it's essential to cleanse your hands. Use warm water and a cleansing hand soap to get rid of any lingering bacteria and dirt, then gently dry your hands and get ready to get to work. 
Aesop Resurrection Aromatique Hand Wash
---
Step 2: Start a double cleanse and remove your makeup
Double cleansing by first using an oil-based cleanser or cleansing balm is an essential step in thoroughly washing your skin, and thus allowing for optimum product absorption when it comes to the rest of your skincare routine. 
If you haven't yet tried a makeup cleansing balm, prepare to be amazed by how quickly and easily you can remove even the best waterproof makeup formulas. Farmacy Green Clean Makeup Meltaway Cleansing Balm melts away even the most long-lasting products with a few minutes of gentle massaging. Take a finger-swipe amount and apply it to dry skin in gentle massaging circular motions. Want to take this opportunity for a quick facial massage? Go for it.
When cleansing, focus on your eye area and sides of the nose in particular and use the warmth of your fingers paired with the cleansing balm to melt your makeup away. Follow up by rinsing the balm and makeup off with warm water or with a gentle damp washcloth. You might be surprised by how calming this part of your routine becomes, as you quite literally wash the day away.
Farmacy Green Clean Makeup Meltaway Cleansing Balm
---
Step 3: Wash your face
When it comes to the actual lathering up and washing of your skin, we suggest a water-based cleanser, like Korres Greek Yoghurt Foaming Cream Cleanser, that nourishes and cleanses your skin at the same time. Make sure to massage your skin for at least 60 seconds for a full cleanse and a mini moment of meditation. Don't forget to include your neck too! Don't forget to rinse with cool water to close pores.
Ally Eisenberg, skincare expert and certified physician assistant at Mandel Dermatology, always reminds her patients not to scrub too hard while washing their faces. It's important to remember that achieving a thorough cleanse is possible without being aggressive with your skin. 
Ed's note: The skin on our faces is pretty much the thickness of cigarette paper, so tread carefully to avoid any tearing.
Korres Greek Yoghurt Foaming Cream Cleanser
---
Step 4: Dry and mist your skin
How to dry your skin without drying out your skin? Grab a soft, dry towel and gently pat your skin dry using gentle motions. Making sure to use a fresh towel will ensure that you don't allow any pore-clogging residue from body or hair towels to infiltrate your skin.
Once you've pat-dried skin, follow it up with a light facial mist to tone and encourage suppleness.
La Roche-Posay Thermal Spring Water
---
Step 5: Carry on with your skincare routine
An often-neglected and unknown aspect of any face washing routine is how necessary it is to follow up with your skincare routine directly after washing your face. At this stage of your regimen, your pores are open, your skin is still slightly damp, and you are ready to absorb the best the rest of your routine has to offer. 
Immediately follow up with a serum-like Drunk Elephant B-Hydra Intensive Hydration Serum for an instant shot of hydration and to protect skin's barrier function.
Drunk Elephant B-Hydra Intensive Hydration Serum
---
woman&home thanks Ally Eisenberg for her time and expertise.