Sage green—how to use this timeless color in a modern and fresh way in your home
Sage green is a calm and soothing shade that will bring the outdoors in. We asked experts how to use this color in our homes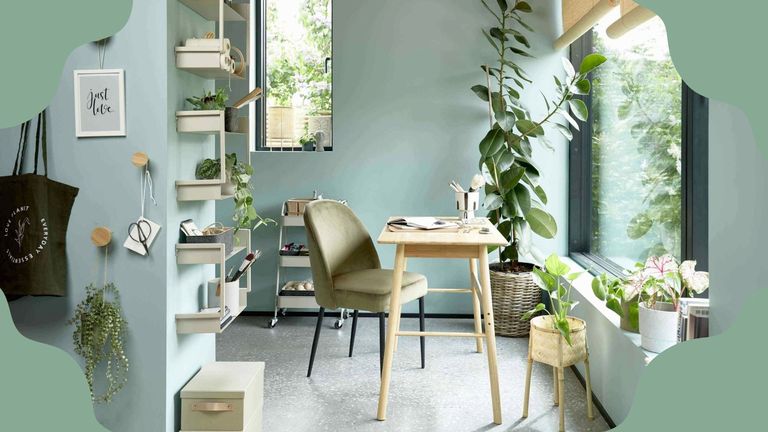 (Image credit: JYSK)
Contributions from
Invite the outdoors in with calming sage green. It's easy to work into existing schemes thanks to its near-neutral shade, or use as the basis for a whole new look. As our interiors experts explain, this cool color is a soothing choice if you're looking to redecorate, or just freshen up your space with accents and accessories.
Green dominated interior paint color trends last year, and 2022 is shaping up to be the same, with enchanting green hues and accents predicted by experts to be one of the most popular interior design trends for 2022. If you're just looking to dip a toe into the trend, sage green pairs perfectly with plants and foliage. Natural rattan accessories and scented candles with fresh, earthy scents will also complement this earthy shade well.
Why is sage green so popular?
The term sage green aesthetic brings in over 40,000 searches on average a month across the US and the UK, but why are people so keen on this calming color? Lifestyle expert at Contura, Catharina Bjorkman (opens in new tab), explains, "Sage green conjures up feelings of being in nature. When used in the home, it provides a sense of bringing the outdoors in. As being immersed in nature is good for our mental health and wellbeing, when added to a room, sage green provides a soothing palette."
Incorporating sage green into your home could mean you paint an entire room, or just opt for a feature wall. Rosie Ward, creative director of interior design studio Ward & Co (opens in new tab), advises, "How you use bold shades depends on how confident you are with color and the level in which you want to incorporate it into your home." She explained, "If you're looking for more subtle pops of color, an 'accent' wall behind joinery works really well, as does the use of sage green furnishings."
Sage green room decor ideas
Look to nature for your color scheme—earthy tones work well together, as interior designer Jennifer Kay of the Mini Interior Design Company (opens in new tab) explains, "For color scheme inspiration, simply think of nature—and all of the wonderful colors we find amongst greenery in gardens." Pairing sage green with neutral shades and natural furnishings crafted from wood, slate, and stone will enhance the natural look.
Try it on furniture and cabinets—choose sage green if you want a chic-but-neutral kitchen—it's a great choice for painted Shaker-style units or Metro wall tiles. "Choosing a color like green for your kitchen cabinets might sound like a bold statement, but paired with open or floating shelves—which are also strong trends for this year—it helps keep your kitchen light and bright," Matt Rotherham of Gemini Worktops told us. Green tiles make it much easier to clean a kitchen too, as opposed to bright white ones!
Try botanical accessories—look for accessories that have ferns, palms, roses, or butterflies and insects on them—these decor elements work well with sage green as they elevate its natural, outdoorsy feel. "Sage green accessories are an excellent choice, harnessing the calming energy inherent of green but anchored with an earthiness and depth not always present in more vivid greens. It's botanical, helping to bring the outside in," color and paint expert Annie Sloan (opens in new tab) told us. "If you only want a touch of sage green in your home, pick out green glassware accessories and group them together for impact, then add a few stems of foliage."
Opt for subtle accents—for an even easier hit of sage green, look for candles in soft sage for an easy way of working the color into your living room or bedroom.
Pair with soft textures—enhance soft sage green walls and furnishing by using tactile textures in the room, like sheepskin and knits, for soft furnishings such as cushions, throws, and rugs.
Add warmth—"choose warm metallic accent accessories like mirrors and light switches in brass and copper," Sloan advises.
What colours go with sage green?
If you're looking to incorporate sage green into your home, but don't want to drastically re-paint your entire living space, it's worth noting that there are plenty of colors you could pair with the fresh green shade. From bolder reds to more muted whites and greys, there is a myriad of colors you could pair with sage green—it's so versatile. "As a muted green, it goes wonderfully with brights, pastels, and other colors of a similar tone such as burgundy or burnt orange" interiors expert Jennifer Kay told us. If you need a little inspiration, these are our favourite combinations:
1. White and grey
As with most other colors, sage green pairs perfectly with a crisp white color—creating an overall calm and muted looK. In a room that's predominantly white or cream, it also adds a touch of warmth. An easy way to combine white and sage green is to have one sage green signature wall, with the rest painted white. Or, in kitchens, you could have your cupboards sage green and your walls white, or the other way around.
In the same vein, sage green and grey can also look stylish when paired together, as the green will lift the grey and add some vibrancy to your space.
2. A muted red
When it comes to complementary colors though, muted red is said to be the best pairing for sage green if you're feeling brave. Red and purples, as warmer colors, can work nicely against the cooler sage green. You could pair the two via accessories, or you might want to pair a sage green wall with a red, brick-work or tiled floor.
It's advised to avoid two bold wall colors, so steer away from combining sage green and red on your walls. Instead, incorporate the two more subtle, via flooring, furniture, accessories, or bedding.
3. Yellow
For more vibrant decor, you could also pair sage green with some similarly fresh, but brighter, spring and summer colors, such as yellow. This is the perfect option for those who want to elevate their decor, and prefer a more eclectic style over muted, softer tones.
We love the option of yellow furniture in a sage green room—such as a living room or a bedroom. Or, you could try yellow bedding in a green room, as a way to test out whether you like the combination.
4. Pink
Sage green is also the perfect backdrop for both warm and cool pink colors. Go bold with hot-pink (another on-trend shade) or cool with blush pink. Sage green will cool down warmer pink shades for a fresher look.
A super-easy way to combine the two is embracing also via your bedding, where a soft blush pink goes perfectly with the sage green. Embrace the biophilic design trend—one of the top bedroom trends for 2022—which focuses on minimal green foliage rather than floral prints, with lots of breathing space.
Amy Hunt is an experienced digital journalist specialising in homes, interiors and hobbies. She began her career working as the features assistant at woman&home magazine, before moving over to the digital side of the brand where she eventually became the Lifestyle Editor up until January 2022. Amy won the Digital Journalist of the Year award at the AOP Awards in 2019 for her work on womanandhome.com.
With contributions from