Sage green – how to use this timeless colour in a modern and fresh way in your home
Sage green is a calm and soothing shade that complements a variety of other colours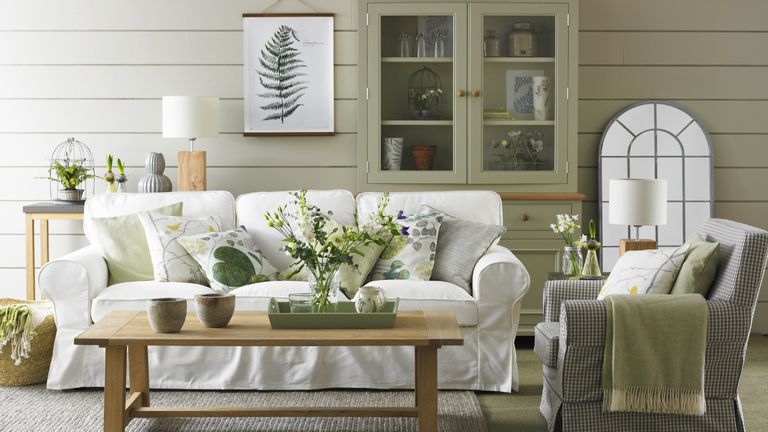 (Image credit: Future/Ideal Home)
By Amy Hunt
Invite the outdoors in with sage green, this season's freshest shade of green – it's easy to work into existing schemes or use as the basis for a whole new look.
This green-grey colour is calming and almost a near-neutral shade. While it's the perfect pick for the warmer seasons, with its cool and calming tones, it's also great for winter, to invite some much-needed colour into your home, whether you're opting for sage green wallpaper or a nod to the trend with cushions or pillows.
Shades of green have had a resurgence recently in the interiors world. And for this spring and summer, there's a chic soft green on the scene, which is easy to live with and just as easy to use – sage. In fact, it has become so popular that last year, Pinterest reported a 105% increase in searches for 'sage green' interiors - and we can see why! Our obsession with house plants shows no signs of slowing down and this trend pairs perfectly with greenery, bringing the outdoors in. Scented candles with fresh, earthy scents will also complement sage green well.
Lifestyle Expert at Contura, Catharina Bjorkman, said, "Sage green conjures up feelings of being in nature. When used in the home, it provides a sense of bringing the outdoors in. As being immersed in nature is good for our mental health and wellbeing, when added to a room, sage green provides a soothing palette."
How to decorate using sage green in a fresh and modern way
Incorporating sage green into your home is easy if you know how, so there's no need to be overwhelmed. Rosie Ward, Creative Director of interior design studio Ward & Co, said, "How you use bold shades depends on how confident you are with colour and the level in which you want to incorporate it into your home."
She explained, "If you're looking for more subtle pops of colour, an 'accent' wall behind joinery works really well, as does the use of sage green furnishings.
If you're looking to repaint a wall, Crown Paints' Easyclean Matt Emulsion range is the perfect choice. It's 200x more washable than a standard matt paint, and grease resistant, making it a brilliant option for use in kitchens. Available in seven different colours, there's also a choice for every home.
Combine a sage wall with natural finishes such as a wooden table, rattan lampshape, plants, and natural woven baskets (as in the picture below - the wall colour in this image is Mellow Sage from Crown Paints, available in Matt, Silk, or Mid Sheen)
Try it on furniture and cabinets. Choose sage green if you want a chic but neutral kitchen – it's a great choice for painted Shaker-style units or Metro wall tiles. Green tiles make it much easier to clean a kitchen too, as opposed to white ones!
Look for decorative items that have ferns, palms, roses or even butterflies and insects on them – you'll find them on plenty of soft furnishings this summer. These decor elements work well with sage green as they elevate its natural, outdoorsy feel.
If you're looking to declutter your home and don't want any more knick-knacks, soothing green is said to help you relax and unwind, so use it in your bedroom - the room where you go to chill out at the end of the day
If you only want a touch of sage green in your home, pick out green glassware accessories and group together for impact, then add a few stems of foliage.
Or for an even easier hit of sage green, look for candles in soft sage for an easy way of working the colour into your living room or bedroom.
What colours go with sage green?
If you're looking to incorporate sage green into your home, but don't want to drastically re-paint your entire living space, it's worth noting that there are plenty of colours you could pair with the fresh green shade.
From bolder reds to more muted whites and greys, there are a myriad of colors you could pair with sage green - so if you're ready to get redecorating, take a look at the below...
WHITE AND GREY
---
And as with most other colours, it also pairs perfectly with a crisp white color - creating an overall calm and muted look whilst still being much more fun than a space that's all white. In a room that's predominantly white or cream, it also adds a touch of warmth.
An easy way to combine white and sage green is to have one sage green signature wall, with the rest painted white. Or, in kitchens, you could have your cupboards sage green and your walls white, or the other way around.
In the same vein, sage green and grey can also look lovely when paired together, as the green will lift the grey and add some vibrancy to your space.
A MUTED RED
---
When it comes to complimentary colors though, a muted red is said to be the best pairing for sage green if you're feeling brave. Red and purples, as warmer colors, can work nicely against the cooler sage green.
You could pair the two via accessories, or you might want to pair a sage green wall with a red, brick-work or tiled floor.
It's advised to avoid two bold wall colours, so steer away from combining sage green and red on your walls. Instead, incorporate the two more subtle, via flooring, furniture, or accessories.
YELLOW
---
For more vibrant decor, you could also pair sage green with some similarly fresh, but brighter, spring and summer colours, such as yellow.
This is the perfect option for those who want to elevate their decor, and prefer a more eclectic style over muted, softer tones.
We love the option of yellow furniture in a sage green room - such as a living room or a bedroom. Or, you could try yellow bedding in a green room, as a way to test out whether you like the combination as - let's face it - it's a bold one!
PINK
---
Sage green is also the perfect backdrop for both warm and cool pink colours. Go bold with hot-pink (another on-trend shade) or cool with blush pink.
Pink is a popular interiors color right now, so you'll find plenty of decor items or furniture in that colour, making the two an easy color combination if you have sage green walls and pink accessories.
A super easy way to combine the two is also via your bedding, where a soft blush pink goes perfectly with the sage green. Pop some plants in the room to really create a relaxing zone, and you're good to go!
How to dress a sage green room
Decorating a room in only half the job. The real fun starts when you can start styling it and choosing lovely nicknacks and decorative items to fill it with. Keep in mind the following tips and the result will be a stunning and inviting sage green room.
Enhance soft sage green walls and furnishing by using tactile textures in the room, like sheepskin and knits, for soft furnishings such as cushions, throws, and rugs
Add warm metallic accent accessories like mirrors and light switches in brass and copper
Natural wooden furniture really complements sage green. The earthy tones combine to create a warm, inviting vibe
The sage green edit, as chosen by our experts
Looking for more ways into the home colour trend? Check out our edit of the best sage green buys below...
1. Bessie sage green armchair
This gorgeous armchair is a great way to incorporate the sage green trend into your home if you're not quite feeling brave enough to decorate a whole room in it yet! This chic armchair will go well in all living rooms - whether they're more bold and vibrant or decorated in more muted colours. We also love the stand-out gold-plated feet. This stylish armchair also transforms into a single sofa bed too - so it's perfect for guests and for use in spare bedrooms!
2. Sage green essential oil diffuser
If you feel a bit nervous about sage green but are keen to add a pop of colour to your home, this diffuser is a great piece of decor - while still having a brilliant functional use as a diffuser! Simply pop your favourite essential oil in there for a fabulous scent and super chic addition to your room. It's electric too, meaning you can plug it in and unplug it as you need it. We also love the ridged texture of the ceramic cover, giving it a cool and contemporary edge.
3. Gilbert honeycomb throw
To add some sage green to your soft furnishings, why not opt for this cosy throw, that can be draped over your sofa, armchair, or bed. It would work beautifully with neutral-toned rooms, adding a really fresh Spring vibe to any decor. We love the textured feel of it, which makes it a really cosy addition to any room, and perfect to snuggle up on the bed or sofa with during any colder evenings. Plus, it's super affordable at just £12.99, so make sure to snap it up ASAP!
4. The Allotment wallpaper
This wallpaper - with a quirky allotment print - is a really fun way to add sage green into your home. Consider using it on one statement wall only, as it's a strong feature that would likely overpower a room if it were to be used any more than that. You could even have this wallpaper running as a theme throughout your home - perhaps decorating one dining room wall and one bathroom wall with it, for a fun and unique feature for your house.
5.Mellow sage paint
Crown Paint's Mellow Sage is a great sage color if you're not sure which one to pick for your home. Calming and neutral but still bold, it's a great shade for any room, but we love it for living rooms, dining rooms, or bedrooms in particular! As suggested above, pair it with natural, wooden decor items and furniture for a truly sophisticated look. This colour is available in a matt, silk, and mid-sheen finish, so there are options for everyone.
Sponsored
6. Woven geometric rug
This 100% recycled geometric rug is a fantastic way to add a pop of sage green to an otherwise neutral room! Geometric rugs are bang-on-trend right now, so if you're after one that's a bit more vibrant than grey or beige, this La Redoute pick is our favourite. It comes in three different sizes; 80 x 150cm, 120 x 170cm, 160 x 230cm, so there's one to suit any size room. It's a woven rug, meaning it's washable at 30 degrees, and it's also super easy to get stains and spills off of. A win-win!
7. Alexia bedding set
We've established that sage green is the ideal color for a relaxing bedroom, so why not ease yourself into it slowly with this gorgeous bedding? The Alexia set gives you a 100% stonewashed cotton duvet cover and two pillowcases, giving you all you need for a perfectly presented bed. We'd suggest pairing this bedding set with some other colours too on your bed, such as white scatter cushion or a chic blush pink throw, to really offset the sage green and make it stand out.