Sage green: how to use this season's freshest shade in your home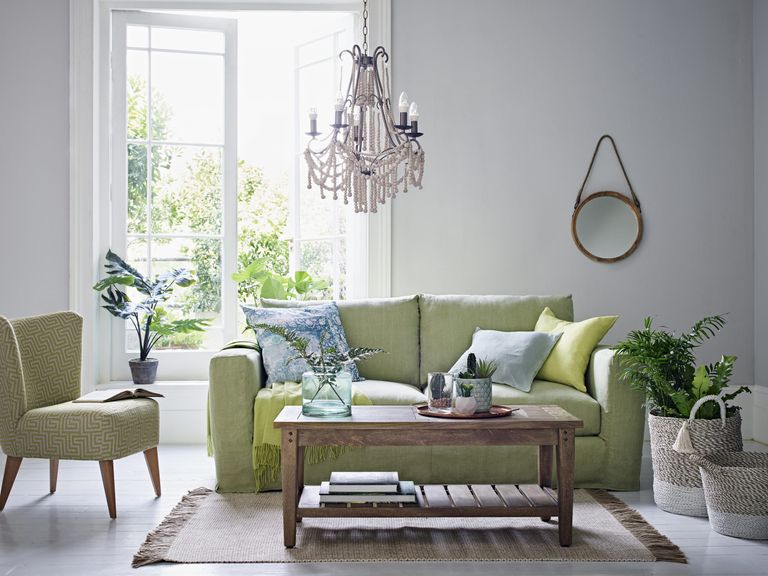 Invite the outdoors in with sage green, this season's freshest shade of green – it's easy to work into existing schemes or use as the basis for a whole new look
Shades of green have had aresurgence recently in the interiors world.Last year, we had Pantone's Colour of the Year 2017 Greenery,a lush shade that stormed into our homes and combined with the growth of indoor foliage (both real and fake), from succulents to cacti, ferns to giant palms.
For this summer though, there's a softer green on the scene, which is easy tolive with and just as easy touse – sage.
This green-grey colouris calming and almost a near-neutral shade. Team with blush pink for a pretty scheme or add more zingby pairing sage with lime and apple green.
MORE:Budget bedroom ideas that are smart and oh-so simple
If you're looking to update your walls, then a soft sage works really well in a kitchen, teamed with plenty of cream and natural wood for a country look, while sage used on leaf, floralor even fauna-inspired prints gives soft furnishings a crispness you'll love.
Tips for using sage green
- Combine a sage sofa with natural finishes such as a wooden table, woven rug and rope-hung mirror (as in the top picture)
Credits: Hudson chair in Crete Green, from £399, Aragon 2-seater sofa in green linen, from £1,399, Sanford coffee table, £299, Margot chandelier, £229, and various accessories,all marksandspencer.com
- Sage green is the perfect backdrop for both warm and cool colours. Try with earthy tones like terracotta (another on-trend shade for 2018), cream and dark green, or go cool with grey, blush pink and pale blue.
MORE:Kitchen trends 2018 – the stunning and surprising new looks you need to see
-Swap your neutral walls for a soft sage green. In a room that's predominantly white or cream, it adds a touch of warmth, which can be enhanced by tactile textures like sheepskins and knits alongside warm metallics like brass and copper.
-Choose sage green for your kitchen – it's a great choice for painted Shaker-style units or Metro wall tiles. This shade is soft and inviting, and pairs well with oak.
Above: Upper wall in Aquamarine Pale 282; lower wall in Aquamarine Mid 284; both £47 for 2.5 litres Absolute matt emulsion; island in Aquamarine 138, £59 for 2.5 litres Intelligenteggshell, all littlegreene.com
-Look for ferns, palms, roses or even butterfliesand insects that tie-in with the trend – you'll find them on plenty of soft furnishings this summer
- Boost the nature angle, with a fabricor wallpaper witha botanical design
- Soothing green is said to help you relax and unwind, so use it in your bedroom – it works brilliantly with whiteor oak furniture.
Above: Holly double bed, £599; Holly bedside table, £179; linencushion, £19.50, Ladybird cushion, £15; Watercolour Stripe and Bug Print bedlinen, both £49.50 for a double set; throws, £29.50 each; baskets, £45 for a set of 2; rug, £109; Capri tablelamp, £59; vase, £19.50; all marksandspencer.com
-Pick out green glassware accessories and group togetherfor impact, then adda few stems of foliage.
- Look for candles in soft sage for an easy way of working the colour into your living room
Above: Blyton pillar candles in Sage, from £4; Corinium tray, £69, all neptune.com
Looking for more ways into the home colour trend? Check out our edit of the best sage green buys below...
Sage green trend: the armchair
Orlando occasional armchair, £1,298, alexanderandpearl.co.uk
Sage green trend: the decorative piece
Etched lantern, £9.50, marksandspencer.com
Sage green trend: the throw
Seville Sage throw, £89.95, brontebymoon.co.uk
Sage green trend: the soft furnishing
Crescent Chevron cushion, £19.50, marksandspencer.com
Sage green trend: the retro piece
Wish footstool in Hatch Green, £169, dfs.co.uk
Sage green trend: the finishing touch
Home Meadow letter rack, £16, Sainsbury's Words: Jennifer Morgan