What is the Japandi interior design trend and how to incorporate the style into your home
The Japandi interior design trend explained, along with expert styling tips for welcoming the popular trend into your home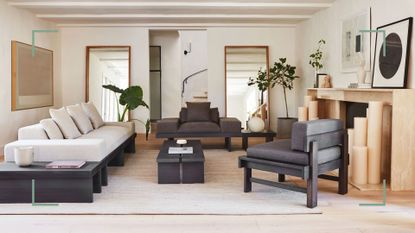 (Image credit: House of Léon)
Japandi is one of the hottest interior trends of the year, combining everything we love from Scandinavian design with a touch of Japanese minimalism.
Japandi interior design is all about minimal, practical comfort. You don't need to turn your living room or bedroom into a contemporary art installation, all you need is to declutter and invest in simple pieces, from a plush comfortable sofa to a tactile rug. The aesthetic is simple warmth, where the desire is to make homes feel safe and harmonious.
This popular trend offers the perfect combination of simplicity alongside an appreciation of function, where a natural palette and texture combines to create a calming environment – making Japandi style ideal for any room.
We speak to interior designers and trend experts to explore Japandi as a concept, and look at how to incorporate the popular interior design trend of 2022 into your home with ease.
What is the Japandi interior design trend?
Japandi interior design is more than merely decor, it's about creating a sense of wellbeing for our homes – consider it the wellness trend for interiors. Japandi style requires minimalism, so unlike the popular 'cluttercore' bedroom trend of 2022, you need to start by decluttering your space. Put everything that is not necessary or practical out of sight, as is the saying tidy room tidy mind.
"Japandi Style is where wabi-sabi Japanese minimalism meets Scandinavian comfort. The goal of the style is to focus on simplicity and natural materials while creating a warm, welcoming space" explains Jordan Neman, co-founder at House of Léon (opens in new tab).
"What's so unique about the use of Japandi style is that it can be interpreted however you see fit" Jordan goes on to say. "You can use darker woods and colors if you want to lean into the wabi-sabi style or go lighter to emphasize a more Scandinavian look. The concept of wabi-sabi is to find perfect in the imperfect, whereas Scandinavian is about clean-cut lines and comfort."
Anne Haimes, Founder of Anne Haimes Interiors (opens in new tab) adds: "Japandi style homes have a deep appreciation for nature, with sustainability at the forefront of design choices. It also teaches us to approach our home as we would a capsule wardrobe, investing in pieces that will stand the test of time, making it one of the most eco-friendly interior design trends we've seen of late."
What is the Japandi color palette?
The Japandi color palette is muted and soothing. That doesn't mean the look is devoid of color, only that the pigments are natural. Whether dark charcoal or off-white stone, the spectrum of shades should feel entirely derived from nature.
With some of the biggest interior color trends of 2022 being muted, earthy-toned hued palettes, it's no wonder Japandi interior design is proving such a big hit with homes all over the globe.
"Scandinavian and Japanese designs incorporate hues from their natural surroundings" agrees Devin Shaffer, Lead Interior Designer at Decorilla (opens in new tab). "For Scandi this means grey, white, and browns, whereas Japandi features pastels of autumn foliage, blossoms, sky, and earth." The sage green color trend is a perfect subtle accent tone to layer the look.
"Both also feature stark contrasts at times. As a result, the hybrid Japandi style has mostly neutral tones that are calming and tranquil. In living rooms, especially, these hues are layered to mimic a natural landscape. You can also see this neutral palette carried into the warm modern kitchen of the same home."
Jordan adds, "While the basis of wood used can range from dark to light, mineral tones should be used for accent colors. If it is present in nature, it can be used in your space. Fun fact: Red is an accent color of Japanese style because Persimmon dye was used for coloring."
How to incorporate Japandi style into your home
Introducing ambient lighting and textures are all key design elements when striving to achieve Japandi style in any room.
Start collecting pieces that compliment each other. The key is simplicity and comfort. Find some divine smelling scented candles, warm blankets and plush pillows to scatter around your sofa and space.
Jordan exclusively tells woman&home that the secret to achieving the Japandi aesthetic in our homes lies in: "Selecting neutral, minimalist furniture. Then filling in decor-wise with vintage pieces, handmade ceramics, and art."
Going on to explain: "By utilizing natural materials, ideally crafted by hand, the space will be filled with an authentic, calming presence that brings warmth and comfort to the home."
"Houseplants are also a common feature in Japandi inspired rooms, but not the lush, large plants that are popular of late. Instead, opt for smaller, more minimalist plants with sparser stems and thin leaves to give your space a more sophisticated look" advises Anne.
Going on to advise on the best plants to buy plants to get the look, Anne says: "Olive trees, Ficus and citrus trees are all elegant plants that will help make a room feel homier without turning attention away from the simplicity of the overall design aesthetic. Or try your hand at cultivating your own Japanese plants such as miniature bonsai trees, bamboo in a large pot or Japanese fern trees."
1. Japandi furniture
The combination that creates Japandi - laid-back Scandi style paired with minimalist Japanese design - places an important focus on craftsmanship for furniture pieces.
"When selecting your larger furniture pieces be sure to keep this in mind" advises Jordan. "As the goal is to simplify the home with fewer pieces, it's important that those pieces convey a sense of quality and craftsmanship that set the stage for the home." Look to invest in enduring furniture designs that add style alongside supreme levels of comfort.
(opens in new tab)
$650/£519 | The design team say: "The Shinto Dining Chair was designed as an ode to the traditional Japanese Torii Gate most commonly found at the entrance of a Shinto shrine. The red gate marks the transition from the mundane to the sacred, inspiring the use of a Blood Orange leather."
(opens in new tab)
Cane Bar Cabinet by Leanne Ford
$1999/£1598 | The show-stopper of call home bars, this divine design at Crate & Barrel is an investment piece for sure, but there's no denying it's a statement piece to treasure for years to come. The FSC ®-certified solid white oak adds the Scandi element while the woven rattan and mirror glass detailing welcome a touch of Japanese elegance.
(opens in new tab)
Rattan Bed Frame in Super King Size
$829.25/£663.20 | Welcome Japandi style into the bedroom with a simple but sophisticated black framed bed with a woven, natural cane headboard. This piece is simply stunning in real life, you immediately get a sense of an expertly crafted design that will lift any bedroom scheme in an instant.
2. Japandi lighting: to add ambience
One of the key design elements that plays a crucial role in executing Japandi style is lighting. Lighting is major thanks to the Scandinavian influence, because in Scandinavian countries the winters are very dark so it is important for them to create comforting, ambient lighting within their homes. Pools of light are ideal for creating warm, cozy spaces. For example, a warm light above your dining table or a soft focus lamp positioned over your sofa will create an intimate space, helping us to feel snug which is crucial to wellbeing according to psychologists.
See your lighting as a feature, and build ambient zones within your space. A candle, for example, will create an instant impression of warmth and intimacy. In Japan, traditional screen doors are used to diffuse light and utilizing natural light is important in Japanese architecture. Position your furniture to allow natural to play a role. Also look for lights with dimmer switches, so you can control the level of lighting.
$269/£215 | This ceramic and plaster mixed stucco lamp is ticking all the Japandi design boxes, adding not only soft lighting from the large linen shade but also adding a layer of appealing texture to the scheme. It's also a joyous celebration of imperfect finishes, what's not to love?
(opens in new tab)
Dimmable Fabric Flush Mounted Sconce
$47.50/£37.99 |Controlled lighting is key when trying to create ambient, making a dimmable light fitting ideal. The soft fabric shade on this design feels reminiscent of Japanese screening when it diffuses light, to evoke a softer glow that will pool above and below to create a feature wall of lighting.
3. Japandi sofas and coffee tables
Think inviting, comforting and timeless when selecting sofas and accessories. Explaining the ethos behind Japanese design Jordan explains: "It emerged as a response to the dominating design style of the time that focused on over-ornamentation in architecture and furniture. Japanese design in contrast, invited one to enjoy the simple things in life and find beauty in the imperfect."
"Noting the background on this style, the living room furniture you select, especially the sofa, should be comfortable, low to the ground, simplistic and stray away from anything ornate," advises Jordan.
(opens in new tab)
Elissa 3 Seater Clic Clac Sofa Bed
$537.65/£429.99 |A smart sofa bed inspired by the traditional Futon design is made elegant by the black velvet fabric, to give a more luxe vibe to a highly functional piece of furniture. A multifunctional sofa design is ideal for small space, apartment living. The image shows how it looks as a bed, but when the design is set up as a sofa it features a high, cushioned back for comfortable seating.
(opens in new tab)
Kyoto Lounge Chair in Stone Beige
$2,300/£1839 | This investment piece is "Wabi-sabi minimalism on the bottom meets Scandinavian comfort on top" explains Jordan. "Sleek & cozy, the Kyoto Sofa is made from a solid wood frame and goose-down feathers upholstered in Belgian Linen, set atop a solid Birch wood frame. Sprawling room for one or a cozy space for two."
4. Japandi rugs
Welcoming a textured rug to any room is a great way to build on the Japandi trend, starting from the ground up. Because the purpose of design is to keep things simple the key is in choosing a rug is to add to the ambience and comfort of a space, without overwhelming the look with decorative pattern.
When it comes to Japandi-style rugs keep the design simple yet aesthetically pleasing. Texture underfoot helps to add a sense of depth to the scheme, and by the very nature of a rug the room will feel cozier in an instant.
$81.27/£65 |Inject a hit of color with this 'Rust' colorway of a classic flatweave rug from IKEA. The color is bold enough to make a statement but still overpowering because of its earth connotations, it feels very grounding to anchor the furniture that will surround it.
From $49.90/£39.91 |This tactile rug adds texture underfoot, ideal for adding to the layered look of Japandi that relies on different textiles adding depth without the need for pattern or color. The design starts from small size measuring 23.5 x 47", up to a more generous larger design measuring 78.5 x 118", to cater for all spaces.
(opens in new tab)
$100.99/£80.77 |Brown is the ideal color to ground all the furniture and accessories in a Japandi scheme, because as a shade it is warmer than black and more striking than a natural beige, but it's still considered to be neutral. This Target design is a crafted with high quality sisal fibers, trimmed with a contrasting heavy linen-style border to add definition. The price shown is for a rug measuring 3'by 5'.
5. Japandi artwork
Dressing walls with Japandi artwork is an easy and cost-effective way to incorporate the look into any room of the house. Plus, displaying pieces of art can be a great way to introduce a bit of colour or elevate the space, pairing a piece of contemporary art with a black frame will really give your wall a bit of sophistication.
Because this trend is all about minimalism, the addition of artwork is a considered choice to add a splash of decorative color to the walls.
You may also want to consider hanging artwork at lower heights on the wall if you have chosen low level Japandi-inspired furniture choices, to prevent frames from floating too far above the furniture.
(opens in new tab)
$63.99/£51.93 | Abstract artwork is a create way to incorporate color and design on the walls without having to have a defined focus or subject. This pair of INK+IVY Waymark Abstract artwork in brown and black are framed under glass, ready to hang. Each measuring 19.5-Inch x 23.5-Inch.
(opens in new tab)
Framed Canvas Print Wall Art
$67.60/£54.06 |This painterly abstract artwork is a printed canvas inset inside a striking black frame, to add another dimension of interest to the design. The abstract design welcomes a hint of mineral green, ideal to introduce a subtle accent color to the look. The framed piece measures 24 x36 inches.
(opens in new tab)
$28.13/ £22.50 |From If you're looking for more of a traditional Japanese print then this set of 3 sun silhouettes by SaffaDesigns is an ideal choice. Please note that frames are not included. However, there is an option to select a professional framing service with contemporary wooden frames at checkout. Various sizes are available, starting from A5 up to 60 by 80cm.
So if you're looking for a big change to your home or just looking for little ways to spice it up, keep your eye out for 'Japandi' inspired decor. These pieces will help bring warmth, and style to your space without being intrusive or overbearing.