The best places to buy plants online that will quickly transform your indoor and outdoor living spaces
We tested all the best places to buy plants online to bring you a list of the top retailers selling plants that will quickly spruce up your home or garden...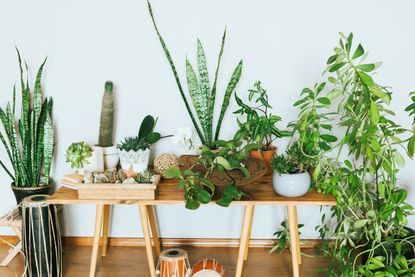 (Image credit: Getty Images)
The best places to buy plants online make sprucing up your home, both indoors and outdoors, quick and easy. They have a plethora of plants to choose from, eye-catching pots to suit any interior style and can have them delivered straight to your front door in a matter of days after ordering.
Having plants at home has been proven to offer a huge range of health benefits – like reduced anxiety and stress (opens in new tab), as well as improved sleep quality. As well as looking - and doing - good in your home, houseplants also make great gifts, such as new home or thank you gifts, and they are also an easy and effective way to quickly add some colour to your office desk, too.
Houseplant sales are still booming, even in a world where lockdown restrictions are becoming a thing of the past, according to The Consumer Houseplant Purchasing Report (opens in new tab), which was conducted by the Floral Marketing Fund.
Even just looking out of your window at some greenery can be good for you, with a study by Rachel Kaplan of the School of Natural Resources and Environment at the University of Michigan finding that seeing nature from your window at home contributes, "significantly to satisfaction and well-being".
So, with spring now well and truly sprung, there's never been a better time to invest in some new plants for your home and garden, and we've found the best places to buy plants online to make the process even simpler.
How we assessed and picked the best places to buy plants online
Why you can trust Woman & Home Our expert reviewers spend hours testing and comparing products and services so you can choose the best for you. Find out more about how we test.
The only way to truly judge where the best places are to buy plants online for either your home or your garden is to actually order an array of products and see how they measure up in real life to the luscious, leafy pictures online.
We did exactly that and judged each online retailer selling plants on the following criteria:
Selection of products – We looked at how much choice there was on each site and if you could pick between succulents, small and large potted plants and more, or whether the overall offering was more limited. We also took into account if the website sold pots alongside their plants, or if there was only the option to have the plant delivered in a plastic container.
Value for money – We assessed the price of the plants on offer and if the product that was delivered was worth the overall cost.
Quality – A really important testing factor when reviewing the best places to buy plants online, we judged each online retailer on the quality of the plant that was delivered; were the plants green and healthy, or had the way they'd been stored and shipped affected the longevity of the plant?
Delivery – Not only did we compare and contrast the delivery costs associated with each online plant retailer, but we judged their delivery process too. No one wants to end up with half a pot of soil tipped out on the carpet upon opening their newly delivered plant at home, or find their perennials have been crushed in transit.
Our pick of the best places to buy plants online
The Stem
Specifications
RRP: From £6
Delivery cost: £5.99 on orders below £50. Free delivery on orders over £50
Delivery time: 3-5 days
Pots included?: No
Reasons to buy
+
Great selection of plants on offer
+
Ability to mix and match the pots and plants
+
Easy to browse for the perfect plant to fit your needs
+
Good quality plants
Reasons to avoid
-
Pots - though beautiful - aren't included in the price
The Stem is one of the best places to buy plants online for both your home and garden, with a wide variety of houseplants, shrubs, seeds and bulbs that you can buy on their own or in a beautiful pot to complete the look.
You can search for plants using a variety of different, helpful criteria: ease of care, light needs, pet friendly plants and more. Then, when you click on a plant you're interested in, you are given additional information as to where in your home the houseplant would have the best chance of thriving.
When we ordered a couple of plants from The Stem, we were impressed with how quick and easy it was to search select for the perfect houseplants to suit our needs, and the plants arrived quickly after ordering. We were also impressed that the plant arrived in fully recyclable packaging - minimising waste. Although there were no plastics used in the packaging there was still plenty of protection for both the plant and the pot, meaning both arrived in great condition.

Each delivered plant comes with a handy 'plant care tips' card with a QR code. When scanned, it gives you access to a range of guides on Stem's website covering everything from how much sunlight your house plant needs, to how to repot it once it outgrows its first tub.
We found the quality of the plants delivered matched what was promised on the website, and months after the plants first arrived they still look happy and healthy in our homes thanks to the plant care tips and advice provided.
Bunches
Specifications
RRP: From £23
Delivery cost: Free tracked delivery
Delivery time: Chosen date delivery
Pots included?: Yes
Reasons to buy
+
Chosen date delivery on all orders at no extra cost
+
Attractive woven pots included at no extra cost
+
Good quality plants that continue to thrive months after delivery
Reasons to avoid
-
Small selection of house plants compared to sites like The Stem
-
No option to mix and match plants and pots
-
Packaging and delivery process means a messy unboxing process is a possibility
A family-owned flower and plant delivery company in the UK, Bunches has expanded its houseplant offering in recent years to include a variety a medium and large sized potted plants, as well as the smaller potted flowers they specialise in.
Although the variety of houseplants you can buy through Bunches is limited compared to larger online plant retailers, the plants they do sell are all of great quality and come with the attractive woven pot they are pictured in on the website - which is often not the case when buying plants online.
The company are also making an active effort to improve their sustainability credentials, making strides to reduce plastic across their product selection. In addition, Bunches also donate a minimum of 10% of their profits to charity, so this is a business that means well.
When we ordered from Bunches we chose the Calathea Plant and the Areca Palm Plant and were impressed by the free tracked delivery, ability to choose what date the plants arrived (so we could be sure we were at home to receive them) and the speed with which the plants arrived.
A word of advice if ordering plants online - open your packages outside when they arrive. We made the mistake of opening our box from Bunches on the kitchen table and we had a lot of soil and dirt to clean up afterwards.
Mess caused upon opening the plants aside, the plants themselves were in good condition when they arrived and looked like they had been well looked after prior to shipping.
The plants we ordered are still thriving today and still look as green and healthy as pictured on the website. This, coupled with Bunches' 'Posy Points (opens in new tab)' loyalty scheme that earns you money back on future orders, means we'd happily order from them again.
John Lewis
Specifications
RRP: From £33
Delivery cost: Free standard delivery
Delivery time: Within 10 days
Pots included?: Yes
Reasons to buy
+
Great selection of plant and succulent sets
+
Also supplies plant accessories and care products - so you can shop for everything you need in one place
Reasons to avoid
-
Limited choice of individual plants
-
No option to mix and match plants and pots
-
More expensive than other online plant retailers on this list
John Lewis have some gorgeous houseplants to shop on their website and what they offer that lots of other online plant retailers don't is the option to buy plants or succulents in bundles. Buying a small set of plants or succulents is a great way to refresh your existing collection at home, or start building a new one. Each plant bundle comes complete with stylish planters and is named according to what the set is best suited for - whether that be a certain room of the house such as the 'bathroom plants (opens in new tab)' bundle, or a function in the home like air purifying (opens in new tab).
It means you can buy plants online with minimum effort for maximum reward when it comes to curating plants for your home.
The added benefit of shopping from a large online retailer such as John Lewis is that delivery is free and you can also get any other pots or plant care accessories at the same time - from houseplant feed (opens in new tab) to beautifying leaf spray (opens in new tab).
Bloom & Wild
Specifications
RRP: From £27
Delivery cost: Free standard delivery
Delivery time: Between 3 - 6 days
Pots included?: Yes
Reasons to buy
+
Great selection of plants
+
Offers specific-date delivery, making them ideal for gifting
+
Option to choose a house plant subscription service
+
Comes with easy-to-follow care tips
Reasons to avoid
-
More expensive compared to other sites on this list offering the same plants at lower price points
-
No option to mix and match plants and pots
Known for having one of the best flower delivery services in the UK thanks to their fantastic selection of flowers that come in letterbox-sized packaging, Bloom & Wild also sell houseplants and offer the same level of service and wide variety in their plant delivery service.
Bloom & Wild specialise in smaller houseplants that will give your living room a vibrant uplift when placed on a side-table, desk or windowsill, rather than large and tall plants that can fill an empty corner.
We found the plants from Bloom & Wild to be slightly more expensive than similar products at other online retailers, but their attractive, colourful pots are included in the price - we just wish you had the option to mix and match the plant you wanted with the pot that would most suit your interior paint colour scheme.
For gifting, this online plant seller comes out on top. Not only can you select a specific date to have your plant delivered, making it ideal for birthday or Mother's and Father's Day surprises, but you can also buy someone a houseplant subscription service (opens in new tab). For three months you can sign yourself or someone else up to receive a brand new plant every month - a gift that keeps on giving as the plants grow and thrive over time.
Beards & Daises
Specifications
RRP: From £7
Delivery cost: From £5 (named day delivery costs an additional £5)
Delivery time: 4-5 working days
Pots included?: No
Reasons to buy
+
Great value for money per plant, especially compared to some larger online plant retailers
+
Website is easy to browse and makes finding the perfect plant for your home simple
Reasons to avoid
-
Minimum spend is £20
-
Higher delivery costs compared to larger sites like Bloom & Wild and John Lewis
-
Next or named day delivery costs extra
Beards & Daises could easily sit in either section of this guide, as their site is one of the best places to buy plants online for both inside your home and for your garden.
They have plenty of plants to choose from, in a wide range of heights and sizes, including a range of cactus, plant bundles and accompanying pots (that you can add to your basket for an extra cost).
To help you choose between the 100+ plants listed on their site, Beards & Daises have a useful search filter that allows you to pick between options that will best suit your home - such as 'happy in direct sunlight' - or best suit the person who will care for them (you can pick between plants that 'could be a diva' or are branded 'unkillable').
We liked that any plant you buy comes with a postcard sharing care instructions, so there's even more chance that your plant with survive and thrive in its new home.
Beards & Daises also have a houseplant subscription option (opens in new tab), so from just £30 a month you can fill your home with new houseplants every month.
You need to spend £20 or more before you can checkout, so despite the great value plants on offer, you may find yourself buying more than you need.But you can easily hit the minimum spend if you buy one plant for yourself and another to gift.
The best places to buy plants online for your garden
Golden Valley Plants
Specifications
RRP: from £5
Delivery cost: £6.99
Delivery time: within 7 working days
Reasons to buy
+
Great quality plants and shrubs
+
Extensive selection and variety available
+
Best place to buy perennials online
Reasons to avoid
-
Delivery is only free over £60
Garner the benefits of buying plants for your garden from a family-run, second generation Nursery in Herefordshire without having to leave your home county. Golden Valley Plants deliver their plants and shrubs all over the UK with the same care and professionalism as if you'd visited their garden centre in person.
Golden Valley specialise in perennials - thanks to the prime growing conditions for the plants in the area of Herefordshire where they're based - but the online garden centre also sell bedding plants, plug plants, Hellebores and hundreds of other plants and shrubs to suit your needs.
The team behind Golden Valley attempts to still provide some of the expert advice that you might get when shopping for plants in person, online, with options to filter the wide variety of plants and shrubs by flowering period, garden position, light level and more.
When we had a shrub delivered by Golden Valley it arrived well-protected and in good condition - seemingly unaffected by its long journey. The plant fared well once planted and with the regular watering recommended for a newly planted shrub, it soon started to grow and flower.
Hillier
Specifications
RRP: from £8.99
Delivery cost: £7.99
Delivery time: 5 working days
Reasons to buy
+
Good variety of top quality plants and shrubs available
+
You can order pots, baskets, tools and more along with your plants
Reasons to avoid
-
Expensive delivery compared to other online plant retailers
-
Fewer filtering options offered compared to websites like Golden Valley to help you pick the right plants for your garden
Hillier have garden centres located across the south of England and now the well-respected plant and shrub retailer have taken their business online, too. The new Hillier Online Shop was only launched in February 2022, marking the first time in the business' 155 year history that their Chelsea award winning plants have been available nationwide.
We tested out the brand new website and were impressed with the variety of plants, shrubs and grasses available to buy for the garden, as well as the tools and accessories that you can purchase at the same time.
All plants available through the Hillier Online Shop have been nurtured by expert Hillier plant growers at the companies' nurseries near Romsey, Hampshire. The plants are not only grown at the Hampshire nurseries - they are also selected, carefully packed and dispatched on site too - something which is evident when you receive the carefully packaged plant at home.
When our Deutzia x hybrida 'Cherry Dream' shrub arrived we found it to be in the same great condition expected as if we'd bought it from the garden centre in person. We kept it well watered until established as advised and can report that over two months since the delivery of the shrub it is still faring well in the garden.
Digital Editor - Woman & Home
An internationally published digital journalist and editor, Rachael has worked as a writer and editor for both news and lifestyle websites in the UK and abroad including Metro UK, Homes & Gardens, Ideal Home, GoodTo.com, honey.nine.com.au and body+soul.
Rachael's published work covers a broad spectrum of topics and she has written about everything from the future of sustainable travel, to the impact of the coronavirus pandemic on the world we live in, to the psychology of colour.