The best flower delivery services for fresh, impressive bouquets and quick delivery
We've found the best flower delivery services who deliver on quality, customer service and - most importantly - on time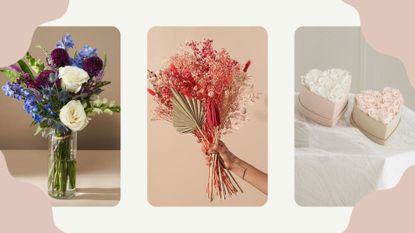 (Image credit: Future/Canva)
We've selected the best flower delivery services based on their reputation for quality bouquets, their product ranges, value for money and thousands of happy customers who can confirm these brands consistently provide a reliable service worth recommending.
There's a reason the tradition of giving flowers has endured for so long. Despite living in an era driven by technology, the act of giving or sending someone a bouquet, whether as a birthday or thank you gift, to celebrate a moment, or simply to say 'I'm thinking of you', can still surprise and delight.
From DIY flower arrangement kits, to eternity roses or fresh-farm flowers, there are many different flower delivery services today to choose from. We've rounded up the best of the best below, just in time for your Valentine's Day gift planning.
Best flower delivery services in the US at a glance
Why you can trust Woman & Home Our expert reviewers spend hours testing and comparing products and services so you can choose the best for you. Find out more about how we test.
Our pick of the best flower delivery services in the US
1. 1-800 Flowers
Best for a wide variety of choices
Specifications
Price range: Under $50-Over $200
Shipping: Same-day delivery available
Bouquet sizes: S-XL
Optional add-on gifts: Food gifts, alcohol gifts, home gifts, recreational gifts, keepsakes, personalized gifts
If you're looking to send flowers to a lot of people or just simply want the widest number of choices possible, this is the place to go. The best online flower delivery service for getting everything under one (virtual) roof with nationwide shipping and even a selection of same-day delivery options, this is a no-brainer for when you need something quick but you want to make an impression too.
It's not only the hundreds of bouquet choices and convenient delivery options that make this a top pick, there are also countless additional gifts to add to your chosen blooms—from fruit and sweet treats to wine and savory eats, scented candles, homeware and even kitchen gadgets for keen cooks. They even have a selection of aromatherapy candles for an at-home spa evening that could make for a romantic Valentine's Day date idea. Make them up a package they won't soon forget!
2. Floom
Best for supporting small florist businesses
Specifications
Price range: Varies
Shipping: Same-day shipping available
Bouquet sizes: Varies
Optional add-on gifts: None
Recent years have seen a huge increase in small and home-run businesses—and for many of us gift-giving has become an opportunity to support these local ventures. However, shopping small or local businesses can often involve more effort than your standard online shop—so Floom is striving to make shopping small florists as easy as your Amazon order.
The site features arrangements from hundreds of different sellers across the country, meaning there are also various styles, sizes, and price ranges available to shop too. And if you've been thinking of how to start a flower business yourself, Floom's website even has an easy page where florists can sign up to sell their creations.
The only drawback with this one is that it's not available nationwide, as delivery is only possible to the following city areas: Los Angeles, New York (including Manhattan and Brooklyn), New Jersey, Chicago, Houston, San Diego, San Francisco, and Atlanta. Or if you were hoping to order for any friends across the pond it's also available in the UK.
3. Farmgirl Flowers
Best for pretty arrangments with good quality flowers
Specifications
Price range: $59-$129
Shipping: 2-3 business days
Bouquet sizes: 15-45 stems
Optional add-on gifts: None
Farmgirl Flowers is all about fewer choices but better quality. In an effort to step away from the style of the usual online florist giants, they operate a minimalist model, which means beautiful and good quality blooms that make for arrangements with the true wow-factor. But minimalism doesn't mean you'll be stuck for options.
They offer around 40 different styles with choices for different tastes—so whether you like brights or neutrals, roses or sunflowers, wildflowers or foliage, there's likely to be something that you'll love. Most of their arrangements also come presented in either a stylish burlap sack or a pretty pot or vase that suits the style of the bouquet. iIf you're shopping ahead for Mother's Day gift ideas that are easy and impressive, these luxury blooms are no doubt the best flowers for Mother's Day.
4. Bouqs
Best for bright and unique bouquets
Specifications
Price range: $39-$146 ($28-$124 for subscribers)
Shipping: Same day shipping available
Bouquet sizes: Original (15 stems) - Grand (45 stems)
Optional add-on gifts: Candles, food gifts, jewelry, gift boxes
Championing sustainability in flower growing, Bouq only uses blooms that are grown using sustainable practices like minimizing waste and recycling water. By sourcing their flowers straight from the farm, they ensure the freshest flowers so that your bouquet will look vibrant for longer.
And this passion for quality and freshness is shown in their product offering, as their arrangements are packed with bright blooms and seasonal stems that make for unique arrangements. They even have some arrangements that use pieces which can be replanted at home—something that would make a great gift for gardeners. Plus with next-day delivery available, you can be sure of the freshest flower delivery that comes as close to farm-to-table as is possible with an online flower delivery service.
5. Urban Stems
Best for on-trend blooms
Specifications
Price range: Under $45-Over $100
Shipping: Next-day delivery available
Bouquet sizes: Single & double
Optional add-on gifts: Candles, food gifts, plant care
Urban Stems is another online florist that uses flowers sourced straight from the farm—they partner with only Rainforest Alliance Certified™ farms to encourage responsible and sustainable choices. However, it's not just quality and freshness that this service brings. As the name suggests, Urban Stems is all about living up to the modern, creating on-trend arrangements that tap into all the current tastes of their consumer.
From plants and dried flowers to wildflowers and contemporary designs, their look is one of modern sophistication. They've even partnered with one of the best designer bags brands Kate Spade New York to create some of their arrangements and offer a couple of bouquets designed by Vogue magazine—if that doesn't say en vogue then we don't know what does.
6. Petalled
Best for budding florists
Specifications
Price range: $70-$110
Shipping: Tuesday-Friday deliveries
Bouquet sizes: Petite - Grande
Optional add-on gifts: None
Petalled make it easy to dip your toe into the skill of floristry and try a new hobby with their handy packages that come ready with everything you need—including easy instructions—to create a beautiful floral arrangement.
On the website, the product page for each bouquet tells you how long it should take to arrange and what the difficulty level is so that you can do whatever suits your giftee best. Most of the bouquets also feature some sort of wildflower or dried flower—both of which have seen quite the resurgence in popularity in recent years, so are great for any trend followers among your friends. They even offer subscription boxes if you're looking for thoughtful gifts that keep on giving.
7. Venus et Fleur
Best for elegant rose boxes
Specifications
Price range: $44 - $1999
Shipping: Express shipping available
Bouquet sizes: Mini - Grand
Optional add-on gifts: Blankets, candles, room sprays, homeware, vases
If you're looking for a flower delivery service with a difference for Valentine's Day or an anniversary, why not take a departure from a classic bouquet and instead treat them to this strikingly elegant box of roses? It can be customized to display different colored roses, with 26 options available and different shapes and sizes.
These might be on the higher end of the price spectrum, but if you're stuck for impressive and unique gift ideas, this definitely ticks the boxes. There are also many styles available to choose from that feature pretty patterns, and the beautiful Parisian boxes they're presented in can be reused afterward. And the best part is Venus et Fleur's eternity flowers can last a year, so your giftee won't have to say goodbye to their gorgeous flower arrangement anytime soon.
8. The Sill
Best for plants
Specifications
Price range: $36-$375
Shipping: 3-10 days
Plant sizes: Mini - Large
Optional add-on gifts: Planters, art, candles, puzzles, stationery
The last couple of years have seen many more of us becoming plant parents and developing our plant-rearing skills, so if you're shopping for someone who's relatively green-fingered, gifting them a plant could be more appreciated than flowers.
The Sill has a wide collection of plants available to buy online, from small succulents to large palms and everything in between. There are even plant sets that have a few different pots in them and lovely flowering plants too if you want to give a bit of a hybrid gift.
9. FTD
Best fresh flowers with same-day delivery
Specifications
Price range: $32-$357
Shipping: Same-day delivery available
Bouquet sizes: Standard-Exquisite
Optional add-on gifts: Bundle and gift sets available
If you need a full, gorgeous bouquet right away, Florists' Transworld Delivery Service (FTD) is one of the best flower delivery services offering fresh, same-day bouquets from local florists. Whether you're shopping for a housewarming gift or an 18th birthday gift, you can snag one of Milk Bar's popular birthday cakes, candles, bears, and other sweet gift sets, along with FTD's beautiful arrangements. And if your giftee is more of plant person or a wine connoisseur, there are endless options for those as well.
In addition to its wide range of flower options and excellent gift bundles, we chose FTD as one of the best flower services because of its broad shipping availability to 100% of the US and Canadian states and 150 other countries.
10. Bouquet Box
Best DIY flower arrangements
Specifications
Price range: $99 - $169
Shipping: Based on monthly delivery windows
Bouquet sizes: Petite - deluxe
Optional add-on gifts : None
Bouquet Box allows you to tap into your inner florist with its step-by-step flower arrangement guide. Each flower kit includes a gorgeous bouquet of farm-fresh flowers, a reusable vase, and a silk tool bag filled with all the tools needed to curate a beautiful masterpiece. And if one Bouquet Box isn't enough, you can subscribe and receive a new box monthly.
As someone who took a nine-week flower arrangement course, I left each class feeling refreshed and excited for my next arrangement.
11. ProFlowers
Best gorgeous arrangements and gifts
Specifications
Price range: $32-$357
Shipping: Same-day shipping available
Bouquet sizes: Standard-exquisite
Optional add-on gifts: None, but bundles and gift sets are available
Can't decide on a gift for your neighbor or a sweet 40th birthday gift to help someone celebrate their new milestone? ProFlowers has a bouquet or gift set for any occasion and all holidays. With a selection of over 15 different flower types and an array of colors, we're confident you'll find the perfect arrangement.
And if you're giftee is overdue on a self-care night, the brand also has spa gift baskets and gourmet food gift sets.
How to choose the best flower delivery services for your needs
With so many flower delivery services out there to choose from, there are some key considerations to think about when picking who to spend your money with.
How much do you want to spend?
Do you need next day delivery?
Do you want a classic bouquet or something out of the ordinary?
What size bouquet do you want to send?
Do you want to add any extra gifts to your delivery?
To help you make your decision, our handy guide to the best flower delivery services picks out the defining quality of each service so you can easily see which one fits your needs best.
We also advise on the price range for each online florist, as well as the delivery options, the bouquet sizes on offer and what kind of additional gifts are available to purchase too. Each of the florists listed will give you the chance to personalize your gift with a special message as well.
Kenedee Fowler is a shopping writer based in the United States. She joined woman&home in September 2022, and ever since has been sharing her expertise with the brand to help readers source gifts for any occasion and on any budget, reviews products so you don't have to, and scout out the best deals and products to give you the best value for your money. Before joining woman&home, Kenedee was a home editorial fellow for Insider Reviews, where she wrote in-depth reviews and articles across the home vertical.

Kenedee is a recent graduate from the number one journalism school in the US, the University of Missouri - Columbia, where she gained hands-on experience as a multimedia journalist at mid-Missouri's local news station.