Best Mother's Day gift ideas that will make her feel special and spoilt on Sunday
Because we owe our mum something as unique and wonderful as she is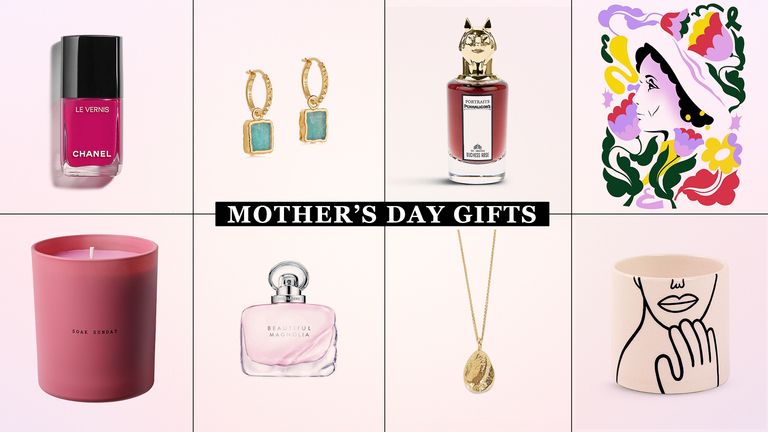 Mother's Day is fast approaching but don't worry – if you're still thinking about what to get (or what hints to give to your own children) we have plenty of inspiration for beautiful and unique gifts.
You could argue that Mother's Day should be every day. After all, the most special women in our lives deserve the best 365 days a year. But come that special Sunday every March, all our mother figures – mum, grandma or someone else – deserve to feel extra spoilt. Be it with a special family gathering along with a couple of glasses of fizz, beautiful flowers, a crafty present that will inspire her to take up a hobby at home or a big splurge, it's all about showing you care.
This year, Mothering Sunday falls on 14th March and while the festivities may be virtual rather than in person, there's still time to order online and ensure she has something special to open on the big day. While it may feel a little clichéd to opt for flowers or scented candles, they're classic gifts for a reason. If you would like to invest in something a little different, why not try a striking piece for the home or a contemporary piece of jewellery that she'll treasure (for crafty mums, you could always invest in one of the best jewellery-making kits so she can make her own).
Unique Mother's Day gift ideas
Some prefer quality time spent doing something different, others a personalised gift or something useful. Unique Mother's Day gifts can range from tasteful and intricate jewellery to beauty treats – whatever will make your mum feel special and appreciated this Sunday.
Mother's Day gifts with a personal touch
1. Aspinal Of London Saffiano A5 Refillable Leather Journal
Give your mum a special personal gift for her to relax with in her alone time and get down her private thoughts in this beautiful journal. You can personalise with whatever wording you want or opt for initials in the corner of the diary instead. You can also buy paper refills for this so that it can be a lasting gift and the saffiano leather finish gives the notebook a gorgeous luxe feel. We love the gold embossing that gives this a really high-end look and feel and the A5 size means that it can slip easily into fashion-forward handbags for your special lady to take out and about her when she's out during the day.
2. Personalised Mama Bracelet
We love these adorable handmade bracelets that are made from painted glass beads and feature acrylic letter beads decorated in white and gold. There are a whole bunch of colours available to pick from as well as the option to customise with whatever words or letters you want for a truly bespoke bracelet. There's also a choice of several different shapes of 18 karat gold plated bead to finish off the bracelet at the back and you can even request a different size if your mum prefers her trinkets a little looser. If you have sisters you could even make this a joint present and buy a few bracelets so that you can all have a matching friendship bracelet or buy your mum a few to stack up on her wrist for a stylish casual look.
3. Luxury Leather Jewellery Roll
After all those years of buying your mum special trinkets for Mother's Day, this year why not gift her something to keep them all polished and protected? This beautiful and practical roll features three zip compartments to house small pieces of jewellery and a handy strip to hang rings on too. You could opt for the blush pink colour or if your mum likes something a little less floral-hued there's also a chic navy option or a more muted pearl white colour. There are also a bunch of colours to choose from when it comes to the foil letter embossing on the front, from the typical gold, silver and rose gold, to slightly more offbeat colours like lilac, turqouise and hot pink.
4. Moet & Chandon Personalised Impérial Rosé Nv Champagne 200Ml
Pop a special bottle of bubbles with your mum this Mother's Day with this adorable bottle that features a personalised black and white photo on the front of the bottle. It's quite mini so you'll only get a little bit out of it each, but there is a bigger version where you can personalise the box with letters rather than have a photo printed on the bottle. If your mum isn't a fan of rosé champagne, then this clever image personalisation option is also available on the normal brut champagne bottle. You could even get your mum one of each and print each with a different photo - or if you're celebrating with her from afar then snap up one for yourself too and raise a glass over a boozy video call!
5. Skechers Gowalk Arch Fit - Conquer
Skechers Arch Fit shoes are a stylish way to give your mum the gift of comfort. The innovative footwear brand has launched their groundbreaking Skechers Arch Fit® technology into their shoe lines, meaning a comfortable fit that's personal to each wearer. We love these stylish boots for brisk country walks. Combat any weather in comfort with these sturdy boots that reach up to the ankle for added warmth and extra support and come with suede and faux fur touches for a stylish finish. They even feature a handy zip at the side so that you can get them on and off without a battle!
Sponsored
Mother's Day jewellery
1. Missoma Amazonite Pyramid Charm Hoop Earrings
Material: Gold vermeil & Amazonite stone | Colour: Gold | Carat: 18ct | Other colours available: rhodochrosite & rainbow moonstone
Help your mum channel the Duchesses of Cambridge and Sussex with this Missoma favourite that features striking turquoise-hued Amazonite stones, which are known for their soothing properties and meant to bring physical and emotional healing powers. There are also options available that come with different stones – rhodochrosite for love and compassion and moonstone for harmony, protection and fertility.
Sponsored
2. Astrid & Miyu Embrace Pendant Necklace in Gold
Material: Gold Plated Sterling Silver | Colour: Gold | Carat: 18ct | Other colours available: Silver
If lockdown has forced you to be away from your mum, send her a gold-plated hug with this touching but beautiful pendant that features two figures embracing each other and hangs on a gorgeously dainty chain. You could even get a matching chain for yourself for something really thoughtful! Stack this up with your favourites or wear it alone for a real statement – fashion-forward mums of any age range will look great in this simple, timeless necklace. We're tempted to treat ourselves...
3. Edge of Ember Solitaire Diamond Bracelet
Material: Solid gold | Colour: White gold | Carat: 14ct | Other colours available: Yellow gold
Splash out on diamonds without draining your entire bank account with this stunning but simple 14k solid white gold bracelet, which holds a single ethically sourced diamond – no nasty mining background here. Much like Missoma's new jewellery line using ethically sourced diamonds, this brand has been considerate with its resourcing and manufacturing efforts. This stunning piece of jewellery is also available in yellow gold so that you can pick whatever goes best with your mum's overall style – and maybe even snap up the other colour as a treat for yourself...
4. Yala Zero Waste Brass Pendant
Material: Recycled brass | Colour: Gold | Carat: 14ct chain | Other colours available: None
Hailing from award-winning African jewellery brand Yala, who create ethical jewellery with collaborators who are paid fairly and materials that are eco-friendly, this unique pendant is made using 'rescued' materials that are smoothed into the chic bean shape and hung from a 14k recycled gold chain. SImple jewellery pieces are often the ones we treasure the most, considering they match just about any outfit. You can give this gift safely in the knowledge that it will complement your mother's style perfectly.
Mother's Day flowers
1. Bloom & Wild
Bouquet range: 50 | Delivery: Free next-day, £5 premium, international available | Price range: ££
The letterbox flower delivery service that has swiftly become everyone's go-to, Bloom & Wild is of course pushing the boat out when it comes to Mother's Day offerings. They have a whole section on their website dedicated to Mother's Day gifts, which includes a curated selection of easy letterbox favourites, gorgeous hand-tied bouquets and even adorable plants for the green-fingered. And if you want to give your mum an extra special floral gift, some of the picks even come with a bonus present like a nourishing hand cream, a bar of milk chocolate or a box of truffles – lovely!
2. Marks & Spencer
Bouquet range: 59 | Delivery: Free nominated/next day | Price range: ££
Of course every mum's favourite high-street department store has to be on our radar for this special spring Sunday with the gorgeous range of flowers that they have on offer for Mother's Day. There's also the option to add little extras to make your gift that much more special, with a bottle of house prosecco, Italian Chocolate Collection, Swiss Truffle Assortment, fancy Delacourt Brut Champagne and of course Percy Pigs available. Simply pick your favourite bouquet, add your extras, write up a gift message and add to your basket to make your mum smile this Mother's Day.
3. Bunches
Bouquet range: 39 | Delivery: Free standard, £1.99 24-hour tracked, £5.99 guaranteed day, £7.99 guaranteed before 1pm | Price range: £
An ethical online florist that sources its blooms from certified farms in parts of the developing world, Bunches aims to support members of these smaller and less-fortunate communities through their business, while also making sure that growers meet environmental standards to protect the planet as much as possible. The family-run business even donates 10 per cent of their profits to charity and provides free Royal Mail delivery. What's not to love?
4. Hayford & Rhodes
Bouquet range: 10, with extra products available too | Delivery: £9.95 same day London, £9.95 next day nationwide | Price range: £££
If you want to go super luxe and treat your mum to the best of the best then this is the way to do it. The award-winning florist has huge, breathtaking bouquets on offer with different beautiful styles available depending on your mum's preference. Or if you want to give a gift with a difference and go a bit more niche, they also have a range of botanical gift sets that complement the blooms and greenery with luxury candles, chocolates, spirits and wines so that your mum can open something extra special on her day.
5. Bloom
Bouquet range: 35 | Delivery: Standard delivery (Mon-Fri) £7.90 or free with orders over £100. Weekend delivery £17.50, pre-12:00 on weekends £30.| Price range: £££
Bloom is a sustainable flower service that prides itself on being completely plastic-free. They also sell all our flowers in bunches as they arrive from our growers which means zero flower waste. These stunning bouquets offer something a little bit different with bold designs and unusual flower selections for a unique and special bouquet.
Mother's Day candles
1. Soak Sunday Rose Utopia Rose & Sea Salt Candle
Fragrance: Rose & Sea Salt | Burn time: approx. 35 hours | Key scents: Rose, ocean sea salt, geranium | Vegan? Yes | Cruelty-free? Yes
A new brand on our beauty radar, Soak Sunday has captured our imaginations with vintage-style packaging and romantic fonts. Scents are unique and indulgent like this Rose & Sea Salt scented candle – a delicious fragrance combination we never knew we needed. Not only does this gift offer mums a moment of me time, but its minimalist design will also make a stylish addition to the home. As well as Rose & Sea Salt, other Soak Sunday fragrances include Honey & Oat and Ginger & Woodsmoke.
2. Jo Malone Frosted Cherry & Clove Candle
Fragrance: Frosted Cherry & Clove| Burn time: approx. 45 hours | Key scents: sweet cherry, clove, amber| Vegan? Yes | Cruelty-free? Yes
When it comes to Mother's Day gifts, we couldn't create this edit without including Jo Malone, perhaps the most iconic British candle brand. This spicy scent carries through the seasons, with cinnamon notes that transport us to Christmas festivities, and sensual amber reminiscent of warm summer nights. Sweet cherry complements the spiced scent of clove, cinnamon and amber perfectly. This delicious scented candle is poured into one of the brand's iconic glass jars and topped with a matte lid for a slick finish.
3. Caia Candle Drusus Natural Candle
Fragrance: Natural | Burn time: approx. 35 hours | Key scents: n/a | Vegan? Yes | Cruelty-free? Yes
Body candles are all the rage, so why not treat your mum to a stylish new home accessory with some killer abs? Meaning 'to rejoice' the Caia range takes inspiration from Caia Caecilia – the Roman Goddess of fire and women. Candles are unscented, vegan and highly decorative. A perfect gift for mums who appreciate the male form in all its naked glory, mix and match with other male body candles or a female body candle from the same range.
Mother's Day beauty gifts
1. Chanel Le Vernis Longwear Nail Colour
Size: 13ml | Colour range: 32 shades | Finish: Shine
Treat your mum to a little bit of luxury on Mother's Day with this long-wear, protective nail polish with lasting shine. We've tried many polishes in our time, but always come back to this classic make-up brand – its products are cosmetic icons for a reason! Le Vernis comes in a range of colours inspired by Chanel-style legends, so you can build up your collection. And who can resist the luxurious Chanel packaging?
2. The White Company Rose Quartz Facial Roller
Material: Rose quartz and stainless steel | Size: H18.5cm x W8.3cm
Sponsored
The perfect gift for mums in need of some self-care, this relaxing facial tool will encourage glowing skin through regular massage, not to mention a blissful moment of me time. Hand-crafted from natural rose quartz, the cooling stone helps reduce puffy eyes and skin, simply with some daily sweeping moments. With special features that allow for the perfect at-home facial, such as the smaller roller for the delicate area under your eyes, and a soft and durable fabric bag for preserving the tool, this nifty facial roller makes a great gift for anyone who wants to dial down the stress in their life.
3. Estée Lauder Beautiful Magnolia Eau De Parfum
Top notes: Magnolia petals, maté, water lotus | Heart notes: Magnolia oil, solar gardenia, Turkish rose | Base notes: Cedarwood, sandalwood, illumine musk | Available in: 30ml, 50ml, 100ml
Estée Lauder's classic Beautiful fragrance is a firm favourite among beauty aficionados and this latest variation on the scent might just be their most hypnotic yet. Magnolia petals, water lotus and Turkish rose are fused with the illuminating musk of classic cedarwood and it makes for a heady summery scent that's feminine and romantic.
4. Penhaligons The Coveted Duchess Rose Eau De Parfum
Top note: Mandarin | Heart note: Rose | Base note: Musky wood | Available in: 75ml
The packaging alone is enough to attract a legion of fans to this iconic British brand, but the perfume itself is a truly delicious blend of heady scents. The Coveted Duchess Rose eau de parfum is part of Penhaligon's Portraits collection. The story behind the fragrance centres around Lady Blanche and Lord George's daughter, who married the Duke in order to escape the rigidity of her parents. Frustrated by her unsatisfactory marriage, she continues to seek fun and frivolity, surrounded by lush gardens and romantic roses. Perfect for mums who are young at heart!
Mother's Day homeware
1. The White Company Textured Ceramic Electronic Diffuser
Timer settings: 3 setting timer: 2 hours, 8 hours or 16 hours | Accessories: AC adaptor, user manual, multinational plug, 300ml tank capacity
Sponsored
Believe us when we say, an aromatherapy diffuser will change your life. There are endless possibilities when it comes to scent combinations, whether you want to feel uplifted or relaxed. This stylish diffuser has a ceramic body with a lovely herringbone design and white base. The diffuser will automatically shut off at the end of each time set, or when the water level is low, so it's safe and energy-efficient.
2. Emmeline Pankhurst Limited Edition Print
British drinks brand Diablesse Rum has launched limited-edition prints of two inspirational women, Kamala Harris and Emmeline Pankhurst, in support of The Pankhurst Trust. The Pankhurst Trust was formed in 2014 as a merger between The Pankhurst Trust, which ran the iconic Pankhurst Centre with its museum and women-only activity space, and Manchester Women's Aid, Manchester's largest specialist provider of domestic abuse services. These colourful prints celebrate strong and fearless women throughout the decades and are the perfect choice for a powerhouse mum, who also favours stylish interior design. These prints are limited edition, too, making them an extra special and thoughtful gift.