Unique birthstone gifts that aren't just jewellery to give her in 2023
We've found the best birthstone gifts for every month of the year, including unique non-jewellery options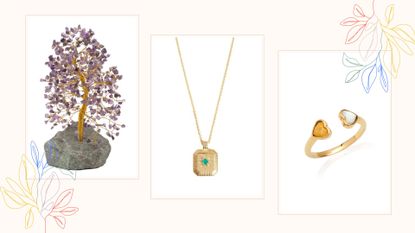 (Image credit: Future)
woman&home newsletter
Sign up to our free daily email for the latest royal and entertainment news, interesting opinion, expert advice on styling and beauty trends, and no-nonsense guides to the health and wellness questions you want answered.
Thank you for signing up to Woman & Home. You will receive a verification email shortly.
There was a problem. Please refresh the page and try again.
The best birthstone gifts should be personal to the recipient, allowing your loved one to feel truly special. They don't just have to be jewellery, either; we've found plenty of unique birthstone gifts, from candles and keyrings to worry crystals and gem trees.
Wondering what the difference is between birthstone gifts and the best zodiac gifts? While a person's birthstone relates to the month in which they were born, a zodiac-themed present refers to the star sign or even the specific day and time that the person was born.
From birthstone necklaces for every month of the year to the best birthstone gifts for mum, you'll find our top picks of 2023 below, including all the best personalised jewellery gifts that revolve around your loved one's particular stone.
The best places to buy birthstone gifts and birthstone jewellery in the UK
January birthstone gifts
January's birthstone is garnet, which has associations with love - reflected in its gorgeous red colour - and friendship.
Edge of Ember Garnet January Birthstone Necklace
RRP: £105
Available in silver or with an 18-karat gold plating, this 100% recycled necklace features an ethically-sourced garnet gemstone in its pendant. Garnet is also a traditional stone for a two-year wedding anniversary, so this jewellery gift isn't just for those born in January.
Signature & Birthstone Huggie Hoops
RRP: £79
Personalise a birthstone gift even further with these signature-and-birthstone earrings. The two huggie hoops are available in silver or gold, but while one features a garnet birthstone, the other will read your loved one's name. There's also luxury gift-wrapping available for an even more special gift.
Garnet U-Shaped Bobby Pins
RRP: from £6.50
Choose from a four-pack or ten-pack of these unique birthstone hair pins, with garnet stones sitting at the top of the pin to jazz up any summer hairstyle. The handmade pins are great for thick hair, and make for a sweet birthstone gift that feels personal without being jewellery-based.
February birthstone gifts
Those born in February have a birthstone of amethyst, which is a popular stone featured on lots of jewellery pieces. Amethyst is known for its healing properties, and represents healing, calm, serenity and peace.
February Birthstone Charm Gold Vermeil Necklace
RRP: £80
This small amethyst birthstone sits within a gold vermeil pendant on a dainty chain that would look great stacked with other necklaces or on its own. The handmade necklace showcases amethyst's unique ability to display different shades of lilac and violet, depending on how it catches the light.
Personalised Secret Message Birthstone Necklace
RRP: £22.40
For a more personalised necklace, go for this Bloom Boutique option, which is available in silver, gold or rose gold. The disk pendant, which features a small amethyst stone to represent February birthdays, can also be engraved with a message of your choice.
March birthstone gifts
Aquamarine is the birthstone of March, and its blue-green tone (as well as being named after the Latin for seawater) matches the Pisces water sign that also falls in March. Aquamarine symbolises tranquillity, youth, power and loyalty.
Vera Necklace with Aquaramine
RRP: £200
Rather than a simple chain sporting a single birthstone pendant, this unique necklace is covered in gorgeous aquamarine stones, to represent the month of March. Finished in gold vermeil and handmade from hypoallergenic sterling silver, the gemstone is ethically-sourced, too.
Custom Heart Birthstone Ring
RRP: £69
If you're looking for one of the best gift for couples, this ring can be personalised to feature the birthstones of both your loved one and their partner. Choosing the birthstones of a loved one's two children would also make for a great Mother's Day gift idea.
RRP: £15
Gift them a unique, handmade trinket dish to hold all of their jewellery (birthstone or otherwise) in. Handmade with aquamarine mica flakes, this dish also makes for one of the best housewarming gifts for a loved one who's just moved into a new home.
April birthstone gifts
If they're born in April, their birthstone is diamond; a stone that's a popular choice for celebrity engagement rings and definitely isn't the cheapest of stones. Diamonds are known to symbolise good fortune, love, strength and courage, and are also the traditional gift to mark a 60th anniversary or milestone, making it one of the best 60th birthday gift ideas too.
Tiffany & Co Single Diamond Pendant in Silver
RRP: £510
While not specifically a birthstone necklace, this would be a lovely 50th birthday gift idea for a loved one born in April. The small diamond sits on a sterling silver pendant and will soon become a staple of their jewellery collection.
RRP: £13.99
For a more affordable option, this handmade birthstone necklace would make for a lovely 18th birthday gift. Choose from silver, gold or rose gold, and add extra personalisation with a message which will be engraved alongside an illustration of their birth flower.
RRP: £47
It may be a bit early to start thinking about decorating the Christmas tree, but there's no reason this hand-blown glass ornament can't hang pride of place at any time of year.
May birthstone gifts
The May birthstone is generally agreed to be emerald, a stunning green stone. It represents new beginnings and growth.
Pandora Birthstone Pendant Set
RRP: £90
Combine an O-shaped pendant, heart-shaped birthstone charm and a simple chain with this Pandora option. The emerald-inspired birthstone charm can also be attached to Pandora bracelets, making this a versatile gift.
May Birthstone Jewellery Set in Emerald Gemstone
RRP: £58
For a birthstone necklace and earring set, look no further than this sterling silver option. To personalise this May birthstone gift further, just add your loved one's initial, to be added to the chain in the form of an extra pendant.
June birthstone gifts
There are a couple of different birthstones connected to the month of June, but it is mostly understood to be moonstone, which symbolises peace, good luck and power.
RRP: £139
While not specifically a birthstone necklace, this Missoma bobble chain features an eye-catching rainbow moonstone charm. One of the best things about moonstone is that it goes with everything, so this necklace will look great alongside some other chains, too.
Initial & Birthstone Necklace
RRP: £145
If you want to personalise a birthstone necklace a little more, add their initial on a charm with this Edge of Ember option. The recycled sterling silver necklace can also be gold-plated, and the use of ethically-sourced, natural
July birthstone gifts
July's birthstone is ruby, which (similarly to January's birthstone, garnet) is often linked to romantic love and passion, due to its red hue and is the traditional anniversary gift to mark 40 years - so you could shop ruby gifts for a 40th birthday present too. This birthstone is believed to protect those who wear it.
Baguette Ruby July Birthstone Necklace
RRP: £80
This chunky necklace features a rectangular ruby gemstone, set on a hypoallergenic 14-karat gold plated sterling silver chain. The bold red hue gives off a fuchsia shade in certain lights, and would also make for a lovely long-distance relationship gift for her.
Personalised Birthstone Star Earring Gift Box
RRP: £12.60
Made from sterling silver, these small, sweet stud earrings feature a small star, which sits inbetween a crystal and your chosen birth stone. The studs are then presented on a card in a gift-wrapped box.
RRP: £5
Inspired by the shape and colour of each birthstone, these handmade soaps will certainly stand out in your loved one's bathroom. The soaps are made with sweet almond oil and various essential oils, and this July soap has a citrussy scent of lemon, peppermint, orange and frankincense.
August birthstone gifts
August is most often associated with the stone peridot. Due to its green colour, peridot is often believed to symbolise good fortune, but it also represents prosperity and balance.
Engravable Birthstone Star Ridge Pendant
RRP: £105
The striking peridot stone is set here on a star-shaped motif on a ridged, thick pendant, for a truly unique birthstone necklace. The pendant can also be engraved, but it's definitely special enough as it is.
August Birthstone in a Matchbox
RRP: £9.95
Presented in an adorable matchbox, this small peridot charm is accompanied by a mini candle, which can be stuck into the matchbox. The gift box can be personalised with your loved one's name and/or a message, too.
Katie Loxton Birthstone Keyring
RRP: £16.99
Gift them a unique birthstone gift with this sage-green, high-quality keyring from Katie Loxton. Adorned with a peridot-inspired stone within a charm, and embroidered with personalised initials alongside three of the August stone's properties, this thoughtful gift will last for years and be appreciated for many to come, too.
September birthstone gifts
September's birthstone is sapphire, a one of the most versatile stones. It is generally believed to represent loyalty, wisdom and truth.
Wolf & Badger September Sapphire Necklace
RRP: £64
Lined with dainty sapphire stones, this short chain necklace can be worn as a choker or extended to a slightly longer length. Because sapphire can come in the form of various different colours, this birthstone gift will be even more unique.
September Sapphire Personalised Fine Cord Birthstone Necklace
RRP: £45
Choose a pink sapphire stone for a loved one who loves bright, summery jewellery. This magenta gemstone sits next to a monogram-style pendant with your loved one's initial on it, too.
RRP: from £19.79
This heavy planter could be used not only to house their favourite plants but also to hold utensils, pens, or even the best makeup brushes. The pots are made with crushed glass and stunning sapphire quartz, and could sit either inside or outside the house, so double up as one of the best gifts for gardeners.
October birthstone gifts
For October-born recipients, the birthstones to look for are either opal or tourmaline. Opal represents hope and creativity, while tourmaline symbolises friendship and healing, making both stones perfect for gifts for friends.
Personalised Initial & Birthstone Necklace
RRP: £89
Made with an anti-tarnishing coating and coming with a two-year guarantee, you can be sure your loved one's new birthstone gift will last. You could also add a two-inch extender to the gift to ensure that they're happy with the length of this chain, which is water-, sweat- and heat-resistant.
Birthstone and Bar Personalised Bracelet
RRP: £20.80
If you're after a personalised birthstone jewellery gift that's not a necklace, you're in luck. This simple bracelet comes in a silver, rose or rose gold colourway and can be personalised with the recipient's name, which will sit next to the tourmaline birthstone.
Birthstone Worry Crystals
RRP: £7.75
These sweet worry crystals can soothe and comfort the recipient, harking back to the healing properites of tourmaline. The A7 card in this gift explains that tourmaline can also help with inspiration, confidence and a feeling of being grounded.
November birthstone gifts
The November birthstone is either topaz or citrine. Citrine is linked to healing, joy and success, and topaz represents love and affection.
RRP: £35
These raw citrine pendant necklaces come in lots of different shapes and sizes, so you can find one that suits your loved one's jewellery tastes. Due to the unique nature of the stone and the way these necklaces are made, no two will be the same.
Initials and Birthstone Bracelet
RRP: £69
Another birthstone bracelet, this dainty chain comes in silver and gold and features a yellow topaz stone. On either side of the stone charm are two initials, making this a personal present that would work well as a 21st birthday gift idea.
November Birthstone Jewellery Box
RRP: £12.50
Fitting with the shades of November's birthstones, this mustard-coloured jewellery box also features a yellow-orange charm on the zip. If your loved one's wondered how to declutter jewellery, this box has space for rings, bracelets, earrings and more.
December birthstone gifts
For December birthdays, there are actually a few different birthstones. Turquoise, blue topaz and tanzanite are all associated with December, and they symbolise happiness, clarity and calm, respectively.
December Birthstone Turquoise Necklace
RRP: £615
We love this 18-karat gold chain with a unique design, featuring a bright turquoise stone to represent December. The rolo-link chain provides a refreshing unique spin on this popular piece of birthstone jewellery.
London Blue Topaz Esme Gemstone Storybook Ring
RRP: £170
For a really special personalised gift, you can have this stunning ring engraved with the name of your loved one, or their birthday. The hand-made ring is designed with a ridged, textured finish, and holds a stunning blue topaz stone.
December Birthstone Candle
RRP: £24.45
Inspired by tanzanite, this striking candle features a watercolour-style violet and blue design, reminiscent of the ocean or a night sky. With up to 50 hours of burn time, the handmade soy wax candle has refreshing and comforting notes of eucalyptus, peppermint, clove and vanilla.
Sign up to our free daily email for the latest royal and entertainment news, interesting opinion, expert advice on styling and beauty trends, and no-nonsense guides to the health and wellness questions you want answered.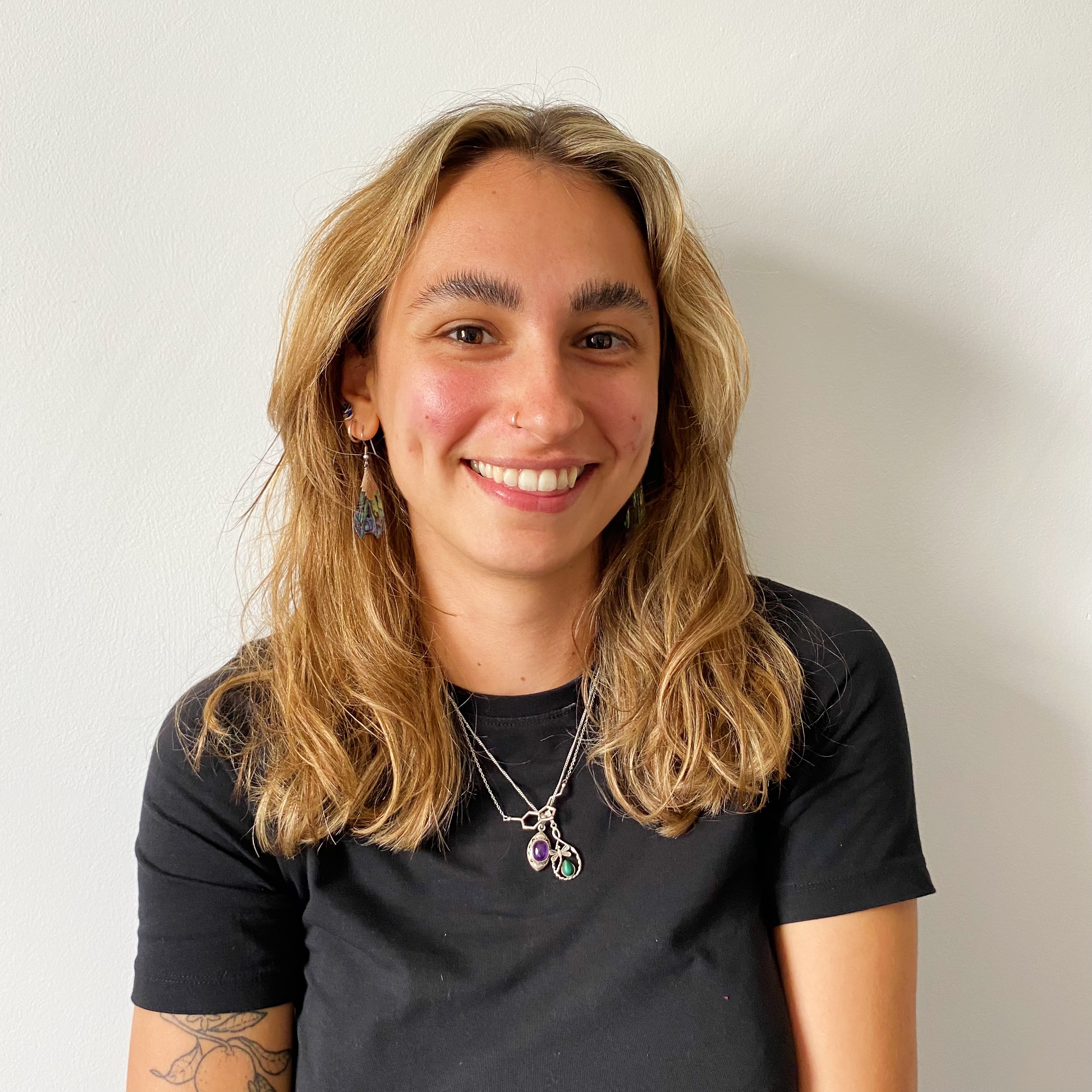 Hannah is the UK Shopping Writer for woman&home. As a shopping writer, Hannah has written on everything from period pants to wine subscriptions, and is especially interested in sustainable alternatives to well-known products, as well as books and homeware accessories.
Before she joined the team at woman&home Hannah headed up the social media accounts for Wonderland in 2019, where she was also a Contributing Editor for the magazine's sister titles. During the COVID-19 pandemic, Hannah also explored evolving shopping trends at New York Magazine's The Strategist UK, researching everything from face masks to status candles and even pens.