The best zodiac gifts - bespoke fashion, beauty, and home presents for every star sign
Discover the best zodiac gifts that any cosmic enthusiast will love, from personalized jewelry with precious brith stones to informative books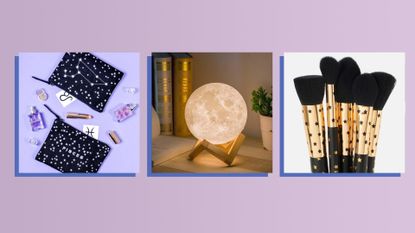 (Image credit: Future)
Shopping for the best zodiac gifts is so much more than finding a necklace with someone's birthstone on. Not just for those curious about the cosmos, finding the perfect zodiac gifts also means picking a present that suits someone's personality perfectly.
Astrology might be thousands of years old, but looking to the stars has never been more on-trend. Sophisticated brands are getting in on the act with cosmic collections, which have come a long way from the mystical trinkets you remember from incense-filled boutiques of the '90s.
That's where our edit comes in, featuring bespoke jewelry, tasteful prints, soft furnishings, and more. Like weekly horoscope readings, our curation caters to the unique traits of each sign, whether your recipient is a mysterious Scorpio or the Pisces who wears their heart on their sleeve. Gifting success is practically written in the stars with these zodiac gift ideas...
Our pick of the best zodiac gifts for every sign
Read on for the best zodiac gifts across categories, below.
---
---
---
---
---
---
---
---
---
All signs below:
---
---
---
---
---
---
Where to find the best zodiac gifts in 2022
If none of the above picks quite hit the mark, these are the best retailers to head to if you're looking for zodiac gifts.
Where to find the best zodiac gifts in the US
Where to find the best zodiac gifts in the UK
How to choose the best gifts for someone based on their star sign
Rob Crump at Printster (opens in new tab) has decoded the central traits of each star sign and reckons theses are the best gift ideas for people according to their star sign....
Aries (March 21 – April 19) - Fiery, fun-loving, and generous, an Aries loves to stand out from the crowd and command attention wherever they go. With this in mind, an Aries needs a statement present in keeping with their bold personality. Gifts they can wear, such as scarves, hats or bags which are bright and eye-catching are sure to satisfy the Aries' lust for luxury.
Taurus (April 20 – May 20) - Grounded, intelligent yet stubborn, a Taurus enjoys their own time and views their home as their sanctuary. As a naturally house-proud sign, the Taurus would appreciate anything which fits well in their homes, such as personalized photos hung up as part of a gallery wall, alongside art prints.
Gemini (May 21 – June 20) - Geminis are outgoing and intelligent and are frequently described as the most versatile and adaptable of the zodiac. The Gemini loves to learn new things, so what better gift than a recipe book, where they can spend countless hours trying new dishes out? As Geminis love being the host, a recipe book is perfect for all the dinner parties they love to plan and host.
Cancer (June 21 – July 22) - Sentimental and loyal, nothing makes a Cancer happier than being surrounded by their closest friends and family. Nothing would make an emotional Cancer happier than a present that is personalized for them. A personalized mug with photos from a happy time with family, or a framed photo of a happy memory you have together.
Leo (July 23 – August 22) - A Leo loves opulence, in fact the bigger the better for the extroverted and loyal Leo. Attracted to bold patterns and statement pieces, jewelry would make the perfect present for the Leo as they like to wear and show off their gifts.
Virgo (August 23 – September 22) - Virgos are known for being practical, sensible, and incredibly loyal. Although they can come across as tough, they have a kind center and love quiet nights in with friends. Practical presents will be appreciated by Virgos, such as stationary and trendy backpacks.
Libra (September 23 – October 22) - Often described as the "social butterfly" of the zodiac, a Libra is often found wherever the party is. Extroverted and friendly, Libras are charming and love to host parties. Party equipment for the extroverted Libra would be appreciated, such as portable speakers or a cocktail-making kit.
Scorpio (October 23 – November 21) - One of the more popular and social zodiac signs, a Scorpio enjoys being the center of attention and thrive on keeping in touch with the latest trends. An exhibitionist in the best way, a Scorpio will love a diary or planner to keep track of their social life, or what about a hilarious pair of personalized pair of socks they can show off at any social event?
Sagittarius (November 22 – December 21) - A Sagittarius is always seeking their next adventure. Lovers of nature and always on the lookout for a new place to travel to, the Sagittarius is one of the most active members of the zodiac. A Sagittarius is less of a material person and would prefer an experience over a gift. Vouchers for an experience day would go down a treat for the adventurous and curious Sagittarius.
Capricorn (December 22 – January 19) - Hard-working and focused, Capricorns are self-confessed workaholics who can appreciate the finer things in life. As Capricorns are normally extremely busy and are usually found working extra time, a luxe gift with a focus on wellbeing would be the perfect theme for a gift. An indulgent scented candle, a good quality bottle of wine or whiskey or a meal out at their favorite restaurant would go down a treat.
Aquarius (January 20 – February 18) - Creative and kind, the Aquarius enjoys a calm environment where they can catch up with their closest friends. As they are eccentric and have their own style, buying for an Aquarius can be difficult, however, gifts that involve creativity and customizing are right up their street. Mindful adult coloring books and crafting kits will see an Aquarius optimizing their creativity.
Pisces (February 19 – March 20) - A Pisces is known for grace and emotional intelligence. Sensitive souls, Pisces thrive when spending time with their loved ones. The Pisces will cherish gifts that remind them of good times, whether that's a photo album or framed picture of happy memories you shared together. Or why not organise a fun activity to do together to create more memories?