Best slippers for women: Best quality slipper brands to shop this season
Treat your feet with the best slippers that deliver on comfort as well as style from top quality brands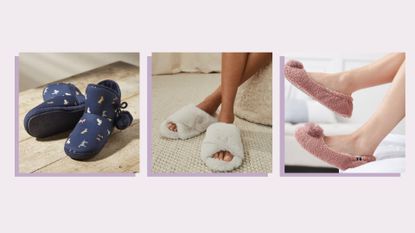 (Image credit: Future: FatFace, The White Company, Joules)
As the summer draws to a close, we're already thinking about snuggling up in the best slippers. From plush and fluffy, to simple and practical pairs, the best slippers offer a hug for your feet.
With the ability to make us feel at home as soon as we walk through the door, the best slippers are a fall/winter essential. The ideal partner to your best pajamas and best loungewear they can offer protection from the chill, as well as added foot support around the house, which is particularly useful on hardwood floors. No longer viewed as a dated piece of footwear, many fashion forward brands have woven slippers into their collections, taking the humble slipper to new style heights.
Drawing inspiration from the fall winter shoe trends 2022, expect everything from delicate ballet pumps and lush velvet fabrications, to standout faux fur styles that add a little glamour to your at home look. When it comes to silhouettes, directional iterations continue to champion flatform shapes, offering added height, alongside lux detailing such as shearling liners and pompom embellishment. A great gift, for your self or others, we've rounded up the best slippers to invest in this season.
How we chose the best slippers
Why you can trust Woman & Home Our expert reviewers spend hours testing and comparing products and services so you can choose the best for you. Find out more about how we test.
When looking for the best slippers, you'll want to consider practicality, comfort and aesthetics. As slippers have gained in popularity, both designer and straight-to-market brands are awash with directional pairs but it's important to not get swayed on style alone.
Our selection of the best slippers looked for luxe fabrications both for the body and lining of the shoe. From faux fur to shearling, slippers need to offer your feet plenty of comfort. We also chose slippers with thicker or more hardwearing soles and footbeds, to ensure slippers chosen would last. While your slippers will be worn inside, you will on occasion need to nip outside in them, so we selected slippers that could have potential outside too (although we still recommend this is kept to a minimum). Finally, when it came to aesthetics, we sourced a range of colors, cuts (both flats and booties) and ensured there were both plain and embellished styles, displaying an array of the latest trends.
The brands that make the best slippers
1. Mou
Softest slippers
Reasons to buy
+
Celeb fave
+
Unique designs
London label Mou has a huge celeb following including Cameron Diaz and Gwyneth Paltrow so you know you're getting a-list comfort with these snug slippers. The word Mou itself means 'soft to the touch' in French and the slippers certainly live up to that name. Expect long-lasting, hand-crafted footwear with a unique touch from its signature Eskimo stitching to statement suede fringing.
Fashion editor's picks...
Mou Suede Slipper Full Eskimo Stitch
RRP: $140 / £80 | Available in an array of shades, these iconic mule slippers feature double-faced sheepskin, signature stitching, and a durable rubber outsole. They're super chic too.
Mou Closed Toe Sheepskin Slipper
RRP: $130 / £85 | Once you've slid into these, your feet will never want to leave. A flexible rubber sole makes them a practical and hardwearing choice. Available in 14 different colors.
---
2. Toms
Most sustainable slippers
Reasons to buy
+
Sustainable fabrics
+
Durable and long-lasting
Makers of some of the most comfortable flats, if you're a big fan of Toms iconic Alpargata shoe, then you'll love their stylish slipper collection. As well as slipper versions of the aforementioned shoe, they have cozy boots and snug mules too. Not only that, the brand is a sustainable champion, using eco-fibers, natural dye processes, and recycled materials in their products. Toms also commits ⅓ of its profits to grassroots efforts, supporting organizations creating changes at a local level. Staying in with your slippers has never felt so good.
Fashion editor's picks...
(opens in new tab)
RRP: $59.95 / £62 | Cozy and practical, these have a durable, lightweight sole so you can wear them outdoors or indoors. The heel can also be converted into a mule so you can slip them on with ease. With a shearling style exterior, these look and feel super luxe too.
(opens in new tab)
Toms Resident Heritage Canvas
RRP: $64.95 / £62 | Made primarily with jute, an eco friendly fabrication, it's produced using lower amounts of water, befitting a spot in the Toms slipper collection. Giving us Coastal Grandmother trend vibes, thanks to the laid back hue, they're ideal as we head into Fall.
(opens in new tab)
RRP: $59.95 / £58 | With a nod to the seventies, this knitted and shearling design will add a retro touch to your best joggers and sweater combo. The cozy lining will be your favorite thing as the weather dips and we love the cut away back for added comfort. Available in four classic hues.
---
3. Joules
Best for fun prints
Reasons to buy
+
Affordable
+
Playful prints
Joules is one of the best British clothing brands and its slipper collection is certainly worth a look-in. Guaranteed to add some fun to your feet, think rainbow hues, character motifs, and vibrant prints for one cheery collection. They are super affordable too and make great gifts. Team with the brand's gorgeous pajama sets for a stylish sleepover.
Fashion editor's picks...
(opens in new tab)
Joules Slippet Character Slippers
RRP: $32.95 / £24.95 | A classic mule design with a cute bee motif, these will make a charming addition to your slipper collection. The soles feature a "shhh I'm sleeping" slogan for a playful touch, they have added grip too.
(opens in new tab)
Joules Cabin Luxe Faux Fur Lined Slippers
RRP: $44.95 / £36.95 | A plush faux fur bootie, this super cute style is just the ticket as the cool nights draw in. With a soft foam footbed and a luxe faux fur lining for added comfort, the cream hue adds a touch of glamour.
---
4. UGG
Cosiest slippers
Reasons to buy
+
Incredibly cozy
+
Wide range of styles and colors
We all know how comfy UGG boots are and the brand's slippers are next level when it comes to toastiness. Full to the brim of fun and playful designs in an array of colorways, UGG slippers cover a range of hues, from more muted tones to vibrant pinks and rainbow designs. Guaranteed to make a statement, the brand's embracement of color taps into the latest fashion trends 2022 for dopamine dressing. Crafted from Ugg's signature sheepskin, sliding into a pair of its slippers feels like stepping on a cloud or having your feet sit inside the best pillows all day long - you can't really ask for more than that, can you?
Fashion editor's picks...
(opens in new tab)
RRP: $95 / £85 | A more classic style that's perfect for lazy days, these are made from UGG's signature sheepskin. Sleek and practical they have a rubber sole and a soft suede upper. The tan hue keeps them timeless.
(opens in new tab)
UGG Oh Yeah Slide Slippers
RRP: $100 / £80 | Featuring soft sheepskin and the UGG logo, these jumbo slippers have a sturdy outsole, making them wearable outside too. Team with anything from casual loungewear to your best jeans and beyond.
---
5. The White Company
Most stylish slippers
Reasons to buy
+
Sleek and stylish
+
Simple colours
The White Company is known for its timeless understated style, well regarded for making some of the most luxurious clothing and loungewear. Whether you're after the best cashmere sweaters and best robes, or some sophisticated nightwear, you'll be spoilt for choice here. And when it comes to slippers, expect soft and sumptuous fabrications and directional designs. From fuzzy faux fur sliders, to sleek slip on mules, all in muted color palettes, its range is a real treat. Indulge in a relaxing night in and pick up one of The White Company's best scented candles too for the ultimate pampered night in.
Fashion editor's picks...
(opens in new tab)
The White Company Faux Fur Buckle Cork Slider Slippers
RRP: $65 / £45 | Way too stylish just to be kept inside the house, these faux-fur cork sliders add a smart and polished finish to your favorite loungewear ensemble. The metal buckles are adjustable so you can get the most supportive fit.
(opens in new tab)
The White Company Faux-Fur Cross Slider Slippers
RRP: $55 / £39 | Crafted from recycled fibers, the crossover front design means these slippers look and feel utterly luxurious. With clever suede patches at the toes to stop slippage. These super fluffy slides will make a great gift too.
(opens in new tab)
The White Company Sheepskin Sliders Slippers
RRP: $55 / £39 | As we head into the fall 2022 fashion trends, sumptuous fabrications such as velvet begin to come to the fore and these delightfully decadent midnight blue slippers with bow detailing and faux fur lining look smart and directional.
---
6. Onaie
Best unique slippers
Reasons to buy
+
Every slipper is unique
+
High-quality materials
Every single pair of Onaie slippers is unique, so you know you're getting something truly special when you invest in a pair of its slippers. Founded by two sisters and based in London, the folk-inspired designs pay homage to the sisters' Polish heritage. Expertly made by a team of craftswomen in the Polish highlands, the slippers feature hand-embroidered patterns, statement stitching and a plush and cozy finish.
"With hard flooring I really needed something cozy and comfy to slip my feet into last winter and while I have enjoyed the summer I can't wait to get my Onaie slippers out again. The sheepskin lining felt utterly luxurious and the embroidery gave the slippers a smarter finish. Anyone that came over asked about them, I'd never have thought a pair of slippers could garner so much fashion love", woman&home, fashion editor, Rivkie Baum.
Fashion editor's picks...
RRP: $45 / £39 | Featuring the brand's signature stitching and pretty hand-embroidery these slippers are snug and stylish. Lined with sheep wool and fur with a leather outer sole, they are of such high quality and so soft, you'll feel like your walking on clouds.
Onaie Dark Sheepskin Mules
RRP: $45 / £39 | For something a bit more pared-back, these unfussy mules will work like a charm. Built to last, all slippers are made from offcuts so there can be a slight difference in the material used. They're perfect for keeping your outfit looking chic.
---
7. FatFace
Cutest slippers
If you're after that fleecy pajamas and fluffy slippers aesthetic then FatFace is your one-stop-shop. Its slipper offering is seriously cozy, like snuggling up under one of the best weighted blankets. Pick from printed slipper boots and fluffy mules and expect to see lots of cute designs as well (we're looking at you, pup print slippers!).
Fashion editor's picks...
(opens in new tab)
FatFace Textured Knit Slipper Boots
RRP: $46 / £29.50 | There's nothing like a cozy slipper boot to warm up your feet and ankles and these will be your new best friend on chilly days. There's a faux fur lining and a rubber sole so they're built to last.
(opens in new tab)
FatFace Sienna Tan Slip-On Sheepskin Mule
RRP: $70 / £45 | Sheepskin slippers not only make brilliant feet warmers but they look pretty chic too. This backless, suede design is great for pairing with your best sweater and jeans for a weekend look.
---
8. Emu Australia
Best indoor-outdoor slippers
Reasons to buy
+
Uses natural and sustainable fabrics
+
Super soft
Sustainable slippers that are delightfully snug too? Yes please! As a sustainable fashion brand, Emu Australia's aim is to use the best natural materials that are recyclable, reusable and biodegradable. Its range is crafted using products such as Australian sheepskin and Merino wool which are not only natural but incredibly soft on the skin too. Long-lasting, its slippers mold to your feet over time for the perfect fit.
Fashion editor's picks...
(opens in new tab)
Emu Australia Platinum Mintaro
RRP: $99.95 / £99 | These low cut boot-slippers are crafted from super soft and breathable sheepskin and have a sturdy sole, making these a winter wardrobe investment piece. The combination of the tan and cream adds a chic finishing touch.
(opens in new tab)
RRP: $69.95 / £59 | For the best pared-back slippers, these stylish sliders can be worn inside or outside. With a solid grip sole and sporty style stripes, we love the elegant color combination of navy, red and white and the shearling lining.
(opens in new tab)
RRP: $69.95 / £49 | We're a sucker for a rainbow color palette and these cheery slippers are top of our wishlist. Guaranteed to lift any look, the crossover foot straps will add security to these slip on shoes, while the soft pastel hues will make you feel relaxed.
---
9. Mahabis
Best premium slippers
Reasons to buy
+
Can be worn inside or outside
+
Breathable for the summer
Minimal designs with maximum comfort is Mahabis' ethos and if you've yet to treat your feet to a pair of its slippers, now's the time. Wool-lined, Mahabis slippers keep the warmth in and the cold out and as the styles are breathable, they help to avoid sweaty feet too. Flexible, the slippers are designed to mold and support your feet as you move. One for those who love more minimalist design, the hybrid soles tick that indoor-outdoor box too. Top-quality simple styles that will last, they are an investment piece you won't regret.
Fashion editor's picks...
(opens in new tab)
RRP: $120 / £89 | These slip-on wool mules help to regulate the temperature of your feet so they won't get too hot. The footbed is cushioned for extra comfort and they have light compression to help tired feet, making them perfect for on the go.
(opens in new tab)
RRP: $109 / £79 | This wool-free pair is ideal for the warmer months, letting your feet stay cool in the heat. The cork footbed is lightweight and breathable so there's no need for socks. Wear indoors or outdoors, we love the sporty mesh detailing.
---
10. H&M
Most affordable slippers
Reasons to buy
+
Affordable prices
+
Trend-led designs
H&M is one of our favorite stores for everything, from the best t-shirts for women to show-stopping frocks, so it's no surprise we've stumbled across some stylish slippers there too. As well as classic fluffy styles, it also has some statement-making quilted slippers which are bang on-trend. A bargain buy to add to your collection.
Fashion editor's picks...
(opens in new tab)
RRP: $24.99 / £17.99 | The intricate plush, ribbed style detailing really makes these slippers stand out from the crowd. In a classic taupe hue, these slippers promise to never date and the thick cross over straps give them a modern-twist ands comfort finish.
(opens in new tab)
RRP: $29.99 / £19.99 | These padded slippers are like stepping into a big fluffy cloud. Padded accessories are one of the big fashion trends 2022 making them a directional buy too. There's a pretty ribbon tie fastening around the ankle to secure the fit.
---
11. Marks & Spencer
Most traditional slippers
Reasons to buy
+
Classic styles
+
Affordable
When it comes to the best British clothing brands, you can't beat Marks & Spencer and we love finding a chic pair of its slippers in our stocking during the festive season. Whether you want a traditional moccasin style or a more fashion forward design, you'll be spoilt for choice with this season's cozy collection.
Fashion editor's picks...
(opens in new tab)
M&S Faux Fur Lined Moccasin Slippers
RRP: $39 / £22.50 | You can't beat a classic moccasin slipper and these tick all the boxes. A snuggly faux fur lining with a soft suede outer, they are comfy and timeless. Available in three easy-to-wear hues, tan, berry and navy.