How to style Birkenstock clogs for 2023: From loungewear outfits to office worthy looks
Unsure how to style Birkenstock clogs? We show you how to wear this must-have shoe for all occasions, as well as the best dupes out there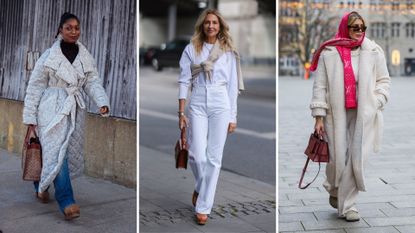 (Image credit: Getty Images)
Wondering how to style Birkenstock clogs? You're not alone. The Birkenstock Boston clog has been one of the most sought-after buys for over a year and the trend shows no sign of dissipating as we head into cooler climes.
An enduring autumn/winter fashion trend for 2023, clogs are the practical yet chic staple that the fashion crowd can't get enough of. A comfortable and versatile slip-on, they offer all the comfort of a slipper with a trendy outdoor appeal. When it comes to how to dress simple but stylish, this silhouette has you covered for casual days off or even trips to the office. Available in a neutral colour palette of beiges, browns, and greys, as well as statement blues and pinks, they will slot effortlessly into almost any wardrobe and suit a multitude of styles and tastes.
But for many, the look and shape of the shoe are divisive. Mirroring the ultimate love-to-hate silhouette of Crocs, it can be challenging to imagine how to wear Birkenstock clogs in a fashion-forward way, particularly for autumnal weather. However, celebrities including Sarah Jessica Parker, Reese Witherspoon, and Jennifer Garner have all been spotted sporting a clog for off-duty days, proving that practicality can still be fashion-forward. Look no further for how to style Birkenstock clogs and the best styles to shop now.
What is the Birkenstock clogs trend?
Birkenstock Boston clogs became somewhat of an overnight sensation in 2022, thanks to posts on TikTok that demonstrated the versatility of the shoe and the various occasions they can be worn for. However, the brand has been building itself for decades to be one of the most trusted footwear labels on the market. The Boston style actually first launched in 1979, and has slowly been growing in acclaim ever since.
After reaching a peak in the '90s and early 2000s, the clogs fell out of favour when platform, strappy numbers came back into fashion. But today, in an era when '90s fashion trends and Y2K looks are firmly back on the style map, we are finally ready to welcome the Boston back into our wardrobes.
Known best for its open-toed Arizona sandal, there are fashion aficionados who will only be seen donning Birkenstock shoes in the summer months. But these classic sandals don't work for every season, and can be impractical if you live somewhere with a cooler climate. As we start pulling together autumn outfit ideas, there has never been a better time to start working closed-toe Birkenstock clogs into your rotation for unmatched ease that will see you through the season.
How to style Birkenstock clogs for autumn and winter weather
Wondering how to style Birkenstock clogs as temperatures cool? Despite what you may think, they are probably one of the easiest shoes to style. Thanks to the closed toe, they look just as good with socks as they do with bare feet, meaning they are the ultimate transitional piece. Whether you want to team your pair with jeans, skirts, or even wear them to the office, there is a trendy and sophisticated way to do so.
1. How to style Birkenstock clogs with dresses
Style your Birkenstock clogs with a dress for the ultimate nod to the Coastal Grandmother trend. Opt for a light coloured and floaty number, layered over or under a knit to make this style weather-appropriate, or team with the best jumper dresses and a pair of opaque tights this winter. If you've already mastered what to wear over a dress for this season, clogs have you covered for footwear.
Pairing with the best midi dresses doesn't only create a chic outfit in two simple steps, but also allows the silhouette of the clogs to shine. We love the layering potential with dresses and clogs: throw on a denim jacket and some statement sunglasses for a pub date, or layer with a white tee and white socks to keep things bright.
Uniqlo Knit Short Cardigan
RRP: £29.90 / $49.90 | Tie your look together by matching your shoes to your outerwear. This affordable beige cardigan is ideal for slotting into an autumn capsule wardrobe to keep you cosy during the transitional weather months.
RRP: £130 / $190 | One of the best British clothing brands for quality autumnal pieces, Boden offers gorgeous knitted dresses for the season. This green will contrast perfectly with neutral-hued clogs this year and keep you warm.
RRP: £125 / $160 | If you're new to this trend, sticking with neutral colours is your best bet. This beige hue pairs perfectly with any tone in your capsule wardrobe without being too dark, making them a comfy and stylish summer purchase.
2. How to style Birkenstock clogs with jeans
Perhaps the easiest way to style Birkenstock clogs, jeans are a versatile item to team with your Bostons. A trousers silhouette, in general, will allow your fancy footwear to peek out from under the hems, making a subtle yet stylish statement that can be worn for so many different occasions and works no matter the season.
Whether you are after smart-casual outfit ideas for this season or want an easy 'fit for running errands in' look, a great switch out for jeans and Chelsea boots, there is no end to the versatility of the combination that is jeans and clogs. Stick to classic neutral-coloured clogs for a discreet outfit, or push the boat out with a pair of the brand's bold new colourways for a standout finish.
Birkenstock Boston Pink Clay
RRP: £125 / $160 | Switch things up with the pink clay version of the iconic Boston. Pair with the best white jeans for sunny winter afternoons out, or rock as slip-ons around the house on weekends with some fuzzy socks for extra comfort.
Levi's Ribcage Straight Jeans
RRP: £100 / $98 | Finding the right pair of jeans for you is essential. From the best jeans for curvy women to trend-led or classic styles, Levi's carries a huge range of designs that work for all body types - well worth the investment.
Everlane Organic Cotton White Tee
RRP: £29 / $30 | Everyone needs a high quality white tee in their rotation and this will go perfectly with jeans and a blazer for a put together finish. Style up with a statement necklace and a chunky knit this winter.
3. How to style Birkenstock clogs with skirts
In a similar vein to dresses, styling your Birkenstock clogs with a skirt really allows them to sing. And they can be worn together as a stylish combo, whatever the weather. From the best sequin skirts to structured leather numbers, there is no end to how skirts can be styled for this season that will work with any type of Boston clog. Whether you choose midi or maxi, any length and cut of a skirt can work with clogs, so don't be afraid to experiment.
Keep it simple with a white tee or plain tank to streamline your silhouette, and help balance out the roundness of the clog's toe. You can also layer with a knit or leather jacket for evenings out, or throw on with one of the best cheap swimsuits for a simple winter vacation look.
RRP: £175 / $235 | A patterned midi will pair beautifully with plain clogs to add some colour to your outfit. We love the flowy shape of this Rixo number that can be styled alone or with a cosy fur coat for extra warmth this season.
RRP: £279 / $398 | The best cashmere sweaters deserve a place in every wardrobe and this roll neck is one of the most chic on the market. The ideal slouchy fit to match the cool Bostons style, it will be the cherry on top of all winter outfits.
4. How to style Birkenstock clogs for the office
Think that Birkenstock clogs are just for casual affairs? Think again. One of the key selling points for this brilliant shoe is that it can be styled formally just as easily as it can be dressed down. From post-work drinks to regular days at your desk, the Birkenstock Bostons can do it all. With the comfort of the best slippers but with trend appeal, you will feel like you are still in the comfort of your home whilst on the morning commute.
It's always worth having a pair of footwear that can ease the transition between seasons, and Birkenstock clogs fit that brief almost too well - we won't blame you if you want to purchase a separate pair for work and play. Opt for a darker colour to keep things extra smart, or use your footwear as a pop of colour when styled with more monochromatic outfits. Finish your weekday look with the best designer bags for work to flaunt your smart but relaxed style.
Birkenstock Boston Super Grip
RRP: £120 / $155 | If your journey to work involves a fair amount of walking, consider this pair of clogs with extra grip that will help firm up your footwork. Just as sleek as the original pair but with added practicality, these are worth every penny. Channel the autumn/winter handbag trends 2023 and style with a boxy purse.
RRP: £145 / $149 | A quality linen blazer is your best friend for autumn capsule wardrobe for work office. If you're looking for what to wear over a dress for a little more coverage and warmth, you can't go wrong. Or pair with tailored black pants and your clogs for a simple, chic look.
RRP: £1,580 / $1,740 | Invest in the best designer backpacks for a hands-free carrying experience that won't strain your shoulders or your style credentials. We love this Prada bag that will fit all the essentials. With classic styling, it features several buckled compartments and the brand's instantly recognisable logo.
5. How to style Birkenstock clogs for casual days
When it comes to styling Birkenstock clogs casually, you'll be spoilt for choice. The clog shape lends itself perfectly to slouchier styles, such as your best joggers and the best loungewear for women, but they can also team with casual denim skirt outfit ideas and are ideal when trainers don't quite feel like the right fit.
When considering which pair of Birkenstock clogs to go for, there is no wrong answer. However, it is worth considering where you will wear them most. If you're likely to be out and about running errands, a leather pair might suit you best. For a pair of shoes that will work year-round, the suede finish is the most popular, although you should consider suede protecting them to help prolong their use. But we especially love fur-lined versions for days at home or relaxing with friends, and they will save you from swapping between slippers and shoes when dashing out the door.
RRP: £27.99 / $34.99 | When looking for the best leggings, there's no going wrong with a high waisted fit. Super comfortable and in a versatile neutral hue, these will make for a chic yet breathable look for relaxing in bed or doing chores.
Girlfriend Collective Tank
RRP: £40 / $44 | From the best bras to size-inclusive leggings, Girlfriend Collective is one of the best American clothing brands for comfy and stylish activewear. Made from recycled materials, it's an ethical choice and we love the cross-over back design.
The best Birkenstock clogs dupes
Though we think the Birkenstock Boston clogs are a very worthwhile investment, they are towards the pricier end of slip-on footwear spectrum - and of course, thanks to their popularity, they're increasingly hard to get hold of. If you're still unsure about the trend and want to experiment with a cheaper alternative before you take the plunge, then we recommend giving the best Birkenstock clog dupes a go first. Here are our favourites:
RRP: £22 / $38 | These cute clogs from Next have the same buckle detail and suede finish for a fraction of the cost. Made from real leather, you can expect the same high quality and comfortable fit - and we can't resist this Barbiecore pink.
RRP: £49.99 / $69.90 | This suede pair of clogs from Zara is an edgier take on the Boston, thanks to the statement buckle, so it's one to go for if you want to partake in the trend but stand out from the crowd. Channel the autumn/winter shoe trends 2023 and wear with white frilly socks this season.
How long do Birkenstock clogs last?
As with all shoes, how long your Birkenstock clogs will last largely depends on how you take care of them. For the longest lifespan, we recommend using a waterproof spray, especially on suede, so they don't get prematurely ruined. It will most likely be a couple of years before you begin to notice serious wear on the soles (depending on how often you wear them) but when this time comes, it doesn't mean that your Birkenstock clogs have to be thrown away.
They can be re-soled by a cobbler which will give them a whole new lease of life, but make sure to take them for repair before any cork is exposed. The high-quality design really does speak for itself, but keeping them cleaned and avoiding water will help, too. When cared for properly, they could last you decades.