The best shapewear pieces to shop now - hardworking heroes that smooth, lift, and sculpt
We've tried the best shapewear across sizes and styles from bodysuits to structured all-in-ones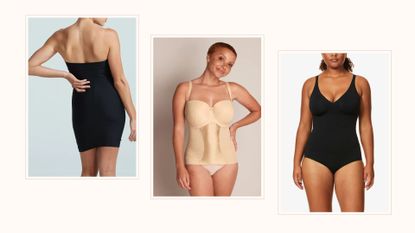 (Image credit: Commando, Bravissimo, Selfridges)
The best shapewear will sculpt and smooth your shape in a way that is incomparable to your regular underwear. Utilizing some of the best fabrications and textile tech that the industry has to offer, shapewear can be a game-changer for your wardrobe.
Whatever your body type, shapewear can still play a role in your wardrobe. Having earned an unfair reputation as an item that is rigid and painful, the best shapewear is actually breathable, contouring and can help you get the desired effect under your clothing. Shapewear is there to underpin and enhance your shape and your wardrobe and for many women it serves as a confidence boost helping them slip into an item of clothing they'd previously discounted.
But in order to get the right shapewear for you, there are a few key things to look out for. "The first rule is to stick to your true size and try on the garments where possible," says Maria Pastor, Personal Shopper and Stylist - partnered with House of Fraser (opens in new tab). "The biggest mistake that a lot of people make is trying to go down a dress size when buying a body shaper. If your shapewear is too tight, it won't make you look any slimmer or give you more control, it will just make you feel uncomfortable and give you an unnatural lining under your clothes." Another key tip, and one that we used when testing shapewear, is to ignore labels. "Don't let the size number that appears on the label worry you," Pastor says. "Nowadays, sizes can vary depending on the garment's cut or the fabric in which it is made."
Whether you are looking for new shapewear brands or the best plus size shapewear, there is a piece in this guide for you. We've tried and tested the best shapewear that's actually worth wearing - so you can shop with complete confidence.
How to choose the best shapewear
Why you can trust Woman & Home Our expert reviewers spend hours testing and comparing products and services so you can choose the best for you. Find out more about how we test.
The best shapewear styles are self-explanatory in that they're designed to smooth the area they're covering. For example:
Shaping shorts: will streamline your thighs, offering a smoother finish under clingy fabrics.
High-waisted shorts and briefs: will sculpt and flatter your tummy.
A waist trainer: will add definition to your middle, if you're looking to create an hourglass body shape.
An all-in-one body or slinky slip: this will offer all-over smoothness, flattering a tummy, sculpting your thighs, waist and bottom in the process.
Once you've worked out what item of shapewear you want, consider the level of control you want. Brands usually list the level of control offered by an item to make this easy to navigate. Consider when you'll be wearing the shapewear and the type of item it will go underneath. For clingier items, you may want firmer control, whereas for floatier or softer pieces, or for every day you may choose to go with a lighter control just to give you a little added smoothness. Think about how much support and sculpting you really want.
Lightest control: light control pieces tend to feel more like a gentle hug. Made of super stretchy lycra, they'll gently smooth out tummies and thighs and offer gentle contouring of bums.
Firmest control: at the other end of the spectrum, firm or heavy control shapewear are made of weightier fabrics and often contain contouring panels. These offer the most uplift and shaping, but you're likely to notice you're wearing them and they may feel less comfortable.
The best shapewear as reviewed by our experts
Tried and tested by our fashion team, these are the best shapewear pieces across sizes, styles, and fits - for better support and comfort.
Best shapewear for most occasions
Specifications
Price: $148 / £132
Size: XS-XL, equivalent to bra sizes 30C-40D and dress sizes 4-18
Colors: Beige and black
Body Material: 51% elastane, 49% nylon
Gusset Material: 80% nylon, 20% elastane
Wash: Machine wash at 86°F/30°C
Made in: Vietnam
Reasons to buy
+
Extremely comfortable wear
+
Addresses torso and thighs in one garment
+
Supportive
+
Lightweight
Reasons to avoid
-
Built-in bra not suitable for all body shapes or garments
This Spanx mid-thigh bodysuit is undoubtedly the shapewear piece to go for when you want a piece that can do it all. Not only does it provide bust support and relieve thigh chafing, but it also gives stomach and thigh hold that is effective without being uncomfortable. Expect to still have your flexibility when wearing this bodysuit.
Our tester said:
"At first, I expected the U-shaped front to sit uncomfortably on the chest - but this couldn't have been further from the truth. When testing, I found the plunge neckline extremely comfortable and flattering. It provided just the right amount of support in the necessary areas, with no need to switch from our usual size. It features adjustable straps, a low-cut back, and easy gusset access for when you need it. Spanx categorizes this bodysuit as a mid-range 'level 2' in terms of hold, akin to the feel of a firm hug. Because it relies on the soft, stretchy fabric to sculpt your shape, there are no niggling contour panels to contend with, making it comfortable enough for all-day wear. Ultimately, an investment buy that will quickly earn its keep in your wardrobe."
See our full Spanx Suit Your Fancy Plunge Low Back Mid Thigh Bodysuit review
Or try...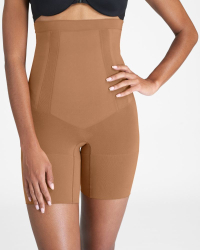 (opens in new tab)
Spanx OnCore High-Waisted Mid-Thigh Short (opens in new tab) | Sizes: XS-3XL | Price: $78
These mid-thigh shorts smooth and secure the tummy area with high compression material. Enjoy your most flattering fit yet.
Best light hold shapewear for smoothing
Specifications
Price: $164 / £165
Sizes: 34-46, equivalent to UK sizes 6-18
Colors: Black and beige
Special Features: Shaping panel at waist and abdomen, lined gusset
Material: 69% cotton, 31% elastane
Wash: Machine wash cold gentle
Reasons to buy
+
Minimalist look
+
Light and comfortable
+
More attractive style
+
Not obviously shapewear
Reasons to avoid
-
Light hold not suitable for those who want more shaping
Wolford shapewear is definitely some of the most stylish on the market, so it's a brand to have on your radar style is a high priority. We love this particular bodysuit for its minimalist and sleek look - it looks just like a regular bodysuit, and could probably be worn as one too.
Our tester said:
"If you hate the feeling of typical shapewear (the contorting in all sorts of angles to get it onto your body type) then this is the garment for you. When testing this bodysuit, I found that it is lightweight and stretchy, so extremely easy to put on. It feels soft and unrestrictive on the skin, thanks to its cotton composition, so you don't need to worry about discomfort throughout the day. If you like the feeling of comfortable bras as opposed to wired, this gives that same soft feeling under the bust, with no pesky wires in sight. However, those with larger busts who prefer fuller support may want to layer their own bra underneath.
This is a light hold garment that provides a smoothing effect that keeps your body's natural look, so this is something to bear in mind if you are looking for drastic changes. However, it is ideal for wearing under almost anything for that little extra bit of support."
See our full Wolford Tulle Forming Body review
Or try...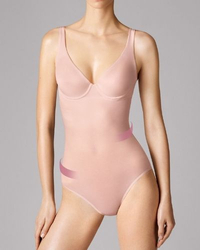 (opens in new tab)
Wolford Sheer Touch Forming Body (opens in new tab) | Sizes: XS-L, A-E | Price: $130 / £120
A silky bodysuit with adjustable straps, a deep neckline, and cinched waistline. It hugs the body's natural curves, without feeling restrictive.
3. Marks And Spencer Medium Control Secret Slimming™ Full Slip
Best high-street shapewear
Specifications
Price: $51.99 / £29.50
Sizes: US 4-20, UK 8-24
Colors: Black and beige
Material: 63% polyamide, 37% elastane
Wash: 104°F/40°C
Made in: Bangladesh
Reasons to buy
+
Affordable price
+
Stylish
+
Works under multiple dress types
+
High quality
Reasons to avoid
-
Won't stop chafing or give inner thigh support
When wearing a dress, particularly in party season, it can be tricky to find just the right shapewear to go underneath it. That's why we love this sleek slip from M&S - it is the perfect silhouette to go under all manner of dresses, no matter the occasion. Balancing lightweight fabric with supportive shapewear, this dress hits the sweet spot of shaping without digging in.
Our tester said:
"When testing, I found it to be the ideal thickness for layering that definitely won't cause overheating when worn under the best jumper dresses or long-sleeved numbers. Plus, thanks to the seamless look that won't show through, planning work Christmas party outfits has never been simpler.
Those with a smaller bust or who like to rock the no-bra look will find that this provides enough support to keep you comfortable. However, if you usually require the best bras for large busts, you will probably want to wear one underneath the slip to avoid encountering discomfort later on. Also be aware that this doesn't have any built-in shorts, so chafing may still be on the cards, so you may need some shorts too. However, for a lightweight, simple and reliable dress that can be worn for pretty much anything, look no further."
Or try...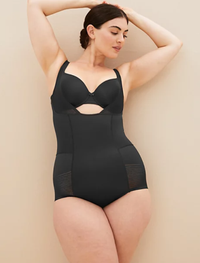 (opens in new tab)
Best shapewear for firm hold
Specifications
Price: $58 / £32
Sizes: S-3XL
Colors: Black and beige
Body Material: 85% Polyamide 14% Elastane 1%Cotton
Wash: With like colors
Made in: Thailand
Reasons to buy
+
Extremely supportive
+
Prevents chafing
+
Super high-waisted
Reasons to avoid
-
Tricky to get on and off
When most people look for shapewear, they want something that will support the stomach and keep you held in all day - and these Pour Moi shorts do exactly that. They are slightly tricky to wriggle on, but that pays off once you feel the results of the stomach shaping that instantly smooths you out. If you are looking for extra support under the most stylish dresses to hide a tummy, we recommend wearing these Pour Moi shorts underneath.
Our tester said:
"Compared to the other shapewear I tested, the shorts did feel fairly bulky. However, I haven't had the same level of shaping from other, thinner shorts, so it is worth the thicker fabric that is still comfortable to wear once on. Plus, in the colder months, this is a welcome layering addition. The beauty of shapewear shorts is that they allow you to wear your own bra, so you won't need to worry about an ill-fitting bust section like you might with full bodysuits. For heavy-duty shaping that won't break the bank, you can't get much better than these high-waisted shorts."
See our full Pour Moi Definitions High Waist Shaping Brief review
Or try...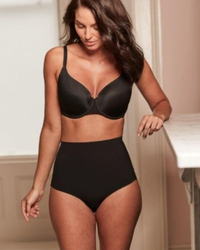 (opens in new tab)
Pour Moi Definitions Shaping Control Thong (opens in new tab) | Cup Sizes: S-3XL | Price: $27 / £15
With lightweight fabric, the Definitions Shaping thong shapes the posterior, flattens, and tightens the tummy area. Even so, they're undeniably comfortable, featuring a bonded finish that won't dig in.
5. Spanx Thinstincts® 2.0 High-Waisted Mid-Thigh Short
Best shapewear shorts
Specifications
Price: $72 / £62
Sizes: XS-3XL
Colors: Black, champagne, light brown, dark brown
Material: 55% nylon, 45% lycra elastane
Wash: Machine wash cold and gentle
Made in: Vietnam
Reasons to buy
+
Comfortable to wear
+
Lightweight
+
Good tummy hold
+
No VPL
Reasons to avoid
-
Thick waistband not the best for layering
It is no secret that Spanx really knows how to make good shapewear, so we were expecting to love these shorts - and we were right. Made from a soft, lightweight fabric that sits perfectly around the thighs, it is breathable for day-long wear. Before testing, we couldn't see how this soft fabric would do an effective job at holding us in - but once on, we were surprisingly impressed with the tummy-smoothing results we saw.
Our tester said:
"Perfect for wearing under sequin skirts this party season, the Thinstincts shorts won't cause overheating and will also keep you protected from chafing. I found that there is no danger of them rolling down, either, as the thicker waistband ensures they won't slip. However, it is worth being mindful of this more prominent waistband if you are planning to wear something form fitting. What I loved most about these shorts was that they provided high levels of shaping without being restrictive on the legs - an often tricky combo to come by."
Or try...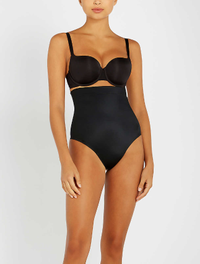 (opens in new tab)
Spanx Suit Your Fancy high-rise stretch-jersey thong (opens in new tab) | Sizes: XS-XL | Price: $58 / £58
This comfortable thong is practical and stylish, offering extra support whilst functioning as regular underwear. For those days you want something more than your standard thong, look no further.
6. SKIMS Maternity Sculpting Short Mid Thigh
Best maternity shapewear
Specifications
Price: $34 / £34
Size: XXS-5X
Colors: Sand, mica, clay, ochre, sienna, umber, oxide, cocoa, and onyx
Body Material: Nylon and spandex
Gusset Material: N/A
Wash: Machine wash cold, no bleach
Made in: Turkey
Reasons to buy
+
Inclusive size range
+
Non-compressive core for a growing baby
+
Supportive material
In contrast to traditional shapewear designed to cinch in the waist, maternity shapewear should not compress, squeeze, or feel restrictive. Rather, the shapewear worn during pregnancy (and postpartum) should adapt to your body as it fluctuates. Accordingly, it's imperative to research and interrogate the fabric, fit, and level of support offered.
The Skims Maternity Sculpting Short Mid Thigh ticks these boxes. Naturally, it's common to associate the word "sculpting" with rigid material and discomfort. But fear not: These shorts integrate a non-compressive core, which adjusts its shape for a growing baby bump. Even so, this opaque pair leverages all of the design elements we'd normally see (and love) in shapewear - secure hold, soft abdominal support, breathable fabric, and the BBL effect. Moreover, it includes a silicone band on the back of the waist, which prevents rolling and chafing.
Or try...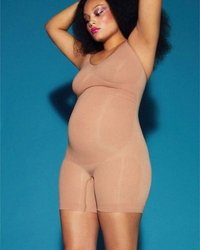 (opens in new tab)
Skims Maternity Sculpting Bodysuit Mid-Thigh (opens in new tab) | Cup Sizes: XXS-5XL | Price: $64 / £62 | To lift and shape your natural form during pregnancy, this all-in-one is based on your pregnancy size, but if you want a very light sculpt, size up. With a non-compressive core this is designed to support a growing bump.
7. Miraclesuit Flexible Fit® Firm Control High-Waist Thigh Slimmer
Best shapewear to slim thighs
Specifications
Price: $55 / £45
Size: S-XXL
Colors: Black and beige
Special Features: Single-ply derriere coverage to stop bottom flattening and spreading
Material: 66% nylon, 34% elastane
Wash: Hand wash only
Reasons to buy
+
Extra firm control
+
Designed to lift abs
+
No VPLs
+
Extra high rise
These extra high-rise shorts are perfect for giving you all the control you need without compromising on comfort. Going all the way up to the bust, but cutting off just shy, you feel fully supported with the freedom to wear your own bra. We recommend teaming with the best bras for back fat to get unbeatable comfort that will have you feeling great, all day long.
Our tester said:
"I love the subtle crisscross design that elevates these shorts to more than just shapewear. Certainly amongst the more stylish biker-style shorts I have tried, they do the job of extra-firm shapewear without being overly bulky or unattractive. One key feature I noticed is that these shorts use the same material throughout, meaning you get just as much shaping on the thighs as you do on the stomach. Designed to smooth your stomach, they do a fantastic job of lifting as well as adding compression, so you won't feel squeezed. However, if you are new to shapewear or don't want quite a snug fit, I'd recommend taking a size up from normal."
Or try...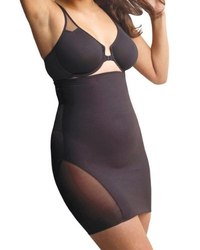 (opens in new tab)
Miraclesuit Sexy Sheer Extra Firm Control High-Waist Half Slip (opens in new tab) | Sizes: XS-XL | Price: $62 / £57
This lingerie piece smooths the upper and lower torso areas, and its double midriff panels specifically flatten the tummy pooch and hips. By design, it serves as a bra, pair of panties, and waist-shaper in one.
Best shapewear bodysuit
Specifications
Price: $107 / £66
Sizes: 34B-46D
Colors: Black, White, Beige
Special Features: Shaping side and back jersey inserts
Material: 38% cotton , 37% polyamide , 25% elastane
Wash: Wash at 40°C
Made in: Morocco
Reasons to buy
+
High-quality fabric
+
Sleek, minimal design
+
Comfortable
+
Sits well beneath clothing
Reasons to avoid
-
Bra sizing won't work for all body shapes
The first thing that struck us about this Triumph bodysuit is that it feels a lot like a swimming costume, with the same stretchy yet supportive material that really molds to your shape. Featuring adjustable extra-thick straps, built-in non-padded bra cups and a flattering V-neck cut, this really is a bodysuit that can do it all. Minimal and unassuming, it doesn't scream 'shapewear' either, which often makes us feel more comfortable and confident. We think it could even be paired with the warmest leggings and a cardigan for a running errands or working-from-home outfit.
Our tester said:
"Perfect for adding some smooth shaping, this bodysuit is ideal for day-long wear, as it sits comfortably against the skin and doesn't restrict movement. My only gripe is that sizing is done by bra size, which can often lead to a less-than-perfect fit. However, it is very stretchy and adaptable, so there is certainly room for flexibility in whichever size you opt for."
See our full Triumph True Shape Sensation Bodysuit review
Or try...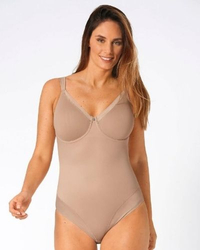 (opens in new tab)
Triumph True Shape Sensation Body Suit (opens in new tab) | Sizes: 34B-40D | Price: $102 / £75
This shaping bodysuit will lift and sculpt your silhouette for a smooth finish under dresses and tops. With unpadded cups for maximum comfort and shaping wires for streamlined lift and hold of your silhouette.
9. Commando Two-Faced Control Strapless Slip
Best strapless shapewear
Specifications
Price: $120 / £102
Sizes: XS-XL
Colors: Beige and black
Material: 47% nylon, 40% cotton, 13% elastane
Wash: Machine wash cold
Made in: USA
Reasons to buy
+
Could be worn over your own bra
+
Comfortable to wear
+
Sleek, strapless design
For those who hate the restrictive feel of traditional shapewear, this soft slip has just enough hold to hone your shape without any tell-tale rolling. Finishing just above the knee, the versatile piece can be layered under mini, midi, or maxi dresses without the worry of having the correct straps. The top half isn't padded or underwired, so while those with smaller boobs could get away without wearing a bra, it doesn't offer support for bigger busts. Fortunately, its lightweight fabric is stretchy enough for adding a strapless bra beneath. Plus, the design's raw-cut edges and minimal seams eliminate the dreaded Visible Panty Line (VPL).
Our tester said:
"Pilling resistant and featuring four-way stretch, it is a piece that is built to last. I think it is a shapewear piece that almost everyone would be happy with, thanks to its light but effective compression that works to keep you held in. Plus, the strapless design makes it extremely versatile - it could even be folded up to function as a shapewear top."
Or try...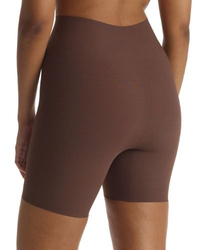 (opens in new tab)
Commando Classic Control Short (opens in new tab) | Sizes: XS-3XL | Price: $58 / £58
Timeless, supportive, and comfortable: a staple for your lingerie drawer. Made of 100% cotton gusset, these shorts incorporate luxe microfiber, light-to-moderate compression, and raw-cut edges to minimize bulging and digging.
10. Maidenform Waistnipper
Best shapewear for a smaller waist
Specifications
Price: $61 / £37
Sizes: S-2XL
Colors: Black and Beige
Material: 80% Nylon, 20% Elastane
Wash: Hand-wash only
Made in : Indonesia
Reasons to buy
+
Firm control, while remaining comfortable
+
Can wear your own bra
+
Front hook and eyes for easy on and off
Reasons to avoid
-
Can dig in when sitting down
A new take on the waist trainer, the Waistnipper is designed to be simple to take on and off without putting you through the motions of squeezing into regular shapewear. It has a low-friction finish that makes for comfortable wear, whilst its firm hold fabric will keep you feeling secure throughout the day. Our favorite thing about the Waistnipper is its hook and eye fastening that makes for extremely easy removal at the end of the day.
Our tester said:
"Despite its powerful hold, the soft fabric ensures that your clothes sit nicely on top and won't bunch. However, due to its boning that creates a gorgeous shape, it is prone to riding up when you sit down. But for events where you'll largely be on your feet, this won't be a problem. I recommend wearing under the best Christmas party dresses this season, for a comfortable yet supported look that won't budge all night. And the best part? You can wear your own bra with it, so whether you are going strapless, backless, or wearing long sleeves, the Waistnipper can still be worn discreetly."
Or try...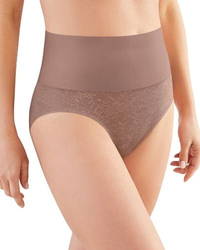 (opens in new tab)
---
How we tested the best shapewear
Selecting shapewear can be a very personal decision, as only you know what feels best on your body and which silhouettes work for you. That's why we tried all different types of shapewear from brands across the price spectrum to see how each one performed when worn and what each piece would be best for. From wearing under form fitting dresses and jeans to testing each piece's flexibility, we thoroughly tried each one to be sure that it is among the best on the market. Whether you want shapewear that focuses on your stomach, thighs, chest, or just want a comfortable garment that can be worn with anything, there is something for you in this guide.
Key tips for getting the right shapewear for you, according to stylist Maria Pastor
Check for the signs of a poor fit: "If your shapewear pulls or puckers in any place, you'll know that it doesn't quite fit. To check whether this is happening, I'd suggest looking at key areas around the seams. The shapewear should lie flat against your body, creating the illusion of a smooth silhouette. I recommend sitting down and moving around so that you can see the effect it will have when you are wearing it."
NEVER expect your shapewear to change your dress size: "We've all been there - that feeling of wanting to squeeze into a party dress we absolutely love but it's just that tiny bit too small. Shapewear isn't the answer. Shapewear might be magic when it comes to giving control and smoothing over areas of concern, but it won't help you to drop a dress size. There's still a misconception that shapewear can help you to lose weight and slip straight into tighter clothes, but it's important to remember to shop for your size no matter what."
Consider what you'll be wearing it with: "There are different shapewear solutions for most items in your wardrobe, so consider where you want a little help. Is it with a pair of jeans for dinner with friends, or under your glamorous LBD for the work Christmas party?"
Try on your shapewear at home before a special occasion: "As long as your shapewear is the right size and you feel comfortable, you can wear shapewear as often as you want. It doesn't have to be saved for special occasions. But, if you do have a special occasion coming up, such as your wedding day, then it's vital that you wear your shapewear solution beforehand around the home, so you feel as comfortable as possible. As with any purchase, it's so important to take it with you when trying on your dress too, as this helps to give the full picture and also means you are considering the color."

What fabric should you look for when buying shapewear
Fabric is very important when buying shapewear. The best shapewear contours your shape and offers smoothing and lifting properties, molding to your silhouette in the same way as best leggings. Sometimes shapewear can be quite heavy, which, on warmer days, can be a recipe for disaster.
When shopping for the best shapewear, always look for breathable fabrics. The textile industry now has innovative and high-tech fabrics that offer both breathability and shaping, you don't have to be uncomfortably hot in shapewear.
Shapewear is made from stretch fabric, but the designers know what size works for what shape. The temptation to size down in shapewear is an old fashion myth. Buy your regular size as anything too small will dig in and actually have the opposite effect, canceling out the very reason your bought shapewear in the first place.
Does shapewear work?
Shapewear works if you're looking to smooth and sculpt your shape. The idea of shapewear, is as the name suggests to add shape to your silhouette. Depending on the kind you buy, it will sculpt different areas of your body, which means that it is important to purchase the right piece of shapewear in the first place.
Shapewear isn't designed to change your size, it offers the ability to smooth out lumps and bumps and particularly under more bodycon outfits, it creates a streamlined silhouette and can make your clothes hang better and you feel more confident.
What is shapewear good for?
Shapewear for many women aids in their confidence when wearing certain items. Offering a smooth finish under your clothes, think of it as putting down foundations. You wouldn't build a house without laying the groundwork, when constructing an outfit, you have to think about what's going underneath as much as the final piece of jewelry or chosen shoe.
Shapewear is good for creating a smooth and polished finish. It will often help more tailored or bodycon pieces sit flatter on the body and can help give you that final lift and sculpt that helps you feel confident.
Shapewear is now available at all different price points, so how much you spend on the best shapewear is really quite personal. Specialist lingerie and shapewear brands will cost more, but often they have a lot of research and fit expertise at their disposal.
Amelia joined woman&home after graduating with an MA in Magazine Journalism from City University in 2022. She specialises in lifestyle journalism and throughout her undergraduate degree she wrote for a variety of student publications, where she developed a love for all things style, beauty and sustainable fashion. She has previously written for titles including OK! Magazine, New! Magazine and Notion before she started her career as a lifestyle journalist with woman&home after completing an internship with the brand.
With contributions from