The best shapewear pieces of all time—hardworking heroes that smooth, lift, and sculpt
We've tried the best shapewear so you don't have to, from bum-boosting shorts to structured all-in-ones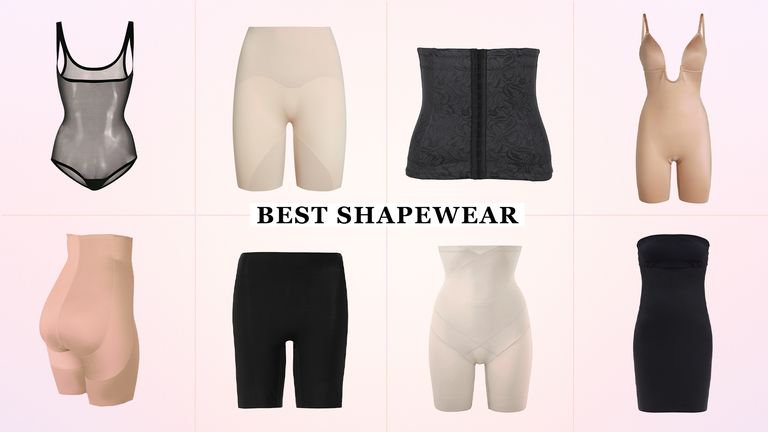 (Image credit: Future)
The best shapewear pieces are the ones that manage to both smooth your shape and keep you comfortable at the same time. Think of them as an upgrade on your regular underwear, but ones that work a whole lot harder.  
Done well, shapewear has the power to transform a mediocre outfit into a great one. It'll hone and lift your figure quicker than you can say, "Spanx"—no sweaty HIIT classes required. 
Unfortunately, shapewear has earned itself something of an unfair reputation over the years, with some of us associating it with niggling hardware, restrictive paneling, and rigid fabrics that make for a wholly uncomfortable experience. The limited shade ranges didn't help either, leaving many of us feeling excluded. Frankly, we wouldn't blame you if you'd turned your back on the smoothing stuff long ago, sticking instead to your best bra and trusty knickers.
But what if we told you that shapewear deserved a second chance? And that the latest additions, new shapewear brands, and best plus size shapewear brands to the market not only flatter your figure but—better still—are comfortable to wear too? 
Here at woman&home HQ, we're hard to win over, but believe us when we say that all the pieces we trialed for this piece have become staples in our underwear drawers. So, whether you're shopping for a special occasion (and in which case you might want to give our best wedding dress shapewear guide a browse) or simply want to streamline your shape for every day, you can shop with complete confidence. No digging-in seams come 5 pm—promise.  
Who makes the best shapewear?
These are the best shapewear brands to shop now:
How to choose the best shapewear 
The best shapewear styles are self-explanatory in that they're designed to slim the area they're covering. For example:
Shaping shorts will streamline your thighs
High-waisted shorts and briefs will sculpt your tum
A waist trainer will add definition to your middle
An all-in-one body or slinky slip will cover all your niggling body bugbears in one fell swoop 
Once you've identified the right style for you, then consider the fit. This is pretty easy to navigate, as most brands grade their shapewear from lightest to firmest. 
Lighter pieces tend to be crafted from super-stretchy Lycra and feel like a gentle hug. At the more extreme end of the shapewear spectrum, you can expect sturdier fabrics and plenty of contouring panels. The body-sculpting reward will be more noticeable the firmer you go, but remember, this will impact the comfort level, too.
The fit of your shapewear should be firm enough for you to feel the benefits, but if you find yourself aching to take it off after just five minutes, then it's not right for you. As for sizing down? That's a real no-no. It's a common misconception that the smaller your shapewear, the slimmer you'll look, but it can actually make you look larger by creating strange bulges around the seams.
Fabric is important too. By its very nature, shapewear is extremely form-fitting, much like the best leggings and best high-waisted leggings. Combine that with thick, heavy fabrics and you've got yourself a potential recipe for disaster on warmer days. To avoid a sticky, sweaty situation, look for breathable, lightweight fabrics that'll keep you cool whatever the forecast. 
The best shapewear as reviewed by our experts
Tried and tested by our fashion team, these are the best shapewear pieces around right now.
Best shapewear for most occasions
Specifications
Price: $148/£132
Size: XS-XL, equivalent to bra sizes 30C-40D and dress sizes 4-18
Colors: Beige and black
Body Material: 51% elastane, 49% nylon
Gusset Material: 80% nylon, 20% elastane
Wash: Machine wash at 86°F/30°C
Made in: Vietnam
Reasons to buy
+Solves a multitude of problems in one fell swoop+Comfortable to wear
Reasons to avoid
-Built-in bra not suitable for all body shapes
The Spanx Suit Your Fancy Plunge Low Back Mid Thigh Bodysuit is a full-length body with a built-in bra and thigh-honing shorts—this is serious shapewear, but thanks to the lightweight, super-stretchy material, it offers full flexibility of movement.
An investment buy that will quickly earn its keep in your wardrobe, as well as its many other virtues—tummy-toning hold, thigh-sculpting and boob lift—the Spanx Suit Your Fancy Plunge Low Back Mid Thigh Bodysuit boasts multiway straps that can be worn in an impressive five different ways. There's even the option to go backless.
Spanx categorizes this bodysuit as a mid-range 'level 2' in terms of hold, which can be likened to the feel of a 'firm hug'. What's more, because it relies on the soft, stretchy fabric to sculpt your shape, there are no niggling contour panels to contend with, making it comfortable enough for all-day wear.
See our full Spanx Suit Your Fancy Plunge Low Back Mid Thigh Bodysuit review
Best stylish shapewear for smoothing
Specifications
Price: $210/£130
Sizes: 34-46, equivalent to UK sizes 6-18
Colors: Black and beige
Special Features: Press studs on the gusset
Material: 67% nylon, 33% elastane
Wash: Machine wash at 86°F/30°C
Reasons to buy
+Can be worn with your own bra+More attractive than most shapewear
Reasons to avoid
-Delicate fabric at risk of snagging
The beauty of the Wolford Tulle Forming Body comes from its simplicity. Crafted from a semi-sheer tulle and edged with a luxe velvet trim, it's free from strap adjusters or fastenings. 
Perfect for anyone who finds the sizing tricky to master when it comes to bodysuits with built-in bras, the scoop neckline makes room for you to wear your own bra beneath. The straps are wide enough to hide your bra straps, too, for a nice, neat finish. 
Designed to provide light hold, this body won't make your figure look dramatically different, but it will compress your shape and smooth out any lumps and bumps. Wear yours beneath silky evening dresses or high-waisted jeans for a guaranteed confidence boost. 
See our full Wolford Tulle Forming Body review
3. Marks And Spencer Anti-Chafing Thigh Slimmer
Best high-street shapewear
Specifications
Price: $30/£18
Sizes: 8-22
Colors: Black and beige
Material: 54% elastane, 46% polyamide (exclusive of trimmings)
Gusset Material: 100% cotton
Wash: 104°F/40°C
Made in: Thailand
Reasons to buy
+Affordable price+Great quality 
Reasons to avoid
-Cuffed legs create thigh bulge
One of the worst side effects of wearing a dress in warmer weather is the dreaded thigh chafe. Enter the M&S Anti-chafing Thigh Slimmer, which is designed to solve that very problem. 
Crafted from a super-stretchy elastane blend, it won't significantly alter your appearance but will smooth and hone your thighs for a really flattering silhouette. Thanks to the lack of side seams, VPL isn't a problem either, meaning these shorts will sit undetected beneath even the most form-fitting outfits.
Marks & Spencer's patented Cool Comfort technology is the cherry on top, using lightweight fabrics and unique cooling technology to let the skin breathe. 
Best shapewear for lower budgets
Specifications
Price: $34/£20
Sizes: 10-20
Colors: Black
Body Material: 72% polyamide, 28% elastane
Gusset Material: 100% cotton
Wash: Hand-wash only
Made in: China
Reasons to buy
+Comfortable to wear+Easy to conceal beneath clothes 
Reasons to avoid
-Tricky to get on and off
If you're new to shapewear and you want to smooth and flatten your stomach, then the Pour Moi Definitions High Waist Shaping Brief is the perfect place to start.
The fit is firm, but certainly not restrictive, giving you a glimpse into what shapewear can do for your figure. The lightweight fabric, teamed with the fact that the contouring panels are only on the front of the briefs, makes for a comfortable fit you can enjoy all day long. In fact, because of how comfy they are we rate these briefs as one of the top pieces of plus size shapewear you can buy. 
Complete with a super-high waist, tuck yours into your bra to mimic the effect of an all-in-one bodysuit. 
See our full Pour Moi Definitions High Waist Shaping Brief review 
Best shapewear shorts
Specifications
Price: $90/£65
Sizes: XS-XL, equivalent to UK sizes 6-22
Colors: Black, brown, and beige
Material: 74% polyamide, 26% elastane
Wash: Hand-washing recommended
Made in: China
Reasons to buy
+Comfortable to wear+No VPL 
Reasons to avoid
-Comes up a little small
If you've found yourself frustrated in the past by the lack of inclusive nude shades available, allow us to introduce you to Heist. Understanding that one-size-fits-all beige does in fact not fit all, their Highlight shaping shorts come in two different nudes—a leap in the right direction. 
The real magic of Heist's The Highlight Short comes in the form of their patented HeroPanels, which are cleverly positioned to smooth your stomach, sculpt your thighs and lift your bum. Designed to offer firm compression where needed, they're not restrictive, nor will they cause you to overheat. In fact, they've been peppered with an impressive 20,000 laser perforations to let the skin beneath breathe—a thoughtful touch that really comes into its own in warmer weather.
See our full Heist The Highlight Short review
6. Miraclesuit Booty Boost Hi Waist Bike Pant
Best shapewear to boost your bum
Specifications
Price: $62/£56
Size: S-L, equivalent to UK sizes 8-18
Colors: Black or beige
Special Features: Removable padding
Body Material: 64% nylon, 36% elastane
Inner Mesh Material: 84% nylon, 16% elastane
Wash: Machine washable up to 104°F/40°C. Remove padding before washing
Made in: Nicaragua
Reasons to buy
+Can be worn with or without padding+Silicone edging keeps legs in place 
Reasons to avoid
-Limited size and range 
Shapewear is normally concerned with minimizing your frame, rather than enhancing it, but these clever shorts manage to do both. Compression paneling across the stomach smooths away lumps and bumps, while removable padding at the back creates a bigger, perkier posterior. A better bum without having to do a single squat? Consider us sold.
There's also a surprising, but not unhelpful bonus with this shapewear; if you'd previously found sitting down for long periods of time a painful experience, the added padding will instantly alleviate the problem. 
If you did want to take the padding out, ruched detailing and cleverly placed seams will still help boost your behind, just with slightly less impact. Silicone edging along the legs keeps these shorts perfectly in place, preventing them from riding up when you're out and about.
Best shapewear bodysuit
Specifications
Price: $107/£62
Sizes: 34B-42DD
Colors: Black or Beige
Special Features: Hook-and-eye fastening across the gusset
Material: 56% polyamide, 32% elastane, 12% polyester
Wash: Hand-wash only
Made in: Morocco
Reasons to buy
+High-quality fabric+Camouflages well beneath clothing 
Reasons to avoid
-Bra sizing won't work for all body shapes-Limited shade range 
Featuring a built-in bra, soft silky fabric, and peek-a-boo mesh paneling, the Triumph True Shape Sensation Bodysuit makes shapewear sexy. 
If you're looking for something to smooth and shape your frame, which you won't be itching to take off by 9 pm, this is the bodysuit for you. Creating nice, clean lines beneath clothes, it's easily camouflaged under even the slinkiest, most form-fitting of dresses. 
Swerving the niggling problem of a digging back band, it's far more comfortable than wearing a body with a separate bra. The only downside is that as the sizing works by a bra, as opposed to dress size, it won't work for all body shapes. 
See our full Triumph True Shape Sensation Bodysuit review
8. Commando Two-Faced Control Strapless Slip
Best strapless shapewear
Specifications
Price: $98/£89
Sizes: S-L, equivalent to UK sizes 8-18
Colors: Beige and black
Body Material: 4% nylon, 43% cotton, 13% Spandex
Bust Material: 78% nylon, 22% Spandex
Wash: Gentle cycle up to 86°F/30°C
Made in: USA
Reasons to buy
+Could be worn over your own bra+Comfortable to wear 
Reasons to avoid
-Limited sizing
For those who hate the restrictive feel of traditional shapewear, this soft slip has just enough hold to hone your shape without any tell-tale rolling.
Finishing just above the knee, the versatile piece can be layered under mini, midi, or maxi dresses. The top half isn't padded or underwired, so while those with smaller boobs could get away without wearing a bra, it doesn't offer support for bigger busts. Fortunately, its lightweight fabric is stretchy enough for adding a strapless bra beneath. Plus, the design's raw-cut edges and minimal seams eliminate the dreaded Visible Panty Line (VPL).
9. Maidenform Waistnipper
Best shapewear for a smaller waist
Specifications
Price: $45/£32
Sizes: S-3XL, equivalent to UK sizes 8-18
Colors: Beige, black and white
Material: 79% nylon, 21% elastane
Wash: Hand-wash only
Made in : USA
Reasons to buy
+Firm control, while remaining comfortable+Can wear your own bra +Front hook and eyes for easy on and off
Reasons to avoid
-Sizes come up smaller
The Maidenform Waistnipper is an iconic part of the brand's shapewear family. Soft and smooth with an easy hook-and-eye front, it doesn't feel as restrictive as waist trainers often can. We promise you'll last all day in this surprisingly comfy piece of shapewear, rather than feeling like you've been poured into a corset. 
This piece is perfect for creating natural curves, nipping in the waist a little bit more, with panels up the front and back to keep the shape. Its main plus is minimizing hip bulge, for a smoother silhouette. 
When putting the Waistnipper on, we suggest starting at the bottom with the hook-and-eye fastenings. You can opt for your own bra to complete the look. 
10. Miraclesuit Instant Tummy Tuck High Waist Thigh Slimmer
Best shapewear to slim your stomach
Specifications
Price: $59/£55
Sizes: S-3XL
Colors: Beige and black
Material: 64% Nylon, 36% Elastane
Wash: Machine washable
Made in: Nicaragua
Reasons to buy
+Very comfortable to wear+Easy to take on and off
Reasons to avoid
-No cons from us
With a strapline that promises you'll "look 10lbs lighter in 10 seconds," it's fair to say our expectations for these shorts were set pretty high. And boy did they deliver.
Covered in a criss-cross of paneling, these shorts do look like they've got the potential to dig into your body but, once wiggled on, they're surprisingly comfortable. For us, the "miracle" comes in the form of the double-lined panel at the stomach, which serves not only to flatten and smooth your stomach but also to blur away any lumps or bumps. The design comes up high enough to tuck into your bra too, creating the look and feel of a bodysuit, without the associated logistical problems in the bathroom.  
In fact, these shorts are so good, that our Deputy Fashion Editor will be wearing them on her wedding day. Stock up now for your own special occasions—you won't regret it. 
Jess Beech is an experienced fashion and beauty editor, with more than eight years experience in the publishing industry. She has written for woman&home, GoodtoKnow, Now, Woman, Woman's Weekly, Woman's Own and Chat, and is currently Deputy Fashion & Beauty Editor at Future PLC. 
She caught the magazine bug during a stint as Fashion Editor of her university newspaper alongside her English degree, and hasn't looked back since. As for the fashion bug, that came as part and parcel of growing up in the 90s, but the less said about that the better!
Jess' average day in the office is spent researching the latest fashion trends, chatting to industry tastemakers and scouring the internet to bring you this season's must-buy pieces - as well as advice on how to wear them. Weekends are equally fashion-focused, and Jess has been known to visit no less than five Zara stores in a single day in search of the perfect occasion dress. 
The only thing that comes close to a buzz of finally tracking down that much-coveted dress is the joy of discovering a new beauty wonder product or hero ingredient. A beauty obsessive, Jess has tried everything from cryotherapy to chemical peels (minus the Samantha in Sex and The City-worthy redness) and interviewed experts including Jo Malone and Trinny Woodall.