The best plus size shapewear for all sizes to create a smooth canvas under clothing
Find the best plus size shapewear for you with our ultimate guide, from sculpting bodies to pinch-free waist cinchers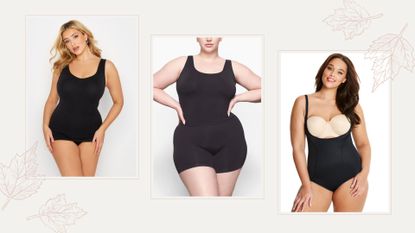 (Image credit: yours clothing, skims, maidenform)
The best plus size shapewear helps to create a seamless look under clothing, smoothing your silhouette and flattering your natural shape. Giving a streamlined finish, particularly under fitted garments, the best plus size shapewear should enhance your curves, rather than hide them.
The best shapewear pieces are there to create a strong and contoured shape for the outfit you're going to wear on top. In the same way you wouldn't build a house without laying the correct foundations to support it, to get the most stylish of finishes to your look, you need to make sure you've selected the correct undergarments. From the best shapewear to the best bras and briefs, these items will ensure your curves are supported and essentially in the 'correct place', as the appropriate uplift will make your clothes sit properly against your body. Over the years shapewear has received a bad rap, often associated with the idea of 'dropping a dress size', but that's not what shapewear is there for at all. Think of the best plus size shapewear as a natural curve enhancer rather than something there to alter your physicality.
When it comes to how to wear shapewear, getting the correct item for the right outfit can be tricky. The market has boomed since Spanx first hit the scene and there are now many new shapewear brands, ensuring undergarments are available at all price points, with pieces that lift and contour different parts of your silhouette, depending on what you need. Getting the right piece of shapewear is integral, so you might find you'll need to invest in a range of pieces to suit different items in your wardrobe.
The best plus size shapewear as chosen by our experts
Why you can trust Woman & Home Our expert reviewers spend hours testing and comparing products and services so you can choose the best for you. Find out more about how we test.
All the plus size shapewear pieces have been tested within the last 6 months and the page will be updated every 6 months to an up to date list of the best plus size shapewear available in 2023.
While prominent brands like SPANX are obvious choices for the list, there are plenty of other exciting shapewear brands, catering to curves, that are looking to empower women to feel their best, with shapewear pieces that are breathable, soft, and move with you throughout your day. Our guide offers pieces for different body types and concerns and differing lingerie tastes. And, once you've figured out which is the best plus size shapewear for you, take a look at our guide to the best plus size clothing brands for some outfit inspiration.
Best plus-size briefs
Plus size briefs needn't be uncomfortable and plain - they can actually be rather comfy, attractive, and sometimes even sexy, too. From high-waisted shaping briefs to cinching briefs - there is a brief out there for every woman. High-waisted briefs are great for wearing with your favorite outfits and depending on the level of shaping you choose, they can be worn more regularly.
---
1. M&S Light Control 2pk No VPL Shaping Brief
Best lightweight plus size briefs
Specifications
Sizes: US: 4-20 / UK: 8-24
RRP: $20.99 / £12
Control: Light
Material: 77% polyamide, 23% elastane (exclusive of trimmings), Gusset (of underwear) - 100% cotton
Care: Machine wash and tumble dry
Reasons to buy
+
Lightweight material for everyday wear
+
No VPL
+
Comes in pack of 2
+
Offers only waist support
For every day wear, you can't beat Marks and Spencer's light shaping control brief with no VPL. With a high waist for a smooth finish, this nifty and cost effective design comes in a pack of two. With a 100% cotton gusset, these briefs are breathable. With only light control, these are aimed at giving a light contour rather than anything too heavily manipulated. Ideal under most fabrics, you may want to up the level of contour for highly fitted clothing to get the most streamlined look. As these briefs finish at the upper part of your leg, if you want more thigh contouring, look to longer length shorts for thigh compression.
What our tester said:
Fit: "British clothing brand M&S are well known for the quality of its lingerie and these briefs did not disappoint. I've long been a fan of M&S shaping briefs and as these are light control they're ideal on those days that you just feel like you need a little extra support. They fitted just as well as regular M&S briefs without feeling constricting."
Quality of materials: "With a lovely soft handle, I love that they have ensured the gusset of the briefs is 100% cotton for breathability. It's these little details of form, function and cost that set M&S apart from its rivals."
Style and attractiveness: "With a sheer trim, these pretty pants don't just smooth, they look good too."
---
2. Shapermint Essentials All Day Every Day High-Waisted Shaper Panty
Best tummy-control plus size briefs
Specifications
Sizes: XS-4XL
RRP: $39 / £34
Control: Medium
Material: 90% nylon, 10% spandex
Care: Unknown
Reasons to buy
+
Non slip silicone
+
Lightweight with a tights-like feel
+
Complete tummy to waist control
When it comes to the best underwear, Shapermint is one of the newer, size inclusive lingerie brands that has taken the lingerie industry by storm. This high waisted shaper brief is one of the brand's best sellers and is available in four neutral colorways. With a high-waisted finish for maximum contouring effect, the brand demonstrates the effect of the lingerie in several 'before' and 'after' shots on site, showing the smoothing effect it can have under fitted clothing. The consumer comments give the product five stars, with plenty of shoppers big fans of both the brand and these All Day-Every Day briefs.
What our tester said:
Fit: "One of the best plus size shapewear brands on the market, the non-slip silicone band is a game changer on these briefs, ensuring that there is no need for that awkward wriggle to shimmy your lingerie back up during a night out. With no slipping and rolling, this pair of mid-weight shaping briefs are so light I forgot I was wearing them - a far cry from how shapewear used to be back in the day."
Quality of materials: "Despite the lack of natural fabrics, the briefs are still breathable making them a comfortable wear. I really like the subtle panel style detailing over the stomach to give your middle maximum support. Ideal for shaping your silhouette, they're the perfect partner to the most stylish dresses to hide a tummy, as teamed together you'll have a super streamlined silhouette."
Style and attractiveness: "They're not going to win any awards for being the sexiest briefs you own, but they will help to make your clothes slip effortlessly and contour your shape beautifully and when it comes to longer-line shapewear that's often all that matters."
---
3. Yours Clothing: High Waist Shaper Briefs
Best smoothing plus size briefs
Specifications
Sizes : US: 12-24 / UK: 16-28
RRP: $21 / £11.99
Control: Firm
Material : 80% nylon, 20% elastane
Care: Hand wash only
Reasons to buy
+
Silky smooth
+
Flattering
+
Classic piece
Reasons to avoid
-
Can roll down slightly, not available past a UK 28
Yours Clothing is one of our favorite plus size clothing brands, offering the best plus size dresses, alongside a host of other categories. With some of the best bras for back fat, Yours Clothing lingerie shouldn't be ignored either though and it has introduced a range of shapewear to enhance its offering and make its clothing even more flattering
This silky smooth, high waisted shape offers all round support across midriffs sides and back, coming up high, under the bust line. Boasting a firm level of control, expect this piece to smooth out hips and offer a contoured shape.
Note it has dual sizing that can make finding the ideal fit a little more tricky, but don't be tempted just to size down, as wearing the wrong size shapewear can have the opposite to the desired effect.
What our tester said:
Fit: "While these briefs sit high up on the silhouette, they can unfortunately roll down slightly, so they're best worn with trousers, fitted skirts, or tights to help secure them in place. They did however offer a good level of sculpt, smoothing hips, stomachs and lower to middle back."
Quality of materials: "Heavier than some of the other briefs I tried, these are made from nylon and elastane so while they sculpted I felt they lacked a bit of breathability. The fact they rolled down a little, although not always, making them good but not quite perfect."
Style and attractiveness: "I do like the shiny central panel for an extra bit of a luxe look to proceedings. Again, they're very much function over form, particularly as they come up to your bra line, but the central panel does add a little shimmer."
Best plus-size shorts
Doubling up as the best anti chafing shorts, if you want a mixture of midriff, hip, bum and thigh shaping, then a pair of shorts is the way to go. Great under dresses, skirts and trousers, a pair of shapewear shorts are super versatile and thanks to the cycling short trend coming back into fashion, so even if you accidentally flash your shorts on your commute, it's no big deal. Once again, the level of shaping and support you choose depends entirely on your needs. From lightweight pairs that give a gentle hug, to firm pieces that lift and contour, we've rounded up the best plus-size shaping shorts that tick all the right boxes.
---
1. SPANX Power Series Higher Power Short
Best plus size shorts for smoothing cellulite
Specifications
Sizes: S-3XL
RRP: $38 / £35
Control: Light
Material: 54% nylon, 46% elastane
Care: Hand wash only
Reasons to buy
+
True to size
+
Lightweight control and feel for everyday wear
Reasons to avoid
-
Thin material liable to ripping
For complete shapewear novices looking for the best overall, everyday support, SPANX's Power Series Higher Power Short is a winner. SPANX as a brand brought shapewear to the masses, and really changed how we saw and thought about shapewear in the modern era. SPANX has paid its dues when it comes to developing outstanding shapewear that smooths and shapes and they have even carried this no how through into creating jeans and leggings too.
Comfort is the order of the day here. With a lightweight compression, this design smooths rather than slims the body (a key difference), enhancing your very best silhouette - from waist to thighs - under your clothes. Design-wise, a no-slip strip at the waistband keeps the shorts from rolling down, while ruching at the rear subtly lifts and flatters your bum and the high waist eliminates over-spill fears. The shorts part of the shapewear helps to contour upper thigh and save your thighs if they rub together, making this ideal for slipping on under your best midi dresses.
What our tester said:
Fit: "Designed for everyday wear I was pleasantly surprised that these shorts smoothed my shape rather than skimmed it. Already a fan of the brand's trousers and leggings, SPANX has really developed their product offering and continued to strive to create new pieces to enhance a women's shape. Smoothing out waist to thighs, a no-slip strip at the waist stops these shorts from rolling down, while some clever ruching at the rear discreetly lifts bums. The high waistband creates a shapely middle too, great for those looking to create an hourglass silhouette."
Quality of materials: "The seamless, lightweight yarn moves with your body rather than working against it and offers a super comfortable fit. Although a word of warning - the material (similar weight to high-denier tights) can prove a ripping hazard if not treated delicately."
Style and attractiveness: "A clean and basic design, you're unlikely to want to show these off to everyone, however they do act as a brilliant foundation".
---
2. SKIMS Sculpting Above the Knee Shorts
Best plus size shorts for boosting your bum
Specifications
Sizes: XXS-5XL
RRP: $36 / £59
Control: Medium
Material: 78% nylon, 22% spandex
Care: machine washable, tumble dry
Reasons to buy
+
Butt lifting
+
Hip and thigh smoothing
Reasons to avoid
-
No opening at the gusset
Available in seven different colors and in sizes XS to 5XL, Kim Kardashian's SKIMS brand is one of the most inclusive shapewear and lingerie brands on the market and one of the best plus size shapewear brands thanks to its extensive size range, that fits up to a size 26. Hot on technological fabrics, the brand manipulates fabric with a tights-like aesthetic for shapewear with great stretch that will still contour your shape.
What our tester said:
Fit: "I generally opt for shapewear that smooths my midriff as for me that's the area I often look for added support, however I did like the thigh smoothing and butt lifting abilities of these shorts. A great replacement for my usual anti-chafing shorts, I found these worked particularly well under close fitting items such as pencil skirts, or under trousers when I felt I wanted extra contour."
Quality of materials: "Crafted with a seamless construction for the smoothest possible silhouette, these shorts have a great level of stretch for a comfortable, all day wear.
Style and attractiveness: "Nicer than tights but not as sassy as a pair of lacy cycling shorts, these deliver on fit and lift if not on style".
---
3. M&S Magicwear™ Waist Cincher & Thigh Slimmer
Best plus size shorts for tummy-smoothing
Specifications
Sizes : UK: 8-22 (UK only)
RRP: $60.99 / £35
Control: Firm
Material: 62% polyamide, 38% elastane
Care: Machine washable
Reasons to buy
+
Firm control
+
Invisible under your clothing
+
Breathable technology to keep you cool
M&S are already known for being masters in the lingerie department and its range of affordable shapewear styles is testament to that. While many specialist labels can cost quite a bit, the M&S range helps with price accessibility without compromising on quality. With a high waisted style to contour you from thigh to bum and through the waist, up to the underbust line, this is a great piece to have in your shapewear arsenal and will work under so many different styles.
What our tester said:
Fit: "One of the best plus size shapewear pieces we tried, these shorts feature a high waist to skim, smooth and sculpt your silhouette. Ideal for slipping on under your best dresses, the thigh area can be too wide for some, particularly if you find you have a particular weight distribution difference. However in terms of the front panels that smooth out your shape, these are great."
Quality of materials: "Using the brand's moisture-wicking fabric technology to keep you cool, this pair of shorts might be more expensive than some other straight-to-market retailers, but they bring it home in terms of comfortability and wearability. With specialist contouring panels across the front to smooth out your middle, these shorts are great at flattering a tummy, ideal under tight fitting clothing."
Style and attractiveness: "Despite the shapewear market vastly improving in terms of style, when it comes to the best plus size shapewear, we'll take function over form every time. These shorts do what they need to do, even if they lack va-va-voom."
Best plus-size body
Great for defining your figure, a plus-size shaping bodysuit is great for smoothing and contouring your figure from thigh to bust line. Either crafted with or without a built in bra. If you usually wear the best bras for larger busts, you may prefer to go with a body without a built in bra as they don't always offer enough support to heavier busts.
A body is ideal for wearing under dresses, t-shirts, blouses, or sweaters. Although of course consider the logistics of nipping to the bathroom during the day too - although many feature hooks or poppers in the gusset area to make this easier. And as bodies have grown in popularity, becoming a trend all of their own, styles with built in bras can be worn to be seen, making this shapewear both functional and fashionable - so look for lacier designs if you're wanting to show yours off. Wondering how to wear a body as clothing? Layer with jeans and a blazer, or under a tuxedo for when you're heading out for cocktails for a look that feels supportive and looks sexy too.
---
1. Bravissimo Millie Body Tummy Control
Best plus size bodysuit with an underwired bra
Specifications
Sizes: Up to a 38G
RRP: $108 / £54
Control: Medium
Material: 88% Polyamide, 12% Elastane
Care: Handwash
Reasons to buy
+
Can be worn to be seen
+
Sexy
+
Comfortable
Available up to an K cup this is ideal for bigger busted shoppers. A really sexy design, thanks to the lace panelling, Bravissimo have managed to create a piece that looks and feels great. With three popper settings at the crotch to help you improve the fit and adjustable shoulder straps, the body also features a built in bra that benefits from Bravissimo's engineering know-how. Available in three colorways - red, black and white, whether you want this for under clothes, to wear with clothes or to revamp your lingerie drawer, this is the stylish but practical body everyone is talking about.
What our tester said:
Fit: "The cleverly positioned lace panels are super flattering and the power mesh body gives light tummy control (perfect when you wear the body to be seen with jeans). Wearable under dresses too, the only bit I wasn't keen on was the keyhole cut out back, not ideal if you usually prefer to smooth out your back too. There is slight stretch in the cups of the bra part for a better fit and of course it's great to see such gorgeous options for larger busts."
Quality of materials: "The slightly stretchy lace and power mesh are a top duo when it comes to this shapewear body. Creating the seemingly impossible, shapewear that looks and feels fantastic, it gets great customer reviews too."
Style and attractiveness: "One of the best plus size shapewear pieces in this list when it comes to sexy lingerie, this look really excelled all expectations. The lace panels in a V-shape also create a flattering fit."
---
2. Heist The Outer Body
Best comfortable plus size bodysuit
Specifications
Sizes: XS-XL (US:6-18 / UK: 6-22)
RRP: $148 / £120
Control: Medium-firm
Material: 74% polyamide, 26% elastane
Care: Hand wash only
Reasons to buy
+
Targets the bust, waist, tummy and lower back
+
Can be worn with or without a bra
Reasons to avoid
-
Priced at the higher end of the market
Heist is one of the newer shapewear brands on the market. Describing themselves as foundationwear rather than shapewear, the brand focuses on creating intelligent undergarments that look and feel good. There to streamline and support your shape, rather than old fashion 'drop a dress size' ideas, the result is underwear that enhances your silhouettes and makes you feel comfortable, not constricted. When it comes to bodysuits, Heist's The Outer Body is the shapewear bodysuit taking the fashion industry by storm and has everything you could possibly need from an everyday bodysuit.
What our tester said:
Fit: "I can totally see why everyone is raving about this one. It's underwear that's also outerwear as you can certainly have it on show and the fit is great. Seam-free bonded edges for a smooth finish, and clever, sculpted HeroPanels™ that target the breast, lower back, waist, and tummy with strong, for even compression, it really is a joy to wear."
Quality of materials: "There's lightweight microfiber fabric that feels like a second skin. If that wasn't enough, the perforated material lets the body breathe, while thermally molded cups shape and support, so you can wear the suit with or without a bra."
Style and attractiveness: "While it'll remain undetectable under your clothes, the sleek, minimalist design makes The Outer Body as stylish as it is practical. In fact, as its name hints, when styled right this is a piece that can work as outerwear as much as shapewear. We wore ours with high-waisted jeans and a blazer for a date night and didn't feel overly exposed."
---
3. Maidenform Wear Your Own Bra Black BodyBriefer
Best flexible plus size bodysuit
Specifications
Sizes: M-2XL / 10-22 (UK only)
RRP: $59 / £42
Control: Firm
Body Material: 79% polyamide, 21% elastane
Care: Hand wash only
Reasons to buy
+
Wear with your own bra for fit flexibility
+
High back to smooth bra lines
Reasons to avoid
-
Tricky bra-like fastening at the gusset
Shapewear bodysuits can sometimes provoke restrictive choices, especially if you need a different size bra or level of compression for your breast area. That's why we love wear-your-own-bra (or WYOB) shapewear pieces, such as Maidenform's Wear Your Own Bra Black BodyBriefer. This means that whatever kind of bust shape you're looking to create - full coverage, plunge or push up, you can get your desired curve, and still have supportive shapewear on too. This is also ideal if you need extra up lift for your bust.
What our tester said:
Fit: "While the firm-control compression body gets to work smoothing and supporting your waist, tummy, and back, the high-back design smooths bra lines and comfort cuffs under the arms to ensure comfortable wear (and stops underarm bulges). Meanwhile, obviously, you're free to wear whichever bra you wish alongside it. Our only issue with the WYOB BodyBriefer is that the gusset fastening is like a bra fastening rather than a popper, which takes some time to get accustomed to."
Quality of materials: "With a firm compression, the fabric is supportive and firm but still comfortable. This is certainly a piece for those that want a full smoothing effect."
Style and attractiveness: "The panel style detailing gives this piece a delightfully retro feel that is reminiscent of corsetry. As it is a WYOB it isn't a piece you'd show off as such but it is attractive."
Best plus-size tank
Smoothing tanks and vests are perfect for everyday wear. The great thing about tanks and vests is that they can be worn alongside jeans, to create a chic and versatile look that can be worn in a multitude of ways. If you don't want your tank to be seen, simply wear beneath a blouse, under a sweater, or beneath a dress to create a gorgeous silhouette that is invisible to the naked eye.
---
1. SPANX Thinstincts Tank
Best lightweight plus size vest
Specifications
Sizes: XS-3X
RRP: $58 / £52
Control: Light
Material: 53% elastane, 47% nylon
Care: Machine wash cold
Reasons to buy
+
Super-light compression for everyday wear
+
Non-compression bust
Reasons to avoid
-
Doesn't offer much 'hold'
Tank tops are already a wardrobe essential, so why not choose one with extra support? While most tank tops will set you back a few dollars or pounds, the Spanx iteration, comes with added support, that might be useful if you just want a little extra smoothing that cotton versions don't deliver on. A super simple shape, this can be slipped on under dresses, blazers or your best sweaters and can be worn as an undergarment, or on show.
The straps on this tank top are rather thick, so it should be noted that there is now a cami version available too with thinner straps but the same compression throughout the body.
What our tester said:
Fit: "If you're looking for more 'hold' then SPANX Thinstincts™ Tank isn't the right option for you. Rather, this is simply a step up from the typical stretch jersey cami top. It's super lightweight (SPANX rates its compression level as 'smooth', like 'a light hug'). Designed with a non-compression bust, you won't feel uncomfortably squashed in the bust area."
<