How to wear shapewear if you're new to control lingerie
Our expert guide to how to wear shapewear included everything you need to get the most from your control lingerie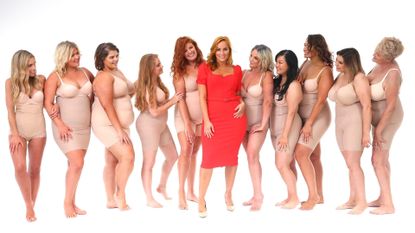 (Image credit: Getty Images)
Wondering how to wear shapewear? We've got answers to the most commonly asked control conundrums to help you find the most suitable shapewear for you.
The best shapewear is a common topic of conversation, whatever size and shape you are. Gone are the days of negative connotations, and with a crop of new shapewear brands on the market, these lingerie items have reached new heights. With a host of celebrity fans, including the Duchess of Cambridge, shapewear is now taking its rightful place as a wardrobe essential.
The shapewear market is booming, with an expected growth rate of 8% year over year, reaching a whopping 3.7 billion by 2028, according to Grand View Research (opens in new tab). Skims, the shapewear brand that Kim Kardashian West launched in 2019 is going from strength to strength. With a "solution-focused approach to shape-enhancing undergarments," and sizes up to a 5XL it's not just inclusive, it's one of the best plus size shapewear brands on the market. But it's not just Skims we're excited about, new wonder brands such as Heist and Item M6 have ensured the offering is continuously evolving, and traditional names like Spanx, Wolford, and Triumph are rising to the challenge with increasingly innovative designs too.
But while this is great news, as it pushes all brands to constantly do better, it also makes the question of how to pick the right shapewear an even trickier one to answer. Between compression types, color choices, and fabric formulas, even a well-seasoned pro can find it a challenge picking the right shapewear for their body type. So, with that in mind, we've pulled together the ultimate guide on how to wear shapewear—from picking out the correct size to which shapewear pieces work best under each garment type.
---
How do I find my shapewear size?
It's a myth that sizing down from your regular dress size in shapewear will make you look slimmer or somehow give you better contouring. In fact, it can have the opposite effect as you'll find yourself squeezed in, creating a bumpy finish. Shapewear sizes aren't correlated to dress sizes, particularly as dress sizing can vary greatly from brand to brand.
Instead, you should use your measurements—bust, waist, and hip—to select the correct size. This is also because no two dress sizes are really the same, two size 12's can have wildly different body shapes, so it's best to use your measurements and cross-reference them with individual brand size guidelines to ensure the best fit.
---
What color shapewear should I wear?
Color is often affected by what you plan to wear your shapewear with. Should your wardrobe be dominated by lighter shades, then shapewear in a nude or light shade would work best. If you're shopping for evening or date-night shapewear, black or bright colors can be more exciting choices. If the latter is true, Triumph is our go-to for colorful, sexy shapewear with lace, embroidery or sheer detailing.
Thankfully the shapewear industry is growing increasingly more diverse as brands such as Heist, Skims, and Commando push for a range of inclusive 'nude' color choices. For example, Skims offers fifteen shades (twelve being skin tones), from a pale, milky hue called Sand to a deep cocoa brown. Alternatively, Commando offers four shades (Beige, Caramel, Mocha and Black).
---
Should I wear underwear under my shapewear?
The purpose of shapewear is to create a smooth, streamlined and seam-free silhouette under your clothes. Wearing underwear underneath will cause the opposite effect.
Also, many types of shapewear—briefs, thongs, shorts, thigh or body shapers, and bodysuits—include a gusset in their design and support you fully without the need for an extra layer. For gusset-free shapewear like shaping slips and skirts, girdles, shapewear tank tops, or wear-your-own-bra torsettes, it is expected (though not necessary) that you will wear your own underwear or bra underneath.
---
How should I wash and dry my shapewear?
Much like other lingerie, shapewear needs to be treated carefully as it is very delicate. Incorrect washing can result in shrinkage, snagging or a loss of elasticity, all of which will make your investment purchase redundant.
Firstly, always check the label first and follow the manufacturer's instructions. Most shapewear brands suggest that you hand-wash your shapewear in cold water with a mild detergent or baby shampoo. Hand-washing will ensure your shapewear lasts for longer but, sometimes, you can get away with a machine wash— keep it only on a gentle cycle though (like those usually used for cashmere or silk).
If you are popping your shapewear in the machine, we suggest you put it in a protective delicates bag first. And keep them separate from bras, as their hooks and clasps can get caught on the delicate fabric and cause tears. If your shapewear has any hooks, make sure to do up fastenings before putting in the lingerie bag to ensure it doesn't catch on itself in the process.
Also, whatever you do, don't put your shapewear into the dryer; air dry it to preserve the fabric's elasticity.
---
When should I wear shapewear?
There are no hard and fast rules as to when and how to wear shapewear. Some women opt to wear shapewear every day as it helps their confidence in their chosen clothing, others keep it for special occasions. When deciding, you should also consider the type of shapewear and its compression or control level, as not all shapewear is the same.
Lightweight-control—this level of shapewear is more about smoothing, rather than control. It often has a lot more give and stretch in it and its main job is to just smooth out any lumps and bumps under clothes offering a streamlined finish. Lightweight control is therefore good if you want to invest in shapewear for day-to-day use.
Medium-control—this offers a little more support and it can still be worn every or most days. It is firmer than light control and will emphasize and sculpt your curves a little bit more.
Firm-control—this offers the most contouring and is the sturdiest of all shapewear items. The fabric here is often much more rigid and this really offers a lot of contouring but is nowhere near as comfortable as lightweight control. Most will reserve this for special occasion use, under evening wear, wedding gowns and cocktail dresses. It does offer some serious sculpting but doesn't have everyday comfort.
"When it comes to shapewear always make sure that the fabric is breathable and ideally has sweat-wicking properties, especially for firm control as you'll want your skin to be able to breathe. Lightweight control shapewear can be great for everyday use, as it offers the lightest level of shaping but can also help your clothes to sit in a more streamlined way. Regardless, choose the option and the occasion where you'll feel the best, shapewear is simply there to make you feel more comfortable in your chosen outfit"—Rivkie Baum, fashion channel editor, woman&home
---
Can you wear shapewear while pregnant?
Yes, you can wear shapewear while pregnant, but this comes with a few important caveats. It depends on the type of shapewear worn, when you wear it and for how long. As with anything, moderation is key.
Shapewear that is too tight or worn for too long is a no-go as it will put too much pressure on the body, not to mention feel horribly uncomfortable. Shop for your correct size and avoid shapewear that squeezes and compresses your internal organs, ribs, or abdominal muscles—such as waist trainers or cinchers. If you're in any doubt, double-check with your doctor or midwife.
If you have been given the go-ahead look for maternity-specific shapewear. SPANX has its own Mama range, including sheer, supportive Mid-Thigh Shapers and Seamless Leggings, whilst Skims' (Kim Kardasian's shapewear label) maternity collection features everything from a nursing bra to a sculpting bodysuit.
---
The best types of shapewear to wear under...
Hopefully, you're now feeling a little more confident with your shapewear purchases. But to help you on your journey of how to wear shapewear in the most practical sense, we've rounded up the different shapes and styles to wear under some key capsule wardrobe items.
Fitted t-shirts or blouses
Heist The Outer Body in White
RRP: $138 / £95 | A shaped bodysuit is perfect under fitted tops because there's no need to worry about layers coming untucked or bunching. We've found Heist's The Outer Body is one of the best on the market for comfort and function.
(opens in new tab)
Maidenform's Plunge Bodybriefer
RRP: from $64 / £66 | Maidenform's Endlessly Smooth Plunge Bodybriefer is a great, budget-friendly alternative to Heist. With a deep plunging neckline, this is great for teaming with jeans and your best v-neck t-shirts for a smooth and comfortable finish.
(opens in new tab)
RRP: $58 / £56 | With sizes up to 4XL this body fits a multitude of shapes and sizes. The smoothing properties here come from the fact this is all-in-one, so like tights, it naturally adds a light level of streamlining. Skims also has long sleeve and high-neck versions too.
Skinny jeans
(opens in new tab)
Commando Classic Control Thong
RRP: $38 / £30 | Control thongs are your best friends when it comes to skinny or slim-fitting jeans and trousers. Commando's Classic Control Thong provides a completely invisible look, second-skin feel and is light enough to wear all day.
Great price!
(opens in new tab)
M&S 2pk Light Control Knickers
RRP: $26 / £15 | Marks and Spencer can always be relied on for great underwear and this is still true when it comes to shapewear. The light control offered by these briefs will gently skim, shape and contour while keeping you comfy too. They're a great price too.
(opens in new tab)
Pour Moi Hourglass Firm Control Thong
RRP: $32 / £18 | Offering firm control, the reviews for these thong knickers with tummy sculpting abilities are very positive indeed. While the firm support might not be right for everyday, for those moments you need an extra boost, these could be the ones.
Bodycon and fitted dresses
Best for plus size
(opens in new tab)
Yours Clothing Plus Size Smoothing Slip
RRP: $50 / £28.99 | Specifically designed for plus sizes, this shapewear slip is made to be worn with your own bra, great if you need that little bit of extra lift and shape in the bust area. Ideal for under shorter dresses, it's also available in black.
(opens in new tab)
Maidenform Endless Smooth Foam Cup
RRP: $30 / £38 | Shaping slips are perfect for tight, bodycon dresses. Maidenform's Endless Smooth with Foam Cups, which is designed with anti-static and cling-free fabric so your outfits will glide over effortlessly.
Skirts
(opens in new tab)
RRP: $30 / £35 | Shaping shorts create a smooth silhouette from waist to thigh. SPANX's Higher Power Shorts are classics for a reason. The shaping zones target the tummy, the high waist eliminates muffin tops and a no-slip strip at the waistband stops unwanted movement.
Heist Highlight Short in Black
RRP: $93 / £65 | Shorts are great for wearing under dresses or skirts for extra comfort. The Highlight Short comes equipped with lifting and bum-defining properties thanks to Heist's HeroPanels. They also smooth and sculpt hips, thighs and stomachs.
(opens in new tab)
Skims Sculpting Short Mid Thigh
RRP: $36 / £34 | Skims shaping shorts are so popular that the majority of styles are on a waitlist for all colors—that really tells you how much shoppers love them. This mid-thigh length pair is great for wearing with longer skirts, enhancing the natural shape of your bum and thighs.
Esther is a features and fashion writer and stylist, who is particularly focused on the intersection between fashion and social issues and feminism. Her work has been featured in woman&home, Refinery29, ELLE, Stylist, Dazed, Grazia, HelloGiggles, and HuffPost.
She also founded The Activist, a fashion, arts, and culture magazine, dedicated to celebrating young women and non-binary people in politics and protest.
When she's not writing and styling, Esther is an avid bookworm and usually devouring something from the latest Women's Prize longlist, getting crafty with embroidery art, or enjoying a jaunt around the Suffolk countryside.