What is a girdle and should I use one? 4 reasons a girdle can help improve your life
These modern girdles are not the ones your grandmother wore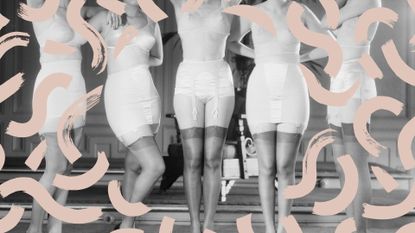 (Image credit: Getty Images/Future)
When was the last time that you heard someone talk about girdles without referencing old-timey things? Chances are, it's been a while (if ever). But traditionalists insist that they work. So if you have found yourself wondering whether to try a girdle or about its benefits, we're here to help.
Traditionally, this early 20th-century invention was a type of 'partial corset' with a longer length (from lower torso to upper thighs), open bottom that skimmed the legs like a skirt, and straps to attach to stockings. A long way from the girdles of today, this early iteration was made from elastic fabric and boning and stretched the figure out into the then-popular "S" silhouette. Nowadays, they're less constricting, and part of the best shapewear available.
From the 1910s onwards, girdles quickly replaced corsets, prized as they were for their relative comfort and ease to put on (specifically, they didn't require a small team to tie a woman in). It wasn't until the 1960s that this undergarment truly fell out of favor; outshone by developments in pantyhose and with their longer lengths not being compatible with the era's mini skirts and dresses, the girdle was quickly lost in the annals of fashion history.
The girdle never entirely disappeared though. It's around today, albeit in a different format.
What is a girdle?
You probably know the girdle by one of its contemporary names: body shapers, waist trainers, or waist cinchers (as popularized by Kim Kardashian) are all forms of modern girdles. Girdles are form fitting shapewear that support your torso and extend below the hips.
It's no surprise that people think waist trainers are terrible, but shapewear is wonderful—there are so many new shapewear brands out there trying to expand on the technology and methods to make these products work for women's lives rather than making people pour themselves into exoskeletons for the sake of fitting into a tighter outfit.
New models have even been developed as subtle as briefs underwear, or as controlling as bike short–like garments to help slim bumps down from bust to thighs.
What are girdles used for?
Girdles can be worn for medical reasons or for aesthetic ones. Sometimes they are used as a compression garment for sports.
You can forget any notions of tortuous 19th-century-style corsetry and fainting ladies. While traditional girdles focused on constricting women's forms, many modern girdles are designed to support and offer comfort. As long as you shop for the correct size, you should be able to walk, sit, and breathe deeply without any issue without any pinching or bulges at the edges.
Girdle benefits—4 reasons try one
Need a little more convincing? We've got four reasons why you should try a girdle, from the health benefits to the emotional gains. Of course, as with everything, girdles should be worn in moderation; doctors warn against wearing them for extended periods of time, to avoid any potential health issues. As such, the benefits we're discussing are only a given for those wearing a girdle occasionally or for short periods of time like an event.
1. Back support
Girdles that are longer in the back, such as Ann Michell's Violeta Mid-Thigh Post-Surgical Girdle, aren't just designed to slim and smooth your tummy, but also to offer extra back support. This makes them a good choice for those who hold a lot of tension in their neck, shoulders, and back. By relieving tension in your problem areas, girdles can help to reduce other symptoms of back pain: pressure on knees, feet, and pain-related headaches. Of course, if you suffer from chronic back pain, we always recommend talking to your doctor before purchasing.
2. Postpartum support
Postpartum or post-pregnancy girdles are not just about making you look slimmer after having the baby (though this is definitely one of the added benefits); they're actually medical-grade compression garments, designed to fit comfortably around your belly to support your body while it recovers. In fact, these girdles have been found to support your abdominal muscles while they heal, stabilize your pelvic floor, encourage blood flow, reduce swelling and fluid retention, improve mobility and aid postpartum workouts.
In particular, a study in 2017 (opens in new tab) found that women who delivered by C-section found their healing process was aided by wearing a postpartum girdle, particularly reducing their pain, discomfort and bleeding.
Of course, for any individual concerns, talk to your doctor first; if you are given the go-ahead, one of our favorite postpartum girdles on the market is the Bellefit Corset (opens in new tab).
3. Improved posture
Many of us suffer from bad posture, especially those who work in office environments, hunched over laptops and desks for long periods of time. Wearing a girdle not only encourages you to sit up straight and hold yourself tall, but also trains your body into the good habit when not wearing it. Other waist cinchers, like Honeylove's WaistHero (opens in new tab), is braced to keep your spine from slumping, forcing posture into place too.
4. Confidence boosting
While girdles haven't actually been proven to help you lose weight, you can't underestimate the boost of confidence they can offer, especially when worn for special events. Popping on a girdle under your carefully chosen outfit—whether that's for an important meeting, party, wedding, or date night—can totally alter your headspace, allowing you to focus on being fully present, and at your most confident, for the event.
Modern girdles—our shopping editor's picks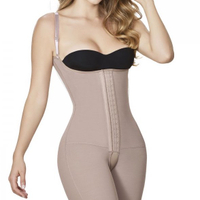 (opens in new tab)
Ann Michell Mid-Thigh Post-Surgical Girdle | RRP: $135/£98
This line-reducing option is built to help the body recover after having a child. Its high back provides muscles around your core with lots of support postpartum or post-surgery.
View the Ann Michell Violeta at ClassicShapewear.com (opens in new tab)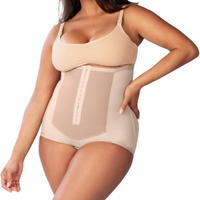 (opens in new tab)
Postpartum Girdle Corset | RRP: $69/£50
Build with three adjustable hooks in the front that hold the piece together, this girdle is designed to compress swelling during recovery.
View the postpartum girdle corset at Bellefit (opens in new tab)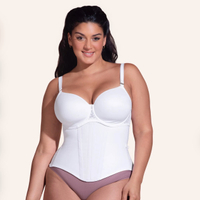 (opens in new tab)
Honeylove's WaistHero Cincher | $139/£101
Designed to create an hourglass look, this girdle/corset adds boning structure to the torso to help improve posture while supporting your tummy.
View the WaistHero at Honeylove (opens in new tab)
Esther is a features and fashion writer and stylist, who is particularly focused on the intersection between fashion and social issues and feminism. Her work has been featured in woman&home, Refinery29, ELLE, Stylist, Dazed, Grazia, HelloGiggles, and HuffPost.
She also founded The Activist, a fashion, arts, and culture magazine, dedicated to celebrating young women and non-binary people in politics and protest.
When she's not writing and styling, Esther is an avid bookworm and usually devouring something from the latest Women's Prize longlist, getting crafty with embroidery art, or enjoying a jaunt around the Suffolk countryside.