Why waist trainers are terrible, but shapewear is wonderful
Waist trainers are the underwear trend we wish fashion would forget.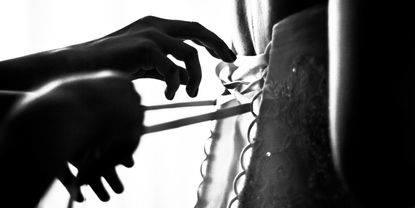 (Image credit: Getty Images)
Waist trainers aren't just ridiculous – they're dangerous. Invest in the best shapewear instead.
The year is 1675 and King Louis XIV has ordered a guild of female seamstresses to produce clothes for women within the court – bar corsets, which were to be made only by men. The oppression was twofold, with deeply uncomfortable, impractical and often painful undergarments dreamed up and designed by men to uphold an unrealistic feminine ideal.
You would hope by now times have changed. But while we're living in progressive times, the fascination with the corset shows no sign of abating. The modern prototype comes in the form of the waist trainer, a similarly restrictive device designed to "whittle down your waist", catapulted into the spotlight by the Kardashians and further popularised by groups like Waist Gang Society.
Waist trainers: A backwards step for women?
The Kardashians' back catalogue of health recommendations is disturbing – appetite-suppression lollipops, extreme detoxes and dubious-looking "healthy" teas are a few examples. But the waist-trainer phenomenon is perhaps the most lucrative, with Kim Kardashian's brand SKIMS selling $68 waist trainers, among other shapewear items. The product is said to instantly erase inches from your waist, while nipping you in to "perfectly accentuate your body's natural curves". This rather jars with the words of pioneering designer Coco Chanel, who was quoted on how her designs gave women their bodies back: "I gave women a sense of freedom; I gave them back their bodies: bodies that were drenched in sweat, due to fashion's finery, lace, corsets, underclothes, padding."
Our attachment to the corset is insidious, creeping its way back into vogue, first subtly with Prada's utility-style, more adrognious take on the garment, debuted on the catwalks in 2016, and then with more traditional-style waist cinchers appearing in the autumn/winter 2019 shows. Looking to the high street, what's even more shocking is that this organ-squishing underwear trend is being targeted at new mothers.
In 2019, Mothercare was accused of encouraging new mothers to lose their baby weight and remain "sexy" with a Belly Bandit Mother Tucker Corset, listed on the site as "post-birth lingerie". "I'm very anxious for women who are getting the wrong message," Jacqui Tomkins, the chair of Independent Midwives UK, told The Times. "It's saying the most important thing is for you to be back in shape, looking like Kim Kardashian. That worries me."
Our constant consumption of social media isn't helping matters. "Everyone wants a quick fix and unfortunately it's very easy to 'sell the dream' on social media, as a lot of people are so easily influenced," personal trainer Mel Bridger told us. But with the promise of a smaller waist comes a hefty trade-off, with its advocates keeping schtum when it comes to the potentially devastating side effects.
Why are waist trainers so bad for us?
It's not just that the notion of whittling down our waists feels redundant in modern times; waist trainers can also do some serious damage. "In my opinion, waist trainers are at best a waste of money, and at worst dangerous and unhealthy," Hollie Grant, pilates instructor and founder of Pilates PT, told us. "Firstly, we need to get rid of this obsession with smaller waists. Waist trainers offer you 'fake' results that are short-lived."
1. They weaken your muscles
When worn too much, the muscles start depending on the support of a waist trainer. Compressing your middle will prevent your abdominal muscles from engaging in core movements, so it's particularly bad if exercising in one. "It is difficult to ensure you are wearing it properly and in the correct area, and getting this wrong is not something you want to risk," Holly told us.
2. They affect your breathing
A waist trainer can stop the diaphragm from being able to fully contract and relax, therefore affecting the lungs and causing shortness of breath. It can reduce lung capacity by 30-60%, which can potentially cause you to faint. How very 19th century…
3. They can shift/damage your organs
Here's where the truth gets really ugly. Your internal organs, such as the lungs, stomach, liver and kidneys, will be pushed around when squeezed into a waist trainer, which can be really uncomfortable. This discomfort will disappear when the trainer is removed, but if worn for a very long time, it can eventually cause bruising or even shift the floating ribs.
4. Wearing a waist trainer can affect your digestive system
The compression puts pressure on your stomach and can lead to blockages in your digestive tract, increasing the chance of heartburn and acid reflux.
5. The results are temporary
They don't actually work in the long term – the weight loss you experience is usually just water loss from extra perspiration. When the waist trainer is removed, your body will return to its usual shape. "Waist trainers are not likely to have a dramatic or long-term effect on your figure. There is no evidence of the effectiveness of waist trainers to reduce a woman's waist when no longer forcefully constructed," Sally Baker, senior therapist at Working On The Body told me.
6. They have a negative impact on our mental health

"Restricting one's body with a waist trainer is a punitive, self-punishing way of trying to achieve the impossible," Sally continued. "The discomfort and restrictions to normal living are more likely to lead to disappointment and depression."
Why we should be investing in responsible shapewear brands instead
It's important not to tar all shapewear with the same brush, as responsible shapewear brands and body positivity can coexist harmoniously. The body-positivity movement has played into how the industry markets their products with consideration, from more inclusive campaign imagery to the language used on brands' websites.
Brands like Heist and Shapermint have changed the landscape, setting a new agenda for shapewear brands that aren't about "figure-fixing", but instead concentrate on comfort and helping the wearer feel confident.
It's an industry that's booming, with industry experts estimating that the shapewear market is expected to climb to approximately £4.9 billion by 2024. Bridget Jones may have paved the wave with her huge undies, but thankfully shapewear has come a long way since then in terms of design. If you want to keep it simple, there are still plenty of options, but brands like Triumph and Spanx have tapped into a new market, who want shapewear that offers a more delicate and design-led finish.
Sign up to our free daily email for the latest royal and entertainment news, interesting opinion, expert advice on styling and beauty trends, and no-nonsense guides to the health and wellness questions you want answered.
Lauren is the former Deputy Digital Editor at woman&home and became a journalist mainly because she enjoys being nosy. With a background in features journalism, Lauren worked on the woman&home brand for four years before going freelance. Before woman&home Lauren worked across a variety of women's lifestyle titles, including GoodTo, Woman's Own, and Woman magazine.