Best bathing suits for women over 50 to boost your style and confidence this summer
15 of the best bathing suits for women over 50 to shop this season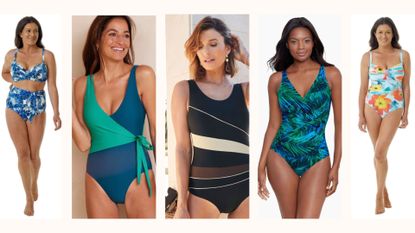 (Image credit: Seaspray, Miracle suit, Cotton Traders, Gottex, Seaspray)
Summer is almost here and if bagging the best bathing suits for women over 50 is on your list, we've asked a 50+ fashion expert to find the best styles for you. From bikinis to swim dresses these are the most figure flattering and comfortable swimsuits for women over 50.
Pursuing the perfect bathing suit can be stressful, regardless of age. The ideal design will make you feel confident and flatter your figure while being easy to wear and fit for purpose. There are lots of different options to consider that will be an asset to your over 50s capsule wardrobe and ensure you'll feel your best on the beach or in the pool this summer.
Whether you want to invest in a classic-colored one-piece or update your holiday wardrobe with a bold and bright bikini, it is possible to find the perfect design from the latest swimwear trends 2023. The key is to find the correct style that suits your shape and accentuates your best features. The styles you wore in your twenties may no longer work for you. "The key to finding a swimsuit that is great for you, is to find one that gives you the support and fit that you need to suit your body shape," says Charlotte Davies, senior designer at Elomi. "Age shouldn't be a barrier to making a bold choice if it makes you feel confident."
15 best bathing suits for women over 50
The experts are in agreement when asked what are the best bathing suits for women over 50. Heidi Gosman, co-founder and creative director of Heidi Klein says, "When speaking with our clients I always emphasize that they must choose something they feel confident wearing - it's so important to get out of the mindset of over-thinking and following trends that may not suit you, wear what makes you feel good and suits your personal style. When it comes to flattering swimwear, built-in support features are what every 50+ woman is hugely grateful for."
So whether you want something timeless, or to nail over 50s fashion, here's our round-up of the most flattering styles to look out for this summer
1. Summersalt The Perfect Wrap One-Piece
Specifications
RRP: $95 / £110
Size: US: 2-22 / UK: 6-26
Universally flattering this cross-over design is a great shape for all body types and is especially flattering on curvy figures. And available up to a US 22 and UK 26, it's one of the best plus size swimwear for women over 50 too. The side-tied bow is a pretty feature that helps to draw the eye in, creating a narrowed waistline. The medium-cut leg provides ample bottom coverage, and it has built in soft cups offering support while being comfortable to wear. The two-tone colorway is modern and chic and will look great worn with denim shorts. Made from 78% recycled polyamide this is a sustainable swimsuit too. If you are long in the body this style is also available in a longer (an extra 1 ¼") length fitting. Customers rave about this swimsuit with one happy shopper claiming it made her feel "supported and sexy at the same time" Sounds great to us!
---
2. Seaspray Capri Draped Underwired Bikini Top and High Waist Tie Bikini Brief
Specifications
RRP: Top: $62 / £48 | Bottoms: $52 / £40
Size: Top: 32C-38F Briefs US: 6-16 / UK: 10-20
If you are looking for a bikini with both a top that provides the support of a bra and briefs that offer full bottom and tummy contouring properties, this retro-inspired set will tick all your boxes. The top is available in a wide choice of back and cup sizes and is designed for maximum support while the clever draping will help to give added perkiness. The adjustable shoulder straps ensure you get the perfect fit and can be tightened to increase uplift, make sure you can still slip two fingers underneath - as you would with your best bras. The high-waisted briefs offer full coverage up to your waistline, with a tummy-control mesh lining and the low-leg design will cover your bottom. The tie belt adds a cute finishing touch which can be tied either in the center or to one side. The blue and ivory palm leaf print adds to the retro feel of this design, and you can buy a matching pareo in the same print to complete the look.
---
3. Heidi Klein Monaco Cross Back One Piece
Specifications
RRP: $335 / £260
Size: XS-XL
Heidi Klein's designs set the standard for poolside glamour and are loved by both British royalty and Hollywood A listers, Pippa Middleton and Reese Witherspoon are among the brand's fans. If you are looking to invest in one of the most luxurious swimsuit brands that will last for many summers to come as a part of your minimalist capsule wardrobe you can rely on this swimwear brand for both quality and design. This navy one-piece is made from a sustainable rib fabric and has a sexy plunge front neckline but has hidden underwiring and cross over back straps for high support. The legs finish slightly higher on the hip, which will give you the illusion of longer legs. Heidi Gosman, co-founder and creative director of Heidi Klein says "In terms of the actual construction and composition of this swimsuit, we have used our signature ribbed fabric, which both we and our clients refer to as the 'Spanx of swimwear', thanks to its shapewear qualities. "It truly sculpts and shapes the body and gets rid of any unwanted lumps and bumps - particularly the tummy area where some can feel more self-conscious" she adds, "Navy is a brilliant shade for any skin tone, as black can be harsh and hard to wear."
---
4. SeaFancy Sporty Bikini Top and High Waist Boy Shorts
Specifications
RRP: $43.19 / £31.99
Size: XS-XXL
If your idea of a day at the beach involves a game of volleyball or rounders and you are looking for a swimwear solution that will reflect your sporty lifestyle then this matching set will be the perfect choice. The fully-lined crop top has adjustable shoulder straps and removable soft cups for support and the elasticated waist shorts finish at the upper thigh, offering more coverage than the average bikini briefs. The fabric also offers SPF45 for increased protection helping you to stay in the game for longer.
---
5. Sea Level Martini Long Sleeved one-piece
Specifications
RRP: $149.95 / £120
Size: US: 4-14 / UK: 6-18
Sea Level produce sustainable swimwear made to withstand the Australian elements and its items designed to last. The collections from this Australian swimwear brand are made from regenerated nylon that has been upcycled from pre-consumer waste. This long-sleeved one piece, which fully covers the shoulders and arms is a great choice if you are looking for a more modest option with extra sun protection as this fabric offers 50+ UVP. With an internal shelf bra with removable soft cups this style is best suited to those who wear bras for small busts - cups A-DD. This one-piece would look great with a pair of wide-leg linen pants both as a beach cover up, or for an alfresco dinner.
---
6. Gottex Bohemian Gypsy Ruffle One Shoulder Swimsuit
Specifications
RRP: $148 / £125
Size: US: 4-14 / UK: 6-18
Founded in Tel Aviv in 1957, Gottex has decades of experience in designing glamorous and eye-catching bathing suits. The company is famous for its exclusive bold and colorful prints, so if you are looking for a swimsuit that will make a statement on your sun lounger then this is the brand for you. The asymmetrical style has a ruffled flounce at the shoulder and across the front, which is the perfect design feature if you want to accentuate a small bust and balance out a pear-shaped body. With gathers across the tummy and a control lining this suit offers support as well as style points. Take this swimsuit from day to night by adding tailored navy shorts, strappy sandals, and a pop of pink lipstick for a fun and upbeat look that will be perfect for cocktails at sundown.
---
7. Miraclesuit Oceanus One Piece Swimsuit
Specifications
RRP: $178 / £185
Size: US: 8-18 / UK: 12-22
Miraclesuit is the brand that claims they can make you look 10lbs lighter in 10 seconds by simply slipping on one of its bathing suits, and while we view this with a certain amount of realistic skepticism, and the fact that you don't need to lose weight to wear a swimsuit this summer, if you're after a full body sculpt. there are plenty of customers with evidence to prove Miraclesuit does what it says on the tin. Made from a unique fabric that features three times as much spandex as traditional materials, the designs provide all-over body compression, feeling firm and contained while still being comfortable. The cross-over design will flatter a fuller figure and accentuate the waistline for an hourglass silhouette while the cleverly draped fabric smooths a midriff. This confidence-boosting swimsuit will work as hard as your best plus size shapewear.
---
8. The White Company Twist Front Bikini Top and High Waist Bikini Briefs
Specifications
RRP: Top: $49 / £35 | Brief: $49 / £35
Size: S-XL
Simple and sophisticated, this classic navy bikini is streamlined and unfussy and is the perfect choice if you are looking for a comfortable option with a light level of support. Made from a high-quality smooth material that has a luxuriously matt finish these two pieces can be bought separately, great if you require different sizes in top and bottom. The briefs are high-waisted and finish on the upper hip for a leg-lengthening look. Understated and chic this bikini will become a firm favorite in your capsule wardrobe for travel and teamed with your best beach bag and a contrasting white kaftan - it's a holiday hero.
---
9. Seaspray Poppy Twist Swimsuit
Specifications
RRP: $114 / £88
Size: US: 6-20 / UK: 10-24
If you are tall, or simply have a long torso, it can be hard to find a one-piece that will fit while still being comfortable to wear. This twist-front swimsuit is designed especially for that problem with extra length in the body to ensure the fit is ample. The ruching across the middle helps to create shape, and highlight curves. The bold all-over floral print distracts the eye and helps to make you look longer. Wear with the matching floral pareo tied at the hip to create even more shape or up around the bust if you prefer more coverage.
---
10. Lands' End Tummy Control Swim Dress
Specifications
RRP: $134.95 / £120
Size: US: 2-18 / UK: 8-20
For something more feminine and figure skimming, opt for a swim dress, it's a more modest choice that will give you greater coverage over your middle, hips and thighs while still providing the support of a swimsuit. This swim dress is your confidence-boosting saviour. The wrap-over A line dress is attached to a light-control swimsuit base and made from fabric that provides UPF50 sun protection, giving you both coverage from the sun and confidence on a crowded beach. Simply add a sunhat and you have an outfit that you can rely on to take you from swimming in the sea to building sandcastles in style.
---
11. Boden Levanzo Ruched Halter Swimsuit
Specifications
RRP: $115 / £75
Size: US:2-18 / UK: 6-20
Halter necklines have the ability to pull in your bust and uplift it at the same time, making them a flattering choice for women who usually need the best bras for larger busts that like to celebrate their curves. When the straps are tied around the neck it draws the eye inwards and down, making your neckline look longer and your shoulders narrower. This classic halterneck swimsuit from British clothing brand Boden comes in a choice of six fabrics including this pretty floral print and is available in both a regular and longer length fit.
---
12. Cotton Traders Illusion Swimsuit
Specifications
RRP: $43.95 / £35
Size: US:6-20 / UK: 10-24
This affordable, classic one-piece has a high scoop neckline that's ideal if you are looking for greater coverage across your bust and cleavage. The basic shape has a higher-than-average back too, which covers the underarm area, giving extra smooth and sculpting properties - much like the best bras for back fat. But this swimsuit's stand-out feature is the diagonal pattern on the front that creates the illusion of a pulled in and narrowed waistline, with the bold cream panel drawing the eye inwards to to create a lengthened and curvaceous frame. With ample coverage over the bottom this is a good all-rounder bathing suit for women over 50, and is available in plus sizes too.
---
13. Elomi Molded Tankini Top and Adjustable Bikini Briefs
Specifications
RRP: Top: $99 / £66 | Brief: $53 / £32
Size: Top: US: 12-22 / UK: 16-26 | Briefs: US: 10-22 / UK: 14-26
Crafted by one of the best plus size lingerie brands, this tankini is available up to a size US: 22 / UK: 26 and is a flattering option for curvy women who want to feel relaxed and confident around the pool. "At Elomi we ensure all our swimwear has the same great fit as our lingerie" says Charlotte Davies, senior designer at Elomi. "This tankini is great because we have created an internal non-wired shelf with molded cups in it to ensure support and smooth coverage. It's gently flared, to skim the wearers curves without adding too much fabric, which can be inconvenient when swimming. Pairing this with the Adjustable Bikini Brief is great as this brief offers the wearer a choice of leg coverage depending on their preference."
One of the best swimsuits on Amazon to snap up this season, you can get it delivered in next to no time.
---
14. Fantasie Full Cup Bikini Top and Mid Rise Bikini Briefs
Specifications
RRP: Top: $76 / £44 | Briefs: $46 / £32
Size: Top: 30D-40H | Briefs: XS-XXL
If you wear a D cup bra, or over and are looking for a bikini with extra bust support, this brand is for you. With cup sizes up to an H cup and back sizes from 30-40 you will find a selection of bikini styles that fit and flatter. The Full Cup Bikini Top offers the ultimate support. "This style has a flattering wrap front for a stylish look, but with all the benefits of a well-fitting bra" says Fantasie Senior Designer Abi Body. "This underwired style gives excellent support and has hidden internal construction to give you great bust shape, so you are supported and comfortable all day." The vibrant tropical floral design has a carnival feel that's fun and uplifting.
---
15. Pour Moi Free Spirit Strapless Tummy Control Swimsuit
Specifications
RRP: $82 / £45
Size: UK: 10-20 / US: S-3XL
With detachable straps that are easily removed to create a strapless bandeau option this one-piece is one of the best swimsuits for women over 50 who want to sunbathe without getting tan lines but still want the support and figure flattering properties of a more traditional design. This swimsuit has soft boning at the sides to ensure it doesn't slip down, however active you want to be. The all-over palm leaf print and ruching over the tummy make it a flattering option for apple-shaped figures. Made from 80% recycled polymide it's a planet friendly option too. This swimsuit has a matching beach dress for a perfectly co-ordinated day by the pool.
---
Can women over 50 wear a two piece?
The simple answer is yes! The best swimsuits for women over 50 have no rigid rules. If you feel like wearing a bikini then go ahead and wear one. Age should never be a barrier to anything we want to do. Body confidence is the key, if you feel happy and relaxed in a bikini then wear it with pride, however skimpy it is.
Confidence comes when you are feeling comfortable and relaxed. Choosing the right style of bikini that flatters your figure and gives you the support you want will help you to achieve that sense of satisfaction. "A suit with underwires will give you more support and a more lifted bust shape, especially if you are fuller busted" says Abi Body. "Features like an adjustable leg gives the flexibility to style the leg line to the coverage that feels best for you. These features paired with a great looking color or print will have you summer-ready."
How should bikinis be worn by women over 50
With pride! The key is to choosing a swimsuit for women over 50 is to opt for a style that will suit your needs. If you plan to spend your two-week vacation flat-out on a lounger and want to go home with a tan then opt for a simple bandeau top paired with high leg briefs - the most important rule for this scenario is to use plenty of sun screen, regularly and be mindful about the suns hottest hours - as even with sun cream there is still a risk.
If you are planning to be more active, either on the beach or in the water, choose a style that will allow you to move and stretch in comfort. Look out for supportive features like wider, adjustable straps and briefs that offer fuller coverage.
The key is to be prepared and test out your choice of bathing suit before you leave for your vacation. Trying out a variety of styles at home will allow you to put them through a few simple tests, can you lift your arms above your head or touch your toes without bits of your body falling out that you would rather keep hidden? And once you've sourced your bathing suit, you'll be vacay-ready.
Julie has over 30 years experience in the fashion industry and is a regular contributor to Woman & Home, Woman's Weekly and Chat magazines, creating engaging fashion and lifestyle content for women of all ages. She also works in the wardrobe department at ITV, dressing the presenters for Good Morning Britain. In her late fifties, Julie loves seeking out the most figure-flattering fashion for every occasion. She's a qualified sustainable fashion expert with a wealth of knowledge of planet-friendly fashion brands and ways to shop more ethically.