What color suits me? How to pinpoint the most flattering shades for you
Looking through your wardrobe and asking, what color suits me? Enter our expert guide on the best color matches for your skin tone.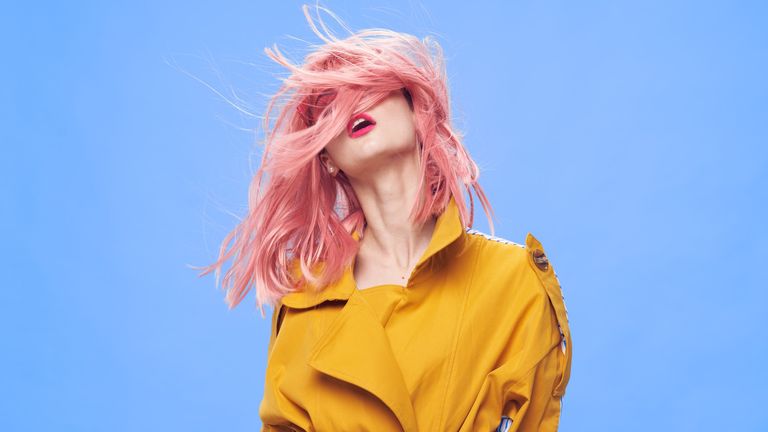 (Image credit: Getty)
What color suits me? It's the fashion dilemma that never goes out of style. So we've turned to color analysis – the expert method of determining which colors suit your skin tone best
If you don't fancy handing yourself over to a fashion stylist, how on earth do you figure out what colors work for you? 
Finding your dream color palette needn't be difficult, because we're here to answer all your questions. We sought out the wisdom of personal stylists to help you find the colors that will best enhance your natural complexion and make you feel more confident.
Whether you're shopping for a killer capsule wardrobe, or wanting to give one of the latest clothing trends a try, no matter what occasion you're shopping for, color matters.
What is color analysis, and how can it help determine what color suits me?
Color analysis is a surefire method of answering the what color suits me? question, because it determines which colors of clothing and which makeup shades harmonise with a person's skin complexion, eye color, and hair color.
It will also help you figure out the finer details, like what color of jewellery suits you. (*Starts filling basket with jewellery gifts to self.*)
According to celebrity stylist and lecturer at London's Fashion Retail AcademyAnthony Mc Grath, "It's useful to have a color analysis with a stylist or professional color analyst. 
"In a nutshell, you can use your skin tone (skin, hair and eyes) to determine whether you are warm or cool toned, and your overall coloring – so how dark your skin is and the color of your natural hair – to determine whether you are light or dark."
What skin tone am I?
If you regularly find yourself asking, 'what colors suit me?' you need to start with the basics. The basis of color analysis is figuring out whether your skin tone is warm or cool.
A couple of color analysis tests can help you figure your skin tone out quickly and easily.
"Look at the underside of your arm in natural daylight, if you have a pink or rosy undertone and blue tinted veins you have a cool skin tone," explains personal stylist Elaine Davies. "If you have a golden or apricot undertone and green tinted veins you have a warm skin tone."
Take the fabric test 
Still not sure? Try holding a piece of gold fabric under your chin (or trying on a gold necklace).
Now do the same with a piece of silver fabric or jewellery. Which shade lights up your complexion and makes your eyes pop? If it's silver, you're cool. If it's gold, you're warm.
Cool skin tone
If you have pink or rosy undertones (like Angelina Jolie, Renee Zellweger, Lucy Liu or Halle Berry), your skin tone is cool, and colors with blue undertones will suit you best.
Warm skin tone
If you have golden undertones (like Nicole Kidman, Gwyneth Paltrow, Heidi Klum or Beyonce), your skin tone is warm, and yellow-based hues will most flatter you.
Color analysis based on your skin tone
Once you've got your skin tone sorted, you can move on to asking, 'what color am I?'
You might have heard friends referring to themselves as Spring, Summer, Autumn or Winter types. But what does it all mean?
Well, if your skin tone is cool, you belong to the Summer or Winter family. If it's warm, you have Spring or Autumn coloring. Some people span multiple groups, but one tends to be primary.
Summer coloring
If you have a cool skin tone, naturally ash-toned blonde or light-mid brown hair (with no red or gold highlights), and pale blue, green or grey eyes, you have summer coloring.
Winter coloring
If you have a cool skin tone, ash-toned medium to dark brown or black hair with no red or gold highlights, and deep blue, green or brown eyes, you belong to the winter family.
Spring coloring
If you have a warm skin tone and golden blonde or light-medium brown hair with golden highlights, you have spring colouring. Spring types may have a mixture of warm and cool elements to their coloring.
Autumn coloring
If you have a warm skin tone and red, auburn, dark brown or black hair with red, gold or chestnut highlights, you belong to the autumn color family. If you are pale, you probably have freckles.
Can my color change?
Have you had your color analysis years ago, but now feel like your color has changed over time? Your primary coloring remains the same throughout your life, but going grey, coloring your hair or even getting a tan can alter how flattering certain shades appear.
A tan may cause 'spring' brights to appear more flattering than usual, for example, whilst your go-to 'summer' pastels seem to wash you out – you may even wish to consider opting for a warmer hair color to complement your holiday glow. As we age, skin and hair begin to lose pigmentation. This doesn't change our natural coloring, but makes it even more important to know which color family we belong to, so that we can choose shades which enhance, rather than drain, our complexions.
What colors suit me?
According to the experts, we can all wear virtually any color – it's simply a matter of figuring out which shades suit us best. Go too dark and your clothing will throw black onto your face, which "tends to widen and drop the jawline," explains Polly Holman, an associate lecturer at the London College of Fashion.
Meanwhile, "a colorr that is too light will throw white up onto your face and make you look washed out." The darker your eyes, hair and skin, the bolder you can go. The lighter your natural coloring, "the paler and closer to pastels you should go," she advises.
However, knowing which color family you belong to can help you to figure out exactly which hues will flatter you. Wearing one of 'your' colors close to your face will light you up and make your hair and eyes 'pop'. Further down, though? Anything goes!
So, if you can't bear to bin the black (which can cause shadows to pool in lines and crevices when worn too close to the face), invest in a colored scarf. Read on to find out which shades you should be looking out for.
What to wear if you have summer coloring
Teresa Chambers, a lecturer at London's Fashion Retail Academy advises, "Summer types look best in soft pastels with blue undertones. Think light blues, pinks, yellows. Grey and blue hues (from pastel blue to navy) will also look great.
"However, yellow-based colours such as orange, tan, mustard, coral and salmon pink are less flattering, and pure white may wash you out, so opt for soft off-white tones instead."
Olivia Burton Sunlight Florals Dusty Pink & Rose Gold watch
What to wear if you have winter coloring
Winter coloring calls for the boldest and richest of blue-based hues.
Teresa Chambers said, "Vivid, icy, cool and clear primary colors are great. Vivid blues, reds and golden yellows will complement your skin tone. Think scarlet red, fuchsia pink, royal blue, emerald green and deep purple. You can also get away with black, charcoal grey, pure white tones and deep purple."
However, you should try to steer clear of muted pastels and yellow or orange-toned shades, including rusty browns and brick reds.
L.K. Bennett Veronique red dress
What to wear if you have Spring Coloring
Spring types suit warm 'true' brights such as brick red, coral, salmon pink and true blue. Beige and ivory hues will also flatter. However, icy pastels, deep tones or muted shades may drain you.
Anthony McGrath said, "Warm and delicate with yellow undertones are good for spring types. Dusky pinks, soft greens, neutral light greys are great. Although these types can also wear burnished oranges and deep purples and look fabulous."
Everlane The Corduroy Wide-Leg Pant
What to wear if you have Autumn coloring
Anthony McGrath advises, "Rich autumnal colors flatter autumnal skin most, often with a warm/golden undertone, so think earthy reds, bronzes, rich browns, chocolate and burnished golds. Warm muted tones like olive and dark greens, terracotta red and burnt orange enhance autumnal complexions."
However, you should be weary of insipid pastel tones and harsh brights. You can get away with navy, but other blue-toned hues might not work so well.
Madewell The Oversized Shopper Bag
How to immediately tell if a color works for you 
Stranded under fluorescent changing room strip lighting with little to no idea whether that particular shade of red counts as scarlet or brick? Don't worry – simply try Polly's 'Blink Test' if you're asking yourself 'what color suits me?'
Stand in front of the mirror wearing the item in question. Now... blink.
"When you open your eyes, if you see the colour before you see yourself, then the color is wearing you," she says.
"If you see yourself first, then you're wearing the color, which means it suits you."
Lauren is deputy editor at woman&home.com in the UK and became a journalist mainly because she enjoys being nosy. With a background in features journalism, Lauren has worked on the woman&home brand for four years. Before woman&home Lauren worked across a variety of women's lifestyle titles, including GoodTo, Woman's Own, and Woman magazine. After starting out working for a local paper in Yorkshire, her journalism career took her to Bristol where she hunted out stories for national papers and magazines at Medavia news agency, before landing a job in London working as a lifestyle assistant.
Lauren loves helping people share their stories, bringing experiences to life online, honing her interview techniques with everyone from authors to celebrities, headteachers to local heroes. As well as having a good nose for a story, Lauren has a passion for the English language and years of experience optimizing digital content to reach the widest audience possible. During her time at w&h, Lauren has worked on big brand campaigns like the Amazing Women Awards and assisted in developing w&h expert-approved Buyer's Guides—the place to go if you're looking to splash out on an important purchase and want some trusted advice. In addition to her journalism career, Lauren also has a background in copywriting for prestigious brands such as Inhabit Hotel, eco-development K'in in Tulum, social enterprise The Goldfinger Factory and leading London architect Holland Harvey, using language in all its glorious forms, from detailed guidebooks to snappy social content. 
A big fan of adventure, Lauren is also a keen travel writer and loves sharing tips on where to find the best places to eat, drink, and be merry off the beaten track. Lauren has written a series of travel guides for London hotels and loves sharing her insights into a destination's cultural and culinary offerings. If you need a recommendation on any UK destination, she's more than happy to help. At the weekend, you'll usually find her hanging out with her pet cat (or anyone else's pet she can get her hands on), escaping to the countryside, or devouring a good book. 
Follow her adventures @laurenkatehughes
Twitter: @laurenkhughes
LinkedIn: Lauren Kate Hughes 
Email: lauren.hughes@futurenet.com