What color suits me? How to pinpoint the most flattering shades for you
Looking through your wardrobe and asking, what color suits me? Enter our expert guide on the best color matches for your skin tone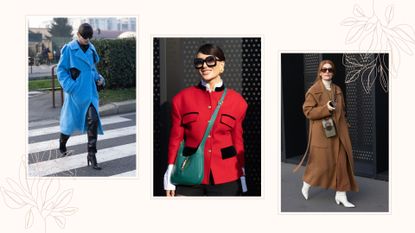 (Image credit: Getty Images)
What color suits me is an age-old fashion dilemma that crops up every season. So if you've found yourself asking this very thing, we've consulted the experts in color analysis to help you find your perfect color match.
There aren't really hard and fast rules in fashion, and you're free to wear whatever you want, but selecting the colors that suit you best can help enhance your natural complexion and give you a serious lift. Dopamine dressing remains a huge fashion trend 2023, championing mood-boosting hues and bright color clothes, and investigating 'what color suits me', will help you navigate this trend with ease. From the best midi dresses in block colors and statement prints to everyday separates, building color into your capsule wardrobe will instantly add personality to your look. And once you've nailed the most flattering colors for your skin tone you can dress with confidence whatever your outfit.
According to research from online personal styling service, Stitch Fix UK (opens in new tab), a third of Brits (29%) say their mood is lifted when wearing bright shades, and 35% experience a boost in creativity when dressed in colorful clothing.
"Wearing bright colors such as yellow, red, pink, and blue come with genuine psychological and physiological benefits," explains Shakaila Forbes-Bell (opens in new tab), fashion psychologist and founder of Fashion is Psychology.
"Red and yellow, for example, have been found to increase blood pressure, heart rate, and eye movement, causing us to feel more alert, aroused, stimulated, and energetic. Blue, by comparison, produces calming bodily responses, making us feel more relaxed and serene."
And when it comes to working out 'what color suits me' there are heaps of fashion color trends 2023 to choose from this season, from green to soft lilac, you're bound to find a shade to suit you. And don't worry if your favorite color doesn't typically match your skin tone. You can always introduce it through your accessories. Both the handbag trends 2023 and shoe trends 2023 were packed with vibrant pieces, so try adding a pair of the heels in a bold hue to inject your favorite color into your outfit.
What color suits me?
When it comes to what color suits you best, it's really about finding the right shade. According to experts, you can wear nearly any color, but placement (as in where and how you wear it) alongside the exact hue is the real trick.
While darker colors have historically been seen as slimming, they can also be quite draining. Go too dark and your clothing will throw black onto your face, which "tends to widen and drop the jawline," explains Polly Holman (opens in new tab), an associate lecturer at the London College of Fashion.
Meanwhile, "a color that is too light will throw white up onto your face and make you look washed out." The darker your eyes, hair, and skin, the bolder you can go. The lighter your natural coloring, "the paler and closer to pastels you should go," she advises. However, knowing which color family you belong to can help you to figure out exactly which hues will flatter you. Wearing one of 'your' colors close to your face will light you up and make your hair and eyes 'pop'. Further down, your body though? Anything goes! This means you're mainly concerned with colors that will be closest to your face.
But if you're desperate to keep hold of all your black clothing (which can cause shadows to pool in lines and crevices when worn too close to the face), inject color and brightness through colorful scarves or bold colorful jewelry. This styling trick means you can keep wearing black and dark hues on the top part of your torso, without draining your face. These colorful accessories should become wardrobe essentials.
Read on to find out which shades you should be looking out for to bring out the best of your specific coloring.
What is color analysis?
Color analysis is a surefire method of answering what color suits me?, because it determines which colors of clothing and which makeup shades harmonize with a person's skin complexion, eye color, and hair color. It will also help you figure out the finer details, like what color of jewelry suits you (*starts filling a basket with jewelry gifts to self.*)
There are two areas to consider when analyzing your color - your base skin tone and your overall coloring. Your base skin tone will be either warm or cool, while your overall coloring takes your eye and hair color into consideration.
Anthony McGrath, a celebrity stylist, and lecturer at London's Fashion Retail Academy (opens in new tab) advises that it can be useful to "have a color analysis with a stylist or professional color analyst," however there are ways to figure out your coloring by yourself.
"In a nutshell, you can use your skin tone (skin, hair, and eyes) to determine whether you are warm or cool-toned, and your overall coloring - so how dark your skin is and the color of your natural hair - to determine whether you are light or dark."
What skin tone am I?
The first step of using color analysis to determine the best shades to suit you is to first figure out whether you have a warm or cool skin tone. A couple of color analysis tests can help you figure your skin tone out quickly and easily.
Arm test
"Look at the underside of your arm in natural daylight, if you have a pink or rosy undertone and blue-tinted veins you have a cool skin tone," explains personal stylist Elaine Davies (opens in new tab). "If you have a golden or apricot undertone and green-tinted veins you have a warm skin tone."
Fabric test
Still not sure? Try holding a piece of gold fabric under your chin (or trying on a gold necklace).
Now do the same with a piece of silver fabric or jewelry. Which shade lights up your complexion and makes your eyes pop? If it's silver, you're cool. If it's gold, you're warm.
What color suits my skin tone?
Now that you've worked out your base skin tone, you can start to choose fashion and makeup colors based simply on whether you are cool or warm-toned.
Cool skin tone
If you have pink or rosy undertones (like Angelina Jolie, Renee Zellweger, Oprah Winfrey, Lupita Nyong'o, Lucy Liu or Halle Berry), your skin tone is cool.
These skin tones usually burn easily in the sun and either don't tan, struggle to get a tan or go red in the sun, as the skin will usually contain less pigment. Cool skin tones will usually have a pink or bluey-red undertone. This skin tone is also more likely to blush easily.
People with cool skin tones usually look best wearing clothes or makeup with blue undertones. Bright greens, deep purples, pinks, and both pale and bold blues will suit this skin tone well. If you have a cool skin tone you might want to check out how to wear the Pantone Color of the Year 2023, Vivid Magenta, as this will look wonderful on you. Coll skin tones also tend to suit silver jewelry or even rose gold better than yellow gold jewelry.
Warm skin tone
If you have golden undertones (like Nicole Kidman, Gwyneth Paltrow, Viola Davis, Heidi Klum or Beyonce), your skin tone is warm.
Warm skin tones will usually be able to tan quite quickly and easily and don't tend to get burnt very much, as usually they will have more melanin in their skin. Warm skin tones will usually have a yellowish or an olive brown undertone.
People with warm skin tones tend to look best in yellow-based colors, as they bring out the natural undertone more. Greens, browns, warm reds or oranges, peach, coral, and gold also suit this skin tone well. Gold jewelry will also help to bring out the warm undertone of the skin and help you look more glowy and is a great accessory to add to a minimalist capsule wardrobe to add in texture and newness each season.
Color analysis based on your overall coloring
If you want to pinpoint more precise colors that will suit you, you need to look at more than just your skin tone and consider your overall coloring.
You might have heard friends referring to themselves as spring, summer, autumn, or winter types. But what does it all mean? Well, if your skin tone is cool, you belong to the summer or winter family. If it's warm, you have spring or autumn coloring. Some people span multiple groups, but one tends to be primary.
Summer coloring
If you have a cool skin tone, naturally ash-toned blonde or light-mid brown hair (with no red or gold highlights), and pale blue, green or grey eyes, you have summer coloring.
What to wear if you have summer coloring
Teresa Chambers, a lecturer at London's Fashion Retail Academy (opens in new tab) advises, "summer types look best in soft pastels with blue undertones. Think light blues, pinks, yellows. Grey and blue hues (from pastel blue to navy) will also look great." These shades will all look good in dress styles, whether it's the best dresses for spring, or best shirt dresses for work. Look out for new season knits in soft ice cream hues that will instantly brighten your look.
"However, yellow-based colors such as orange, tan, mustard, coral, and salmon pink are less flattering, and pure white may wash you out, so opt for soft off-white tones instead."
Fashion editor's picks…
(opens in new tab)
H&M Lyocell-Blend Shirt Dress
(opens in new tab)
Everlane Felted Merino Cardigan
RRP: $145 / £140 | An ideal layering piece, cool creams are easier to wear than bright whites and work for all seasons. With a sports luxe feel, this retro, boxy fit cardigan with statement buttons will easily become a wardrobe staple. Throw over tees and dresses on cooler evenings without sacrificing brightness.
(opens in new tab)
Zara Oversized Pink Shirt
RRP: $45.90 / £29.99 | If you've loved the best pink dresses this season, then this fluffy cardigan, from Sezane, is one to slide into your wardrobe. Wear tucked in for the 9-5 for a fun way to learn what to wear with wide leg pants, or sling on over sleeveless tops or dresses for added warmth in early spring.
Winter coloring
If you have a cool skin tone, ash-toned medium to dark brown or black hair with no red or gold highlights, and deep blue, green or brown eyes, you belong to the winter family.
What to wear if you have winter coloring
Winter coloring calls for the boldest and richest of blue-based hues. This means that a bold top with your favorite jeans should be a go-to look.
Teresa Chambers said, "Vivid, icy, cool, and clear primary colors are great. Vivid blues, reds, and golden yellows will compliment your skin tone. Think scarlet red, fuchsia pink, royal blue, emerald green, and deep purple. You can also get away with black, charcoal grey, pure white tones, and deep purple."
The spring 2023 runways were a riot of color, making this year, your year. Embrace your ability to wear bold hues and make the most of standing out from the crowd. Inject into everything from the best cashmere sweaters to striking summer dresses.
However, you should try to steer clear of muted pastels and yellow or orange-toned shades, including rusty browns and brick reds.
Fashion editor's picks…
(opens in new tab)
Boden Cropped Tweed Jacket
RRP: $230 / £170 | Primary hues are fab for adding a dose of brightness and cheer to any look. This vintage-style jacket has a delightfully '50s feel that can be paired with a coordinating mini skirt, or slipped over neutral dresses to add an instantly refreshing feel.
Me + Em Short Swing Dress
RRP: $235 / £135 | Made from 100% cotton this pretty swing dress makes for a great holiday outfit idea. The A-line silhouette is a flattering style for skimming hips and midriffs, while the powerful and punchy blue adds an instant lift to the look.
(opens in new tab)
Stories Ruffle Wrap Front Top
RRP: $27 / £55 | This uber flattering top uses side ruching to sculpt a waistline and gently skim a middle. Thanks to the slightly cropped hem, it's ideal for pairing with high waisted jeans or skirts to create a well contoured and balanced shape.
Spring coloring
If you have a warm skin tone and golden blonde or light-medium brown hair with golden highlights, you have spring coloring. Spring types may have a mixture of warm and cool elements to their coloring.
What to wear if you have spring coloring
Spring types suit warm 'true' brights such as brick red, coral, salmon pink, and true blue. Beige and ivory hues will also flatter. However, icy pastels, deep tones, or muted shades may drain you.
Anthony McGrath said, "Warm and delicate with yellow undertones are good for spring types. Dusky pinks, soft greens, neutral light greys are great. Although these types can also wear burnished oranges and deep purples and look fabulous."
With color really making a comeback this season, you can take some key silhouettes to the next level. These bright tones will offer instant mood-boosting abilities so don't be afraid to pack a stylish punch. Look for the best blazers in pinks and reds that will instantly refresh your look, or get occasion ready and nail what to wear to a wedding with a brightly colored flattering jumpsuit.
Fashion editor's picks…
(opens in new tab)
Mango Single-Breasted Suit Blazer
RRP: $149.99 / £69.99 | If you've yet to add a blazer to your arsenal, now's your chance with this smart lemony number. Adding instant polish, the shimmer finish ensures this will add a touch of sparkle to any look. Team with the coordinating pieces or throw it over a floral midi dress for great wedding attire.
(opens in new tab)
Reiss Petite Straight Legged Trouser
RRP: $210 / £128 | One of the best petite trousers, Reiss understand how to do accessible tailoring. This neat pair of trousers will take you through the season, with this neutral hue ideal if you're wondering what to wear to a christening this summer.
(opens in new tab)
Ghost Winona Open Back Dress
RRP: $260 / £149 | Ghost are known for crafting some of the best bridesmaid dresses and this sleek, biased cut number fits the bill perfectly. In a bold brick red hue, the dress features a cut out back with self-tie bow neckline for a romantic finish.
Autumn coloring
If you have a warm skin tone and red, auburn, dark brown, or black hair with red, gold, or chestnut highlights, you belong to the autumn color family. If you are pale, you probably have freckles.
What to wear if you have autumn coloring
Anthony McGrath advises, "rich autumnal colors flatter autumnal skin most, often with a warm/golden undertone, so think earthy reds, bronzes, rich browns, chocolate, and burnished golds. Warm muted tones like olive and dark greens, terracotta red, and burnt orange enhance autumnal complexions."
This means that autumn dressing is where this skin tone gets to shine. Invest in earthy hues for your best winter coat and enjoy these rich tones in sumptuous roll necks and chunky cardigans as they will really light up your face.
Luckily for those with autumn coloring, earthy reds, bronzes, olives and burnt orange colors tend to be available year through, meaning that even though insipid pastels wash you out, you don't need to panic when warmer months roll around. Make the most of gold accents and tones in the summer months, injecting this into some layered necklaces from the best jewelry brands and gold-framed sunglasses or reading glasses to tap into the eyeglasses trends 2023 to really brighten your complexion. When it comes to blues, you can get away with navy, but other blue-toned hues might not work so well.
Fashion editor's picks…
(opens in new tab)
& Other Stories Beige Midi Dress
RRP: $129 / £95 | Smart enough for a summer outfit for work, pretty enough for the weekend, this midi dress reflects some of the best shirt dresses. With classic collar detailing and bust pockets, this dress has a self-fabric tie belt to define your waist.
(opens in new tab)
RRP: $225 / £135 | Take inspiration from the classic Burberry trench coat with this short style that pays homage to the tailored look. In a gorgeously deep khaki hue, this is one of the best trench coats for spring, where days can be warm and wet.
(opens in new tab)
Dolce & Gabbana Leopard Dress
RRP: $2,695 / £1800 | Leopard print will never go out of style and it's the perfect print for autumn coloring. Italian clothing brand, Dolce & Gabbana is well known for its love of the wild print and this cute, sleek dress will work all year for all occasions.
Can my color change?
It is possible that you had a color analysis years ago but feel now that your color has changed over time. Although your primary color remains the same throughout your life there are things that can alter how flattering certain shades might appear. For example, dying your hair, going grey or even getting a tan can change how things seem and sit against our skin tone.
Getting a tan may mean that 'spring brights' appear more flattering than usual, whilst your usual 'summer' pastels suddenly start to wash you out. If this happens, you might want to think about a warmer hair color to complement your holiday glow.
It is true however that as we age, skin and hair begin to lose pigmentation. But this does not change our natural coloring. With this in mind, it highlights the importance of knowing which color family we belong to so that we can choose shades that enhance, rather than drain, our complexions. If you've found that your coloring has changed as you've gotten older, you may want to think about decluttering your closet to create an over 50s capsule wardrobe.
What clothes colors will look best on me?
Once you've worked out what color family you belong to it's time to inject this new knowledge into your wardrobe. With spring cleaning on the horizon, the first stage should really be a full analysis of your existing clothing. We've got a great guide on how to organize your closet, which should make this a breeze. But keep in mind as you're going through your clothing, do they match your color family profile. If they don't that doesn't mean you need to get rid of them, but you might need to reassess how you wear them. If the item is part of a group of colors that drain you, can you add jewelry, a scarf or even a cardigan to readdress the color balance? If it's a dark top, can it be reworked under a bright blazer so that the largest amount of color near your face is more flattering?
And just remember, there are very few colors you won't be able to wear, it's just working out the styling to make them enhance your face.
Charlie is the Deputy Fashion Editor at Future plc across multiple women's magazines including Woman & Home, Woman and Woman's Own.
She bagged her first magazine job in 2009 and has previously written for titles including Stylist, Closer and Dare. Over the years Charlie has embraced anything that was thrown at her from styling celebrities to testing out the best jeans on the high street to writing about must-have beauty buys.
With a weakness for a printed midi dress, Charlie is on a mission to shop more sustainably and loves finding new ethical brands and second-hand buys.
With contributions from