What to wear to a wedding: Everything you need to be the best dressed guest
Everything you need to know about what to wear to a wedding, from style etiquette to outfit ideas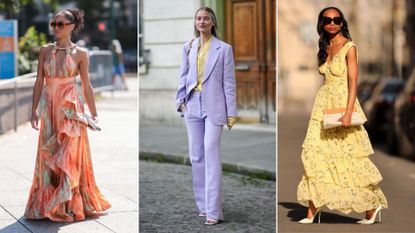 (Image credit: Getty)
Want to know what to wear to a wedding? You're not alone. Spring is here which can only mean one thing: wedding season is just around the corner. Celebrated all year round, the flurry of invites really starts to stack up between April and September. The arrival of warmer weather means more opportunities for outdoor ceremonies, al fresco reception drinks, and a better chance of getting those coveted golden hour photos.
If you're diary is bursting and you're wondering what to wear to a wedding this season, don't worry, we have you covered. The best wedding guest dresses are a must at this time of year as they'll ensure you're appropriately attired and left without those sartorial meltdown moments. With a specific set of style guidelines, navigating this tricky period of summer dressing can cause some panic, but once you learn the dos and don'ts - like can you wear red to a wedding, selecting the best dresses for wedding season should be a breeze.
To begin with, establish the location, dress code, theme and feel of the wedding, as a beach wedding will require a very different set of style rules to a stately home occasion. While dresses are common, if you're happier in pants, you could look to a jumpsuit or tuxedo as the answer to what to wear to a wedding, but the one thing you don't want to do is upstage the bride. To that end stay away from white, and as a general, unspoken rule, black for a wedding is frowned upon too (unless the bride has given her blessing).
What to wear to a wedding - outfit ideas as chosen by a fashion editor
Once you have established the basics, you should also try to find out if the bridal party are sticking to a particular hue for the day, as unless you're close family, you won't want to be matching the bridesmaid dresses, coordinate heavily with the mother of the bride's outfit, or the mother of the groom's dress.
When all of these factors have been considered you can start shopping freely for a wedding guest outfit and we've rounded up some key silhouette and suggestions that cover every type of occasion.
1. Printed Midi or Maxi dress
We could wax lyrical for hours about the many virtues of a printed dress, but they really do come into their own during spring and summer wedding seasons. Whether you opt for one of the best midi dresses or go for a floor-sweeping maxi length - the longer hemline makes them far more reliable on windy days than thigh-skimming minis.
A printed dress makes plenty of impact on its own, which means not only are you likely to gain plenty of compliments for your eye-catching outfit, but minimal styling is needed for the rest of your wedding look. Just add barely-there sandals and a simple clutch and you're good to go.
A styling tip…
Worried about the cost of a new wedding outfit? Don't stress. Printed dresses are easy to dress down as well, so you can still get plenty of wear after they've said: "I do". Team with your best white trainers, best sandals, and best crossbody bag after the event.
Alternatively, try the best designer dress rentals, as a way of refreshing your wedding guest wardrobe throughout the season without constantly buying new looks outright.
Our fashion editor recommends…
Free People Dahlia Embroidered Maxi Dress
RRP: $168 / £158 | Slightly more embroidered than printed, this gorgeous tiered dress is perfect for a relaxed summer wedding. The cheesecloth fabric will help keep you cool on warmer days, with the option to wear the sleeves on or off your shoulders.
Reformation Bucanti Linen Dress
RRP: $248 / £248 | Blue and white make for one dreamy color combo that's perfect for a summer wedding abroad. The fit and flare silhouette is oh-so-flattering, creating an hourglass silhouette. We love the back buttons too for added detail.
2. Co-ords
While a dress might be the fail-safe option for weddings and what to wear to a christening, it's certainly not the only acceptable outfit you can wear. If you want to be more adventurous, why not try a cool co-ord instead? An ideal option for those who are different sizes on top and bottom, as you can get the best fit for your shape. From a statement suit to a chic two-piece, co-ords are incredibly versatile and something you can reach for long after the wedding. They're good as part of a capsule wardrobe too, as the option to mix and match them with other pieces in your wardrobe really extends their styling potential. To keep it playful and seasonally appropriate (as well as in keeping with the joyful feel of the day) look for bold prints, eye-catching colors, and relaxed silhouettes.
A styling tip…
You're likely to spend most of the day on your feet so great-fitting footwear is a must. Luckily this look works just as well with comfortable flats as it does with the best designer heels. Try a low-block heel or a wedge (both shoe trends for this season) to keep you steady on your feet. You'll be grateful for the extra surface area when teetering across tricky terrains like mud or sand.
Our fashion editor recommends…
RRP: $49.90 / £32.99 | This watercolor-inspired design is sure to be a talking point. Wear the shirt loose for a more relaxed feel or tucked in, to show of your waist and finish with a statement gold belt to create an hourglass silhouette that's well-balanced.
RRP: $69.90 / £49.99 | Great for a laid-back wedding, these printed pants feature a wrap over front which adds extra interest. Floaty enough for a beach ceremony, accessorize your look with a blue bag to make the detail around the hemline pop.
Paige Stacey Wedge Sandal
RRP: $278 / £222 | The criss-cross straps and metallic finish give this classic wedge an on-trend update. The raffia heel stops them from feeling too formal, which will give you more opportunities to re-wear them too as part of your spring outfit ideas.
3. A Chic Jumpsuit
If you're not a fan of dresses but still like a one-and-done look, a flattering jumpsuit is a great and for many can be more than a dress or skirt, without having to compromise on either style or the level of appropriateness. Just as there are plenty of different types of dresses, there are an array of jumpsuit styles to choose from too, so you're guaranteed to find one that's right for your body type.
If you're petite, opt for a cropped style with short sleeves. If you're tall, a jumpsuit with wide legs and a nipped-in waist will elongate your frame and create the illusion of an hourglass body shape. The warmer the weather, the more you're going to want to lean toward natural fabrics. Linen, silk and cotton are always comfortable choices but can crease, so to keep your look polished all day, it's best to go with a mixed blend. .
A styling tip…
For extra coverage on your arms, layer your best blazer over a sleeveless jumpsuit. Churches can get chilly (and in a number of religious settings it can be frowned upon to show a lot of skin) so it's worth considering a light cover-up for these kind of nuptials.
Our fashion editor recommends…
Norma Kamali Rectangle Jog Jumpsuit
RRP: $175 / £140 | Velvet is traditionally the answer to what to wear to a winter wedding fabric, but the soft turquoise shade gives this jumpsuit all-year-round appeal. The tapered legs and elasticated waist balance out the breezy, floaty sleeves.
MSK Smocked-Waist Jumpsuit
RRP: $89 / £70 | Thanks to the high neck, delicate frilled sleeves, and waist flattering wide legs, this jumpsuit ticks all the boxes for romance. Wear your hair up in a neat bun with statement earrings to really make the most of the neckline.
4. Midi Skirt and Blouse
Don't want to wear exactly the same outfit to multiple weddings? We get it, but the alternative can be costly. Lucky for you, a skirt and blouse is a smart solution as these separates can be mixed and matched together (as well as with varying accessories) to create a different look for every occasion. It just takes a little more thought and styling work to put together long skirt outfits compared to throwing on a dress. Stick to a midi length (far better than a mini for avoiding a wardrobe malfunction) and choose luxe fabrics like silk, lace, and sequins to give it a high-end finish. You could team a printed skirt with a plain top, with a matching top, or mix two block colors for a vibrant dopamine dressing look. Don't be afraid to clash colors – green is great with pink, and purple really pops against orange.
A styling tip…
If you opt for a voluminous pleated or circle skirt, keep your top half more fitted to help balance proportions. It works the other way too – if your blouse has puffy sleeves, ruffles, or is oversized then half-tuck it into a pencil or straight-cut skirt.
Our fashion editor recommends…
Ted Baker Kattyia Blouse with Cut Outs
RRP: $195 / £110 | A classic white blouse with a twist, this features fluted sleeves and a soft arty pattern across the left side and sleeve. The subtle neck cut-outs deliver a nod to the fashion trends 2023, and will pair well with skirts or pants.
Reiss Ruby Occasion Maxi Skirt
RRP: $330 / £198 | Pink is a major color trend for 2023, thanks to Barbiecore style, and this hot pink skirt is the perfect way to trial the look. Subtle pleats give it plenty of movement, ideal for when you're hitting the dancefloor at the end of the night.
5. Colorful Dress
While the jury is still out on whether you can wear black to a wedding, a punchy color is always acceptable. Weddings are joyful, happy occasions so dress to match the mood with bright color clothes. If you normally shy away from bold shades in favor of muted neutrals like black, grey, and navy then occasionwear dressing is the perfect opportunity to push yourself outside of your comfort zone without the commitment of an everyday look. The only risk with choosing a block color to wear to a wedding is that bridesmaids rarely wear print, so to avoid any awkward coordination, try and find out which shade they're wearing in advance.
A styling tip…
With a colorful frock, you can go one of two ways. Keep accessories simple and let your dress take center stage. Or, double down by coordinating with equally bright accessories.
Our fashion editor recommends…
Bar III Long-Sleeve Slit-Hem Maxi Dress
RRP: $79.50 / £64 | Worried you'll be too cold without sleeves? The long sleeves and lightweight fabric make this the perfect dress for late spring nuptials, keeping you covered at the same time as making sure you don't overheat. Top marks for the print too.
Guess Women's Akilina Floral-Print Sleeveless Dress
RRP: $138 / £110 | If there ever was a dress that screamed summer, this is it. There are so many options for styling, as you could accessorize with any of the colors in the tropical-inspired print. Worried about a chill, add a cropped cotton cardigan.
What to wear to a wedding - FAQs
We've covered the do's for the "I do's" but what about the don'ts? These are the etiquette rules to follow when it comes to what to wear to a wedding.
What are the rules for what to wear to a wedding?
"When compared with decades past, the rules around dressing for a wedding are now few and far between," explains Emily Stott, Stylist Ambassador at Stitchfix. " But with so much wardrobe freedom, picking an outfit for the big day can become overwhelming." Making sure you stick to these rules will set you off on the right path…
Stick to the dress code. The happy couple will have chosen a dress code for a reason. Ignore it, and you'll at best look out of place, and at worst, run the risk of upsetting people. Double-check the invite and speak to other guests if your'e unsure.
Make sure you're not too casual. "The one rule I'd be particularly mindful of is steering away from a look that feels too casual," says Stott. "Weddings are an opportunity to enjoy dressing up and even trying new styles - it's one of those rare occasions when it's better to be overdressed than underdressed."
Don't try to outshine the bride. Weddings do offer a brilliant opportunity to play around with your styling and try something new, but don't go so bold that you run the risk of stealing the limelight. That might mean swapping a big, attention-grabbing hat for one of the best headbands for short hair instead.
Think about the location. This isn't a set rule, more of a practicality. Not being correctly dressed for the location or the weather really has the potential to ruin your day. Think about where the wedding is, plus how much of the day will be spent indoors versus outdoors, so you can layer up or pack accordingly.
Be respectful. If the wedding is set in a place of worship then it's important to respect the traditions and customs associated with this. If you're worried about causing offense, or not confident that your outfit will fit the bill, try and reach out to the couple in advance of the big day to ask any questions.
What to wear to a 3pm wedding
3pm is a brilliant time for a wedding, as it makes the day feel more relaxed for both the guests and the bridal party. There's no need to rush in the morning or get up super early, and everyone has plenty of extra hours to make their way to the venue. This time is normally chosen if there isn't a religious element to the wedding, as these can take up a large proportion of the day. One thing to keep in mind is that there may only be one meal served if the wedding starts at 3pm, as technically it will have missed lunch. Eat before to avoid a grumbling stomach part-way through the drinks reception.
The rules around what to wear to a 3pm wedding are exactly the same as any other wedding. Check the invite to see if there's a dress code and if there is, then dress accordingly. As it's a bit later in the day, there is the potential to be spending time outside closer to the evening, so make sure you have a layer handy to keep you warm if needed. On the flip side, as the day is a little shorter, this is your opportunity to finally wear those heels that you can't normally last all day in.
What is the best color to wear to a wedding?
What is the best color to wear to a wedding? Well, certainly not white, and probably not black either. We'd recommend opting for bold brights or soft pastels instead (although avoid very pale iterations, as these can still come pretty close to white in some lights).
Why is white a no-go? "The color white is my one and only rule of what not to wear to a wedding," advises Stott. It's considered bad manners and also leaves you open to criticism that you're trying to upstage the bride. "Although the bride might not mind, other guests will notice, and sparking this kind of debate at a wedding is not what the day is about," says Deputy Fashion Editor Charlie Bell. "With so many great colors out there (literally any other color on the spectrum) there's really no excuse. Plus, do you really want to risk spilling a glass of champagne on a white dress?"
"If you're keen to wear a lighter hue of clothing, opt for a pastel shade instead, such as sunny yellow, dusty pink, or baby blue," continues Stott. Just be wary of accidentally matching with the bridesmaids, as pastels do tend to be the most popular choice for spring and summer weddings.
Black is a bit less straightforward. "Black is a grey area, as it's a hue traditionally linked to times of mourning in Western culture," explains Stott. "But in 2023, when we've seen the "summer black" trend storming the catwalks, it's time to shake off old traditions and rethink this classic color in a new celebratory light." Not everyone will agree with Stott's re-brand of black, so our advice is to only wear black as part of a pattern, or if the dress code specifically asks for it. If you're worried your outfit looks too dark, use vibrant accessories to liven it up, like your best designer heels or best tote bag.
What should the Mother of the Bride wear?
When you're the Mother of the Bride there's extra pressure on what to wear to a wedding. For some, it's the second most important outfit of your life – second only to your own wedding dress. But don't let the pressure get to you, as there are so many gorgeous options out there.
When it comes to color for your mother of the bride outfit there are no strict rules to abide by, other than steering clear of black and white. You might want to avoid wearing the same color as the bridesmaids too, to avoid looking too matchy-matchy. That being said, your daughter might like the idea of you coordinating with them for synergy in the photos.
Not sure where to start? Think about 'what color suits me', which you feel most comfortable in, and which you get the most compliments when wearing. In terms of silhouettes, really consider your body type before shopping. You'll want to begin the search for the right outfit at least six months before to give yourself plenty of time to find the right one, get the correct accessories, and have any necessary alterations. Dresses and dresses with matching jackets are a traditional choice for the Mother of the Bride, but much like all wedding guests, you'll want to think about the theme and location of the wedding first. For example, you might feel out of place in this kind of look on a beach or at a garden party.
When it comes to footwear, don't discard comfort entirely in favor of glamour. Wedding days when you're part of the family can be extremely long, so opt for a heel height you're used to. If you're helping to get the bride sorted too, check out our guide for best wedding shoes for brides - with plenty of neutral options, you might just find something for yourself too.
What should the Mother of the Groom wear?
Similar to the Mother of the Bride, when it comes to selecting the best mother of the groom dresses, you'll want to avoid black and white. The ideal situation is to wait for the bride to decide if there is any color scheme for the wedding party and what the bridesmaids are wearing, so you can coordinate appropriately. You'll also want to consider where the wedding is taking place, as the forecast and location will impact your look. Remember too that you'll be wearing this outfit for at least eight hours (possibly longer) so a good fit and comfort are key. A good seamstress will be able to help with both of these things, as will investing in the best shapewear.
Finally, give the Mother of the Bride a call so you can ensure your outfits work together, as you won't want to color clash in the photos. It's also a nice opportunity to chat, bond and maybe spend some time together in the shops before the wedding.
What should you not wear to a wedding
We know what to wear to a wedding, but what about what not to wear? "There are very few rigid guidelines when it comes to wedding guest dressing, which is why it makes putting together an outfit so enjoyable," explains Stott. "That being said, there are a few unwritten rules to remain mindful of when selecting your look."
The first thing, which we've already touched on, is not to wear the same color as the bride. "A bride should shine on her special day, so avoid wearing the bridal color head to toe, whether that's white, red or other, depending on their culture."
Being overdressed is one thing (no one wants to be accused of showing off) but being underdressed is equally embarrassing. Unless the invite specifically says so, denim isn't welcome, and neither is leisurewear like joggers or trainers. "Jeans are an absolute no-no," says fashion expert Joely Chilcott. "While denim bottoms and a nice top might be your go-to outfit for what to wear on a first date, the everyday feel of your favorite skinny jeans is just too casual to be classed as acceptable occasionwear. Embrace the event and see it as an opportunity to step out of your comfort zone and feel chic." We'd recommend plumping for a statement jumpsuit, tailored two-piece, or floral dress over your trusty best skinny jeans.
Speaking of dresses, you'll need to ensure your hemline is ceremony-appropriate. A good wedding will normally involve dancing, and anything with too short a hemline will only hold you back. The same applies to plunging necklines too. If you're really sold on a shorter dress, maybe consider layering a duster coat over the top to save any potential blushes during any kneeling parts of the ceremony. If it's a winter wedding or a chilly spring one, then opaque tights are a good option.