What to wear to a wedding: Everything you need to be the best dressed guest
What to wear to a wedding, plus tips on the pieces to avoid.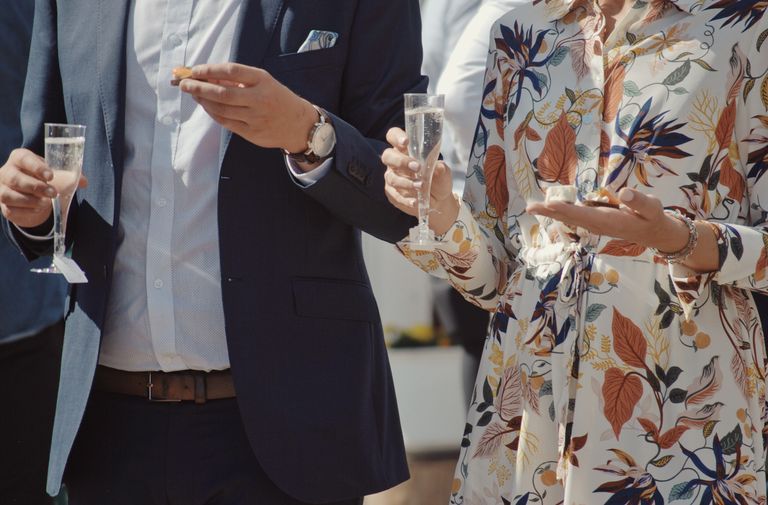 We adore wedding season, but as the invites start to mount up, so does the pressure of what to wear to a wedding.
Can you wear white? Can you wear black? Are jeans appropriate? All valid questions and the answers will very much depend on the kind of wedding you're attending. 
And that can vary wildly too. It might be an intimate garden ceremony, a lavish abroad affair, or even a black-tie soiree to rival the royal weddings. 
To help you navigate this tricky sartorial terrain, we've put together the ultimate guide to wedding guest outfit etiquette - covering off the key do's and don'ts, plus our pick of the best buys to shop now. So, from the best shapewear to the prettiest dresses, prepare to be the best-dressed wedding guest…
What to wear to a wedding as a guest
Midi dresses
We could wax lyrical for hours about the many virtues of a midi dress, but they really do come into their own during wedding season. Family celebrations often call for playing with little ones, and no one wants to risk a wardrobe malfunction during a game of hiding and seek. Equally, the longer hemline makes midis far more reliable on windy days than thigh-skimming minis.
Headbands
A modern alternative to an oversized hat, the trend for headbands is far from cooling down. Smaller than a fascinator but impactful enough to add a little extra flair to our outfit - lookout for prints, beading, and embroidery. To avoid the dreaded 5pm headache, give yours a little stretch before wearing.
Comfy heels
There's nothing worse than stepping out in a gorgeous new pair of heels, only to feel the pinch by the end of the photos. To take you seamlessly from ceremony to carriages, choose a heel that's not too high. Block heels and supportive ankle straps are your friends here, too, helping to keep you steady and stable - even after a couple of glasses of celebratory vino. If you can't face the idea of wearing heels at all, a pretty pair of pointed pumps will have the same leg-lengthening effect.
Hardworking shapewear
Shapewear has a bad reputation, and for good reason. It's hard to enjoy yourself when you feel squeezed into a sausage-like casing, but what if we told you that the next generation of shapewear was both comfortable, cool, and, dare we say - a little bit sexy? Brands like Spanx, Heist, and Skims are leading the way with pieces that will sculpt, smooth, and hone your shape, with no torture-like niggling or digging. Try a pair of high-waisted shorts beneath a dress or skirt to slim your stomach and thighs at once, a waist cincher to define your middle, or a full-length slip for all-over support. 
What not to wear to a wedding
Black
Traditionally associated with mourning, wearing black to a wedding tends to be frowned upon. That being said, there are exceptions. If your dress has a black base topped with a colorful, vibrant print or pattern, you should be able to get away with it. Detract from the black further by choosing color-pop accessories.
White 
Wearing white to a wedding is considered bad manners, as you don't want to look like you're trying to upstage the bride. By association, ivory, cream, and even pale pastels are off the cards too. Similar to black, if your dress is patterned, then wearing white shouldn't be a problem.
Denim 
Wedding dress codes might have relaxed in recent years, but unless the invite specifically says so, denim still isn't welcome. Leave your skinny jeans at home, and instead plump for a floral midi dress. Feel more comfortable in trousers? No problem. A statement jumpsuit or tailored two-piece is just the ticket.
Short hemlines
A good wedding will normally involve dancing, and anything with too-short a hemline will only work to increase your risk of a wardrobe malfunction. The same applies to plunging necklines too. If you're really sold on a shorter dress, maybe consider layering a duster coat over the top to save any potential blushes during any kneeling parts of the ceremony. If it's a winter wedding, opaque tights are a good option.
Anything not specified on the dress code
Being underdressed in jeans and the like is one thing, but being overdressed can be equally embarrassing. Consider the style of wedding you're attending when choosing your outfit. If no dress code has been specified, or you're in any doubt as to whether your outfit is appropriate, get a second opinion from a trusted friend. Or, if you're close, you could always ask the bride herself.
The same color as the bridesmaids
It's not always possible, but our top tip is to find out what the bridesmaids are wearing ahead of time. Wearing the same color, or at worse, the same dress will only lead to awkwardness for all parties. 
Go-to brands when shopping for a wedding
LK Bennett
If it's good enough for the Duchess of Cambridge, then it's good enough for us. Expect an exciting rainbow of shades in classic, buy-now-and-wear-forever shapes. Their prints really are something special and will get you noticed for all the right reasons. Of course, it's almost impossible to mention LK Bennett without paying lip service to their shoes - their classic courts are the perfect height to take you from day to dancing.
Whistles
Ever since their re-vamp in 2008, Whistles specialty has been timeless styles with a fashion-forward twist, which, incidentally, is everything we want from a wedding outfit. Making browsing easy, they have a dedicated section on their website dedicated entirely to wedding guest looks. From luxe faux furs to special silk gowns, you'll be spoilt for choice.
Needle & Thread
For something extraordinary, you can't beat Needle & Thread. Not only are they a great place to shop for bridal gowns and bridesmaid dresses, but they've also got a reliable line of wedding guest frocks and separates too. Feminine and romantic, a Needle & Thread dress is always easy to spot in a sartorial haystack, thanks to their signature sequins, beading, and ruffles.
Wedding ready buys - as approved by a Fashion Editor
A bargain dupe of a far pricier brand, nothing says 'wedding-ready' quite like pastel-colored silk—team with a gold belt for extra waist definition. 
LK Bennett Harriet Mint Green Suede Mules
The mint shade, the pointed toe, the backless shape- we love everything about these pastel heels. Even better, the low heel makes them the perfect choice for all-day wear. 
Comfier than a dress, a jumpsuit is the all-in-one solution to your wedding wardrobe woes. The stand-out print speaks for itself, so keep accessories simple to let it take center-stage.
For a more formal wedding, you'll need some fancy headwear. A fascinator is less fussy than a hat, and we love the vintage feel of this Hobbs number.  
Whistles Sarah Bridesmaid Dress
Chic and understated, this dress hits the perfect mark for a summer wedding. The pastel shade and crepe fabric are a classic choice, while the scoop neckline and ruffled hem add a playful touch.
& Other Stories Dangling Mini Stone Pendant
Scoop and V-necklines call for a pair of show-stopping earrings - especially if you're wearing your hair up. These would look just as good with jeans and a t-shirt post-wedding. 
Zara Straight Cut Blazer With Pockets
Not keen on skirts and dresses? This pastel-toned suit is the perfect solution—style with a silky camisole and a pair of heeled sandals. 
Tapered at the waist before flowing out into a wide leg, these trousers will skim over your thighs, creating the illusion of longer, slimmer legs. 
Accessorize Embellished Wide Knot Headband
Hair not playing ball? A headband will distract from even the unruliest of locks. This patterned number is a great way to add interest to an otherwise plain outfit. 
Needle & Thread Aurelia Gown
Expensive? Yes. Gorgeous? Also yes. This intricately detailed gown features both embroidery and sequins to create one of the prettiest, swishiest numbers we've ever laid eyes on. It would make a gorgeous bridesmaid dress.