What to wear to a wedding: Everything you need to be the best dressed guest
What to wear to a wedding, plus tips on the pieces to avoid.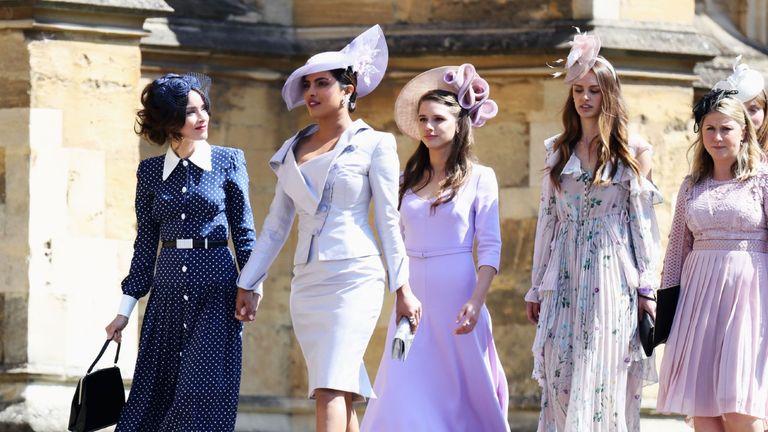 (Image credit: Getty)
We adore wedding season, but as the invites start to mount up, so does the pressure of what to wear to a wedding.
Can you wear white? Can you wear black? Are jeans appropriate? All valid questions and the answers will very much depend on the kind of wedding you're attending.
And that can vary wildly too. It might be an intimate garden ceremony, a lavish abroad affair, or even a black-tie soiree to rival the royal weddings.
To help you navigate this tricky sartorial terrain, we've put together the ultimate guide to wedding guest outfit etiquette - covering off the key do's and don'ts, plus our pick of the best buys to shop now. So, from the best shapewear to the prettiest dresses, prepare to be the best-dressed wedding guest…
Go-to brands when shopping for a wedding
What to wear to a wedding as a guest
Midi dresses
We could wax lyrical for hours about the many virtues of a midi dress, but they really do come into their own during wedding season. Family celebrations often call for playing with little ones, and no one wants to risk a wardrobe malfunction during a game of hiding and seek. Equally, the longer hemline makes midis far more reliable on windy days than thigh-skimming minis. The best dresses are ones you'll wear again and again, so choose wisely.
Headbands
A modern alternative to an oversized hat, the trend for headbands is far from cooling down. Smaller than a fascinator but impactful enough to add a little extra flair to our outfit - lookout for prints, beading, and embroidery. To avoid the dreaded 5pm headache, give yours a little stretch before wearing.
Comfy heels
There's nothing worse than stepping out in a gorgeous new pair of heels, only to feel the pinch by the end of the photos. To take you seamlessly from ceremony to carriages, choose a heel that's not too high. Block heels and supportive ankle straps are the best shoes for flat feet and anyone new to heels, helping to keep you steady and stable - even after a couple of glasses of celebratory vino. If you can't face the idea of wearing heels at all, a pretty pair of pointed pumps will have the same leg-lengthening effect.
Hardworking shapewear
Shapewear has a bad reputation, and for good reason. It's hard to enjoy yourself when you feel squeezed into a sausage-like casing, but what if we told you that the next generation of shapewear was both comfortable, cool, and, dare we say - a little bit sexy? Brands like Spanx, Heist, and Skims are leading the way with pieces that will sculpt, smooth, and hone your shape, with no torture-like niggling or digging. There's something for all body types too. Try a pair of high-waisted shorts beneath a dress or skirt to slim your stomach and thighs at once, a waist cincher to define your middle, or a full-length slip for all-over support.
What to wear to a wedding - FAQs
What is the best color to wear to a wedding?
We'd recommend steering clear of black and white when it comes to weddings, opting for bold brights or pretty pastels instead.
Why is black a no-go? It's a colour traditionally associated with mourning. "Remember it's a happy event so try to avoid outfits that you could double up at a funeral," says Style Editor Joely Chilcott. "Printed black outfits can work if you try to pull out one of the colours for your lipstick, shoes or bag to brighten it up a little, but top-to-toe dark hues can be draining."
Wearing white to a wedding is considered bad manners, as you don't want to look like you're trying to upstage the bride. "Although the bride might not mind, other guests will notice and sparking this kind of debate at a wedding is not what the day is about," says Deputy Fashion Editor Charlie Bell. "With so many great colours out there (literally any other colour on the spectrum!), there's really no excuse. Plus, do you really want to risk spilling a glass of champagne on that bright white outfit?" By association, ivory, cream, and even pale pastels are off the cards too. However, similarly to black, if your dress is heavily patterned, then wearing white shouldn't be a problem.
What colour should the Mother of the Bride wear?
We know, deciding what to wear to a wedding when you're the Mother of the Bride can almost be as stressful as choosing a wedding dress. When it comes to colour, there are no strict rules to abide by - other than steering clear of black and white. You might want to avoid wearing the same colour as the bridesmaids too, to avoid looking too matchy-matchy.
Not sure where to start? Think about what colours suit you, which you feel most comfortable in, and which you get the most compliments when wearing. Selecting an outfit in a similar hue or tone to the colour scheme of the wedding will ensure colour-coordinated photographs too.
What else shouldn't you wear to a wedding?
We know what to wear to a wedding, but what about what not to wear? Dress codes vary from wedding to wedding, so consider the type of celebration you're attending before you choose your outfit. Being underdressed is one thing, but being overdressed can be equally embarrassing. If no dress code has been specified, or you're in any doubt as to whether your outfit is appropriate, get a second opinion from a trusted friend. If you're close, you could always ask the bride herself.
Unless the invite specifically says so, denim isn't welcome. "Jeans are an absolute no-no," says Joely. "While denim bottoms and a nice top might be your go-to outfit for a dinner date, the everyday feel of your favourite skinny jeans are just too casual to be classed as acceptable occasionwear. Embrace the event and see it as an opportunity to step out of your comfort zone and feel chic." We'd recommend plumping for a statement jumpsuit, tailored two-piece or floral dress.
Speaking of dresses, you'll need to ensure your hemline is ceremony-appropriate. A good wedding will normally involve dancing, and anything with too-short a hemline will only work to increase your risk of a wardrobe malfunction. The same applies to plunging necklines too. If you're really sold on a shorter dress, maybe consider layering a duster coat over the top to save any potential blushes during any kneeling parts of the ceremony. If it's a winter wedding, opaque tights are a good option.
Jess Beech is an experienced fashion and beauty editor, with more than eight years experience in the publishing industry. She has written for woman&home, GoodtoKnow, Now, Woman, Woman's Weekly, Woman's Own and Chat, and is currently Deputy Fashion & Beauty Editor at Future PLC.
She caught the magazine bug during a stint as Fashion Editor of her university newspaper alongside her English degree, and hasn't looked back since. As for the fashion bug, that came as part and parcel of growing up in the 90s, but the less said about that the better!
Jess' average day in the office is spent researching the latest fashion trends, chatting to industry tastemakers and scouring the internet to bring you this season's must-buy pieces - as well as advice on how to wear them. Weekends are equally fashion-focused, and Jess has been known to visit no less than five Zara stores in a single day in search of the perfect occasion dress.
The only thing that comes close to a buzz of finally tracking down that much-coveted dress is the joy of discovering a new beauty wonder product or hero ingredient. A beauty obsessive, Jess has tried everything from cryotherapy to chemical peels (minus the Samantha in Sex and The City-worthy redness) and interviewed experts including Jo Malone and Trinny Woodall.