What to wear to an engagement party to be the best-dressed guest
Turn heads for the right reasons, here's what to wear to an engagement party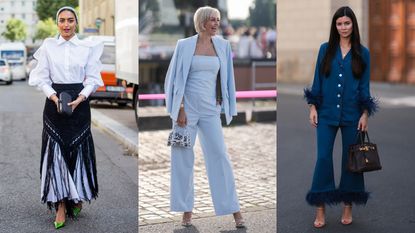 (Image credit: Getty)
We love celebrating love, but when it comes to what to wear to an engagement party, setting the right style tone can be tricky. We've got all the fashion tricks you need to be the best-dressed guest without upstaging the bride and groom.
Wondering what to wear to an engagement party? You're not alone. Nothing diminishes the joy from an occasion like struggling with the dress code. While finding the best wedding guest dresses or working out what to wear to a bridal shower is often governed by certain style codes. Engagement party outfits are often more fluid. While wearing white is still a no-go, as it's highly likely that the bride (if there is one) will be wearing white, so showing up in the same hue is frowned upon. We suggest that to avoid any murmurings of trying to steal attention, or being confused with the bride (mortifying), stick to the rest of the rainbow. In a similar thread, wearing anything too revealing (think plunging neckline plus micro hem) or too fancy (sequins, feathers, floor-length) is also likely to raise an eyebrow among family members of the happy couple.
It's worth remembering that engagement parties can be vastly different and depending on the couple, the event could be anything from a relaxed BBQ in the backyard to a black tie event complete with a sit-down meal.
"Assessing the setting is a great place to start," says Farrah-May Archer Boadi, Styling Team Lead at Stitch Fix. "If you are at a garden party, opt for a floral midi dress and wedges so you don't sink into the grass with stiletto heels! Evening cocktail parties tend to be a bit more formal, so try a slip dress or a chic trouser suit, styled with a cami underneath, strappy heels, and some chunky gold jewelry." Checking in with the host about what's expected from the dress code (or, if you're not close, utilizing friends or family to do the digging for you) will help you to decipher the best look for the occasion.
What to wear to an engagement party: The best engagement party guest looks for an appropriate and stylish outfit
1. Midi dresses
When dressing for an engagement party, the best midi dresses are a safe pair of hands for any type of soiree. Simple to style, as you don't need to worry about coordinating your top and bottom half.
Naturally, an engagement party is a great time to hone in on romance, so the more whimsical your midi dress, the better. Think features like swishy skirts, structured bodices, and puff sleeves, alongside full-bloom or ditsy floral prints and pastel hues.
If the fear of thigh rub puts you off wearing the best dresses, make sure to slip on a pair of the best anti chafing shorts. Acting similarly to shapewear, they'll smooth your silhouette and protect your thighs.
A styling tip…
The addition of a metallic belt will make casual dresses feel instantly dressier. The wider you go, the more it will stand out.
What you need…
A midi dress
Strappy heels
A statement belt
Nobody's Child Alexa Midi Dress
RRP: $47 / £39 | The floral design ticks the box for romance, while the classic shape means you can wear it again and again. In a more fitted silhouette, with heels this dress is just right for an occasion, add flats or plimsolls and you can wear it on the day to day or to the office for greater versatility.
Office Minus Strappy Sandals
RRP: $86 / £64.99 | Strappy stiletto heels will make even the most laidback pieces feel fancier. The suede fabric feels more luxe than leather and takes these multi-strap beauties through the seasons. We saw a return to caged shoe designs as part of the shoe trends 2022 and this design gives a nod to that look.
Zara Metallic Stretch Belt
RRP: $29.90 / £19.99 | A belt is a quick and easy way to add extra interest to your look, and while the best designer belts add an instant luxe factor, any slim waist belt will help to define your middle and can also act as a way of breaking up a print on a midi dress. This art deco-inspired design has an almost jewelry feel.
2. Jumpsuits
If a midi dress isn't you're thing and you're more comfortable in trousers, then consider a flattering jumpsuit - a great option when deciding what to wear to an engagement party. Once again, there is little needed in the way of styling, as a jumpsuit offers a complete look, and you'll only need to consider adding simple accessories, such as shoes, bag and jewelry. A well-cut or tailored jumpsuit offers instant polish and you can opt for a block color or printed iteration, depending on how fancy the engagement party is.
If you're looking for a little more drama, try a wide-leg jumpsuit. Similarly to working out what to wear with wide leg pants, you'll want the top half of the jumpsuit to be more fitted, to balance out full trouser legs, but add in some heels and you've got a really chic party outfit.
A styling tip… Petites can find that voluminous jumpsuits swamp their frame, so choose a style with straps, a low neckline, or a nipped-in waist to compensate.
You will need…
A bold, floor-length jumpsuit
Eye-catching earrings
A chic clutch
Me + Em Super Wide Leg Halterneck Jumpsuit
RRP: $525 / £295 | A piece that wouldn't look out of place on a yacht on the Riviera - or at an engagement party. The bright pink shade taps into the fashion color trends 2022, nailing what is Barbiecore to perfection. The super wide leg makes it look like one of the best pink dresses but with all the benefits and comfort of trouser legs.
Oliver Bonas Krista Stone Detail Starburst Earrings
RRP: $22 / £15 | A pair of statement earrings adds sparkle without interrupting the rest of your outfit. Drawing the eye up and along the body, costume jewelry earrings will add a dressier feel, whilst elongating your frame. Wear your hair up or tucked behind at least one ear to show these beauties off.
Whistles x Hai Gina Green Pleated Pouch Bag
RRP: $154 / £128 | Part of a limited edition collaboration between Whistles and London-based bag brand Hai, this striking design is ideal for those engagement party essentials (phone, lippy, keys). The pouch shape, with a drawcord top, is delightfully soft and discreet, although the eye-popping color will lift any look.
3. Co-ords
A co-ord (short for co-ordinate if you're not familiar with the term) is the ultimate solution for anyone who finds the idea of matching up separates difficult. Co-ords are great because they, like dresses and jumpsuits, require little in the way of styling - as the items were made to go together but are beneficial if you are different sizes on the top and bottom, such as pear-shaped bodies, who might find one-pieces hard to buy. In addition, the matchy-matchy prints make it a one-and-done outfit, but with the extra flexibility of maxing out your cost-per-wear as you can also style them separately.
It might be a less obvious smart casual outfit idea than a dress, but for a luxe party look, we can't get enough of silky co-ords worn slightly oversized. Consider it a chic take on pajama-party dressing.
A styling tip… If you want to break up the head-to-toe print, consider layering a cami in a contrasting color beneath an open printed blouse.
What you need…
Two co-ordinated pieces
Heeled sandals
Zara Printed Blouse with Knot
RRP: $69.90 / £49.99 | A joyful explosion of color makes for a top half that reflects the mood of the occasion and taps beautifully into the dopamine dressing trend. The knotted hem will highlight your middle. Pair with jeans or trousers at a later date.
RRP: $69.90 / £49.99 | Adorned with the same playful paisley print, this pencil wrap skirt can be mixed and matched with plainer tops too. With a real vacation vibe, this can be worn over your best swimsuit to create a perfect outfit for a poolside lunch.
RRP: $29.99 / £19.99 | For those who struggle to walk in big heels but still want a little elevation in the footwear department, these kitten-heeled, wrap strap sandals are made for parties. Packing relatively flat, they're great for what to pack for a beach vacation.
4. Blazer
A blazer makes any outfit instantly look and feel more polished and knowing how to style a blazer is easier than you might think. Adding a touch of androgyny and tailoring to any look, they can be paired over everything from the best summer dresses to pretty blouses or a fitted sweater making them utterly versatile for work or play.
When deciding on the best blazer for what to wear to an engagement party, think about the length you need to best suit your outfit. Cropped, fitted blazers will show off a waist, while slightly looser and longer designs can act as a contrast to uber feminine frocks and lightly skim your form.
Choose a fabric with a slight sheen for evening appeal, boucle to add texture to your look, or lightweight linen for a relaxed, summery feel.
A styling tip… Swapping the buttons on your blazer is a cost-effective way to add a unique spin and make your blazer look and feel instantly more expensive.
What you need…
Tailored blazer
Slip dress
Chunky gold jewelry
RRP: $119 / £79.99 | A high-end blazer for a great price, we love the satin fabric and tapered waist. The mixed fabrication here makes this design look instantly more expensive. The hook and eye fastening allows for a sleeker, contoured fit.
All Saints Hadley Midi Dress
RRP: $199 / £119 | When it comes to how to style a slip dress, remember they're perfect for layering. The cowl neckline and subtle side slit on this metallic number will work well paired with a luxe, fitted blazer for a directional evening look.
Missoma Coterie Chain Necklace
RRP: $238 / £189 | A chunky chain will toughen up even the most delicate of dresses. The jewelry trends 2022, ushered in an era of luxe basics and the combination of plain and twisted links on this shorter necklace adds texture and interest.
5. Skirts
Where a fringed, beaded or very colorful dress might feel too full-on for what to wear to an engagement party (particularly if you're not the bride-to-be), a skirt with those details offers a great alternative when you want to dress-up but within reason. To temper the personality of the bottom half of your outfit, keep the top half simple with a crisp shirt, laidback white t-shirt, or camisole top in neutral white, black, or grey. Finish with a court shoe in a coordinating hue, a statement bag, and gold jewelry for an on-trend feel.
A styling tip… Pairing a mini skirt with a pointed shoe will create the illusion of longer legs.
What you need…
Crisp white shirt
A fun skirt
Classic court shoes
John Lewis Basic Cotton Shirt
RRP: £24 (UK only) | A white shirt is a wardrobe essential, the item that will go with everything when you have those 'nothing to wear' moments. Instantly offering a toned-down balance to fancier bottoms, wear your white shirt French-tucked into skirts.
Never Fully Dressed Skirt
RRP: $99 / £69 | With a zingy orange hue and swishy fringing, this skirt deserves to be on the dance floor. With a high-summer feel, this will also make for a great holiday outfit idea as you can easily team it with a pair of your best sandals.
Zara High-Heel Slingback Shoes
RRP: $69.90 / £49.99 | A classic pair of courts will always earn back their cost-per-wear. These pink slingback stilettos will look chic with other sunset shades like orange and yellow for an outfit that packs a punch - they're ideal for what to wear to a wedding too.
6. Blouses
Jeans and a nice top are a party combination that has never let us down. The beauty of jeans is that whichever color you choose (white, indigo, or black) any shade of top will coordinate seamlessly. So, why not have a little fun and choose a blouse that's heavy on detail? Think swooping necklines to pie-crust high necks, structured shoulders to embellished cuffs, bold and bright shades to liquid metallics.
But remember, keep your jeans on the smarter size, leave faded washes and distressed details in your wardrobe and opt for sharper silhouettes such as straight, mom, or flared leg jeans over baggier iterations.
A styling tip… A blouse with broad or statement shoulders will play with proportions to make your waist look smaller and balance out fuller hips and bottoms.
What you need…
A pretty blouse
Straight-leg jeans
A clutch bag
River Island Red Front Knot Satin Shirt
RRP: $65 / £35 | Satin and silk propel shirts into premium territory. We love the knot front detail here for added interest. Front ruching and knots are flattering for those looking to skim a midriff for a sleeker finish. The slightly puffed cuff is pretty too.
M&S Sienna Straight Leg Jeans
RRP: $51.99 / £22.50 | More forgiving than the best skinny jeans, this straight-leg pair still have plenty of stretch for a more contoured fit and ease of movement. The dark wash renders them party-ready and of course, they can be worn again and again.
What do people usually wear to an engagement party
An engagement party is an opportunity to celebrate love, and if that's not an excuse to get dressed up, then we don't know what is. For the most part, and unless there's a strict theme (like black tie), it's safe to assume your outfit can resemble the kind of ensemble you'd wear to any other party. If it's in the evening, dark colors and luxe, tactile fabrics like silk and velvet will bring some glamour to your look.
Accessories make all the difference, and layered gold jewelry or a statement bag can easily make laidback pieces feel more evening appropriate. For the day, the lighter, and brighter, the better, but steer clear of jersey and light wash denim, both of which can be considered too casual for a party.
Whether you opt for a dress, an all-in-one, or separates is completely up to you. "Dresses are not your only option for engagement parties, advises Farrah. "Trouser suits are a big fashion trend at the moment and if you want to embrace some color, (there are) some fabulous options. Team a straight leg trouser suit with trainers and a plain tee for a smart yet casual feel, or embrace a wide leg trouser suit and pair it with a lace trim cami and heels for a more sophisticated aesthetic."
"Jumpsuits are also a great option for engagement parties, as they pack a punch with minimal effort. When styling my Stitch Fix clients, I often look towards brands such as Phase Eight and YAS as they offer a slightly more formal style of jumpsuit that can be dressed up for occasions such as these, or dressed down with trainers for a more casual daytime look."
What should you not wear to an engagement party
"There are no strict rules as to what you can wear at an engagement party as a guest - as always the most important thing is that you feel comfortable and confident in your clothes," advises Farrah. "The only thing to bear in mind is that this is the happy couple's time to shine, so you may want to go easy on the jaw-dropping showstoppers."
The simplest way to gauge if your outfit fits the brief is to run it past the happy couple. Or, ask to see what they're wearing to the party. If they're keeping things quite casual, you can put your sequins on ice. The venue of the engagement party will impact your decision too - spindly stiletto heels at a garden party are never a smart move.
While you can certainly wear jeans to an engagement party, err on the side of caution and opt for darker washes and more slim-line fits as these are smarter.
What color should you not wear to an engagement party
The etiquette around what colors to wear to an engagement party isn't quite so cut-and-dry as colors one wears or avoids at weddings. Black and red are back on the table, but white should ideally still be avoided. "Wearing white at an engagement party is not as taboo as wearing white to a wedding, but I would suggest you avoid a full white ensemble as a guest - you don't want to be mistaken for the bride by some distant relative of the groom," says Farrah. "This is not to say that you should avoid prints that incorporate white into the pattern, or shy away from wearing a white blouse with a colorful midi skirt, for example, but if this still feels like too much, then ditch the white entirely and embrace some celebratory color." As long as less than half of your outfit is white, we'd say you're good to go.