What to wear to a christening: Appropriate outfits that hit the right mark
If you're not sure what to wear to a christening, these stylish outfit ideas will help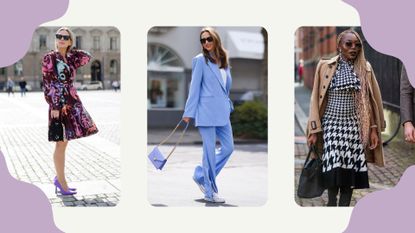 (Image credit: Getty Images)
Deciding what to wear to a christening isn't always easy. Unlike weddings, there often is no clear dress code or theme, but there are some guidelines you can follow to ensure you're dressed appropriately.
An important landmark occasion, a christening is often seen as a grey area when it comes to outfit choice. Rarely as formal or as tricky as deciding on a wedding outfit, there might not be any hard and fast rules, but there are some soft guidelines we suggest you stick to to make sure you look appropriate for the occasion. If no dress code has been specified on the invitation then you'll want to take your cues from the venue and setting of the ceremony. For low-key events, a smart-casual vibe will suffice, think your best dresses, or smart trousers and a blouse. For grander christenings, however, you will naturally require an outfit upgrade. Most importantly though, select an outfit you're comfortable in - whether that's opting for sharp tailoring and a blazer or you need a little boost with the perfect dress to hide a tummy and some of your best shapewear, confidence is the key ingredient to pulling off most looks.
The Duchess of Cambridge consistently nails what to wear to a christening, dazzling in designer outfits for her own children's big days, so if you're really stuck for some style inspiration, our archive of Kate Middleton's dresses is a good place to start for fashionable yet sensible pieces. And remember if you're attending a church, make sure your shoulders are covered and you're not showing too much skin. And of course, christening outfits for mums or godparents will need a little more thought behind them too.
What to wear to a christening: 7 key pieces
When it comes to what to wear to a christening there is no need to get yourself into a style panic. When in doubt err on the side of caution and go for smarter more polished pieces over keeping it laidback and casual.
"Like weddings, christenings are a formal occasion and so when you're selecting what to wear, it's best to avoid casual items such as jeans and trainers and opt for smart occasion wear. A pretty floral midi dress or tailoring such as a pastel-colored suit teamed with a low block heel are both fail safe stylish options. While hats and fascinators are still popular, many are choosing to go with a more modern take on headpieces, such as an oversized Alice band, similar to those worn by the queen of occasionwear herself, The Duchess of Cambridge" - fashion editor and stylist, Antonia Kraskowski (opens in new tab)
1. Midi Dress
Christenings are joyful occasions, so don't be afraid to dress to match the mood. The bigger and brighter the print you opt for, the better. This season has a particular fondness for bright color clothing, so embrace that dopamine dressing trend and go for a printed midi dress in mood-boosting hues. The best midi dresses offer maximum impact with minimal effort. While summer is largely about rainbow brights, dramatic monochrome prints will look chic and stand the test of time.
For a summer christening add your best sandals and you're good to go. When it comes to silhouette choice, opt for more flowy styles, over more bodycon designs, a tea dress, or shirt dress are good choices.
(opens in new tab)
Mango Flowy Flower Print Dress
RRP: $79.99 / £49.99 | Sizes: US: 0-20 / UK: 4-26 | Pastel blue hues are an ideal on warmer weather days and the soft palette and pretty floral print make it ideal for a christening. Available up to a size 26.
Boden Puff Sleeve Tiered Midi Dress
RRP: $180 / £120 | Sizes: US: / UK: 6-22 | With a pretty print and a puff sleeve, this light and bright tea dress is ideal for a christening, tapping into the fun nature of the day. The midi length hemline is flattering too.
(opens in new tab)
Phase Eight Morven Print Dress
RRP: $200 / £110 | Sizes: US: 2-26 / UK: 6-26 | The best shirt dresses can take you from an office setting to a smart occasion with ease and this bold graphic print iteration offers plenty of cost per wear.
2. A smart suit
Two-piece suits can work fabulously for a sleek and contemporary look that's comfortable for all-day wear. Look for colorful blazer and trouser combos or lift more classic, muted hues by layering a vibrant blouse underneath. Wide-leg trousers or culottes not only look elegant and feminine but deliver on comfort too and are one of many big fashion trends 2022 has on offer. You'll be able to get plenty of wear from your two-piece beyond the christening, styling them out as separates, nailing how to style a blazer and discovering what to wear with wide leg pants in the process.
(opens in new tab)
Simply Be Pants and Blazer
RRP: £50 (jacket) £32 trousers) | Sizes: UK: 10-32 (UK only) | Solve what is Barbiecore in this gloriously bright look, ideal for a summer of special occasions. Available as separate items you can easily dress down the blazer with jeans, or the trousers with any of your best white t-shirts.
(opens in new tab)
Ann Taylor The Cutaway Blazer
RRP: $189 / £190.33 | Sizes: 00-18 | Available as a cutaway blazer, with matching trousers, skirt or shift dress options, the Ann Taylor collection does great building block outfits when it comes to tailoring. Mix and match to make the look that's just right for you. We love this color too.
(opens in new tab)
Zara Silvery Satin Blazer
RRP: $119 / £79.99 | Sizes: XS-XL | Unlike wedding guest outfits or what to wear to a bridal shower, it's generally acceptable to white hues to a christening. This is a great look for the mother or godparent of the child. The slightly oversized fit taps into the oversized blazer trend.
3. A chic jumpsuit
Christenings tend to involve running around with little ones, so if you are worried about a wardrobe malfunction, a flattering jumpsuit is a perfect solution when it comes to what to wear to a christening. Go sleeveless on really hot days, or, if you're not keen on showing off your arms, a caped or angel sleeve is very flattering. Cropped jumpsuits are a great alternative to the best petite dresses if you're shorter in stature, while a wide-leg style will suit hourglass body shapes - flaring out from the waist to create the illusion of a longer, leaner frame.
(opens in new tab)
Hobbs Olivia Floral Print Jumpsuit
RRP: $270 / £129 | Sizes: 8-18 | Florals for spring, we know, groundbreaking, one of the most memorable fashion quotes, this monochrome jumpsuit will work year through. With a wide-leg pant and fitted top, this is a universally flattering silhouette.
(opens in new tab)
Karen Millen Curve Floral Jumpsuit
RRP: $232 / £135 | Sizes: US: 14-20 / UK: 18-24 | This curve-loving jumpsuit is great if you're plus-size and looking for something to wear to a christening. The flared leg makes this super modern and you can easily add a cropped cardigan for extra coverage.
(opens in new tab)
River Island Yellow and Polka Dot Playsuit
RRP: $87 / £47 | Sizes: US: 2-14 / UK: 6-18 | Polka dots are one of fashion's favorite prints. Seasonless and ever-enduring, you can rest assured that they'll always be 'in'. Double up and use this chic piece as the answer to your alfresco dinner, holiday oufit ideas.
4. A dress coat
We're not talking about your best winter coat or even a chic camel coat. When it comes to dress-coats for a christening, or a wedding guest look, this style very much draws inspiration from the royal family and royal occasions. To nail this look you're either looking for a dress and coat co-ord, where a shift, knee-length dress has a coordinating coat in the same length, or you can pair a frock style, tailored coat, over a neat shift dress in a well-matched hue to replicate the idea. If your capsule wardrobe already contains a dress you'd like to wear, give it a seasonal refresh with a wrap coat, or a lightweight trench coat.
(opens in new tab)
Hobbs Jennifer Floral Jacquard Coat
RRP: $500 / £249 | Sizes: US: 2-14 / UK: 6-18 | British clothing brand Hobbs is great for occasionwear and this delightful coat also has a matching dress that you can wear underneath. This is also a chic mother of the groom dress coat, we love the pastel yellow hue.
(opens in new tab)
LK Bennett Mint Green Trench Coat
RRP: $720 / £399 | Sizes: US: 1-6 / UK: 4-20 | If you've had your eye on a Burberry trench coat, but haven't quite yet committed, this gorgeous spring green coat from LK Bennett will easily dress up any classic shift dress, making it ready for a special occasion in an instant.
Suzannah Hunter Jacquard Coat Dress
RRP: $3,750 / £3,250 | Sizes: UK: 6-18 | A favorite amongst the royals, from the best mother of the bride outfits to the best wedding guest looks and top Christening outfits. British fashion designer brand Suzannah knows how to do special occasion pieces.
5. Comfortable yet fancy shoes
Much like weddings, christenings can be long days and involve a lot of standing up so make sure you choose smart, comfortable shoes. Consider a wedge or block heel, or take your lead from Meghan Markle and Kate Middleton's shoe choices and choose a dainty court shoe. The pointed toe will make your legs look longer, while the narrow heel adds height and elegance. One of the most versatile styles of shoes, they'll more than earn their keep in your wardrobe - working for interviews, work, and weddings, too. And if you can't abide heels, we've also got a great guide for comfortable flats for women, that has a section on dressy flats too.
(opens in new tab)
Dune London Click Tan Slingback Shoes
RRP: $125 / £90 | Sizes: US: 5-10 / UK: 3-8 | These moc-croc tan shoes are a pair you can turn to time and time again. With the look of some of the best designer heels, the classic styling means they'll pair with pretty much any smart-casual and occasion wear look.
(opens in new tab)
LK Bennett Eevi Suede Espadrilles
RRP: $360 / £199 | Sizes: US: 4-11 / UK: 2-9 | Kate Middleton can often be spotted in her collection of trusty LK Bennett heels and wedges and this classic Eevi style will always come in handy for summer parties. Wear with occasionwear all summer long.
(opens in new tab)
Jigsaw Maybell Block Heel Sandal
RRP: £110 (international shipping available) | Sizes: 36-41 | As we enter the warmer months, a pair of white, sandals will help dress up your favorite midi dresses. The low heel adds comfort and stability and the wide strap and toe post will ensure you feel secure.
6. Hats and Headpieces
Christenings that are erring on the more formal side will generally require a hat or headpiece. Look as this as an opportunity to really dress up and embrace some of the latest accessory trends to inform your choices. When it comes how to wear headbands, the more formal the occasion, the more luxe fabrications you're looking for. For a headband for a christening, look for sculptural styles, tulle and embellishment detailing to ensure you stand out (in a good way). Don't opt for anything too large though so you can comfortably wear it all day.
(opens in new tab)
Phase Eight White Beaded Headband
RRP: £45 (UK only) | This pretty white, beaded headband adds instant luxe to any look. A more modern way of giving a nod to a traditional fascinator, this piece can be worn for other special occasions after the big day. It's also a great bridal headpiece option.
Eliane Sarah Milinery Headband
RRP: $28.07 / £22.50 | Add a touch of sparkle with this bronze headband. The knotted style adds height, lengthening your silhouette and elongating your face. The added height adds a welcomed dose of drama too to any look.
7. Bags
When it comes to bags to wear to a christening, remember that, like with a wedding, you'll want to travel as light as possible. As a dressier occasion, you'll want to leave your best tote bag at home, even if it does give a nod to the handbag trends 2022. Opt for smaller, delicate clutch bags with wristlets or one of the best crossbody bags - as this will allow you to go hands-free and enjoy a day spent with friends and family in comfort and style. Select bags that just fit your essentials, otherwise you'll be tempted to fill it with items you simply don't need to be carrying.
(opens in new tab)
Ted Baker Pink Bow Top Crossbody Bag
RRP: $175 / £110 | Pink is one of the biggest fashion color trends 2022 has to offer, and this cute bow topped bag is ideal for the season ahead. Compact in side, it's ideal for the essentials, while the pastel hue renders it Christening outfit ready.
(opens in new tab)
Monsoon Embroidered Envelope Clutch
RRP: $56 / £45 | Artisanal finishes were all over the runways and this sweet embroidered envelop clutch promises to dress up any outfit. In antique pink, for a more vintage feel, wear with a dress for an occasion, pairing with jeans and a blazer after the main event.
(opens in new tab)
Zara Cream Quilted Bag with Chain
RRP: $49.90 / £32.99 | The beaded handle on this bag adds an extra luxe finish, making it a great rival for any of this season's best designer bags. The bold pop of orange will pair well with a printed dress in similar hues or add contrast to block color designs.
Christening dress code - some handy guidelines
Worried about the kind of outfit you've picked out or need some extra guidance? We've put together answers to some of the most common questions about christening outfits.
Can you wear white to a christening?
The rules are different to that of weddings and it is absolutely fine to wear white to a christening or baptism. Traditionally, the person being christened or baptized will wear white (or a similar color), but that doesn't mean guests can't wear it too.
And if you're a mother or godmother at the christening, then it's even more common to wear a white outfit.
Can you wear black to a christening?
Again, there aren't such strict rules around wearing black to a christening as there are when it comes to weddings. You can definitely opt for black if that's the outfit you're most comfortable in, although you should still consider the settings and theme for the day in the aesthetics of your look.
Is it OK to wear jeans to a christening?
While jeans might seem a bit informal, a tasteful darker denim could be passable. It really depends on the style of the event and the people hosting. You could team a pair of jeans with a smart and well tailored jacket for a sharper finish. We think it's safe to assume you can leave anything with rips in the knees or anything "acid-washed" in the closet for this one.
As far as fit, we'd say a white jeans outfit, such as a skinny or tapered pair teamed with a tunic or blouse sit on the right side of appropriate, whereas baggier denim will be a no-no. Although unless you have to wear jeans, leave your denim at home on this occasion.
Can you wear a short dress to a christening?
Super short dresses and churches don't tend to mix. To ensure your outfit remains respectful whether you're sitting or standing, opt for a knee-grazing length or longer. If you really do want to go short, team with a pair of opaque tights to reduce the risk of a mishap.
There are plenty of affordable midi-length skirts and dresses out there, so you won't struggle to find something that hits the mark.
What to wear to a christening as the mother
If you're attending a christening or baptism as a mother, then it's nice to be a little more dressed up than your guests. Of course, there's no requirement to, but this is your day as much as it is your child's.
Opt for a floral midi or maxi dress for a more casual party, or dress up with a more structured dress for something more formal. You could even opt for a two-piece or a jumpsuit. Light colors, dainty prints, and any embellishment is a bonus.
What to wear to a christening as the godmother
If you're lucky enough to have been asked to act as Godmother for the child that's being baptized, you're likely to want to put more consideration into your outfit than if you were just attending as a guest.
Firstly, speak to the little one's parents, and see what they are planning on wearing. This will not only help you to get a feel for what sort of clothing might be appropriate but will ensure you don't arrive under or over-dressed.
An all-in-one dress or jumpsuit is always a good option, offering a ready-made outfit without worrying about mixing and matching separates. How you accessorize from there is up to you. If it's a fancier occasion, consider adding a hat, smart jacket, heels, or a beaded clutch. If it's more laid back, flat pumps and a leather tote (with enough room for a packet of tissues!) will be all you need.
Jess Beech is an experienced fashion and beauty editor, with more than eight years experience in the publishing industry. She has written for woman&home, GoodtoKnow, Now, Woman, Woman's Weekly, Woman's Own and Chat, and is a former Deputy Fashion & Beauty Editor at Future PLC. A beauty obsessive, Jess has tried everything from cryotherapy to chemical peels (minus the Samantha in Sex and The City-worthy redness) and interviewed experts including Jo Malone and Trinny Woodall.