What to wear to a christening—appropriate outfits that hit the right mark
If you're not sure what to wear to a christening, these stylish outfit ideas will help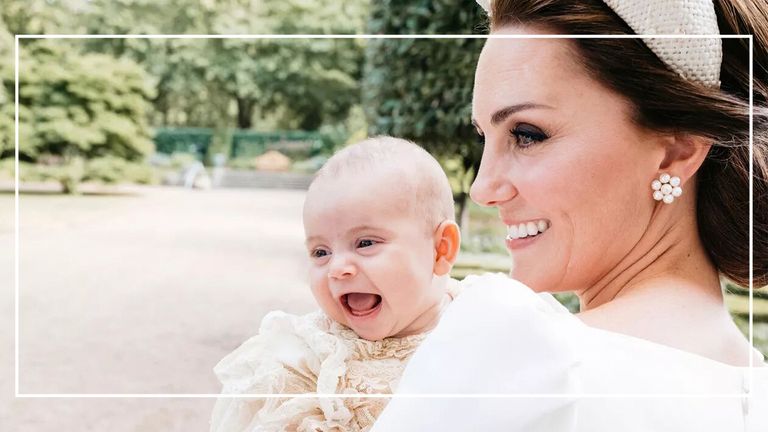 (Image credit: Getty)
By Jess Beech , Aleesha Badkar
It can be difficult to decide what to wear to a christening, especially as, unlike weddings, there often isn't a clear theme or dress code. So we've got you covered with some easy-to-follow guidelines, reliable brands to shop from, and a few failsafe outfit recommendations.
From the best shapewear to stylish two-piece ideas even dresses to hide a tummy, you should be able to find everything you need in our guide on what to wear to a christening. In some ways, a lack of theme or dress code can actually make picking out a christening or baptism outfit easier than deciding what to wear to a wedding, as there are no strict rules surrounding which colors you can and can't wear—nor do you have to worry upstaging anyone (that is, of course, unless you're planning on wearing a full-length white baptism gown). But, with fewer rules in place, it can make it hard to know where to begin.
If there's no dress code specified on the invite, it's best to take your cues from where the ceremony will be taking place, or which part of it you're attending. Smart casual is perfect for more low-key occasions, but for fancier events, take notes from Duchess of Cambridge's outfits for her own children's christenings, and that of her nephew Archie. Our archive of Kate Middleton's dresses is a good place to start for fashionable yet sensible pieces.
You'll need to put slightly more consideration into your outfit if you're attending the church, making sure your shoulders are covered and you're not showing too much skin. And of course, christening outfits for mums or godparents will need a little more thought behind them too.
Christening dress code—some handy guidelines
Worried about the kind of outfit you've picked out or need some extra guidance? We've put together some answers to some of the most common questions about christening outfits.
Can you wear white to a christening?
Unlike with weddings, it's completely fine to wear white to a christening or baptism. Traditionally, the person being christened or baptized will wear white (or a similar color), but that doesn't mean guests can't wear it too.
And if you're a mother or godmother at the christening, then it's even more common to wear a white outfit.
Can you wear black to a christening?
Again, there aren't such strict rules around wearing black to a christening as there are when it comes to weddings. It's absolutely fine to wear black, just as long as your outfit as a whole reflects the style of the event you're attending.
Is it OK to wear jeans to a christening?
Whether or not it's ok to wear jeans to a christening is up for debate, and will depend on both the style of jeans you're planning to wear and the dress code of the celebration.
As a general rule, we'd say white skinny jeans teamed with a tunic or blouse sit on the right side of appropriate, whereas acid-wash or ripped denim will be a no-no.
Can you wear a short dress to a christening?
Super short dresses and churches don't tend to mix. To ensure your outfit remains respectful whether you're sitting or standing, opt for a knee-grazing length or longer. If you really do want to go short, team with a pair of opaque tights to reduce the risk of a mishap.
There are plenty of affordable midi-length skirts and dresses out there, so you won't struggle to find something that hits the mark.
What to wear to a christening as the mother
If you're attending a christening or baptism than a mother, then it's nice to be a little more dressed up than your guests. Of course, there's no requirement to, but really this is your day as much as it is your child's.
Opt for a floral midi or maxi dress for a more casual party, or dress up with a more structured dress for something more formal. You could even opt for a two-piece or a jumpsuit. But think light colors, dainty prints, and any embellishment is a bonus.
What to wear to a christening as the godmother
If you're lucky enough to have been asked to act as Godmother for the child that's being baptized, you're likely to want to put more consideration into your outfit than if you were just attending as a guest.
Firstly, speak to the little one's parents, and see what they are planning on wearing. This will not only help you to get a feel for what sort of clothing might be appropriate but ensure you don't arrive under or over-dressed.
An all-in-one dress or jumpsuit is always a good option, offering a ready-made outfit without worrying about mixing and matching separates. How you accessorize from there is up to you. If it's a fancier occasion, consider adding a hat, smart jacket, heels, or a beaded clutch. If it's more laid back, flat pumps and a leather tote (with enough room for a packet of tissues!) will be all you need.
Go-to brands when shopping for a christening outfit
Marks & Spencer: This high-street staple caters to a range of styles and shapes and keeps up with current trends
Ghost: A go-to of the Duchess of Cambridge, anything from this brand will fit perfectly at a christening
John Lewis: Shop from a range of chic brands under one roof for an easy outfit solution
Zara: Get designer lookalikes without splurging too much money
Anthropologie: Expect plenty of colours, prints and embellishment—and there's less likelihood of wearing the same outfit as someone else too
Ann Taylor: Elegant and timeless, their everyday collection offers a range of feminine styles and classic shapes
Rixo: If you're looking for floaty dresses, unique prints and quality fabrics, there's nowhere better
Coast: A go-to for wedding outfits, this occasionwear staple also offers lots of christening looks
L.K. Bennett: If you're looking for sophisticated fashion, this is the place to go
Mango: A haven for fashionistas that offers a range of on-trend pieces
Jigsaw: Think trendy prints, comfortable fits and rewearable pieces
Monsoon: Get floaty dresses, skirts and trousers that you can rewear throughout the summer
Mint Velvet: Everyday fashion picks that will make for smart christening outfits
H&M: Make big savings on trends and staples that will fit in at more casual christening ceremonies
Debenhams: A classic occasionwear go-to that offers a bunch of classic looks
Wolf & Badger: Lots of designer looks under one roof—and you can get hold of striking accessories too
The Outnet: Snap up edgy and on-trend designer pieces for less
Christening outfit ideas
We've put together some outfit ideas for you to shop with ease so that you can nail the perfect christening look.
What to wear to a christening in winter
Smart two-pieces
Special occasions often benefit from a more structured outfit for a really smart look. Two-piece suits or smart dresses with jackets can work fabulously for an elegant but comfortable outfit. You can also establish good foundations for these often more form-fitting outfits by first considering shapewear. A structured bodysuit or pair of thigh-whittling shorts will hone your shape, creating a smooth canvas for your clothing.
Classic courts
Take your lead from British royals Meghan Markle's and Kate Middleton's shoes choices and choose a dainty court shoe over chunky boots or strappy sandals. The pointed toe will make your legs look longer, while the narrow heel adds height and elegance. One of the most versatile styles of shoes, they'll more than earn their keep in your wardrobe—working for interviews, work and weddings too.
A chic coat
It's likely your trusty parka or well-worn puffa won't quite hit the mark when dressing for a christening, so look to smarter, more classic styles instead. A wrap coat is a good choice, adding structure and definition to your shape. Straight cuts work just as well, creating a streamlined silhouette. Black, grey, and navy can feel too somber for such a happy occasion, but if you don't have the money to spend on investing in a camel or pastel-toned coat, the addition of a vibrant scarf will make all the difference.
What to wear to a christening in spring or summer
Lightweight linen
A shift towards more natural fabrics has fuelled the linen comeback in recent years. A great choice for christenings, it will help you carefully toe the line between formal and casual. Think a tailored linen blazer thrown over a silky midi dress or a lightweight linen suit in a rich rust or pastel tone. Worried about creases? Look out for linen mix fabrics, that won't crumple as soon as you leave the house.
Bold brights
Christenings are joyful occasions, so don't be afraid to dress to match the mood. The bigger and brighter the print you opt for the better. And of course, busy prints cover a multitude of sins. Normally favor a more muted palette? Ease yourself in by teaming a vibrant blouse with a neutral pair of trousers, or visa versa.
Floaty fabrics
Sitting in church during warmer weather can become uncomfortable quite quickly. Steer clear of that hot, sticky feeling by favoring loose fit, draping fabrics. That could mean a floaty maxi dress, or a pair of wide-leg trousers, teamed with a soft camisole or billowing blouse. Pleated skirts work well too.
Jumpsuits
Christenings tend to involve running around with little ones, so if you are worried about a wardrobe malfunction, a jumpsuit is a perfect solution. Go sleeveless on really hot days, or, if you're not keen on showing off your arms, a caped or angel sleeve is very flattering. Cropped styles are great for petite women, while a wide-leg style will suit all silhouettes—flaring out from the waist to create the illusion of a longer, leaner frame.