What to wear to a funeral - respectful and stress-free outfit solutions
An easy-to-follow guide about what to wear to a funeral to alleviate some of the stress from an already difficult day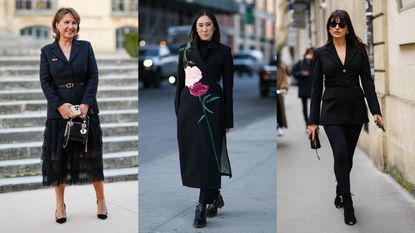 (Image credit: Getty)
It can be difficult to know what to wear to a funeral. Attending one is often a daunting prospect in itself, without the added worry of finding an outfit that feels suitably respectful.
Dressing appropriately is key, but that doesn't mean you need to buy a whole new outfit to attend a funeral. While it's likely you can pull from your capsule wardrobe for the right look, it is one of several occasions where you don't want a sartorial misstep. Wardrobe essentials like your best blazer, best midi dress and comfortable flats really come into their own here.
Traditionally attendees wear black, and there is evidence of mourners wearing black as early as Roman times, but it became a more prominent part of western culture during the reign of British monarch Queen Victoria. After her husband Prince Albert died, she wore black for 40 years. If you rarely wear black, and therefore don't have much appropriate in your wardrobe, you could also consider borrowing parts of your outfit from a friend or using a dress rental service.
7 outfit ideas for what to wear to a funeral
When it comes to what to wear to a funeral, the general consensus is to stick to dark colors, particularly and most popular is black as this signifies the mourning period. In a similar vein to what to wear to an interview, opting for smarter pieces such as your best shirt dress or a great blazer and tailored trousers offers a mark of respect to the occasion too.
Not quite as popular tradition, although not unheard of, hats may be required, partic
1. Blazer
Invest in a well-cut black blazer and it will more than earn its keep in your closet. Funerals require a smart outfit, and the tailored shape of a blazer more than fits the brief. Great for days when it's not too hot, but not cold enough for your best winter coat, a blazer is a smart and stylish layering piece. It is a good way to temper a dress with a little color in it too (like a subtle floral print) making sure your overall look is still overwhelmingly black.
(opens in new tab)
RRP: $199 / £159 | Longer-line, this fluted hem blazer is ideal for pear shaped bodies. The longer length also means this design works particularly well with a tailored trouser, rather than skirts or dresses.
(opens in new tab)
Mango Double Breasted Blazer
RRP: $87 / £69.99 | This boxy style will look chic layered over more form-fitting pieces. Nipping in at the waist, it's ideal for hourglass body shapes and for wearing over sleek A-line of shift dress designs.
(opens in new tab)
M&S Collection Runched Blazer
RRP: $61 / £49.50 | The three-quarter length sleeves make this a great choice for petites. Wear with a dress or tailored trousers for the funeral, before teaming with the best petite jeans at a later date.
2. Midi dress
You want to feel comfortable at a funeral, so separates that have the potential to ride up or down are not always a great idea. A simple black midi dress will feel both smart and modest, not to mention the longer hemline will reduce the chance of a wardrobe malfunction. A dress with three-quarter-length sleeves will work for funerals in all seasons, but if it is a warm day, you could opt for a sleeveless style. Just consider bringing a pashmina or your best sweater to wear with your best dress and drape over your shoulders during the service.
(opens in new tab)
RRP: $25 / £19.99 | Pleat detailing and a detachable belt add interest to this classic style. Ideal for a funeral, you can wear this all summer long with one of the best denim jackets too.
(opens in new tab)
RRP: $98 / £79 | This cotton midi is a great way to dress modestly in warmer weather. If you're worried about thigh rub, invest in some of the best anti chafing shorts to stay comfy.
(opens in new tab)
RRP: $285 / £228 | You can't go wrong with a black shirt dress, and this one's a real winner. While it's fully appropriate for a funeral it will also be a great summer outfit for work too.
3. Skirt
A skirt has all the benefits of midi or below-the-knee dresses when it comes to dressing for a funeral, with the option to mix and match with different tops. A shirt or wrap-over blazer makes for a smart top half, while a jumper will give a slightly more relaxed feel. There are plenty of choices when it comes to the shape of the skirt you choose too. An A-line will flare out from the waist and skim over hips and midriffs - ideal if you usually like the most stylish dresses to hide a tummy. A pencil skirt shape, however, is more form-fitting, but still just as smart. Just make sure you're comfortable and can sit and stand with ease.
(opens in new tab)
Whistles May Bias Cut Skirt
RRP: $111 / £89 | Invest in something you'll wear again. This bias-cut skirt will go with everything in your wardrobe. Slightly silky you can wear it all summer long with your best sandals too.
(opens in new tab)
Monki Button-Up Midi Skirt
RRP: $31 / £25 | A purse-friendly option, this fit-and-flare skirt earns extra brownie points for having pockets. A simple, figure-flattering design, pair with a chic Breton top for a more dressed-down feel.
(opens in new tab)
Karen Millen Pencil Skirt
RRP: $156 / £125 | The pencil shape is figure-hugging, while the belt adds waist definition. If you want to add an extra layer of luxe, swap the fabric belt for one of the best designer belts.
4. Jumpsuit
Depending on the kind of service you are attending, a funeral may involve a mixture of standing, sitting, and kneeling. There may also be elderly relatives or children that need assistance. In these scenarios, the all-in-one shape of a flattering jumpsuit has one up on the midi dress, reducing the risk of a hemline mishap. Shirt-style jumpsuits with full-length trousers and long sleeves will create the illusion of a two-piece, without the admin of having to match separates.
(opens in new tab)
RRP: $43 / £34.99 | The collar detailing and nipped-in waist give this jumpsuit a smart edge. Evoking the feel of any of the best tuxedos for women, you can dress this up for evening occasions.
(opens in new tab)
RRP: $75 / £59.99 | Top with a blazer on cooler days, or wear without on warmer ones. You could even layer a top underneath this sleek jumpsuit too. Keep your jewelry to a minimum.
5. Tailored trousers
Feel more comfortable in trousers than a skirt? No problem. Although there is a dress code for funerals, this isn't what to wear to the races and it's unlikely there will be strict rules to follow, so you can still stay in your comfort zone. While we don't recommend investigating what to wear with black jeans for a funeral, a smartly tailored pair of black trousers - both slim fits and wide legs will work really well for a funeral teamed with a smart jacket or shirt and can be worn again at a later date. Steer clear of fabrics with high linen or cotton counts, as both can crease easily.
(opens in new tab)
RRP: $162 / £130 | The kick flare gives these tailored trousers a modern update. With a hemline that brushes the ankle, these are ideal if you usually need the best dresses for petites, as they elongate the leg.
(opens in new tab)
RRP: $37 / £29.99 | With a high waist and skinny-fit legs, these black trousers are a wardrobe staple. Great for what to wear to a funeral, you'll be able to team them with your best shirt on the daily at a later date.
6. Knitwear
Funerals often mean moving between at least two different locations during the day, so layers are key to ensure you feel cool and comfortable in all scenarios. Consider taking a lightweight black jumper or cardigan with you. The best knitwear can be used to cover your shoulders during the service or act as an extra layer of warmth if standing outside. If it becomes too warm, you can easily stash it in your handbag. A lightweight knit can be tucked it into your skirt or trousers to keep you warm, without compromising on style, as the tucked-in look will help to highlight your shape.
(opens in new tab)
RRP: $36 / £29.50 | The slightly oversized shape gives this cardigan a cozy feel - perfect for days when you need comfort. Keep the rest of the outfit relatively form-fitting to avoid looking overwhelmed by fabric.
(opens in new tab)
RRP: $68 / £55 | This ultra-fine knit is the ideal layering piece, adding warmth without any bulk. Tuck into an A-line high waisted skirt, or a half-tuck into some tailored trousers for a smart but relaxed feel to your look.
(opens in new tab)
RRP: $150 / £123 | Cardigans have really made a comeback in recent months, featuring as a major fashion trend 2022. Wear this delicately detailed cardigan open over a blouse, or buttoned up instead of a top.
7. Smart coat
When it comes to what to wear to a funeral, we often put a lot of consideration into the main elements of our outfits, only to approach outerwear as an afterthought. While the best parkas, a fun puffer coat or the best waterproof jackets might be practical, for funerals it's a good idea to have a tailored dark-colored coat to hand. A straight fit that ends just below the knee, or mid-calf, is the most timeless shape and is also one of the best slimming coat styles. Detailing like subtle embroidery, wide lapels or a belted waist will add a point of difference.
(opens in new tab)
RRP: $438 / £350 | The long length and wrap shape give this coat an effortlessly elegant feel. While it's ideal for what to wear to a funeral, it will also work for any smart occasion in winter months.
(opens in new tab)
RRP: $375 / £299 | Crafted from 100% wool with a timeless single-breasted design, this is a coat that will stand the test of time. The fabric also ensures this coat is breathable, keeping you warm.
What do you wear to a funeral as a guest?
As we have already established, black is the most respectful hue to wear to a funeral, as it signifies mourning and the somber mood of the occasion. In some instances, the deceased family may request a specific dress code, encouraging guests to wear a particular color to celebrate their life. If you are unsure about whether this is appropriate, stick to black, but consider adding a bright accessory, like a scarf, to an all-black outfit.
Dressing modestly is important for a funeral too. Funerals are not the place for grappling with rising hemlines or sitting uncomfortably with lots of skin on show. If the service is taking place in a church or religious venue, you'll likely need to cover your shoulders too. Comfort is key at a difficult time, and a midi dress or trousers will offer the simplest styling solutions.
Finally, consider practicality as well. Funerals often require tackling a wide range of terrains, from slippery church floors to damp glass. So to lower your chance of taking a tumble, opt for a pair of flats or a low, block heel you can walk in easily. Boots, like the best Chelsea boots. It is also wise to wear shoes you already own, rather than new, as these will have been already worn in and you won't have to contend with painful pinching or blisters during the day. On the subject of accessories, having your handbag prepared ahead of time can help to take the edge off of the morning before a funeral. A roomy bag (like one of our best tote bags) will ensure there's enough space for everything you need. Consider bringing tissues, a compact mirror, a pen, an umbrella, and sunglasses. If you prefer to go hands-free, opt for one of the best crossbody bags instead.
What should you not wear to a funeral?
Dressing smartly is a sign of respect at a funeral, so avoid anything that could be considered too casual. That means steering clear of things like jeans, joggers, and trainers. Tailoring is the best choice. Of course, there may be times when you are short on time and low on options, and in this instance, you may be able to get away with a pair of black slim-fitting black jeans with a blouse and blazer. Just make sure the jeans are simple, sample and as trouser-like as possible, and free from detailing like frays, rips, or fades.
Unless the family has explicitly requested this, the most disrespectful thing to wear to a funeral is often color. Black is, therefore, the safest bet, but can be mixed with other dark shades like grey and navy if needed.
Jess Beech is an experienced fashion and beauty editor, with more than eight years experience in the publishing industry. She has written for woman&home, GoodtoKnow, Now, Woman, Woman's Weekly, Woman's Own and Chat, and is a former Deputy Fashion & Beauty Editor at Future PLC. A beauty obsessive, Jess has tried everything from cryotherapy to chemical peels (minus the Samantha in Sex and The City-worthy redness) and interviewed experts including Jo Malone and Trinny Woodall.